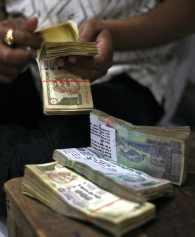 'If the bookie and the gamblers are sitting in the same room and watching TV we will not be able to catch them. Only when there is some communication on the phone or over the internet will we have a chance to find out what is going on.' A Ganesh Nadar gets a top Mumbai cop to spill the beans on how the betting racket functions
Many people think the IPL is fixed and controlled by big money. Every team has to retain its fans and so they take turns winning. Last year, even before the IPL began, cynics had announced that Kolkata will win – as it happened -- and this year they have said that Mumbai will win the IPL.
Do they have any special knowledge? Or is it the buzz in the betting grapevine that gets passed around as wisdom?
Betting, did you say? The arrest of cricket's enfant terrible S Sreesanth, Ashok Chandila and Ankeet Chavan, Vindoo Dara Singh with connections to Bollywood, assorted bookies, all of this has brought the multi-billion dollar premier cricketing event crashing down. Is the gentleman's game then a cheater's paradise?
"Do you know how to bet?" the Mumbai police officer who made the first arrest in the IPL betting racket asks me. "You go to betfair.com and click on cricket. Today it's showing that Mumbai is playing Punjab. If you bet on Mumbai and they win you will get 180 for every 100 rupees you bet. If you want to bet on Punjab as it's the weaker team and they win you will get 250 for every 100 rupees you bet."
As it happened Punjab did win and betters lost their most money – but the bookies slept happily.
Escort girls, easy money, threats and above all greed drives IPL. Naturally, money is the mantra behind, and not all of it paid out to the players at the time of signing up. A lot more changes hands during the tournament.
Bookie Amit Singh was arrested before Sreesanth but no one paid much attention. One bookie's arrest is not going to make waves in the money capital even if he had 30 mobiles and 90 SIM cards on him.
"Bookies are known only to big gamblers. They roam around gambling dens, racecourses et to identify potential players. Once contact is made, then it operates on trust. The bet is on the phone so the cash has to be paid later.
"You can even bet on whether it will rain today. But as we are talking about cricket, people bet on match results, run-rate, number of sixes, runs in any particular over, highest scorer, individual scores like how much will Gayle score."
"Match-fixing is a different cup of tea and it actually works in different ways. A better can bet huge amounts if he already knows the result. But the bookie will lose heavily and once he finds out you are in deep trouble asthe network behind the bookie is the underworld."
Betfair.com, you realise, works just how the cop says it does. If one can bet on IPL sitting in India, and even pay with one's credit car, what's criminal about it? "Gambling is legal in some countries but in India it is not. That is where we come in," says the cop.
The Mumbai police has a technical surveillance team that can monitor and record your phone calls, SMS, WhatsApp, BBM, and emails. Now there are over a billion Indians so obviously they cannot monitor everyone.
"When we get information regarding a bookie or a player we immediately mount surveillance. Then he cannot do anything without our knowing. Once we hear or read anything concrete, then we have our sleuths following them around too.
"We have tracked down terrorists, drug smugglers, murderers. The J Dey murder case was our investigation. Every blast before 2008 in every city in the country has been tracked by us. We were the first to identify that there was a group known as Indian Mujahideen. But of course, you are here to talk about cricket.
"Once we know that a certain cricketer has promised to do a certain thing on the field, we have our people following him. Once he does what he has already said on the phone, we arrest him as we have evidence, the promise made in his own voice, and even his actions are on video."
But that's the not the end of the story, the most important factor is still left out.
"Only one thing remains, the money trail, but that too is within our realm. We keep a regular tab on hawala operators and we will catch that too.
"Fixing is easy to locate and arrest but gambling per se is difficult. Suppose you play in a den we will find out but if you play in a 5-star hotel room or in your own home, we cannot detect that. Likewise, if the bookie and the gamblers are sitting in the same room and watching TV we will not be able to catch them.
"Only when there is some communication on the phone or over the internet will we have a chance to find out what is going on," the cop says.
Listening to the cop talk about the bookie network, you realise what a well-oiled machinery it actually is, and how it functions on a need-to-know basis.
"The smallest ones will accept bets up to Rs 1 lakh, the next rung you can bet up to Rs 10 lakhs, the third rung will accept till Rs 1 crore and the next maybe Rs 10 crores. And a bookie only knows the link immediately above him. If he gets a big better all he needs to do is collect the money and pass it up the ladder, for which he gets a five per cent commission.
"At the top of the pyramid sits one man or a cartel which will accept a bet for any amount. We think it's Dawood Ibrahim or maybe it's a group, we don't know but we will find out, we always do. If there is a trail we will sniff it out."
The IPL end on May 27, but the entertainment will continue till much after that. But the big fish always get away, will they do so this time too? Or will the cop be true to his word?