'We have to give Sasikala credit for being with Amma for 33 years through thick and thin, but trying to take over the government within two months of Amma's demise was too much to take.'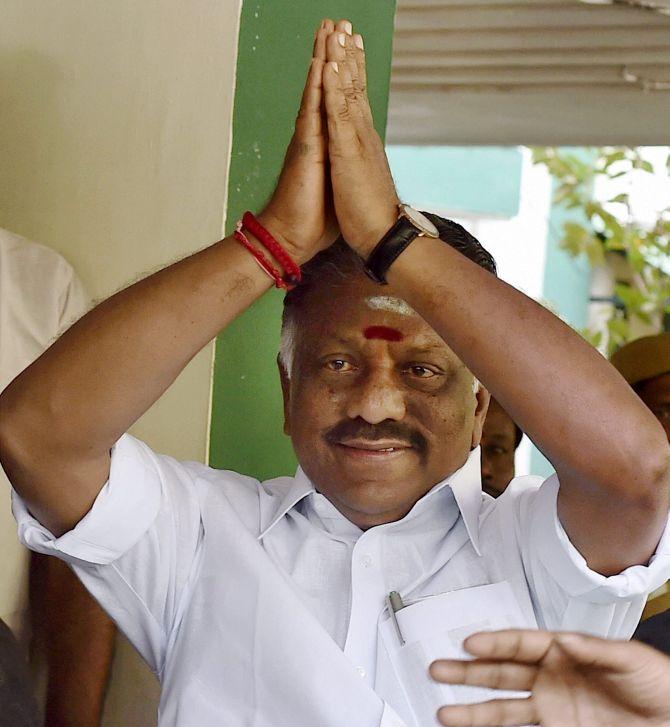 R Nataraj, the MLA from Mylapore, Chennai, is a former director general of police and is credited with strategising the operation to nab the brigand Veerappan. He is also a former chairman of the Tamil Nadu Public Service Commission.
Nataraj was known to be close to the late chief minister J Jayalalithaa and became an MLA when she swept the polls for a consecutive second time in 2016.
When former CM O Panneerselvam went to Marina Beach and launched his revolt against All India Anna Dravida Munnetra Kazhagam General Secretary V K Sasikala, he had but a handful of MLAs with him.
The other MLAs were confined to a resort in Koovathur outside Chennai. They did not get a chance to meet or speak with people in their constituency on who they preferred as the CM.
Nataraj, being a former DGP, was not asked to go to the resort. He remained in his constituency and spoke with people about who they wanted him to support.
He then declared that his vote would be for OPS, risking both the wrath of the Mannargudi group -- as Sasikala's family is called; Mannargudi being the Tamil Nadu town they hail from -- who now control the AIADMK, and disqualification for defying the party whip.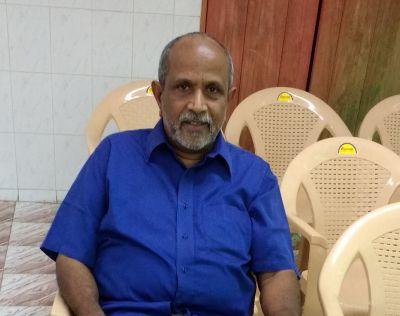 Sitting in his office in Mylapore with a handful of people outside, Nataraj, left, spoke to Rediff.com's A Ganesh Nadar about why he did what he did and what he is going to do now.
Public service has always been my passion and in police service you have plenty of opportunity to do that.
This is one area where you can help people and also see the results immediately.
After retirement I got an opportunity to continue serving people when Madam Jayalalithaa made me the chairman of the Public Service Commission.
I joined the AIADMK in 2014 and got an opportunity to contest the polls in 2016, which I won.
When Amma passed away, the party cadre was feeling orphaned.
When the question of a new leader of the party came up, we heard many voices asking V K Sasikala to take over.
On December 27, she was made the party general secretary, but it did not create any problem then.
Everybody said it was a temporary arrangement.
Then the jallikattu agitation happened, which was very well handled by OPS.
Similarly, when Cyclone Vardah struck, everybody worked as a team, having learnt a lesson from the floods of 2015.
The assembly proceedings also went very well with the Opposition's cooperation.
When the legislature party meeting was called, there were whispers that something major is going to happen.
There, OPS came and made a cryptic announcement that he was quitting for personal reasons.
After sometime, Sasikala came and she was elected as the legislature party leader.
Everybody said 'Yes, yes.' There was no question of a debate or anything like that.
I was wondering what was happening.
After OPS openly revolted at Amma's samadhi, I could see the build up in his favour.
On social media, a lot of people were talking about how one family was taking control of the party.
We have to give Sasikala credit for being with Amma for 33 years through thick and thin, but trying to take over the government within two months of Amma's demise was too much to take.
People did not like it.
This situation could have been avoided. This was what I was trying to tell both sides.
OPS was acting on the advice of the party high command. He was not doing anything on his own.
He was taking everyone along. He was not defying the party head.
We thought it would be smooth sailing for the next four-and-a-half years, But suddenly this happened. It was very unfortunate.
I had to take a stand.
There was a lot of pressure on OPS and this (Sasikala's elevation) was the last straw that broke the camel's back.
When Amma was once asked about her successor, she had said, 'I have gone through fire to become the head of the AIADMK and my successor should also go through fire if he or she wants to lead my party.'
Amma was anointed by MGR (M G Ramachandran) as propaganda secretary in 1984 and I was the SP (superintendent of police) of Kadambur when she gave her first public speech.
She spoke for an hour without notes.
She has participated in the electoral process since 1984. She had gone through the mill and come to head the party.
Even the appointment of the deputy general secretary was totally uncalled for.
He (Sasikala's nephew T T V Dinakaran) was removed from the party by Amma.
If at all a deputy general secretary was needed, then there are enough experienced people in the party.
Nobody liked Dinakaran's elevation.
I am continuing to meet my people. Everybody here is happy with the stand I took.
It is very difficult to tell you how events will unfold.
I don't think it will last with this number of 122.
If the MLAs had voted in favour of E K Paliniswami after talking to people in their constituencies, the people would have accepted it.
But after being confined to one resort for so many days, people will now doubt whether the MLAs actually voted according to their conscience.