'Our policy is pro-Sri Lanka.'
'Burma is not the only girl on the beach in South Asia.'
Ahead of his India visit with President Maithripala Sirisena, Sri Lanka's Foreign Minister Mangala Samaraweera speaks to the media in Washington, DC. Aziz Haniffa/Rediff.com listens in.
Sri Lanka's Foreign Minister Mangala Samaraweera, who was in Washington, DC, to meet senior Obama administration officials and US lawmakers, told Rediff.com that the newly elected Maithripala Sirisena government's warm embrace of India was not at China's expense.
In response to questions posed by Rediff.com Samaraweera acknowledged that massive Chinese projects in the island nation that were given a carte blanche by the previous Mahinda Rajapaksa regime -- which has been accused of mortgaging Sri Lanka to Beijing -- are under review.
In an interaction at the Carnegie Endowment of International Peace, Samaraweera took exception to the contention that despite his first official visit being to India, and the fact that later in the week he will leave Washington directly for New Delhi to receive President Sirisena, above -- who will also make his first overseas visit to India -- it does not necessarily mean that Sri Lanka was now totally in India's orbit after being one of Beijing's string of pearls surrounding India in South Asia.
The new government's outreach, Samaraweera argued, was "not only to India, (but) to all those who cherish democracy all over the world."
"To say that India was elated by the election of Sirisena, I think, is not putting the whole thing in perspective," Samaraweera added. "Friends of democracy all over the world -- all those who have been to Sri Lanka and those who have not been to Sri Lanka -- were elated by the Sri Lankan version of the Arab Spring succeeding."
"There is no such thing as a pro-India policy -- our policy is pro-Sri Lanka," the foreign minister asserted.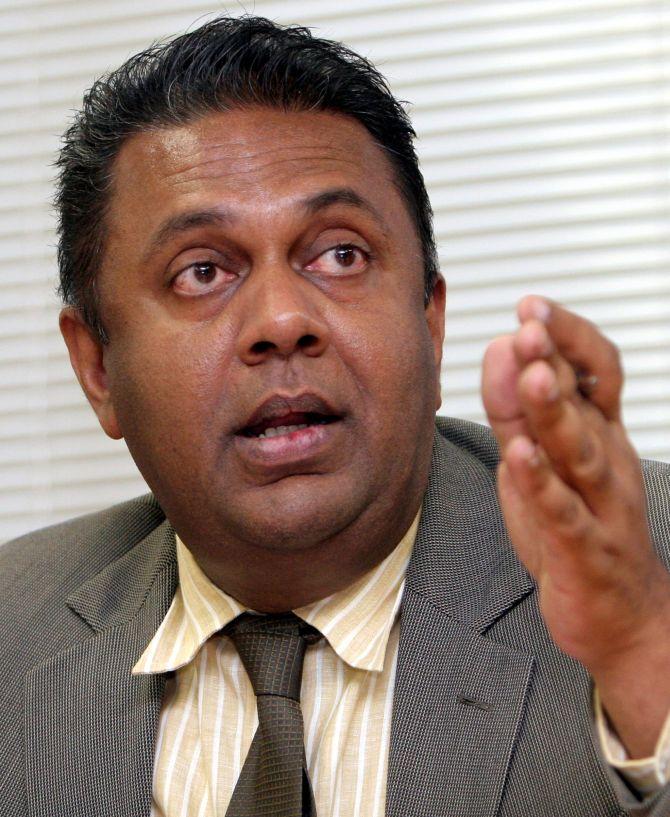 "The policy of the new administration," Samaraweera, left, insisted, "is to embrace the whole world because we see the international community per se as an opportunity and not as a threat."
"So our policy will be to ensure that our relations with our friends that were rather strained over the years are rebuilt and this is part of the rebuilding process," he added.
"At the same time, we will also continue the good relations we have with countries like China," Samaraweera asserted, "In fact, my next visit at the end of the month -- on 27-28 -- will be to Beijing."
When the media asked about the Chinese projects approved by the Rajapaksa regime without any transparency despite Opposition protests, the foreign minister said the terms of the contracts, especially privately held offshore properties of Chinese origin, are under review, adding that Chinese projects were not being singled out.
"We are not trying to examine Chinese deals, so to speak. In fact, we are looking at many of the projects undertaken by the previous government. Where we feel that due procedures have not been followed, for example the port city, which has been in the news very much lately -- the environment impact assessment and other requirements are yet to be studied," Samaraweera said.
"So now, we are in the process of looking at many of these projects and they could be Chinese, they could be Indian, they could be American, they could be anything."
"If we feel they do not live up to the required standards," Samaraweera said, "they will be reviewed."
"It is not a case of reviewing Chinese investment alone. Like China, Sri Lanka today has also waged a war on corruption," the minister said, alluding to Chinese President Xi Jinping's war on corruption.
"If we feel that any of those deals have been tarnished by corruption, the Sri Lankan government will have to take a decision on it."
Samaraweera bemoaned that the Rajapaksa regime's economic policy was "too reliant on high interest loans from China.". His government, he said, "firmly feels our way forward economically is to attract foreign direct investment to Sri Lanka."
The new government, the minister said, is trying to attract FDI by assuring investors that it will "re-establish the rule of law, good governance, transparency."
"This is now Sri Lanka's Burma moment," Samaraweera said, "because we saw how the world basically tripped over itself to rush to Burma or Myanmar when the generals, after many, many years of suppression, started moving toward democracy. The world leaders went there, the investors went there."
"Burma today attracts the largest amount of foreign direct investment in South Asia. I feel Sri Lanka too can meet these requirements," he said, and then quipped to peals of laughter, "Burma is not the only girl on the beach in South Asia."
Acknowledging that the new Sri Lankan government is imploring the United Nations Human Rights Commission to postpone the release of its reportedly scathing indictment of gross human rights abuses against the minority Tamil popultion during the latter stages of the war against the separatist Liberation Tigers of Tamil Eelam, Samaraweera said the delay would give his government the time to set up a domestic internal investigation mechanism.
The government's plea to the UNHRC to be patient, Samaraweera said, was not a ploy "in buying time, (but) it is really that we are in the process of trying to set up this internal domestic mechanism, which we promised during the election."
"Within that context," Samaraweera added, "we are hoping that the report, that is to be published in Geneva on March 2, can be held back until the mechanism is set up, which we feel can be done soon -- in a matters of two months maximum."
REDIFF RECOMMENDS