'You have to separate the concept of India as a nation State which is very young and the Upanishadic wisdom which is timeless.'
In the second part of his conversation with Rediff.com's Archana Masih at his home in Mussoorie, Bill Aitken speaks about spending over a decade in ashrams in the Himalayas, learning Hindi, the regard for a guru and love for a maharani -- and glorious journeys that changed his life forever.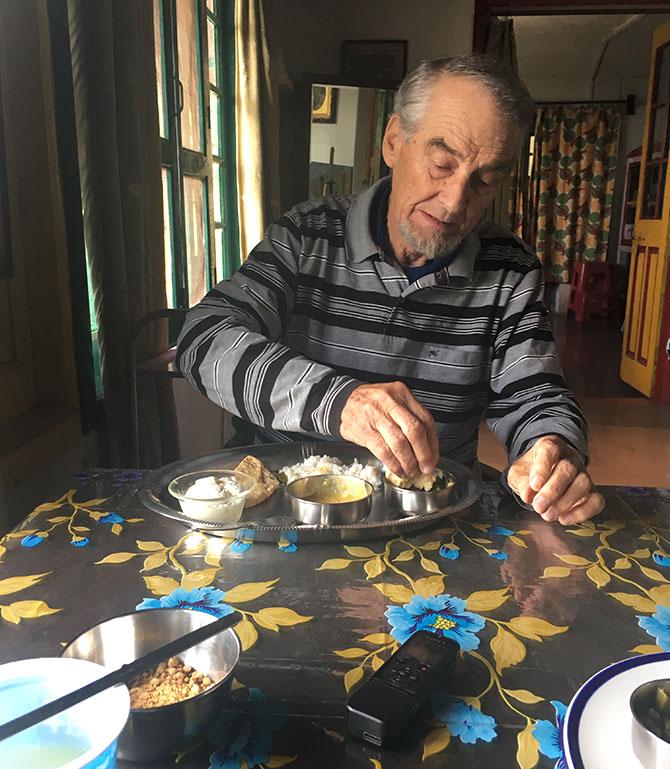 Photograph: A Scotsman by birth and a naturalised Indian citizen, Bill Aitken's favourite meal is dal, bhaat, sabzi, dahi. Photographs: Seema Pant
'Let's go to Badrinath.' A teacher friend at the Hindi High School in Kolkata, where he taught, dangled the tantalising idea to Bill Aitken one day.
Aitken was already looking to moving on from the school and took up the offer of his friend, a lovable eccentric. The friend was no less of a unique traveler himself -- whenever an Indian state created a new district, he would go and visit it!
The duo planned the trip, but as a foreigner Aitken had to write to the Government of India requesting a permit to travel to the upper reaches of the then Uttar Pradesh state.
Very innocent of India of those times and unknowing that rarely anything happened without influence, he asked the babus to kindly send the permit to the Shivananda ashram in Rishikesh where they were going to stay for a few nights.
With the tenuous hope of that permission letter, he set off yet again. The permit never arrived.
His Bengali friend was not one to be deterred. He said they would carry on regardless and see how far they could go before being turned back.
They managed to get to Rudraprayag by waving cholera certificates to the authorities. In those days there were no motorable roads beyond that and people had to cross a single suspension bridge to get to the other side.
"Jim Corbett's man eating leopard of Rudraprayag used to case this bit," laughs Aitken, "As we were walking, a policeman asked tum kahan se aaya hai? (Where have you come from?) I didn't know Hindi and I was turned back."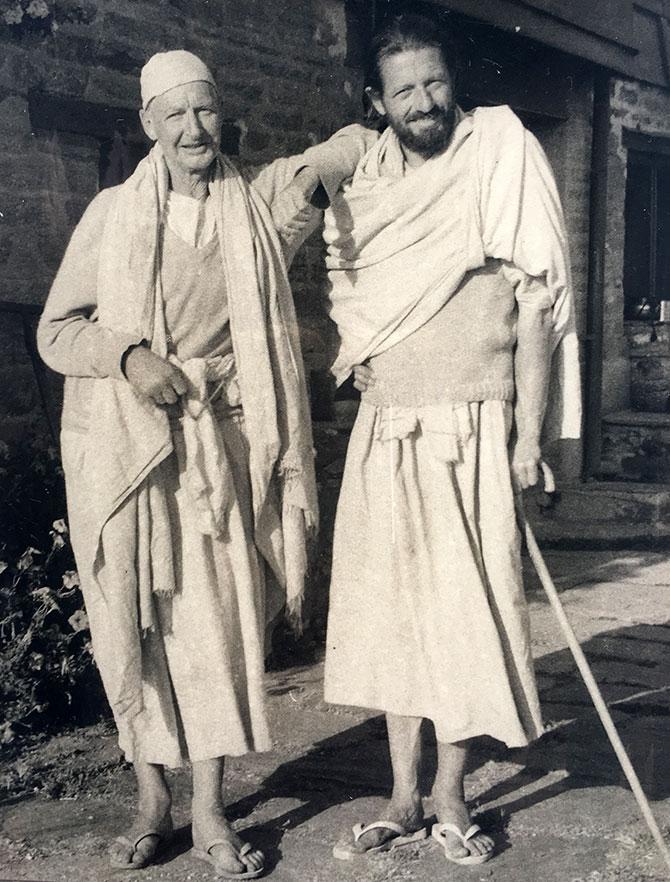 Photograph: Shri Krishna Prem, left, with Shri Madhav Ashish, Englishman sadhus.
Krishna Prem was a fighter pilot in World War I, he came to India in the 1920s and lived in an ashram for the rest of his life.
Aitken tells these life stories -- so rich and vivid in detail -- that they play out as film, but he makes it out be just a chain of ordinary events that built his life.
"Earlier, at the Kumbh Mela in Allahabad I had met some missionaries who said you would never learn anything about Hinduism unless you learn Hindi. They said the best place to learn Hindi was at the Language School in Landour."
So Aitken came straight to Landour and enrolled for a month at the school, which still remains the first port of call for foreigners wanting to learn Hindi.
"I learned Devnagari and thoda bahut Hindi. At least I could read the bus signs then," says Aitken who speaks Hindi fluently now.
A missionary at the school invited Aitken to Nainital, and he realised that this could be the opportunity to see this English guru he had heard so much about.
Sri Krishna Prem's ashram in Almora wasn't too far and the meeting was to change his life forever.
The guru, however, had some other plans. Seeing Aitken's interest in Gandhian values, he advised him to visit Sarla Devi, a Gandhian in Kausani.
Considered one of Gandhi's English disciples like Miraben, Sarla Devi was born in London and her original name was Catherine Mary Heilman. She did pioneering work in conserving the Himalayan forests and in the evolution of the Chipko Movement. The ashram she set up continues till today.
"I liked the simple life, health, fresh air. Her ashram was in front of the Goddess Nanda Devi. I became a maali (gardener). My expenses were Rs 2 a month for postage, sabun (soap) etc."
He spent four years there, almost died of typhoid and was cured by Sarla Devi's nature cure treatment.
During his illness, he says he had an out of body experience that made him approach another level of reality.
"The scales from my eyes fell off."
"From that moment I suddenly saw how life is one huge joke. We are all guaranteed to be well meaning idiots because no one questions what is told. It has nothing to do with ideologies. Most ideologies are mostly mental crap."
"The world is not yesterday or tomorrow, but only now. Every person has the capacity to find within the reason why s/he was born and the reason of life."
After recovering from typhoid, on Sarla Devi's advice, Aitken went to consult Krishna Prem and stayed in his ashram for the next seven years.
It was a tough life. He worked the farm from 5 in the morning to 10 at night.
"It was all to get you beyond the physical concept of oneself. If you died, it was fine -- way to go," laughs Aitken.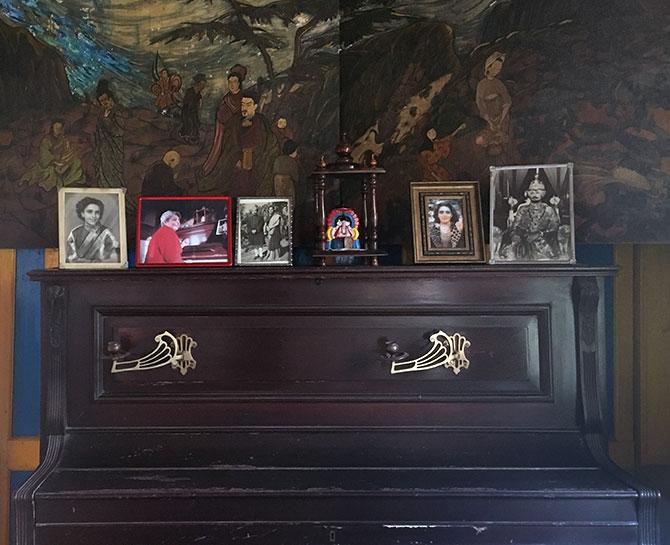 Photograph: The Maharani of Jind's piano with her photographs.
A few years into ashram life, Bill Aitken met the former Maharani of Jind. The royal would alter the course of his life.
Mahrani Prithwi Kaur's husband, the maharaja of Jind, died the day Bill Aitken entered India on September 7, 1959.
Fate and destiny were already working in the peculiar ways that bring the unlikeliest of individuals together.
A spiritual lady, educated in London, she had walked out of her estate because of property feuds in 1960 and came to the ashram in 1968.
"That was when I met her for the first time. It was a meeting of the East and West," says Aitken, referring to her as "Maharani" whenever he mentions her in our conversation.
The house was her private property and is stamped with her presence.
Framed pictures of her rest on a piano that she once played. There are artefacts and other photographs -- of her as a school girl in England, and one of Satya Sai Baba, who stayed in the cottage for two nights in 1982.
A stone memorial quietly rests in the garden. On the ground floor are hunting trophies. The cottage houses a trust for mountaineering studies which was the maharani's desire.
A coat of arms hangs its door.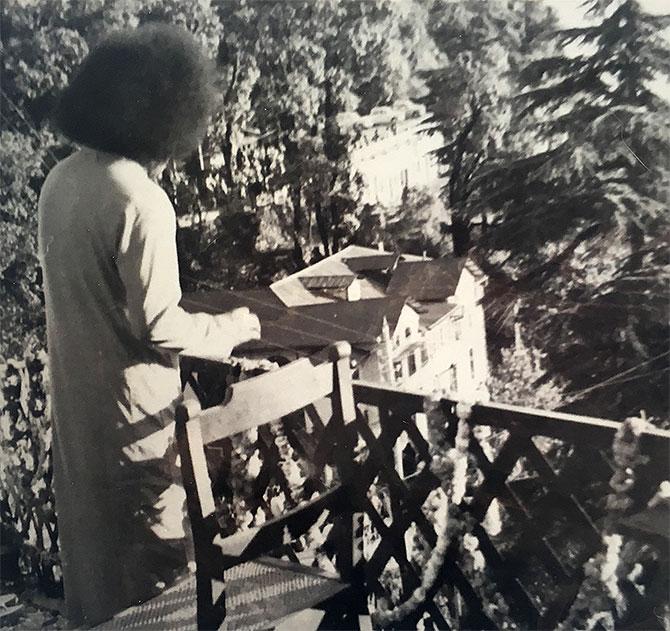 Photograph: Satya Sai Baba spent two days at the house. Rani Prithwi was a devotee and very spiritual lady.
Jind is divided between the present day Sangrur and Jind districts. At its height, the estate extended from Jind, Haryana to the border of Patiala in Punjab, says Aitken.
It was famous for its kennels and had 300 hunting dogs.
Maharani Prithwi was married at 13 and had her first child the same year. She lost her husband; both her only sons died young and her stepson became maharaja.
She was a huge devotee of several gurus all her life.
"Shri Krishna Prem was guru to both of us. He told me I could use my talent better as a private secretary to her rather than wasting it trying to become a monk," says Aitken.
He came to Delhi in 1972, where Prithwi Kaur had a house. "All her friends, the golfing set were in Delhi. She was very outgoing," says Aitken.
He travelled every winter and they spent summers in Mussoorie. "I became a travel writer and got a slot in The Statesman, wrote a few books. Becoming a published author gave me some status in Delhi rather than being a hippy," he says downplaying his personal achievements with a dismissive laugh.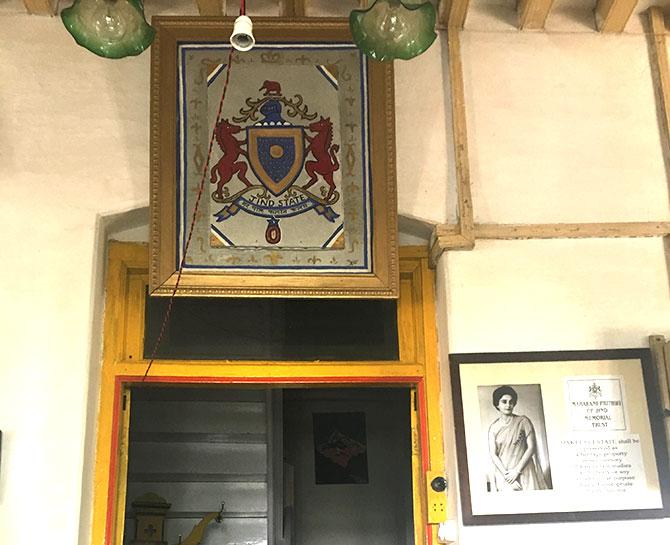 Photograph: The coat of arms of Jind. A notice says the house is a trust for Himalayan studies with a picture of the maharani.
It is time for lunch and Bill Aitken leads the way to the dining table by the window.
A thali with katoris is set with dal, bhaat, bhindi, roti and dahi.
Papaya, peda, gur are the dessert options.
Whenever he returned from his long journeys, he would seek dal and bhaat, he says, as Rampyari, the cook and a member of the maharani's staff, serves him a spoonful of hot dal.
After lunch, he shows his scrapbook which is a tribute to many fabulous journeys. He has lovingly put it together, the description of photographs, clippings, tickets, permits -- written by hand.
It also includes a clipping of the notice in the newspaper of his application for Indian citizenship in 1972 and the first tourist permit ever given for travel to Arunachal.
He speaks about his bike rides to Lahaul and Spiti in Himachal, Gangtok-Ladakh, Arunachal Pradesh, Naxalbari-Nepal, source of the Kaveri in Coorg.
He is the only person to cover the length and breadth of the country by choti line trains drawn by steam engines.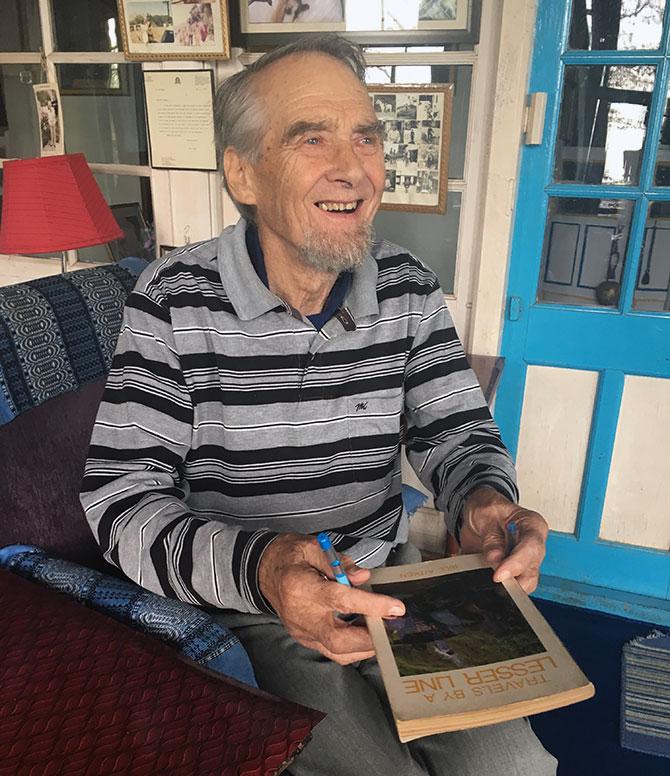 Photograph: Bill Aitken has written 14 books. This one is of his travels on all the choti line routes on steam rails.
In his nearly six decades in India, Bill Aitken has experienced, lived and learnt about his adopted country with the hunger of a seeker.
"You have to separate the concept of India as a nation State which is very young and the Upanishadic wisdom which is timeless," he says, "You can't kill ideas, faith or devotion."
He came to India twelve years after it gained freedom and has seen the nation come into its own.
When he arrived, life expectancy was 27, now it is 67, which is a huge achievement and the Congress -- much maligned these days -- can take credit for it, he says.
"You can't write them off, these people gave us freedom. India had a giant in Nehru at that time."
For a scholar and practitioner of Hindu philosophy, I am curious to know what he thinks about the current zeal for gau raksha and aggressive nationalism.
"Cow regard is very beautiful, but it is not the means to realisation. It is kindness to the whole creation. To give it priority suggests you don't mean much about the higher levels of Hindu philosophy," he explains.
"There has been a colonial transposing of university culture, but India has its own ancient gurukul tradition. By all means fly a flag on national occasions, but don't demean knowledge by assuming it is confined to one nation which is what a national flag connotes."
"If you want to have a flag, then have a flag to the goddess of learning (Saraswati)."
India, he says, has a much superior civilisation and a brilliant religious tradition.
But it must be cautious.
"India has slipped 3 places in freedom of expression. It is now on the level of Zimbabwe, Pakistan -- so there ought to be some reason for soul searching."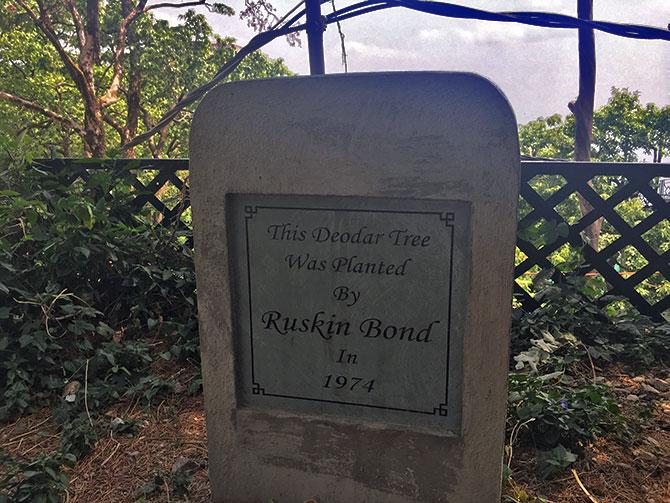 Photograph: A tablet under a big Deodar tree planted by his writer friend Ruskin Bond, who lives close by. Both Aitken and Bond are nearly the same age.
Disregard for the environment is another thing that bothers him and he gets up to point to a tree that has dried up in front of the window.
"Human beings are the planet's greatest pests. It is people who kill trees."
Outside is a Deodar tree planted by his friend Ruskin Bond.
As he walks us out, taking an afternoon walk, we pass the tree and Bill Aitken narrates another of those interesting gems from his life.
This one is hilarious.
"I was once invited to speak at a university. The vice chancellor gave a short speech about my writings and introduced me as Bill Clinton!"
He laughs aloud.
It is an afternoon dominated by laughter, stories, journeys and India.
Listening to him, I think if there is a treasure one must have it should be a scrapbook of memories like his.