In these dark, divisive times, Ajitha's humanity gives us cause for hope.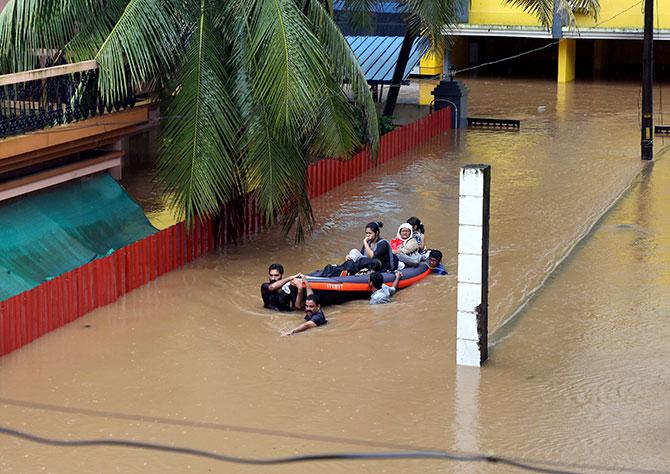 Ajitha considers herself extremely fortunate not to have faced the fury of the floods though she lives in the Kuttanad region in Alleppey. She also thinks this is an opportunity God has given her to help the less fortunate.
What she did when she came to know that Kuttanad was getting flooded beyond expectations, she along with her husband Prakashan, a former Indian Navy officer, rushed to the panchayat president and told him that her house was open for anyone who needs shelter.
Soon, she had 15 to 20 people staying at her home which included a bed-ridden elderly lady and a woman who had a cancer operation just a few days earlier.
Though some of them moved to a relief camp after a day, these two women and their relatives are still at Ajitha's home and it may take several days for the fully inundated Kuttanad region to return to normalcy.
Ajitha shares her story with Rediff.com's Shobha Warrier.
Though everybody is talking about the current floods in Kerala, Kuttanad has been suffering for more than a month.
This is the third flood in the Kuttanad region in the last one-and-a-half months.
When the people and the region slowly recover from one flood, another one strikes them.
The situation over here is extremely distressing and traumatic for those who are suffering.
The recent flood is the worst and the most devastating one.
There is nothing left in Kuttanad except water. You will not see anything but water.
It has been heart breaking for the poor farmers of the region. They have lost everything; their houses, crop and all their belongings.
Water from the Pamba river enters the Kuttanad region on its way to the sea and the Pamba has been overflowing dangerously from the 15th of this month.
With high tide in the sea, water has not been flowing to the sea, rather water is being pushed back to the land by the sea.
We live in Punnapra on the coast of the Arabian Sea, west of Kuttanad. Water reached just 300 metres from our place and it will remain here till the high tide is over.
I do not want to talk about this as this is not alarming at all. What is worrying is the situation in which the people of the Kuttanad region are facing right now.
About a kilometre from here are the paddy fields and they are fully under water. Also, all the houses.
You cannot even see the roof of any house. The rescue teams have evacuated every single person from all these areas and they are now living in various schools, colleges in nearby areas and wherever there is no water.
When we heard that the relief camps were filling up, we rushed to the camps with blankets, sheets, pillows and mats at 11 at night. The heavy rain did not stop us from going there. We felt it was our duty.
I feel God spared me to help the affected people, the less fortunate ones who have lost everything.
That was why my husband and I met the panchayat president and told him that our house was open for everyone, and that he could call us any time, even at midnight for any help.
Two days ago, early in the morning, he called me and said they were bringing a family of seven with a cancer patient who had had mastectomy (breast removal) done just three days ago.
She could not be taken to any relief camp for fear of catching an infection. Then, there was an elderly woman who has been bedridden for the last five years. She could not be taken to any relief camp.
When the water level in the Pamba rose to dangerous levels, water flowed into this area. At night, the farmers saw their homes getting fully inundated in minutes and all their belongings being washed away in the aggressively flowing water.
The elderly woman was evacuated from her house at 2 in the morning in an uruli (traditional cookware made of clay, copper and bronze). The others from her family swam. They had to swim for two hours till they reached a place where there was no water.
I still cannot forget the way they looked. All of them were on the verge of collapse. They had not had any food for four days and they were covered fully in mud and slush.
The first thing I did was I gave them hot water to have a good bath and by the time they were ready, I served them all food.
Every single person in this area is helping the victims in whatever way they can.
They are offering all the things they have in their homes. But not many are willing to have sick people in your house. I have seen my parents helping people all the time. So, my husband and I didn't have to think twice before accepting these sick people.
The first day, I had around 20 people in my house for lunch and dinner.
By the second morning, some of the young men and women went to the camp because they would not get any compensation if they were not staying in the camp.
I still have seven people living in my house including the two sick women. All these people are from an area that is located around 20 kilometres from here,
The woman who had surgery needs to be in a sterile atmosphere and also needs dressing frequently. Her wound is still very raw and fluid oozes out of it even now. She has to be handled very carefully.
My daughter is a doctor who is doing her post-graduation in Kochi. She was helping out at various relief camps there. She has now come to help the people here. My children get out in the morning and come back only at 10 pm every night after helping the affected people in various relief camps.
All these people are farmers in the Kuttanad area and they have lost everything. We say it will take months for everything to get back to normal.
Unfortunately, life will never be the same for these people.