If the US President is the master of awkward handshakes, the Indian Prime Minister has cornered the market on awkward hugs.
Which one will it be when the two meet?
Videos: Rajesh Karkera/Rediff.com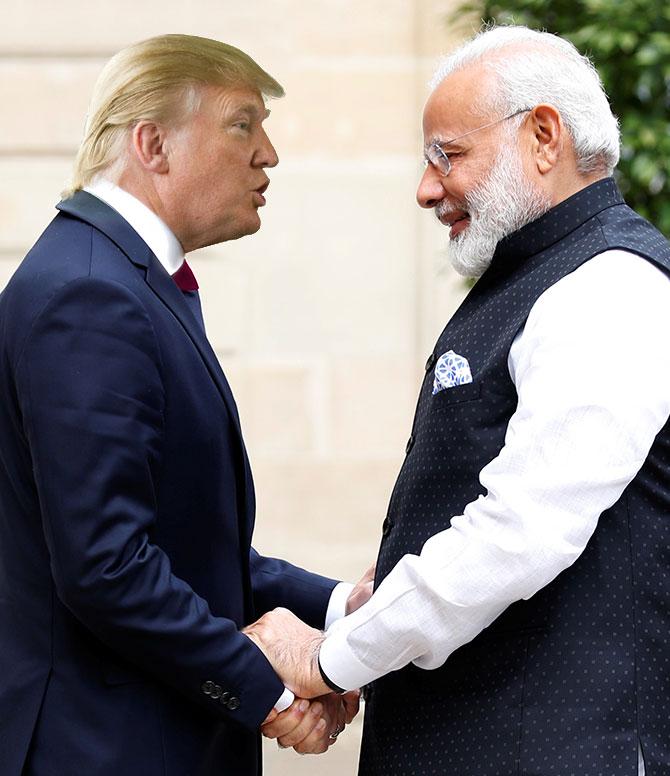 IMAGE: Prime Minister Narendra Modi and US President Donald Trump will meet on June 26.
Photograph: Charles Platiau/Reuters. Imaging: Rajesh Karkera/Rediff.com
A handshake is no longer a simple thing. At least not when Donald Trump is around.
The United States President has turned the most simple of diplomatic tools into what resembles a round of arm wrestling.
There is the grab, the squeeze, and the yank that is enough to unbalance a person should s/he be unfortunate enough to be standing.
The earliest iteration of the President Trump handshake -- and probably still the most awkward -- was the 19 interminable seconds he aggressively pumped and patted Japanese Prime Minister Shinzo Abe's hand.
'During the 19 seconds that they were shaking hands, Trump managed to pat the Japanese prime minister's hand no less than six times,' The Guardian noted.
'Patting someone's hand in this way pretends to be an affectionate gesture of approval, but its real purpose is to remind the other person who's actually in charge. It's what psychologists call a "status reminder".'
'Note the grip he gave his supreme court nominee Neil Gorsuch,' The Guardian noted, 'yanking the judge towards him as if he were a pet dog on a leash.'
And world leaders are now giving it back in kind, providing much fodder to body language experts and much amusement to the rest of us.
When Canadian Prime Minister Justin Trudeau met Trump days after the Abe handshake fiasco, he came armed.
Trudeau stepped into Trump's space and grabbed his shoulder with his free hand, giving Trump no chance to execute the yank-shake.
Trudeau's dominance continued in the Oval Office when Trump extended his hand for another shake.
In a moment documented by many photographers, the young Canadian waited just a few beats -- with a side-eyed look that seemed to say he was wondering whether to take Trump's hand at all -- before shaking hands.
French President Emmanuel Macron wasn't giving any quarter either when he met Trump in Brussels last month for the NATO summit.
Macron and Trump grabbed each other's hands so tightly that their knuckles turned white; they looked at each other fixedly till Trump finally loosened his grip and attempted to extricate his hand.
Macron also made it a point to swerve away from Trump while meeting NATO partners and greet German Chancellor Angela Merkel first.
The newly minted French leader told the French media, 'My handshake with him was not innocent. We need to show that we won't make small concessions, not even symbolic ones, but also not overdo things'.
But Trump is not alone in the awkward greetings stakes.
The Indian prime minister seems to have cornered the market on awkward hugs, prompting memes and headlines like 'Narendra Modi won't stop hugging world leaders no matter how awkward it is'.
Modi also seems to be Trump's equal when it comes to power-play handshakes.
Just ask poor Prince William; he ended up with a well-documented hand imprint after a particularly firm handshake from Modi last year.
We can't wait to see how the greetings play out when Modi meets Trump come June 26.