'Of course, there is fear, but if we want change, then we must be ready to face the consequences.'
Manavi Kapur reports.
Illustration: Dominic Xavier/Rediff.com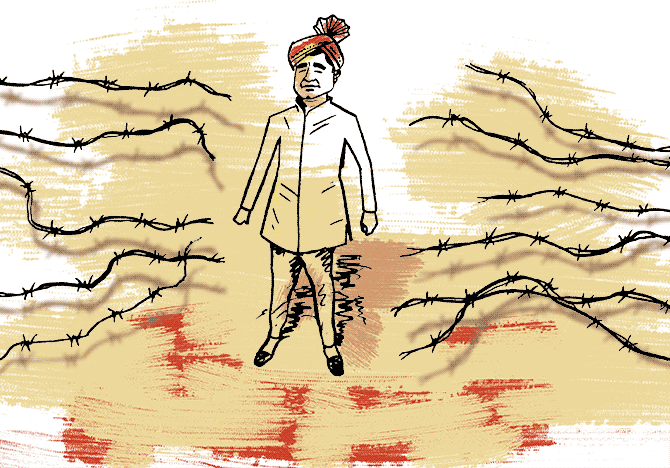 For someone who took on the upper caste Thakurs in his village, Sanjay Jatav is a man of few words.
But if there is one thing he knows for a fact it is that he wants to be a groom who doesn't need to compromise on the pomp and show of his baraat (wedding procession) -- or the route it takes through his hometown.
All that Jatav wanted was that he be allowed to take his baraat to his fiancée Sheetal's home in Nizampura village, Uttar Pradesh, along a route that would have included streets with Thakur homes.
This was, of course, a striking break from tradition, where people from lower-caste Jatav communities are not allowed to share public spaces with those belonging to the upper castes.
Jatav's insistence on his chosen route for the baraat was sacrilegious for the Thakurs -- and the event threatened to upend the social structure of Kasganj.
"This was not something I had planned. I just wanted my wedding to be a special occasion. It was only when the Thakurs objected that I realised I had to do something to break this cycle of oppression," says Jatav over the phone.
The 27 year old is a bachelor of law student, which also perhaps gave him the courage to take this matter to the Allahabad hich Court.
"People think I was manipulated by political parties. But the truth is that this was my own struggle, which I knew I had to fight," he says.
What would appear to be a harmless wish led to Section 144, which prevents a group of people from assembling together and disrupting peace, being imposed in all of Kasganj.
The Jatavs, a sub-caste among Dalits, are a minority in the region, with 90 per cent of homes belonging to the Thakurs.
Though the court told Jatav to approach the local administration for assistance, a compromise had to be brokered between the Thakurs and Jatavs regarding the route.
That the Thakurs have any say at all in a private citizen's wedding procession is itself telling of the deep prejudices that continue to prevail, despite laws that uphold the equal rights of every Indian citizen.
While Sheetal and Jatav seem like a couple of the 21st century, taking on the ills of the world with B R Ambedkar's idealistic social vision, Sheetal is still a silent participant in this mark of protest.
Her brother Bittu is the stronger voice that emerges in the narrative, one who articulates his politics and the prejudices against Dalits more vocally than Jatav does.
"Duniya badal rahi hai, aur hum wahin puraane khayalon mein phasse heuy hain (The world is changing and we are still stuck with the same outdated ideas)," says Bittu.
He describes himself and his family as "Ambedkarites", strongly believing that the principles of equality laid down in the Constitution should translate into social and economic reality.
Bittu's voice is one among the several Dalit assertions emerging out of various pockets in the country, including Uttar Pradesh, where several pro-Dalit organisations are attempting to unite a fractured community.
Bittu adds that it is because of the support of such organisations that their wedding preparations have been successful.
"Of course, there is fear, but if we want change, then we must be ready to face the consequences of our protests," he says.
Jatav, on the other hand, is both excited and relieved.
"We have faced this caste bias since we were children. At least our wedding will be spared and we can celebrate like everyone else."
From his mouth to the politician's ears.