Wajid Ali Shah, the last Nawab of Awadh, was not just a poet, playwright, dancer and patron of the arts, says Payal Mohanka. He was a royal who hand-created his personal calendar.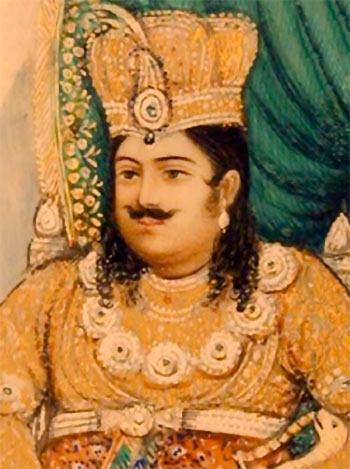 Wajid Ali Shah, the last ruler of Awadh.
Image: Courtesy Wikimedia Commons
Kolkata's famed Victoria Memorial Hall's innovative stroke is paying off.
A year-and-a-half ago, it introduced a new concept titled 'Object of the Month'.
This series began with the display of two original sketches by the Spanish surrealist painter, Salvador Dali.
The following month, the focus moved to an achkan or long coat belonging to the fiery Maratha leader Tatya Tope, which stirred memories of India's first war for Independence in 1857.
Then, in November, in honour of Guru Nanak Jayanti, the museum displayed his miniature painting.
Each of the exhibits evoked a lot of public interest.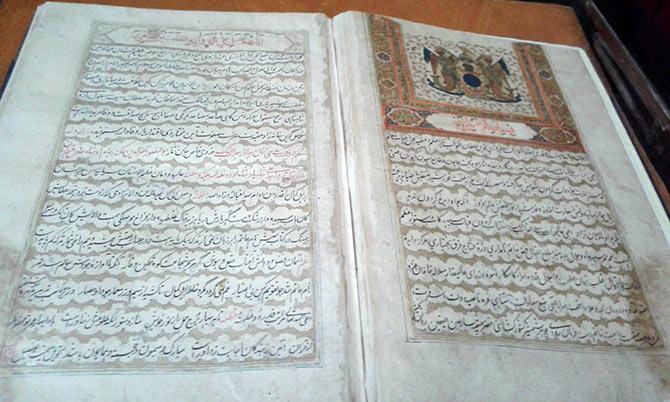 This month, another historical artifact has caught the imagination of the visitors to the museum.
It is a handmade calendar that the Hall acquired for Rs 50 in 1912.
What makes this calendar special is the fact that Wajid Ali Shah, the tenth and last Nawab of the state of Awadh, also known as Oudh, personally prepared the calendar with assistance from a calligrapher, Syed Mohammed Mehdi Khan.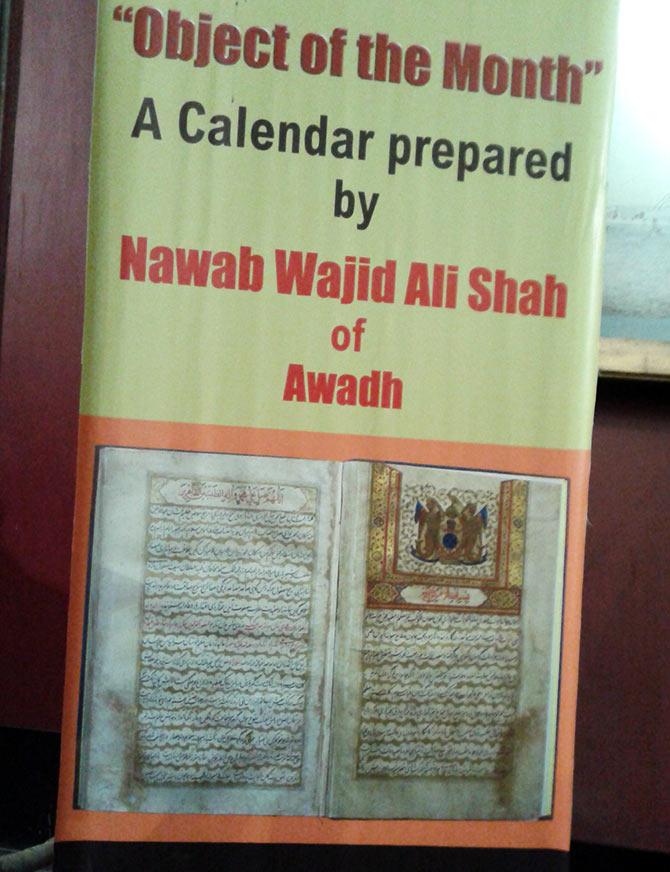 The Victoria Memorial owns a collection of 28,394 objects.
This includes the 5,000 paintings it acquired from the Rabindra Bharati Society in 2007 on a long term loan.
Jayanta Sengupta, the museum's secretary and curator explains, "Like most museums, we can display only one-third of our collection. The rest is in storage. Ideally, we should rotate objects. An object lying in storage should be displayed for two years, then stored again for four to six years."
The team at the Victoria Memorial Hall visits the storage facilities regularly and identifies objects that ought to be conserved and treated in the laboratory. In the process, they would often come across an object that had not been displayed for a long time.
On one such occasion, they located Nawab Wajid Ali Shah's calendar.
"The Nawab brought it to Calcutta when he had to leave Awadh," says Gholam Nabi, a Fulbright scholar who is the head of Documentation and Photography at the Victoria Memorial.

This calendar was used by the Nawab till his last days.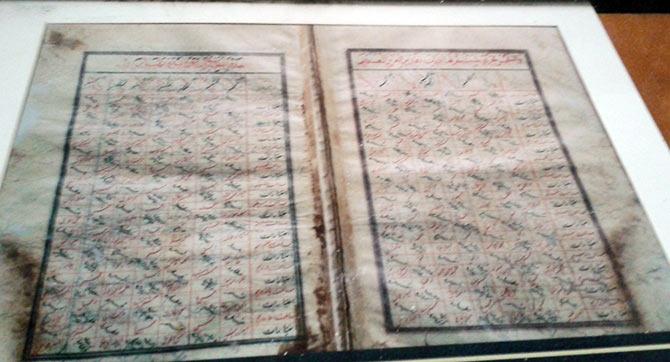 Four of the calendar's 44 pages are on display. Each page features two months, within a dimension of 26.6 x 40.5 cm and has 15 to 31 lines.
The Nawab relied on the calendar while planning every major event in his life, including fixing auspicious occasions like marriages in the family.
A poet, playwright, dancer and patron of the arts, the Nawab ascended the throne of Awadh in 1847 and ruled for nine years. His kingdom was annexed by the British in 1856 and he was exiled to Metiabruz, a neighbourhood in the southern fringes of Calcutta.
The banished king had an annual income of Rs 12 lakh (Rs 1.2 million) and lived a lavish life. He had also been given several stately homes along the banks of the River Hooghly. This is where he lived till he passed away in 1887.
Besides astronomy and astrology, the Nawab also had a deep interest in dance and music.
The Victoria Memorial has in its collection a book on dance and music, Musammi-Ba-Banni by Wajid Ali Shah, which was printed at the Sabtinabad press in Metiabruz.


"A museum is a complete circle of knowledge. It encourages a healthy sense of curiosity. I was sure this calendar will generate a lot of interest in Calcutta as Wajid Ali Shah left his imprint here. Satyajit Ray too was inspired to make a film on the period, Shatranj ke Khiladi," says Gholam Nabi.
The Nawab came to Calcutta with his entourage which included his personal staff, his retinue of cooks and poets. In Metiabruz he created a 'mini Lucknow' with flower sellers, paan (betel leaf) sellers, biryani shops, kite sellers and zardozi craftsmen.
The object of the month has rekindled interest in a bygone era.
With its displays, the Victoria Museum Hall hopes to take you back in time, making history come vibrantly alive.
Photographs: Payal Mohanka