'One wrong input meant instead of rescuing one person, four people in the helicopter would gone down.'
'That was the risk I was supposed to take.'
'It was like balancing on a pin.'
'In an ordinary situation, I would not have done that operation at all because it was extremely risky. But this was an emergency.'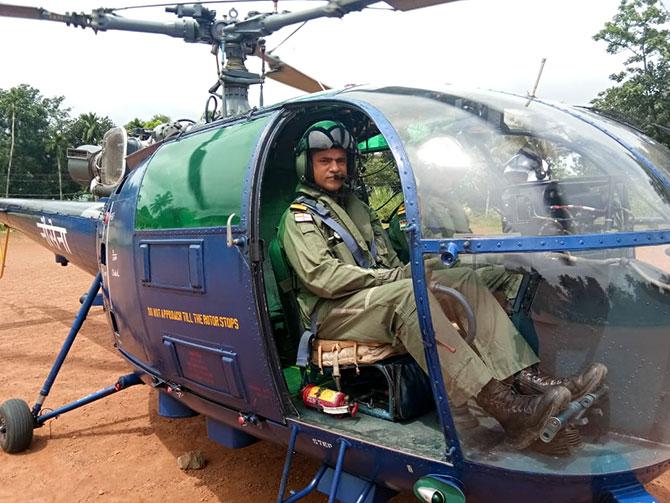 In his more than two decade career as an Indian Navy officer and 19 years of service as a pilot, Commander Vijay Varma has been involved in several rescue missions including three flood affected areas in India.
The Kerala floods, Commander Varma tells Rediff.com's Shobha Warrier, has been the most challenging as far as distance and scale of operations is concerned.
The commander became a hero after the miraculous rescue of a pregnant woman whose water had broken. Two hours later, she delivered a baby boy.
The same day, he rescued another pregnant woman and two days later, two more women in the advanced stages of pregnancy were rescued.
Commander Varma looks back on his amazing mission possible:
It was on the 17th of August that we got a call that there was a medical emergency -- a pregnant woman whose water had broken.
My helicopter being a small one is uniquely suitable for operations in places like Kerala where bigger helicopters find it difficult to operate.
Although we were given the location that she was in a masjid near Chowara railway station in Aluva, we could not even see where the road was or where the railway line was.
All we could see down was water. It was a very built up area and when we saw a large group of people standing, we asked them in sign language where a pregnant woman was.
They showed us the masjid which was operating as a relief camp, I think.
There was no place on the roof of the masjid to land as they had raised a shelter covering the terrace with tarpaulin and bamboo.
So there was no way we could pick her up from the terrace. We then saw a small balcony next to the roof and we decided to use it for rescuing her.
There were a lot of trees. There were also power and other cables on one side and the masjid on the other. There was barely any space for me to take the helicopter any lower.
The problem in such built up areas is when you are hovering low, a kind of recirculation happens which causes a loss of power. That was what we were facing there.
We were operating on the margin and hence descended very carefully. It was like walking on the ground very, very slowly.
Finally, we got into position, but my winch operator, a very experienced person from Haryana who was also a flight diver, said, "Sir, mushkil lag raha hai (It looks difficult)."
I said, let me try.
Slowly, when I positioned myself (the helicopter) on top, he said, "Sir, if you can maintain like this, then we can do it."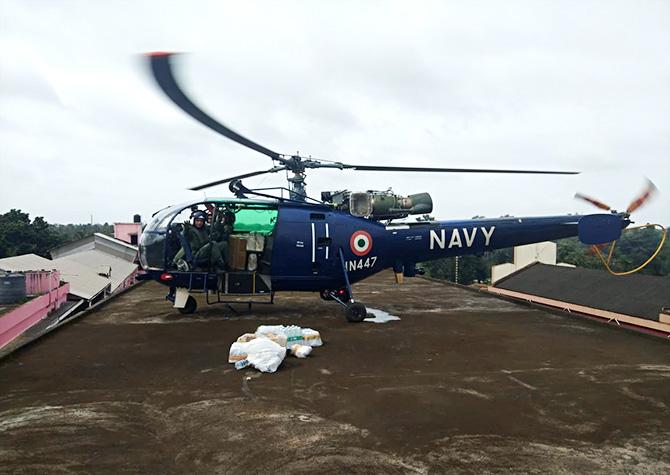 Thus started the 30 minute ordeal of bringing her up.
I had to position myself steadily in that position for that long.
Decision making is risk management for us.
Every day, we are in situations where we have to make decisions, to do or not to do, in a split second.
If the tail rotor or the main rotor touches something, everything will break apart.
One wrong input meant instead of rescuing one person, four people in the helicopter would gone down -- my co-pilot, the winch operator, the diver and myself.
That was the risk I was supposed to take. It was like balancing on a pin.
When you pick someone using a thin rope, it starts swinging like a pendulum once it starts moving up.
Here it is a pregnant woman. She could hit something in the swing, and in her condition, it was very dangerous.
Only if you were very sure, you should do it.
In an ordinary situation, I would not have done that operation at all because it was extremely risky. But this was an emergency.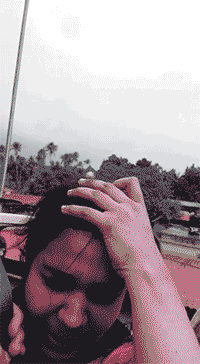 What gave me the courage to do the operation was one had to be very realistic about one's capability. Nothing inflated, just realistic.
I was trained to do such operations and this is my 19th year as a pilot.
Every pilot should be aware of his limitations and I was confident that I could remain steady for the entire period.
I had great faith in my team. We knew each other very well as we had operated several missions together. There was an understanding and trust between us.
I had faith in my co-pilot.
I had faith in my winch operator.
I had faith in my diver.
And I had faith in my capability that I would be able to hover around during the entire operation.
The most critical thing was, while winching up the pregnant lady, the wire had to be absolutely vertical.
Even if there is a slight amount of angle, as the person leaves the ground, she will swing in the opposite direction.
I told my winch operator that it was his responsibility to see that it worked perfectly. If something went wrong, he would be responsible.
But the final decision had to be mine and I took the decision that we would do it.
Then the mission started.
First, I had to send a doctor down to examine her and assess the condition of the person.
As her water broke, Sarjitha was not able to walk. She was brought out of the masjid in a chair.
The second person who went down was the diver to help the lady come up.
Next was bringing the doctor up so that he was there when she was brought up.
The fourth person to come up was Sarjitha and the last person to enter was the diver.
So, we did five winching operations and each operation took around five minutes.
The entire operation needed 25 to 30 minutes.
As the operation went on with my winch operator and diver giving me running commentary, my concentration was purely on maintaining the helicopter steady and nothing else.
Once all of them were inside, we quickly rushed at a very high speed to the naval base station, Garuda, where an ambulance was waiting to take her to the hospital.
The moment we landed, they rushed to the aircraft with a stretcher and in five minutes, she was taken to the hospital.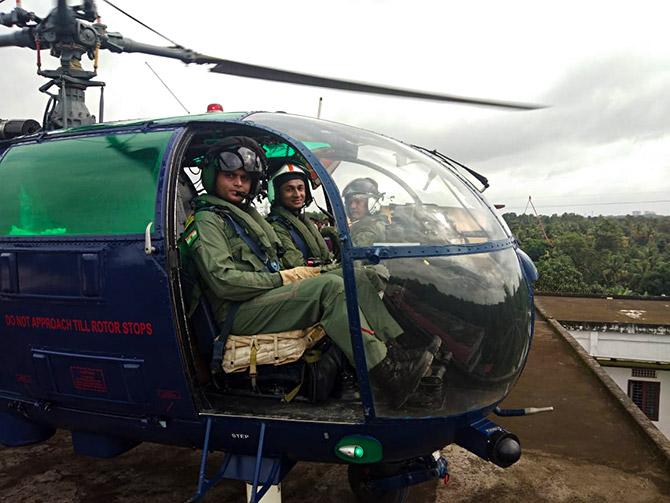 It so happened that while we were winching Sarjitha up, we were told there was another heavily pregnant woman close to where Sarjitha was, but she was not in a critical condition.
We could not take two pregnant ladies and there was no space in the aircraft. So, I promised to come back to take the next lady.
So I was in the air the moment after Sarjitha was safely dropped to airlift the second woman.
There was also no place to land and there were trees and cables all around.
The whole story was repeated and we successfully airlifted her too.
After that, there was another mission and another mission... the day continued like that.
When you hover over an area steadily for 25 to 30 minutes, your entire body becomes taut.
It was physically and mentally draining, but the adrenalin rush would last for three days.
It was emotionally draining too to see so many people suffering.
As I was coming back late that evening from the naval base totally drained, somebody came and told me that Sarjitha had delivered a baby boy two hours after we dropped her at the base.
And that news made me forget all the pain I had till then.
Looking back, airlifting Sarjitha was an emotional experience; not when we were doing it, only much later.
Also, seeing the thank you note on the terrace from where we had rescued two women who were stranded there.
Though we are trained to do such operations, I would say in my 19 years of experience as a pilot, I have not had such an experience.
I had not taken a pregnant woman to a hospital in such difficult and risky circumstances.
Here, I rescued not one or two, but four pregnant women.
The third rescue happened from a camp of around 1,000 people where I had gone earlier to deliver urgent medicines.
I was told then that I had to take a pregnant woman to a hospital. She was not in any danger and we took her and her husband to a hospital. Both were in very poor state when we saw them.
The fourth pregnant woman was critical when we were called. It was a medical emergency of a woman who had not reached full pregnancy but her water had broken, and she was also bleeding.
She was almost unconscious when we landed there. We had taken a doctor with us and only after he stabilised her did we airlift her. I am told she still continues to be serious.
The Chennai floods where I also operated was terrible, but it was restricted to one area -- the city and its outskirts.
But here, almost the entire state was flooded. So, the number of people to be rescued was humongous and the distance also was very large.
The Indian Navy had to cover the north to the south. We had to send teams by air, on the ground and on boats.
It was a colossal effort involving hundreds and thousands of people. The scale of operation was phenomenal.
The terrain was very difficult and varied.
For example, a place like North Paravur which was fully inundated, you have palm trees as tall as 20 feet.
Trying to go down between these trees was extremely difficult, but we did it.
We went to locations where normally we would not venture out. That was what made the relief operations so challenging here.
The problem here was nobody expected a calamity of this proportions.
The people of Kerala living in the low-lying areas are used to floods; they know the water will come up and then go back without creating any problems. That was why many people remained at home.
Another problem we saw was there were so many old people living alone in several of the houses with their children living abroad. There was nobody to support these people. We found their mental state very distressing.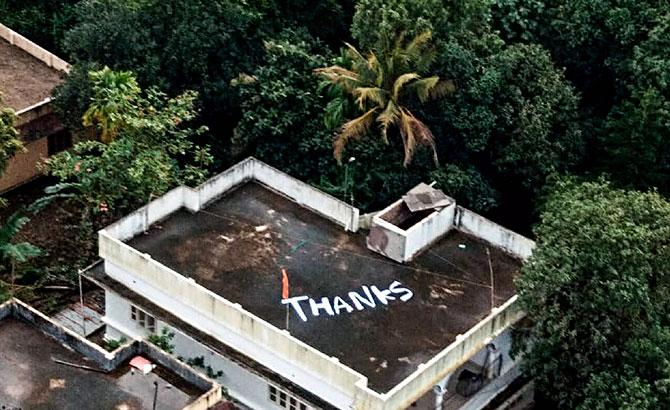 I have to say the people of Kerala were amazing! We encountered several occasions when people said, 'Don't take me. Take him first.'
We went to a place and dropped three big food packets. When we were about to drop another one, they said, 'We need only this much now. Please give the rest to somebody else. There are so many hungry people out there.'
When we went to pick people from a completely inundated area, we saw people standing on the terraces of four houses. They were all desperate, but we could only take two.
When we said that, they started pointing to the other terrace.
When the Kerala government offered money to the fishermen who voluntarily came forward to help in the relief operations, they refused it saying they were just helping the fellow human beings. I had goose bumps hearing it.
Where will you see such behaviour while facing a calamity like this?
These kinds of incidents were not confined to any one place, but at many places.
The way the people of Kerala have come together in a tragedy like this, I don't think you will see it anywhere else. This is incomparable.