Rediff.com's Prasanna D Zore and Uttam Ghosh meet the malnourished children whose condition has earned the attention of India's apex court.
Photographs: Prasanna D Zore/Rediff.com. Graphic design: Reuben NV/Rediff.com
Gaurav Dattatray Jadhav, 5, Priyanka Madhukar Merinde, 5 years and 6 months, Monica Shayam Bodhere, 3.1 years and Datta Maruti Ped, 3.2 years, are all normal-looking, chirpy children that one comes across in Khoch village, which witnessed the death of Ishwar Savra due to severe acute malnutrition in Mokhada, Palghar district.
Their mothers insist these four children too are malnourished.
According to them, Gaurav's weight was 11 kg, where it should have been 18 kg; ditto with Priyanka.
Monica's actual weight, her mother said, was 9 kg, but normal children her age weigh 14 kg; ditto with Datta.
At the anganwadi in Khoch, these children receive a lot of attention.
A couple of days earlier, health officials from the district visited the anganwadi to check if the children were malnourished.
Such health camps have now become the norm in most anganwadis in Palghar district. The state government is grappling with the political fallout of malnutrition deaths in the district, and on October 5, India's Supreme Court pulled up the Devendra Fadnavis government over malnutrition deaths in the district.
Shevanta Merinde, Priyanka's mother, says her daughter's weight, as the health officials who checked her at the anganwadi told her, should have been 15 kg instead of 11 kg, making her daughter a malnourished child.
The health officials who measured the weights of these children, it seems, did not give Priyanka's mother the true picture.
Dr Deepak Ugra, consulting paeditrician at Mumbai's Lilavati Hospital, explains how age and weight are correlated: "The weight of a normally growing one year old, who gets proper nutrition or a balanced diet, is 10 kg," he says.
"Every year after that, a normally growing child should gain 2 kg of weight till the age of 7," Dr Ugra adds.
As per this simple norm, Priyanka's weight should be between 18 kg and 19 kg and not 15 kg as the health official at the anganwadi told her mother.
According to Dr Ugra, at 5 years and 6 months, with 11.2 kg weight, Priyanka falls under the category of moderate acute malnutrition, or MAM.
"If the weight of a child at a given age is less than 50 per cent of her/his normal weight, then that child falls under the category of severe acute malnutrition, or SAM," Dr Ugra says.
By this standard accepted by Indian doctors for the weight-age correlation for Indian children, Gaurav, Priyanka, Monica and Datta, are all malnourished, but thankfully, fall under the MAM category, a less severe condition than SAM.
***
Priyanka's mother Shevanta, at 30, is mother to three more children: Manisha (10), Ritu (7), and Sahil (2 years and 3 months).
Manisha (Class 4) and Ritu (Class 2) attend the panchayat school.
Normal children of Sahil's age (seen in the photograph with his mother) weigh 12 kg. Sahil is just 8 kg, yet another case of MAM in Khoch.
"It was only after he started going to the anganwadi that he gained weight," his mother says. "He was just 5 kg a year ago," she says about Sahil, who was running a slight fever when we visited his village.
Both Priyanka and Sahil, says Shevanta, get to eat sattu (a protein-rich paste made from ground cereals and pulses) and boiled eggs at the anganwadi these days.
"I hope their weight gain becomes normal soon," she says.
***
In Kalamwadi village, where Maharashtra's Tribal Welfare Minister Vishnu Savara was confronted by Sita Wagh, the mother of Sagar Wagh, 2, a victim of SAM, the effects of malnutrition is visible on the children playing outside Sagar's house.
Durga Wagh, at 2, weighs just 8 kg (her normal weight should have been 12 kg).
Like Sahil, says Durga's father (in the photograph below) and Sagar's paternal uncle, she too started gaining weight only after she began attending the village anganwadi regularly.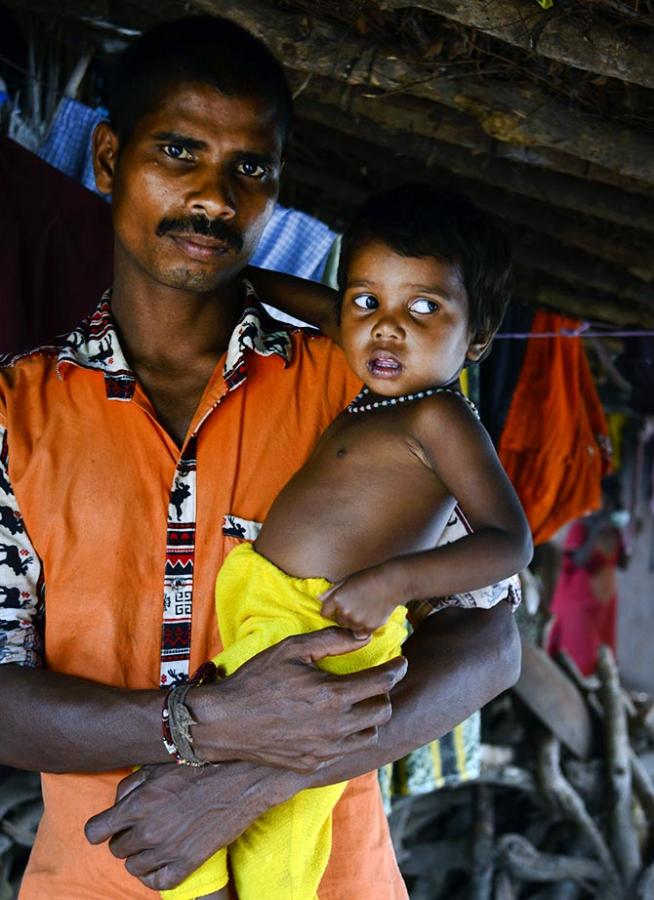 Her father, a farm labourer, says, "these days the children get to eat khichdi (a rice gruel), eggs, sheera (a sweet semolina-based dish), and bananas."
At home, though, Durga has to make do with a staple that many tribal households in the area rely on to satisfy their hunger: Rice gruel with a dash of salt, turmeric and red chilli powder.
***
In Kalamwadi we encounter this boy, who the villagers referred to as "Datta's porga (son)".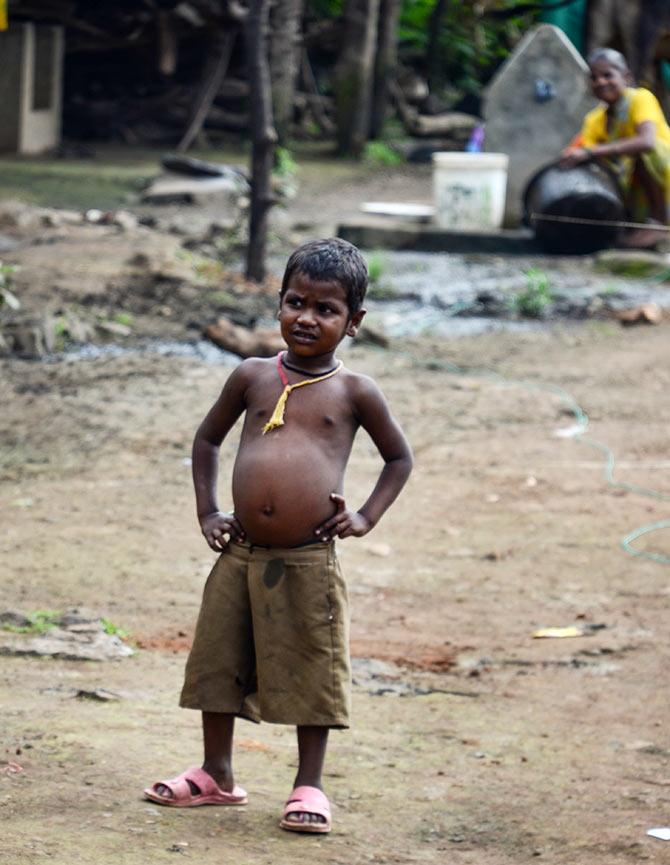 A shy boy, with a pot belly (often seen in children with protein energy deficiency), the villagers made fun of his condition.
This boy, they say, was also recorded by anganwadi officials as a case of malnutrition.
His parents have gone out in search of work and the boy is reluctant to speak with us.