Gujarat, says Uttam Ghosh/Rediff.com, is a state that is seeing rapid changes, capturing some of the churn that he witnessed.
If there is one thing you can't miss after Narendra Modi became prime minister, it's his home state.
Gujarat is in the newspapers, it's on television, it's online and, of course -- how can I forget? -- you'll hear someone or the other mention it atleast once every day.
Which is why I thought I would try and capture visuals of daily life in some parts of the state.
There have been significant changes in Gujarat.
Migrant labourers are coming to the state in large numbers to work in its farms and factories. They bring with them their own culture and cuisine.
Autorickshaw drivers assume you want to go to Asaram Bapu's ashram instead of Mahatma Gandhi's Sabarmati ashram.
I saw Communist posters on walls and weekly markets in Ahmedabad, remnants of a village culture.
Mobile phones have empowered young girls who prefer going away to the cities, which has unsettled the village elders.
Towns have shiny, similar looking malls everywhere. Middle-class homes can easily buy mineral water here, but the villages across the super highway do not have access to drinking water.
The rural folk still love their slow paced life and like spending time in the many temples they have, but are worried about the increasing number of people leaving farming and migrating to the cities. They are concerned that big corporations like Walmart will change their lives. They are unsure about the new farming methods that BT crops have brought in.
Urban Gujarat too is seeing rapid change, especially when it comes to infrastructure. The roads are much better and malls and high-end housing complexes are popping up everywhere.
Strangely, the youth in the cities relate development to being able to spend time in a McDonald's or a Domino's.
Here then is Gujarat, seen through my eyes: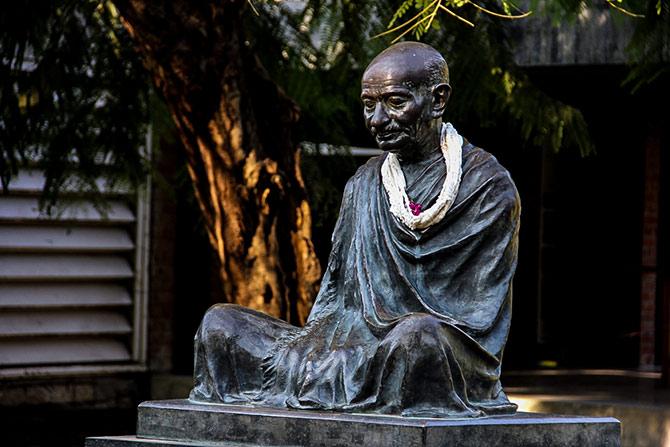 Sabarmati.
The Gandhi statue at the ashram. Though Charles Correa had designed the Sabarmati ashram in 1963, it is still modern and inspiring.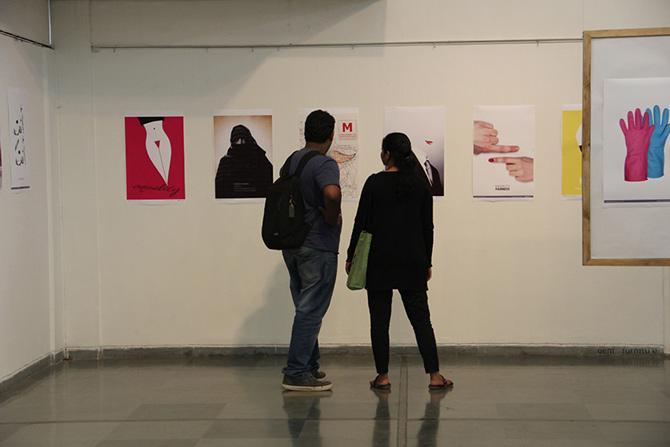 Ahmedabad.
A poster exhibition on gender equality at the famed National Institute of Design.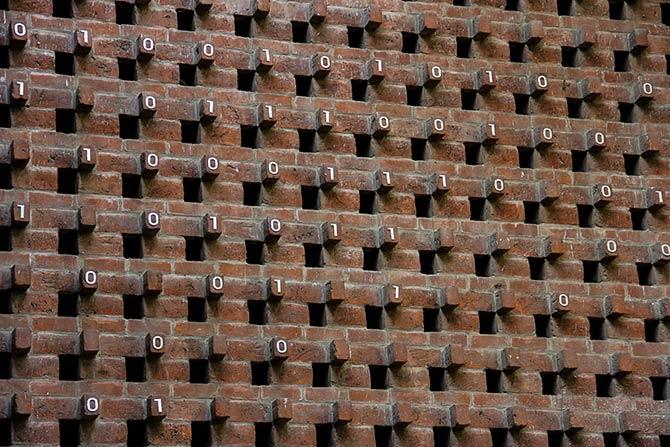 Ahmedabad.
A brick-and-cement mural representing the binary code that is the bedrock of the computer age. This, again, is at the NID.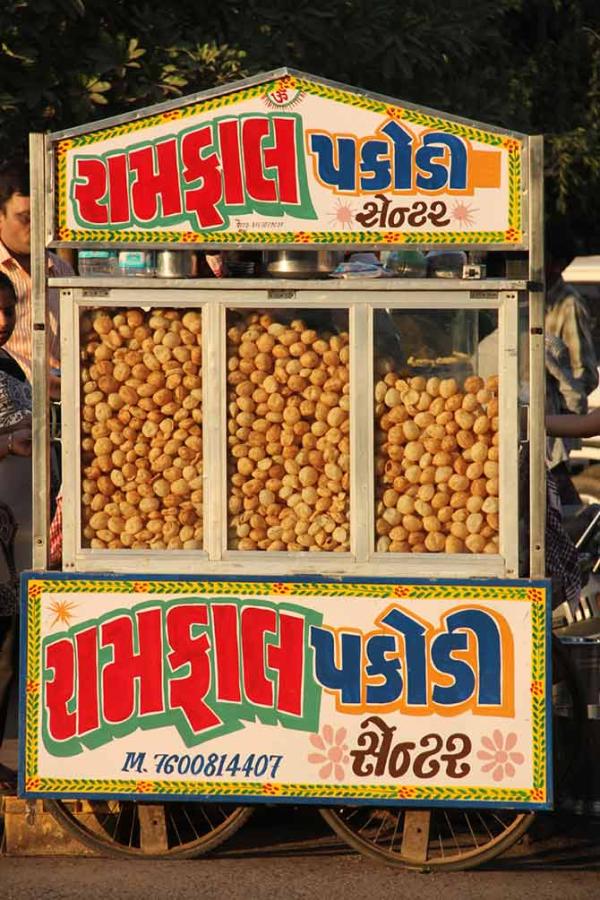 Ahmedabad.
A colourful roadside chaat cart, filled with crisp puris, entices customers.
After all, which true-blue Gujarati can resist the call of chaat?
Ahmedabad.
A shiny mall is reflected on the windscreen of a passing autorickshaw.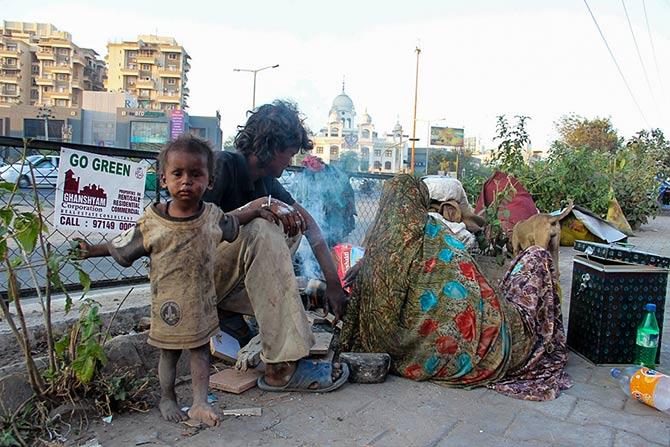 Ahmedabad.
This poor family lives on the pavement in front of the mall, invisible to all who pass by.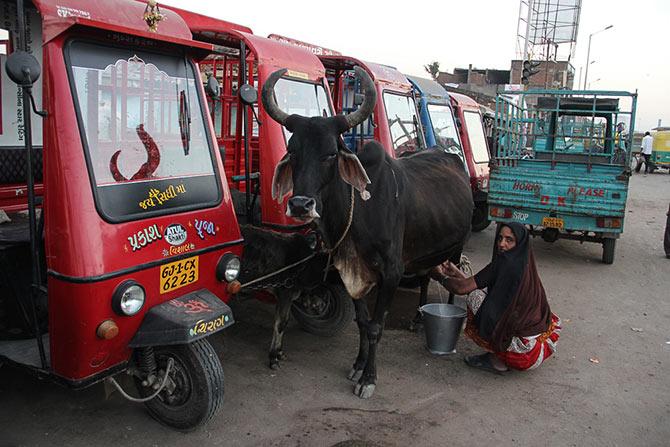 Sabarmati.
Milk vans in the cities are very different from the chakdas (a motorbike modified into an open tempo) that you will spot in many rural areas in Gujarat.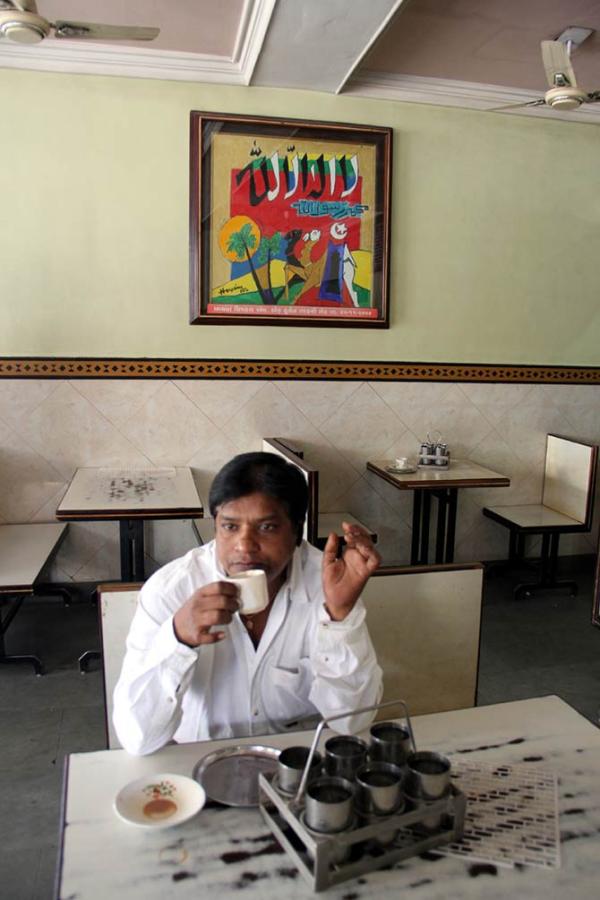 Ahmedabad.
The New Lucky restaurant is unique in more ways than one.
To begin with, it displays an original M F Husain painting. The owner reveals that the legendary painter was a regular visitor and then refuses to say another word on the subject.
If you are not squeamish, here's another little nugget. The restaurant is built on a graveyard.
I spotted two tombstones -- one outside the restaurant and one inside!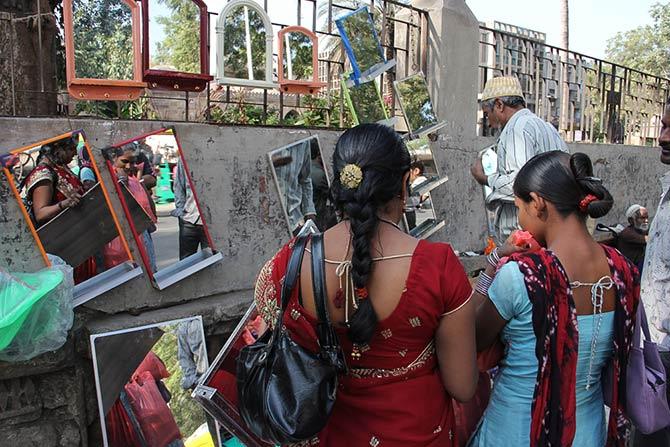 Ahmedabad.
Women examine mirrors at a pavement stall.
Ahmedabad.
Gujarat may have turned saffron, but here's a Bhagat Singh wall painting with a Socialist Unity Centre of India poster on it.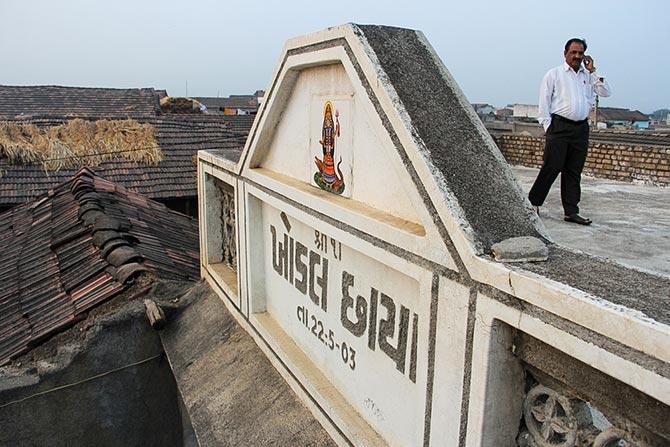 Kamigadh village, Saurashtra.
Sanjay Jalgaria, the principal of the school, lives in this rented house.
The terrace proudly displays the name of the house under a glazed tile print of the Goddess Khodiyar Mata, who is the kuladevi (family deity) of the Leuva Patel community.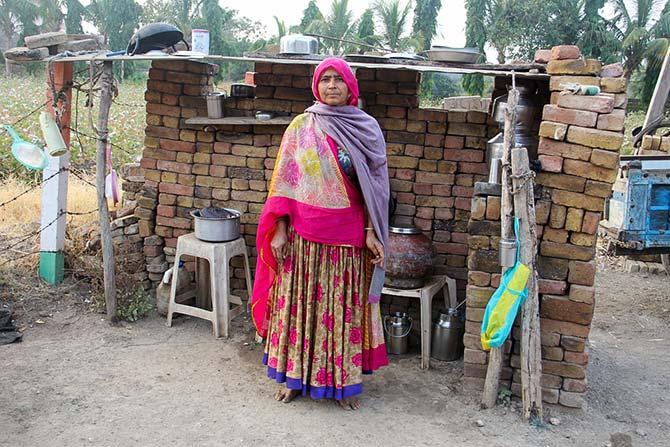 Kamigadh village.
Kamigadh is located in south Gujarat.
Most of the villagers own large tracts of land. The farmers here are well off, but divided about cultivating BT cotton, which is the primary crop here.
They worry about the stunted crops and the shortage of water (in order to grow cotton, farmers need access to a lot of water).
During the harvest and sowing seasons, Kamigadh attracts migrant workers.
This migrant worker, who is from north Gujarat, outside her makeshift kitchen. She lives in the field itself.
Workers usually stay in the south for six months.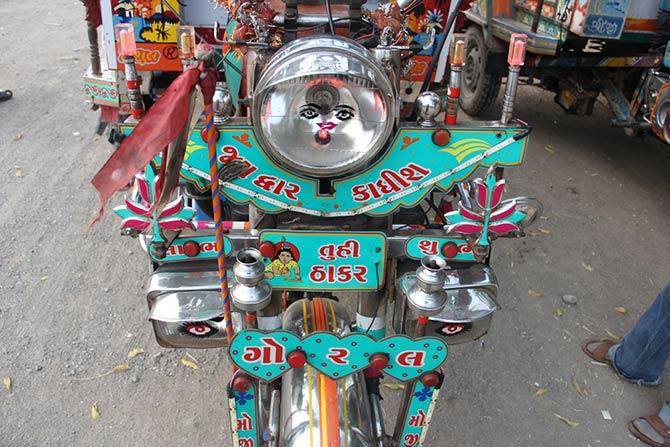 Kamigadh village.
Motorcycle milk vans or chakdas are tended to lovingly.
Look at this well-decorated one I spotted.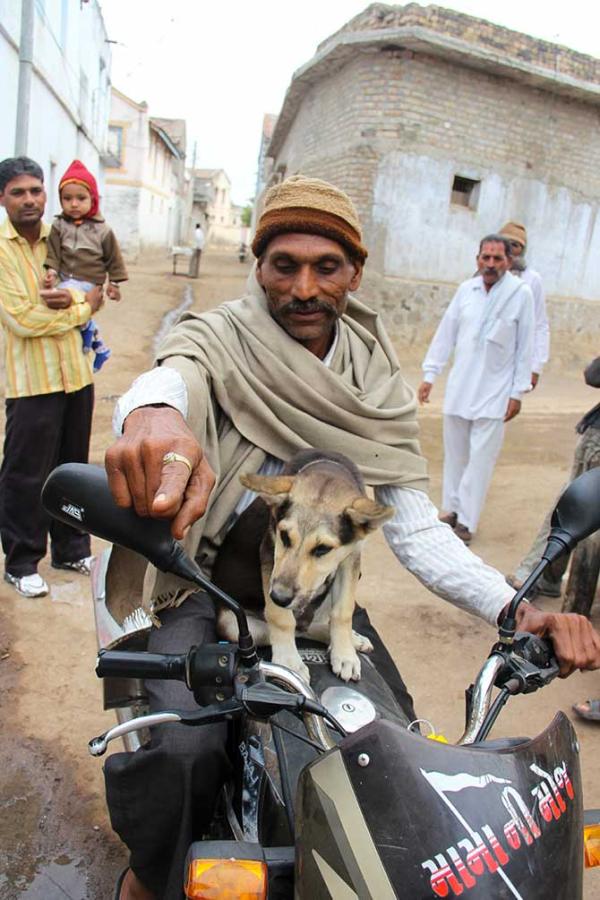 Kamigadh village.
Kamigadh has electricity and asphalt approach roads.
It has five temples and a good school, where students are taught till the secondary level.
However, as you can see in the picture, there is no drainage system to speak of.
The primary health care centre, which was buzzing with flies, did not have a doctor.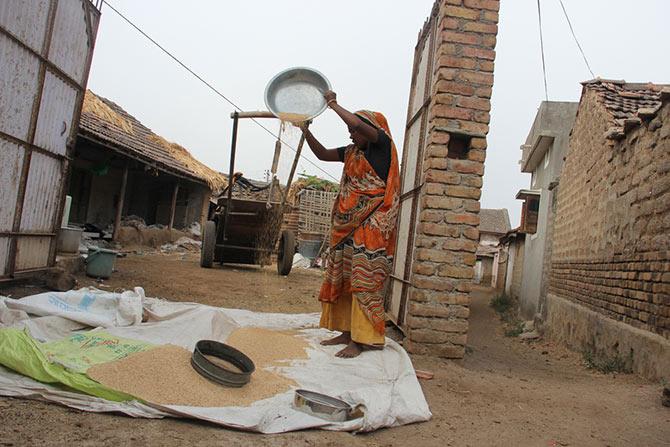 Kamigadh village.
Young girls who go to urban areas for higher education do not want to come back and settle in villages.
As a result, many upper caste men in Saurashtra's villages marry tribal women.
Most of the farmers here have a lot of property and the need for an heir has forced them to break caste barriers.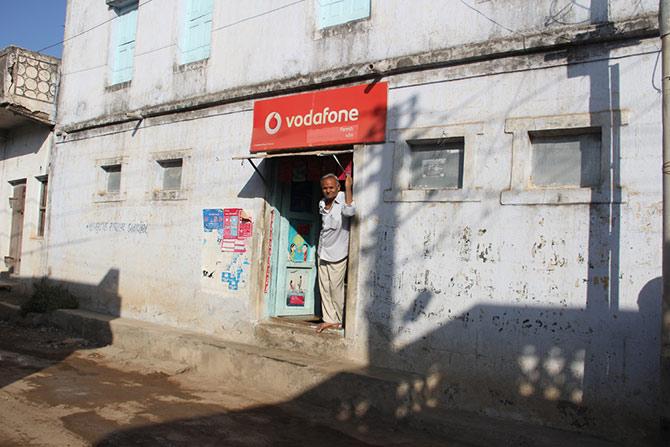 Kamigadh village.
'Walmart' (as the villagers call it) is the largest store in the village.
The owner doubles up as the local moneylender.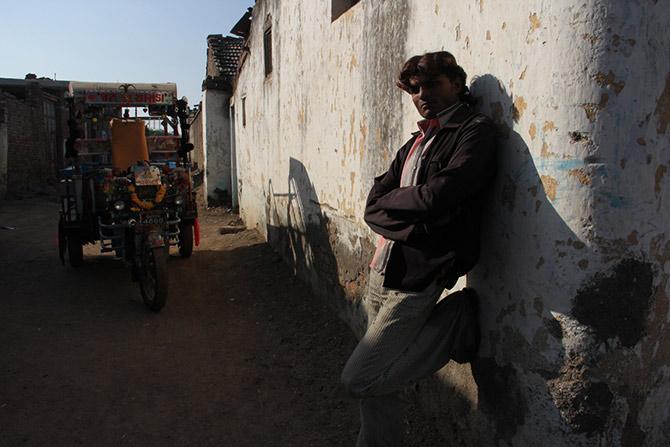 Kamigadh village.
Autorickshaw drivers and mobile phones are much feared by the village elders.
Both, they believe, will lure away their daughters.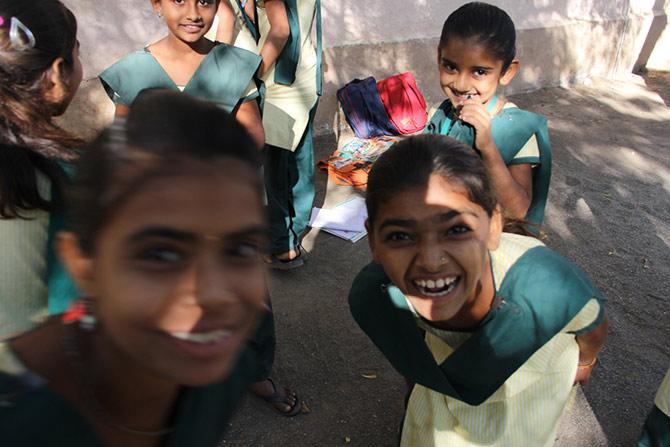 Kamigadh village.
It was heartening to note that girls are also educated by their families.
I found more girls than boys in this school.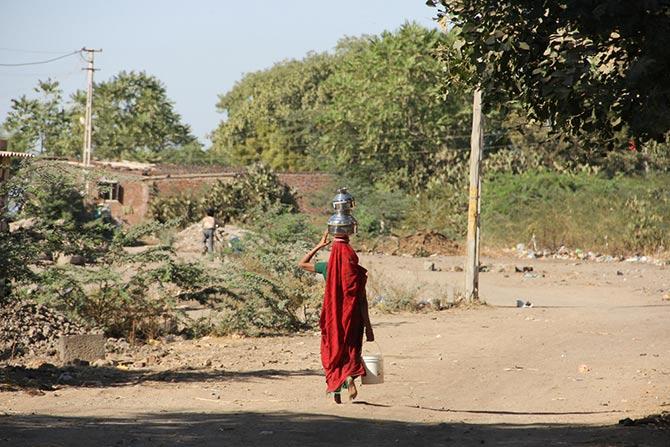 Rajkot
We are a few kilometers outside Rajkot.
This area suffers from a scarcity of water and women are forced to walk quite a distance for water.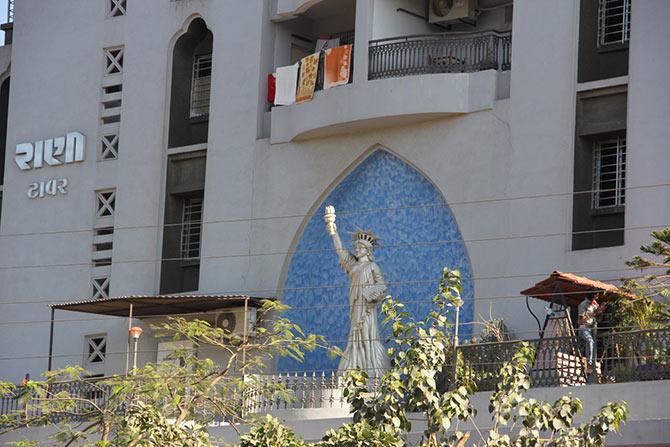 Rajkot
A housing complex with a modern touch... don't miss the Statue of Liberty!