'How can you fight an enemy you can't see?'
Manavi Kapur reports.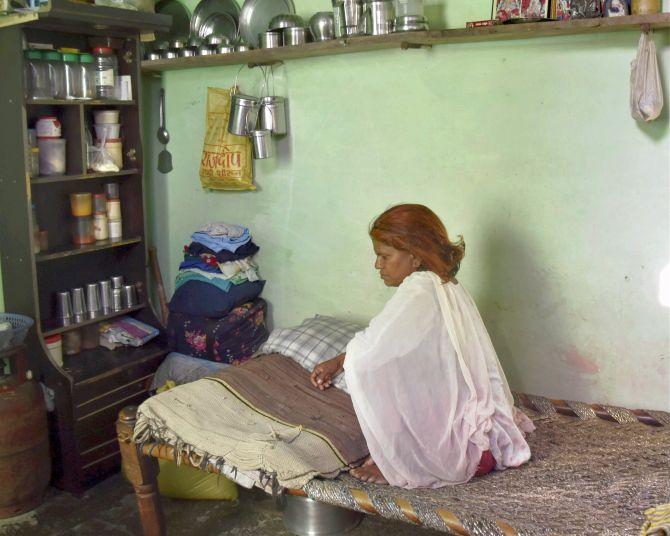 When Monica Kumar went to bed on the night of August 1 in her home in outer Delhi's Chhawla, all she could think about was waking up early the next morning for household chores.
What the 23 year old didn't expect was a strange feeling in the middle of the night that someone was tugging at her hair.
"We went to bed early that night and locked the door from inside. When she told me she could feel a 'presence' in the room, I told her it's nothing and that she should go back to bed," says Pramod Kumar, her husband.
Still a little uneasy, Monica got up to use the washroom, only to find her long tresses chopped and lying around her bed.
Monica was the first 'victim' of this mysterious hair chopping incident, which has taken proportions of an urban legend after more cases were reported from other outer Delhi villages.
Reminiscent of the days when several residents of Delhi saw the 'monkey man', people have their own versions of the story and their own bizarre theories about what may have actually happened.
Chhawla, just outside of Dwarka, wears the appearance of a typical village, where a group of men huddle on the streets to discuss everything from water supply to local scandals.
The incident at the Kumar household is currently a hotly debated issue, with reactions ranging from dismissal to wonder.
"Madam, all this is bogus. Have you noticed that all these incidents that have been reported are from homes belonging to the lower castes?" says a senior resident of Chhawla. He believes this was initially a prank that went wrong, and more people followed suit when they saw the kind of media attention it was garnering.
"We are all retired men here. We mostly sit in the courtyard talking till late in the night. Would we not have spotted any suspicious activity?" he scoffs.
Inside her home, Monica stares blankly at the television, almost defiantly silent.
Her husband says she has a sore throat and cannot speak. Other women of the household gather around with their theories of what happened that fateful night.
"If the door was locked from inside and this still happened, we don't know how to stop it. I'm thinking I'll cut my hair myself to avoid this trauma," says a woman of the house.
Others in the neighbourhood and surrounding villages have resorted to totems and superstitious rituals to 'ward off evil'.
Some have left imprints of their hands with cow dung outside their homes, others have hung the proverbial nimbu mirchi over the doorstep.
Such was the sway of this legend that a sense of paranoia spread to the neighbouring states of Rajasthan and Haryana. Even senior police officials had to step in to stop people from spreading rumours and irrational, superstitious tales.
The police, though, suspects that most cases were a result of some conflict within the home or a manifestation of a psychological problem. They have also tried counselling the women to arrive at the truth.
Pramod, whose brother is incidentally a barber, seems rather nonchalant about the issue. "I know we were perhaps the first ones to report this case, but how can you fight an enemy you can't see? If the police do nab someone, I would really like to know how he got in," he says with a cheeky smile.
Monica remains resolutely silent and rather disgruntled at being reminded of the night.
"She's just scared. But I tell her that there's nothing to fear when I'm around," says Pramod.
For now, the family sleeps in the same room and keeps all doors locked.
Family members may finally get to sleep in their own rooms once the hair-splitting over hair-chopping stops.
IMAGE: A woman from Delhi, not Monica Kumar, whose hair was chopped off. Photograph: PTI Photo