'It's the children that matter. They are the future,' Bhagaban Mohanta, who was born without legs, tells Geetanjali Krishna.
Illustration: Uttam Ghosh/Rediff.com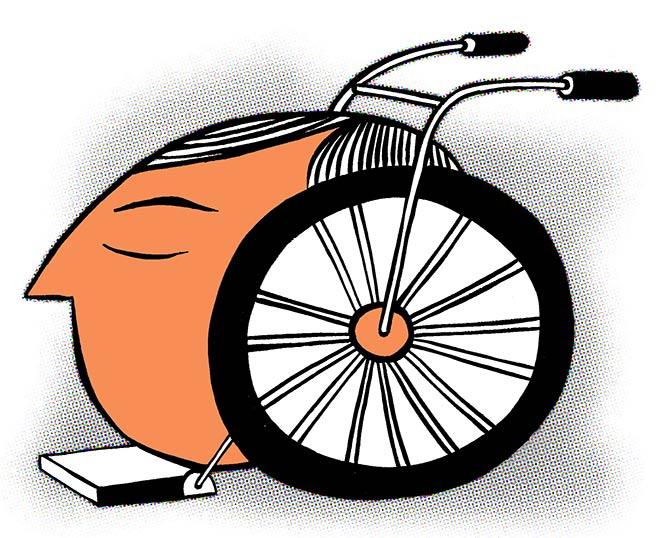 I am always in awe of people who refuse to be stereotyped.
Breaking out of societal moulds is brave in itself, but a recent encounter with Bhagaban Mohanta of Mayurbhanj, Odisha, brought me in contact with bravery of another level altogether.
When 47-year-old Mohanta was born with flipper-like appendages in place of legs, many in his community believed he was cursed.
However, his parents named him Bhagaban (god), and pledged to take good care of him in the hope that this would expiate their own sins.
"As I grew up, many questioned what the legless son of a farmer would do in life," he said.
In reply, his father ensured that his young son studied hard, believing that education was his son's best chance at salvation.
Mohanta ended up being one of the few to graduate from his village.
"I had to till our land of course, but wanted to do something more," he said.
So, Mohanta began volunteering with an NGO in his village that worked with children -- the Centre for Youth and Social Development.
"My region is very backward in the state, and is prone to several forms of exploitation of children," he said.
"Child labour, early age at marriage and worst of them all, child trafficking, used to be common."
Walking or cycling (unable to protect his knees on uneven terrain, he taught himself to ride a regular bike to move around) to schools, families and panchayats, he started spreading awareness about the importance of education.
"I would personally intervene with parents when I found that they were sending their children to work or were planning to get them married young," he recounted.
He would go to the pastures where children would take the cattle to graze.
"I would talk to them about how education was the only way that they could do something better than this in their lives," he said.
It wasn't all plain sailing, though.
"Over the years, I have faced everything from abuses to threats on my life," he said. "Some people would refuse to open their door to me, others would tell me to mind my business."
But from the time when his younger sister would carry him to the village school, Mohanta had learnt to be resilient.
Today, everyone in his village respects and acknowledges his work.
Thanks to his efforts, there has been a discernable drop in school dropout rates over the years.
Not a single child can be found grazing cattle today.
Mohanta has also personally prevented between 10 and 15 child marriages. He has been appointed the secretary of the Khandbandh Gram Panchayat-Level Child Protection Committee.
The government has recognised his work and appointed him as a district-level child protection trainer.
Incredibly, other than the stipend he gets from the government for training, Mohanta's work has been purely voluntary.
"My disability had given me a lot of empathy towards people, especially children, and I am happy to spend my life serving others," he said.
Recently, Plan India presented him with the Impact Award in recognition of his efforts.
Today, the same people who once thought Mohanta was cursed, say that he has been a blessing for his community.
"I tell my two children that ability and disability are simply states of mind," said the man who, when coming to Delhi to receive his award from Plan India, was quite surprised to be offered a wheelchair at the airport.
Mohanta said he wanted to dedicate his life to child protection and child development.
"It's the children that matter," he says. "They are the future."