On May 22-23, the Tamil Nadu police shot dead 13 people in Tuticorin after the months-long anti-Sterlite protests turned violent.
A month later, when Rediff.com's A Ganesh Nadar visited some victims' home, he found the families cowering under fear of the police.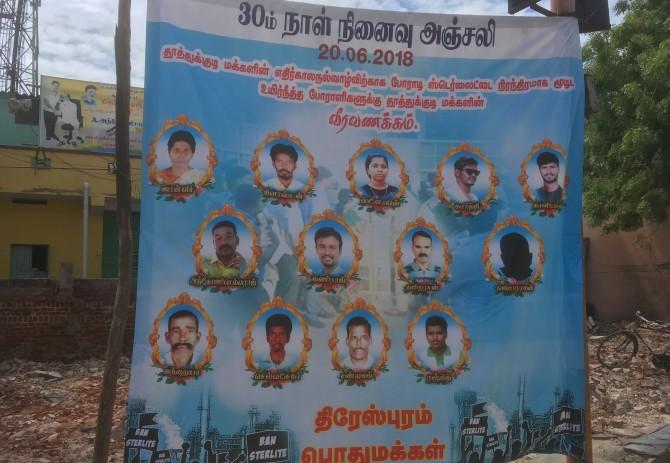 On May 22, the Tamil Nadu police opened fire on protestors who were marching to the collectorate to submit a petition to close the Sterlite factory in Tuticorin, killing 12 people.
In spite of the worldwide condemnation of their action, the very next day the police fired on another group, this time killing a 22-year-old youth.
A month later, when I visit the homes of some of those killed, what comes across is the all-pervasive feeling of fear, so much so not one person who I spoke to was willing to reveal their names.
"A Tamil news channel came investigating the firing and the next day there were cops in my home threatening me with arrest," one woman tells me. "We have already lost one member of our family, please go away and let us live in peace."
"The cops won't leave us alone. Go away!"
Jhansi, a 47-year-old housewife, was killed in the firing. She leaves behind four children and a grieving husband, Sesubalan, a fisherman.
One daughter is married. Two daughters are in Classes 10 and 11 respectively while the son has joined his father's profession.
A neighbour relates what happened that fateful day.
"Jhansi had gone to her married daughter's house to give her some fresh fish. On the way back, near the share-auto stand, she saw some cops shooting a young boy whom she knew. He had been shot in the neck. 'Why did you shoot this boy?' she demanded of the police."
"Those were the last words she spoke. She was shot in the head, shattering her skull. They tore up an anti-Sterlite banner, tied her head with it and took the body away."
"They had come in three vehicles, all unknown cops, not from the local police station. This happened at 2.45 pm. The boy who was shot survived."
"Nobody knew where they had taken Jhansi. At 7 pm the family received a call that her body was in the general hospital mortuary."
"By giving us Rs 20 lakh compensation they (the state government) are admitting their guilt. What they did was wrong," a man standing by adds.
A month later, a memorial service is held for Jhansi at the local church.
Her mother, a withered old lady, shakes with sorrow as she wails, "My child has gone before me," at which the women around her start weeping, Jhansi's daughters too break down.
40-year-old K Glaston leaves behind his wife Jesurani, a daughter in Class 12 and a son in Class 10 respectively.
"We joined the protestors to go to the collectorate," a young boy tells us. "They had barricaded the road and started lathi-charging the protestors."
"But the protestors broke through and faced another barricade on the bridge near the FCI godowns," he recalls. "They broke through that barrier too."
"Outside the collectorate, the police first lobbed tear gas at us. Then we heard gunfire. We could not see from where they were firing. But they had guns that could kill from a distance."
"After the tear gas cleared we saw the cops who were shooting at us, they were not in uniform. Glaston was shot in the chest. They were shooting to kill."
"We could not recognise the cops. Even those at the barricades were from other districts."
"We had a memorial service today (June 21). Two plainclothes cops were inside the church. We asked them what they were doing there. They said we heard you plan to take out a rally after the service."
"We told them we were going home after the prayer. There were cops outside the church too."
Antony Selvaraj was 44 years old. A double graduate he worked in a shipping company.
He has a son in Class 12 and a daughter in Class 8. His wife Kalpana, who works in a school, looks like she has not stopped crying in a month.
"His employer told us he had left office for lunch at 1 pm on his bike," an onlooker tells us. "He stopped at the bank to withdraw some money and also invite the bank manager for a function at his house. Some 20 invitation cards were still in the bike."
"We got a call from the hospital that he was in serious condition. When we went there, he was dead. He had been shot in the chest."
"He was shot outside the bank where there were no violence. A bystander said he was a mile away from the protest site. The cops had come on 10 bikes. None of them was in uniform except the local inspector."
"He pointed out Glaston and another cop shot him."
Kaaliappan, 22, worked as a driver and has two younger school-going sisters.
His father Gopalakrishnan works as a coolie. His mother Maheshwari can't stop crying as another man narrates what happened on May 23, a day after the world had condemned the police action in Tuticorin.
"He had gone on a 15-day trip in his lorry and came back on the morning of the 22nd. He went with the protestors and came back."
"He was building a house for when he gets married. His boss had promised an advance of Rs 1 lakh the next day and he went to collect it. This was at 11 am."
"At 2.30 pm we got a WhatsApp photo of him being carried on a stretcher inside the general hospital."
"We went to the hospital, but he was already dead. A man told us what happened."
"His employer told him to come in the evening for the money. His bike was standing outside the shop where he was employed. He was standing on the street when he saw people running. He too began to run."
"His mobile phone fell down. He bent down to pick it up when he was shot in the back. The bullet went through and exited from his chest."
"The cops dragged his body by the legs and loaded him into their van. They brought him dead to the hospital."
"They gave us Rs 20 lakh with which we can build the house, but no son to get married and live in it."
Shanmugham was 25 years old, and an only child. He was among the 12 people killed on May 22.
Outside his home, at a little distance and under a neem tree, a man sitting astride a motorcycle is speaking on his mobile phone.
As he sees me approaching he says, "I am an officer of the CB-CID police. This man doesn't like publicity. He is grieving alone. Who are you and from which media?"
While the other victims' homes had groups of people outside and banners mourning them, this home had nothing. Only a lone policeman keeping an eye on what was going on.