Yogita Desai, 12, died of 'cardio pulmonary arrest' after she collapsed on her way home while fetching water. Sachin Kengar, 9, drowned while filling water from a well.
Will the deaths of these children force the Maharashtra government and other state governments where children are being devoured by the drought into tackling the crisis on a war footing?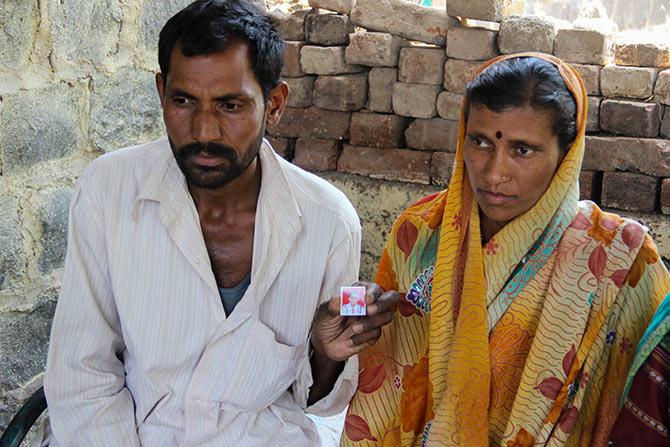 IMAGE: Ashok Desai and his wife were clearly in shock over their daughter Yogita's sudden demise.
Reportage: Prasanna D Zore/Rediff.com and Uttam Ghosh/Rediff.com
Photographs: Uttam Ghosh/Rediff.com
---
Unlike Sachin, who died crying for help as his elder brother watched in panic, villagers in Sabalkhed village in Beed's Ashti taluka rushed to help Yogita when she collapsed in front of her home.
Just four days before Sachin Kengar met his watery grave in Vida village, 12-year-old Class 5 student Yogita Ashok Desai was making the rounds of a hand pump located barely 500 metres from her home.
At around 11.15 on the morning of April 17, Yogita, along with her father's mother -- the duo got along very well and enjoyed helping Yogita's mother in household work -- made a fourth round to fetch water from the borewell.
On her way back, just outside the door, Yogita collapsed and vomited.
Her brother Yogesh, a Class 9 student, who had come home for his vacation from Alandi near Pune, where he is studying at a school run by a charitable institution, her father Ashok Tatyabhau Desai and his brother's son Ishwar Desai immediately rushed Yogita to Dr Hanumant Kakde's hospital at Dhanora, which is about 3 km from the Desais' home.
IMAGE: The death certificate issued by Dr Hanumant Kakde lists the cause of Yogita's death as 'cardio pulmonary arrest' and mentions the time of death at 1 am.
At around 1 am the next day, Dr Kakde declared Yogita dead. 'Cardio pulmonary arrest,' Dr Kakde mentioned in the death certificate issued by him after her sudden death.
By 2.30 am the family consigned Yogita's mortal remains to the flames. Unlike Sachin Kengar, who was buried as per the custom followed by his family that makes it mandatory to bury unmarried children, Yogita was cremated.
***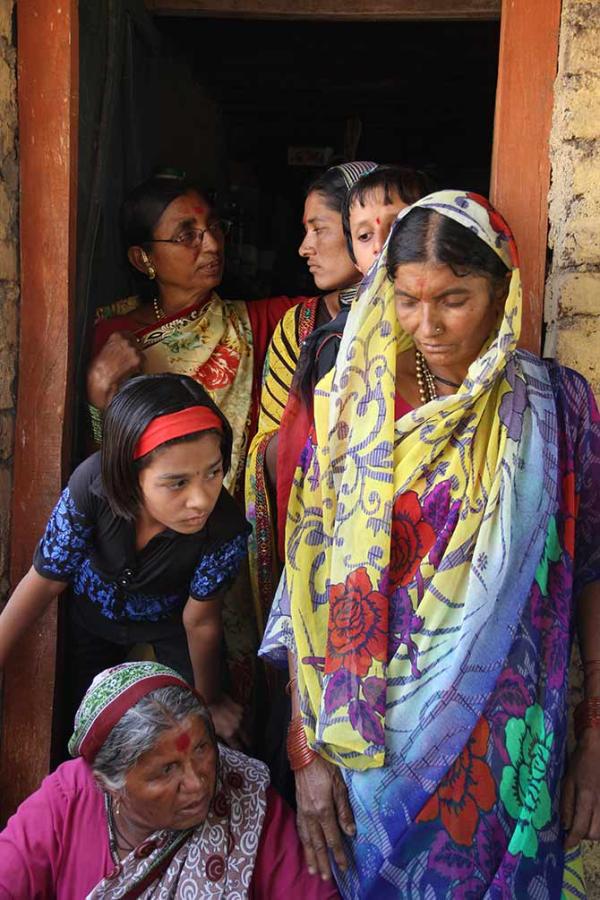 IMAGE: In close-knit rural Indian society relatives and neighbours play an important role as support systems in times of personal crisis.
But they also influence decision-making as they took a call to cremate Yogita's body without a post-mortem.
"Yogita's health deteriorated only around midnight," explains her father Ashok, barely able to speak coherently.
"Though her condition was not good when we admitted her to the hospital that afternoon, she was fine through the day. She was administered three bottles of saline through the day and she was speaking with us," says the inconsolable father.
"He has stopped eating regular meals," says Yogita's mother looking at her husband, who said he was recuperating from a stomach infection. "He is only trying to overcome his grief by offering these excuses," says she, staring blankly at her husband.
Ashok looks at his wife and then at his mother and mother-in-law, all present to grieve Yogita's death.
"Aaichya hatha khali kaam karaychi (She loved helping her mother in the household chores)," he says with great effort, half lisping, in pain.
"Perhaps this is God's will," he says trying to offer a spiritual justification to silence his own questions and memories of his daughter.
***
IMAGE: Yogita's aunt shows us her report card. Her father could not control his emotions as he saw the report card.
The card mentions Yogita's weight at 16 kgs and height at 115 cms.
A day before, girls from Yogita's class brought her report card home. She had made good progress in her Class 5 exam, concluded 20 days ago.
"I had asked those girls not to bring her report card home. It brings only tears and memories of Yogita back to me," says Ashok opening up a bit, sharing his pain with strangers.
"My son Yogesh is studying in Class 9 in Alandi," he changes the topic. "He loves to play the tabla," he adds. "He too likes to help me on the farm, just like Yogita helped her mother and grandmother," he says.
By this time Yogita's maternal grandmother comes out of the house and the entire Desai clan, a couple of villagers who ushered us to the Desais' home, and we talk about Yogita's report card, her hobbies, and her death.
Ask Ashok why Yogita's body was not sent for a post-mortem, because the family believes she died "achanak (suddenly)", he goes quiet.
***
Ishwar Desai, Ashok Desai's nephew, who with his uncle and cousin, admitted Yogita to Dr Kakde's hospital, says, "the doctor told us that she collapsed because of dehydration. Then she was given a pill and she slept. She passed away in her sleep."
The doctor, Ishwar recalls, said since the patient was speaking properly there was no need to take her body for a post-mortem to Ahmednagar, which is about 40-odd kilometres from Sabalkhed.
There were two voices in the Desai family: An aunt who wanted a post-mortem while the family and village elders thought it unwise to conduct a post-mortem of a child. Video: Prasanna D Zore/Rediff.com
"The doctor did not say we should go for the PM (post-mortem)... aamchya gharchyanchi paristhithi tashi navhati ki PM karawa ki ghari aanawa (All the decision makers in the family were completely shocked and were in no position to decide whether we should go for the post-mortem or not)."
Desai's sister, who was present during these conversations, hinted that since the girl had died very young the family thought it would have been against social norms to conduct a post-mortem.
Dr Kakde said it was the family's decision not to go for a post-mortem. "I insisted that they go for a PM, but the elders in the family decided against it," Dr Kakde told Rediff.com on the phone.
"She was fine till midnight. Suddenly her condition deteriorated and she died within an hour," the doctor said.
When asked why he did not go for a post-mortem, Dr Kakde said, "there was a big crowd at the hospital that night to collect her body. Nobody was in the mood to listen to me."
Dr Kakde maintained that he had insisted on a post-mortem but relented when the crowd decided against it and took Yogita's body away for cremation.
Ashok Desai later said the family decided against a post-mortem as it was everybody's will. "Saglyanchi ichcha hoti ki body la ghari nyava ani antim sanskar lavkar karawe (The elders in the family decided that they should cremate her without going for a post-mortem)."
***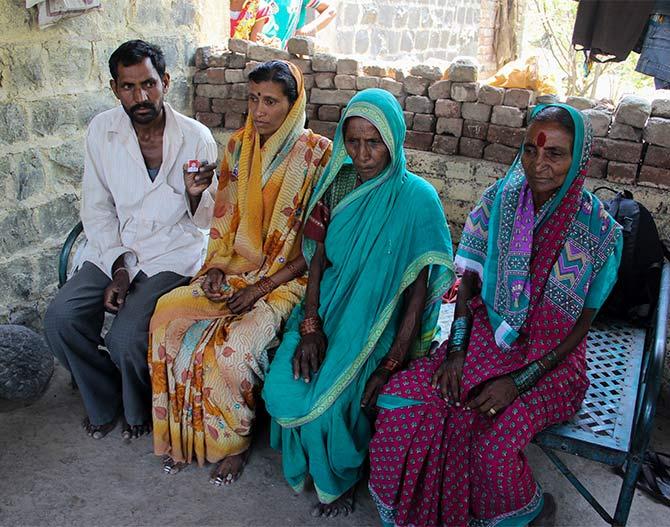 IMAGE: Ashok Desai and his wife with her mother-in-law in a green sari and her mother in a pink sari outside the Desais' home in Sabalkhed village, Ashti taluka, Beed.
As the conversation veers back to Yogita's unfortunate death, her father says, "we don't get adequate water in the village borewell now. Once a woman fills her quota of water by working at the borewell's handle, it takes another 20 minutes before the ground water comes to the fore for the next person to fill the bucket."
"The water table in the village has depleted because of overuse," says Madhu Desai, one of the villagers who had shown us to the Desais' home. "There has been no rain since 2011. From where will we have a sufficient water table?" he asks.
During peak hours, which often are between 9 am to 11 am, most girls from the village visit the borewell a number of times to check if it is their turn to fill water.
On April 17, Yogita had been to the borewell three times, but returned empty handed. The fourth time she went along with her grandmother and was happy to see it was her turn to pump water from the borewell.
As it turned out, it was the final vessel she carried in her tiny arms.