They needed a helping hand. And when they got it, these women worked wonders, discovers Rediff.com's A Ganesh Nadar.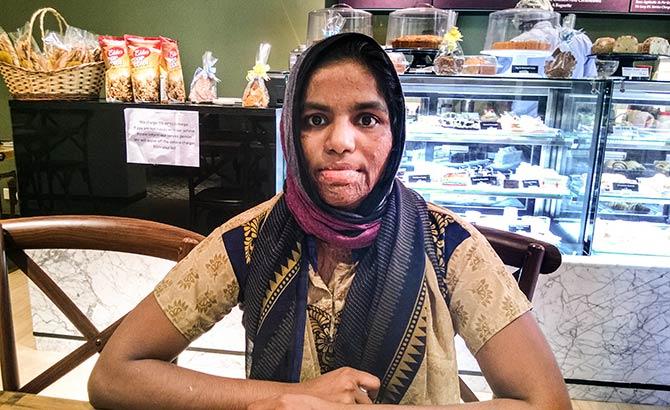 IMAGE: Maria has stepped out of an abusive marriage and is today economically self-sufficient.
"I set myself on fire after pouring kerosene over my head. I was very upset after a fight with my husband," says Maria.
All the 25 year old is willing to say about her former husband -- she was married for a year -- is that he was a fisherman and a drunkard.
"My mother saved me or I would have died that day."
Maria could have been talking about stepping outside the house for a chore; she is that matter-of-fact.
Instead, that fateful day 20 months ago, she was rushed to the Kilpauk Medical College hospital in Chennai, where it took the doctors a month to get her back on her feet.
In the hospital she came into contact with the International Foundation for Crime Prevention and Victim Care, an NGO that helps victims of domestic violence run by criminologist Dr Prasanna Poornachandra.
Popularly known as PCVC, it runs a special project called Vidial (dawn) aimed at supporting burn victims, most of whom are also victims of domestic abuse.
Once Maria had recovered, PCVC sent Maria for a six month dessert making course at the Winery Bakery in Alwarpettai, Chennai.
Today, the Class 9 pass makes croissants and desserts which are part of the mouth-watering display at Writer's Cafe in Royapettah, Chennai.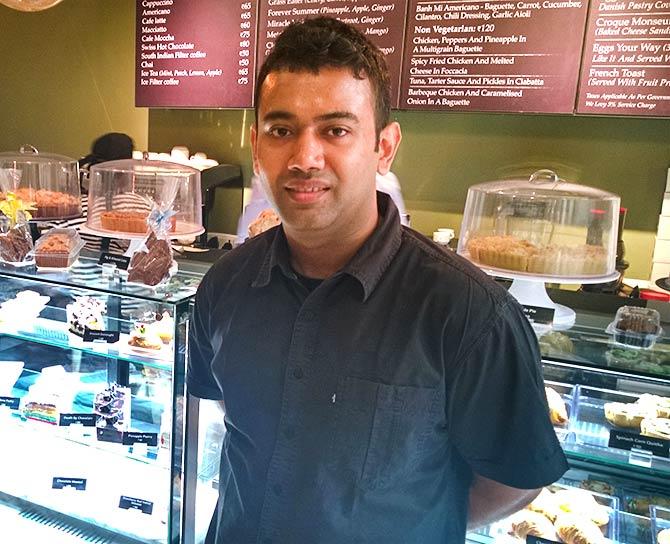 IMAGE: Karan Manavalan moved from Pune to Chennai to run Writer's Cafe.
"We make everything here," says manager-cum-chef Karan Manavalan, who used to run a bar in Pune.
Of the 30 employees at the cafe, seven are burn victims; four more will join the staff as soon as they complete their training.
Both the Winery Bakery and Writer's Cafe are owned by the same person; Chennai knows him as 'Hot Breads' Mahadevan (You can read his fascinating story here).
Professor M Mahadevan's -- he quit teaching to launch a multi-million dollar business that includes restaurants and bakeries and has a footprint that spans 16 countries -- latest baby is his newest restaurant, Writer's Cafe.
A CSR initiative started in tandem with the book chain, Higginbothams, the cafe employs mainly burn victims.
Higginbothams has placed 18,000 book titles on sale here as well as a variety of magazines.
The spacious cafe, which offers coffee, tea, sandwiches, pizzas, pastas, a wide variety of desserts and free wifi -- "A Swiss chef trained us to make pastas, pizzas and snacks," says Karan -- was opened to the public on December 11, 2016.
It is open for business from 9 am to 10.30 pm and already boasts of a steady clientele. All proceeds are donated to aid burn victims.
Like Priya, who makes the coffee and the juices. And Parimala. Komala. Asma.
All domestic abuse victims, today they proudly go by their single names.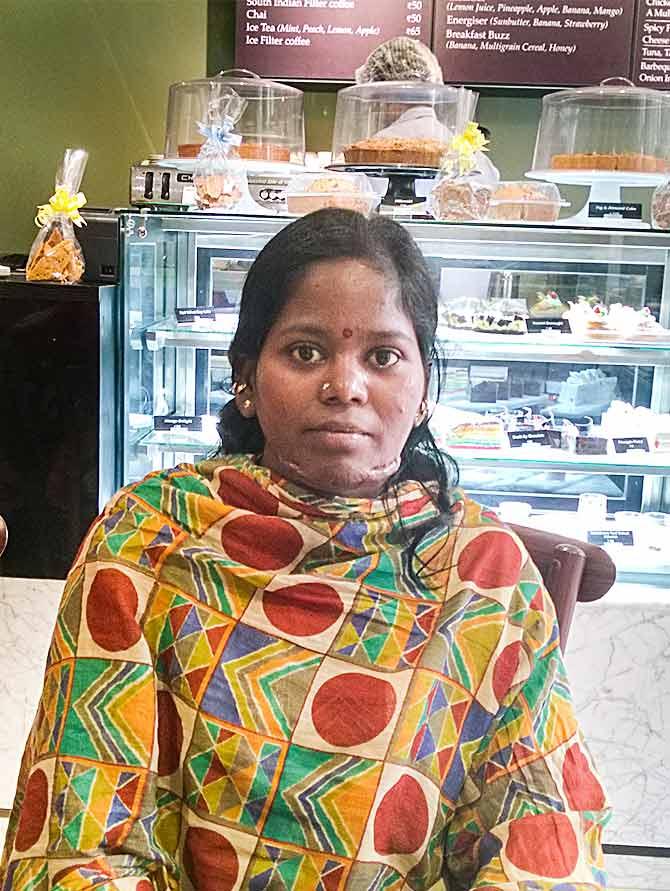 IMAGE: M Punithavalli is happy that she contribute to the family income.
Then there are others like M Punithavalli, a 28 year old who had an accident in the kitchen a year-and-a-half ago.
"The stove exploded," she says. She was in the KMC hospital for nearly a month; like Maria, this is where she came in touch with PCVC.
"The first two months," she recalls the days after her discharge, "were difficult as I could not even lift my hand. I stayed at the PCVC home in Anna Nagar where they have a physiotherapist to help us."
When she finally returned home, she could not find a job. "On the phone, they would tell me the job was available, but when they saw my burnt face they would say they had already appointed someone else."
A dejected Punithavalli would return home and cry.
Finally, though PCVC, she too trained at the Winery Bakery where she learnt to make sponge cakes, cookies and other confectionaries.
Today, she lives a full life with her husband, A Murugadas, and their two children -- son Naveenkumar who is in Class 7 and daughter Shameen who is in Class 2.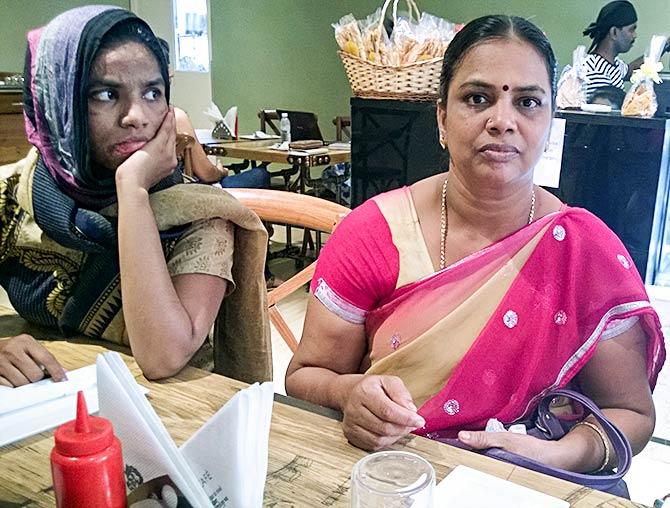 IMAGE: Manjula is grateful to PCVC and M Mahadevan for rescuing her family.
Manjula, 43, works at Writer's Cafe as well, but she is not a burns victim. "I had a fight with my husband, who is a painter and does white washing jobs," she says. "PCVC helped us through counselling."
They also trained her as a home nurse, but she could not get work. So they sent her to train at the Winery Bakery.
"My son, who is 22 years old, is mentally handicapped," she says. "PCVC has helped with his treatment as well. He too works for Mr Mahadevan."
"Most of these girls are victims of domestic violence," says Shweta Shankar of PCVC. "We train them to become economically self-reliant."
Like that old proverb goes, 'Give a man a fish and you feed him for a day. Teach a man to fish...'
Photographs: A Ganesh Nadar/Rediff.com