The year 2014 easily earns for itself the title of annus horribilis, says Malavika Sangghvi.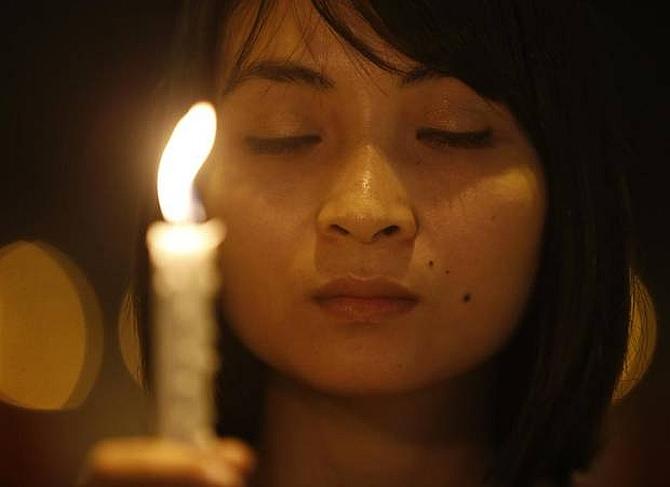 I guess the nicest thing you could say about 2014 is that it is getting over.
Seriously, a year that saw eerily mystifying phenomena (like the missing MH 370), compounded by freaky coincidence (the shooting down over eastern Ukraine a few months later of another Malaysia Airlines flight flight killing 298 people), easily earns for itself the title of annus horribilis.
It was, after all, a year when both the Ebola virus and the ISIS raised their ugly heads and claimed many innocent lives; when terms like ghar wapsi and 'love jihad' blighted the vocabulary of ordinary Indians and when viewers were subjected to such virtuoso performances on prime time TV debates as Americai Narayan's 'hell yeah', Subramanian Swamy's 'liar liar' and Robert Vadra resembling Robert De Niro in Taxi Driver with 'Are you serious?'

It was also the year that proved that violence against women is an equal opportunity affront with no one being spared -- neither the well-heeled female professionals who hired Ubers in Delhi, nor the two hapless sisters in Badaun.

As always, there was enough heat, dust and candle-light vigils to fill up reams of newsprint and prime time TV -- but not enough concrete measures on the ground.

It was left to the two vigilante, hot-headed and much discredited sisters of Rohtak to demonstrate that when it comes to their own safety, there is not much help for women to count on.

In the meantime, Robin Williams, whose life had been a testimony to laughter and buoyancy, killed himself.

Sunanda Pushkar's mysterious death in a hotel room in Delhi was a testimony to the fact that a life of apparent wine and roses plays out very differently behind closed doors and shuttered windows and the expressive countenance of Grumpy Cat became a symbol for a collective response to the year's events as they unfolded.

What can you say about a year in which Arpita Khan's wedding attracted more interest and comment than Philae successfully detaching itself from its mothership Rosetta, and landing on comet 67P?

What can you say about a year when more people took the ALS Ice Bucket Challenge than who knew why they'd taken it or what ALS stood for?

What can you say about a year in which a roster of some of the most powerful amongst India's elite thought that they had done their bit for a "swachh Bharat" by holding a broom and posing for a picture?

What can you say about a year in which a little known American TV star, famous for not much else than her proclivity to expose her appendages, took it upon herself "to beak the Internet" by posing with the said appendages exposed?

And through it all, the Modi juggernaut conqoured the world with its astonishing capacity for travel and international schmoozing.

From Barack Obama to Vladimir Putin, Nepal to Bhutan and from Mumbai to Madison Square Garden, it left his legions of admirers in a state of perpetual adoration, while the political narrative amongst his supporters and detractors became even more polarised.

And then, as if eleven months of a steady stream of downers and middling highs were not enough, came the brutal, unspeakably tragic gunning down of students in Peshawar, the last and heaviest blow in a year of many.

So, that was more or less the year that was and as it winds down towards its final days, what can one say but goodbye and good luck. Those were the days, such was the year.

Thank God it's over! Here's to 2015!