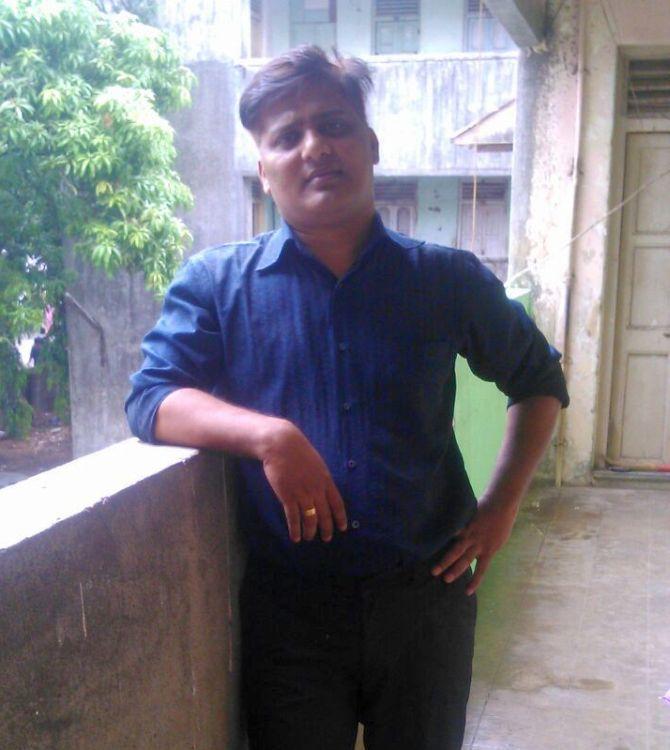 'Equality, fundamental rights guaranteed in the Indian Constitution are not meant for us.'
'One Sunil Yadav studying is pointless. I want every other Dalit to do so.'
At a time when Dalit oppression is grabbing headlines all over, 36-year-old Sunil Yadav, who works as a garbage collector for the civic body in Mumbai, is an inspiration. Speaking to Swarupa Dutt/Rediff.com, he chronicles his arduous journey to secure his MPhil degree, and explains why he refuses to give up his job despite his education.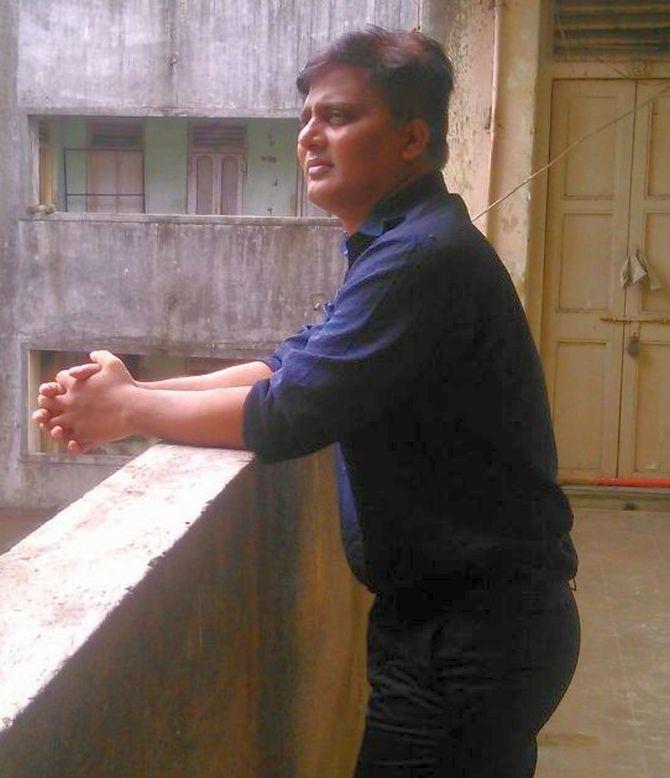 IMAGE: Sunil Yadav has completed his MPhil degree from Tata Institute of Social Sciences in Mumbai and plans to do a post doctoral on human scavengers and sweepers across the world. Photograph: Swarupa Dutt/Rediff.com
The first two words in English which Sunil Yadav, 36, found remarkably easy to remember when he was grappling with the language were 'Discrimination' and 'Oppression'.
They were sentiments he was familiar with. "I'm a garbage loader with the Brihanmumbai Municipal Corporation (Mumbai's civic body) and a Dalit and I honestly don't think there has been a single moment in my life when I haven't been discriminated against. Or felt oppressed. But it's not just me, every Dalit feels the same," shrugs Yadav.
"Dalits are in the news every day. Rape, flogging, somebody hacked to death for Rs 15... but I don't know if crimes against us are rising or are we simply emboldened enough to file a police complaint? But I can tell you this, education has changed our lives," he says.
Clearly, Sunil knows what he's talking about.
An MPhil degree (with thesis in 'Lives of human scavengers') from Tata Institute of Social Sciences in Mumbai, a Master's degree (specialising in globalisation and labour), a diploma in social work from TISS, a degree in journalism and a BCom. He is now pursuing his PhD, and has plans to do a post doctoral on human scavengers and sweepers across the world.
Education, he says, earned him respect and dignity, denied to Dalits for thousands of years. "We moved to this chawl in Chembur recently. Nobody knew I am a Dalit or a 'safai karmachari' and I was treated just like anyone else. Now they know, since I have been giving interviews, but there is no discrimination. Do you know why? It's only because I am educated."
His wife Sanjana pops her head out from the kitchen of the one-room-kitchen home -- their older daughter has to be readied for school and she asks her husband to mind the younger girl who has been stuck to her like a limpet.
Their daughter (who waves a frantic goodbye to her father) goes to an English medium school. "There was no way we were going to send her to a Marathi medium school. I have seen how difficult it is for Sunil to cope with in English. Now my daughter even corrects him when he makes spelling errors," Sanjana beams.
"Nobody, no leader, no God will come and help you. The only thing that will is education."
Sunil says he would have probably remained an undergrad had it not been for his sister. She was reporteldy burnt for dowry and died six days later. "She had been forced to give a dying declaration that it was an accident," he says. The statement was given in her husband's presence. Sunil alleges the man had threatened to do the same thing to their three children.
He says he wanted to file an FIR, but the cops threw him out of the police station. "Hamara koi sunnewala nahin, hamare saath itna atyachar hota hai (there is nobody to listen to our problems, we face so much oppression). I realised I have to become strong from within. I filed a case, but lawyers are also liars, and I lost the case."
Sunil was doing his BCom then. "My exams were held 15 days after my sister's death. I appeared but failed. In October 2008, I finally finished my graduation. Armed with my degree I approached the BMC clerk and asked him if I could get a promotion. He threw the certificate on the floor and said it was useless. 'Jhadu pakad ke rakh (hold the broom)', he told me." Conversely, it only strengthened Sunil's desire to study more.
Sunil, who had landed the 'safai karmachari's' job with the BMC on compassionate grounds after his father, a sweeper with the civic body, had a paralytic stroke, says initially he was just happy to land the job since it took him four years to get the BMC to move his file. "They demanded a Rs 2,000 bribe and we didn't have the money," he says.
"On my first day at work I was sent to clean a house gully -- a narrow alley between two buildings. The garbage from the buildings is thrown directly into the gully which is cleaned at the most once a month. The garbage is always knee-deep and has everything from rotting food and dead rats to excreta from overflowing septic tanks. "Mera atma roya tha us waqt (my soul wept)," says Yadav, who tied plastic bags to his hands and got to work since temporary workers are not even given protective gear. "I came home that night and thought, 'this was the job I had fought to get for four years!'"
His father, grandparents, uncle were all sweepers with the BMC and Sunil says he was aware of what the job entailed, but he was still unprepared for the reality.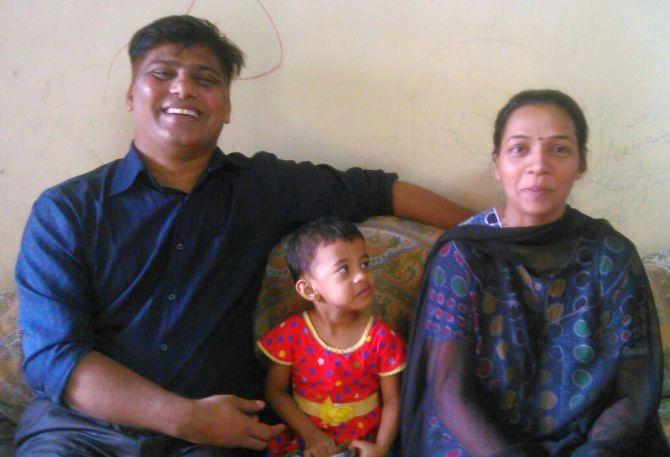 IMAGE: Sunil's wife Sanjana passed her graduation exam after being coaxed by him to study. Now, she wishes to become a lawyer for her husband. Photograph: Swarupa Dutt/Rediff.com
Eleven years on, Sunil is a permanent employee with the BMC and the job profile has improved -- up from house gullies to a loader in a truck carrying garbage. He now earns Rs 23,000 per month.
"I did not choose to do this work. I have been forced to do it since I am born into the Valmiki caste. In fact, 99 per cent of 'safai karmacharis' in the BMC are Dalits. Even if you want to find other work, it's difficult. The system has kept us down, daba ke rakha hai," he grimaces.
Take study leave, for instance. The BMC allows all employees up to two years of study leave during their employment. When Sunil asked for leave while he was doing his MPhil, the then BMC commissioner Sitaram Kunte refused to grant it. "I was told, you are a 'safai karmachari'. If I give you leave, we will have to give it to everyone. Then who will do your work?"
"Equality, fundamental rights guaranteed in the Indian Constitution are not meant for us. Hum toh langde ghode hain (we are handicapped horses). If we are given a chance, we can compete with you. Tagde ghode ke saath race nahin laga saktein. Those safai karmacharis who are educated should be given a promotion, made a peon or a clerk. But this is not happening," he says.
Sunil has now filed a petition in the Bombay high court demanding that the BMC grant him study leave for his PhD. "I have been fighting for study leave ever since my masters. My professor was aware I was doing a night shift and studying in the morning, so he approached the Indian Express, which did a story on me. The story was read by the Prime Minister's Office and a National Scheduled Caste Commission team came to Mumbai and held a hearing with the BMC commissioner and assistant municipal commissioner and I was granted leave in just seven days. My question is, why does it take a commission to do something that is mandated by the BMC?"
According to reports, Sunil is the only safai karmachari in the history of the BMC to apply for study leave.
In 2014, there was a vacancy for a Labour Welfare Officer in the BMC. Sunil says he qualified and applied for the job. The officer, he says, asked him incredulously, 'How can a 'safai karmachari' get such a big post?'"
"What is this if not discrimination?" Sunil asks.
He says has no plans to change jobs. "House, car, a better job... these are really not important anymore. If I give my National Eligibility Test exam I can become a professor. In fact, I have an offer from Tata Power for a labour officer. But one Sunil Yadav studying is pointless. I want every other Dalit to do so. If I take up another job, the link with the BMC will be broken. I will be working for the Tata Power labourers, not for safai karmacharis," he says.
Sunil says all the safai karmacharis in the BMC are class-IV employees and are never promoted. They retire as safai karmacharis. They never get an opportunity to educate themselves and better their careers. "I want to be at their service, I want to push them to study," he says. "I have told my wife that we have to give back to society."
Says Sanjana, "I agree with his thinking. I realised that without education nobody bothers to even hear you out. 'Anpadh hai, isko kya pata (he's uneducated, what would he know)'... is what people think. In fact, immediately after marriage, he told me, 'Sanjana, tu padh, tujhe padhna hi hoga (Sanjana, you have to study). We used to live with our in-laws in Mahalaxmi then. My father-in-law was paralysed, I had a sister-in-law who had to be married, it was just not possible," she says.
Sanjana was just a Class XII pass when she got married. She's now a graduate and has given her entrance exam for law. "I will be lawyer, I will do it for him," she says smiling at her husband.
Sunil says he has helped at least 25 to 30 people -- all safai karmacharis -- graduate, apart from his family. His brother, who had dropped out of school, has finished his Class XII and has done a diploma from an Industrial Training Institute. A cousin, who is a manual scavenger with the Thane Municipal Corporation, is now a graduate.
"Nobody, no leader, no God will come and help you. The only thing that will is education," he says with resolve.