Sudha Murty worries that India has still not learnt its lessons from history, she tells Rediff.com's Savera R Someshwar.
Videos: Afsar Datayar/Rediff.com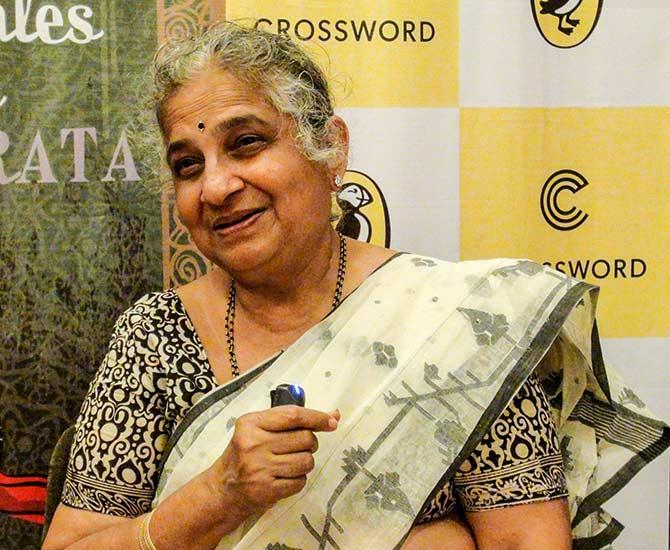 IMAGE: "Successful people are those who face a lot of difficulties but convert every failure into a step to go up," say Sudha Murty. Photograph: Afsar Dayatar/Rediff.com
"I don't do any housework," Sudha Murty confesses to gales of laughter. "I want to admit that right now."
And cooking makes her nervous "because I'm not good at it."
"My mother would tell me, 'The greatest help that you can do is not help'," she laughs again along with her audience.
What happened when she got married and cooking became essential? Find out in the video below.
It is not the confession of a rich woman, though Sudha Murty is rich, not just because she is the wife of Infosys Co-founder N R Narayana Murthy, but because she is one of India's bestselling authors.
And did you know that the royalties she earns as an author are used for charity?
Behind those confessions is a message.
That time is used to work, to benefit society, to write -- to do all the things she is more skilled at.
"So I work and I don't do much socialising. I rarely go to weddings or to anybody's house or for official dinners. I'll have my dinner and then go for an official dinner, just be there for half an hour and come back. I really feel I cannot afford that much time."
There are much more important claimants for her attention.
The Infosys Foundation, of which she is the chairperson, works in remote regions in 16 Indian states -- including Jammu and Kashmir, Orissa and Uttarakhand -- where it offers support in the areas of education, rural development, healthcare, arts and culture and destitute care.
The foundation has set up libraries, worked towards improving computer literacy in rural areas, associated with Akshay Patra for the midday meal programme, built over 10,000 toilets, constructed paediatric blocks in hospitals in Bhubaneshwar and Mangaluru, supported a community eye centre in Bengaluru, provided financial assistance to poor meritorious students, participated actively in flood and tsunami relief work, supported orphanages and built schools.
"I have seen many ups and downs, understood what life is," says Murty who has a hands on policy about her work; she travels more days than she is at home in Bengaluru. "Do not only aim for excellence; nothing is important than the human touch."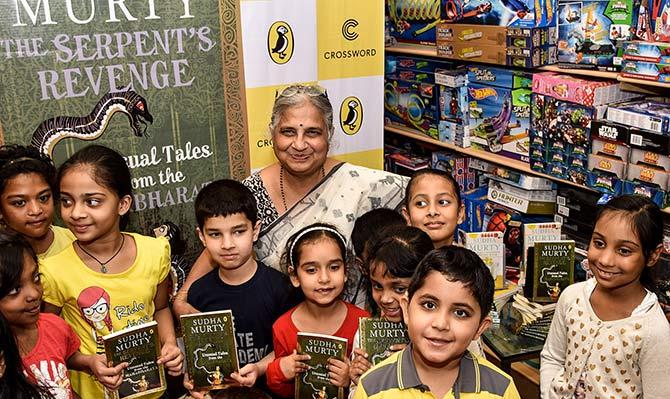 IMAGE: Sudha Murty with young readers at the launch of her latest book, The Serpent's Revenge. Photograph: Kind courtesy Crossword Bookstores
You can see it in the way she interacts with her readers, especially children.
When she says she likes to keep the language in her books, and the words she uses, simple so that neither she, nor her readers, have to use a dictionary, a very young reader pipes up with a pertinent question.
"So what happens when you don't know a spelling? Or you make a spelling mistake?"
"That's a very good question," she assures him. "I use the spellcheck software on the computer."
While her English stories are written on the computer, she writes her Kannada novels by hand, which she then cleans up before it is sent to the publishers.
Despite familial links to software, she does not attach too much importance to technology. Her personal emails are limited to "one sentence" and she uses the Internet only when needed because she does not "want to get addicted."
She answers up to 400 emails a day; the responses to professional ones are dictated to her secretaries.
"I don't want to waste time on computers; I use them only as much as is needed. It will give its own pain like back pain, etc. Why should I do it? I'd rather read books."
She doesn't quite like how digital involvement is insidiously creeping into human interactions and destroying human communication.
When she once invited cousins home for a family get-together, here's how technology overtook that evening:
She is pragmatic to accept that the world she was born in -- she was raised in a village where the day began with sunrise and ended with sunset because there was no electricity -- has changed dramatically.
"I have two choices. I can think positive or I can think negative. And I think it is better to think positive."
Narayana Murthy and Sudha Murts celebrated their 39th wedding anniversary on February 10, but she is seeing marriages crumble in the new generation.
"It is a complex thing," she says, when asked why marriage, as an institution, is losing its sanctity and if changing gender roles are a factor. "There is no one reason. Women are more educated. They are becoming financially independent. Patience is less."
Things, she says, were different during her time.
"In my generation," she says, "there was no question of... (divorce). When you don't have any fallback, you learn to adapt. Today, people are not as willing to adapt because their situation is different. That's part of life. Life changes."
"I have seen so many changes in 50 years. This is one of them. Everyone has to run their own marathon in life."
People look at her, she says, and believe that because she has been "successful" -- the quote marks are her own -- she has had a very smooth life.
"That is really not true," she says. "Successful people are those who face a lot of difficulties but convert every failure into a step to go up."
To find out how Sudha Murty dealt with the difficult moments in her life, please watch the video below.
Her work has taught her that difficult situations can bring out the best in people.
"My world is so different from the life you see in the cities. I work with different communities, different people and I've seen how people, even when they are very poor, are more accepting. They are willing to share what little they have."
And, in this world of hers, what kind of impact has demonetisation had?
"See, my people -- the people I work with -- are very poor. And the way I look at it is, do we really spend that kind of money, like Rs 4,000 a day or Rs 20,000 a week? We don't. But the moment you say there is a shortage, we want hoard it."
She recalls the rumour about a salt shortage. "My cook came and told me there was a shortage of salt. 'Shall we buy 10 kgs?' he asked. 'What will you do with 10 kgs of salt?' I asked him. 'To consume 1 kg, we require two months.'
In any unusual situation, says Murty, "Don't panic and react because someone else is reacting."
Murty herself did not have any problem with demonetisation, she says.
"I had Rs 4,000 in old notes that I converted into new notes."
She told her staff to defer purchases for a month unless it was absolutely essential.
"I buy groceries for six months at time, so I hardly felt it."
Demonetisation, she says, was a good move by the government. "There will be some difficulty. India is a big country. Any change, it takes time."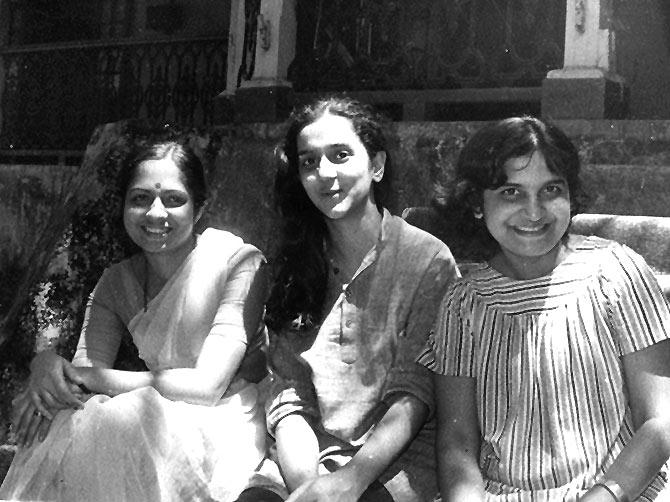 IMAGE: From left to right, Kumari Shibulal, Rohini Nilekani and Sudha Murty. Photograph: Kind courtesy Infosys
At the same time, she does not believe in accepting things at face value or because 'you must accept things the way they are' she mentions this in the introduction to her book, The Serpent's Revenge.
'But you should be very careful,' she says. 'It is like a knife.'
'When you cannot change something, you should accept it. Like if you have a life-threatening disease, what can you do? Not accepting that you are not well is a bad thing here. I'd rather accept it and take the maximum treatment.'
'There are certain things you know you cannot do. Like, if someone tells me tomorrow to climb Mount Everest, I can't. Accept it.'
'What you should know as a human being your limitation and in that you should accept or not accept. Accepting everything is just as bad as not accepting anything. You should be mature enough to know that to do.'
'We should remember that quote: "God, grant me the serenity to accept the things I cannot change, the courage to change the things I can, and the wisdom to know the difference".'
This, she believes, is the kind of maturity that India needs as well. The biggest lesson that we have to learn, she says, is that "history repeats itself because we won't learn from the failures."
More importantly, says the granddaughter of a village history teacher, we have to know this: "United we stand. It's something we have never done since 2,000 years."
Watch the video below to find out the history lessons that India has not learnt.
Her love for history began when she was a little girl who waited, wide-eyed, for the stories her grandfather would tell her after the sun set.
"My grandfather taught history at the village school. So we (Sudha Kulkarni lived in a joint family where there were 14 children) would get to hear a lot of stories... For example, without seeing Haldighati, I knew about the battle Rana Pratap fought. I knew about his brave horse, Chetak. I probably knew the history of India in the form of a story."
"And it was not just history. He taught us many things in the form of a story."
As a writer, that's what Murty does as well.
For example, her favourite tale in The Serpent's Revenge -- the story of Barbarika -- has a hidden lesson. 'Before you make an oath, think carefully. Don't make a foolish oath.'
The story popped into The Serpent's Revenge because of a trip she had made for the Infosys Foundation.
"When I was working in Rajasthan, there happened to be a mela there. Now this is something I really like, so I told the people I was working with that I would like to go to the mela."
She was told that the mela was in honour of Khatushyam. "And they told me the story of Bheem's grandson who vowed to fight with the weaker side in the Mahabharata war. When Krishna made his realise the folly of his ways, he sacrificed his head so that his powers would not have a negative impact on the Mahabharata war. But Barbarika was keen on seeing the war so Krishna set his head upon a hill from where he had a grand overview."
In Rajasthan, Barbarika -- represented as a head on a mound of earth -- is worshipped as Khatushyam.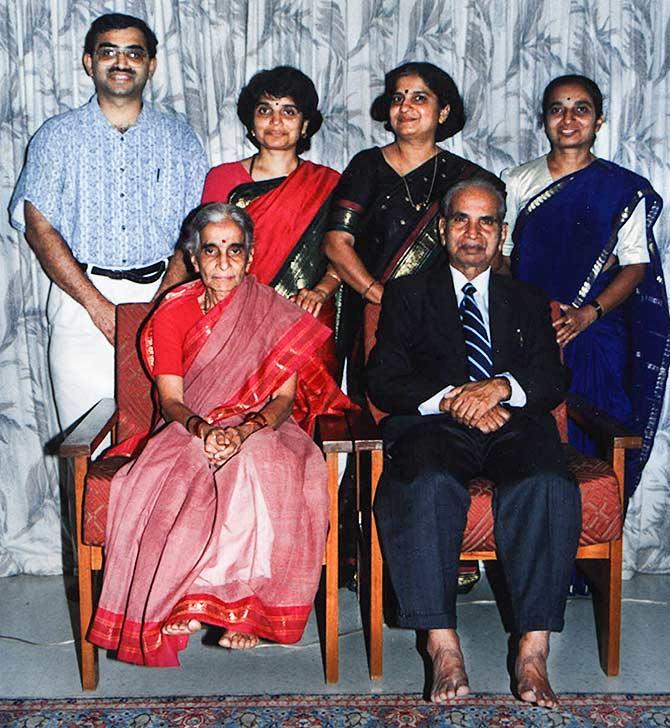 IMAGE: Sudha Murty, third from left, in a family picture with her parents, her brother Srinivas and sisters Jayashree and Sunanda.
Murty didn't realise when her love for history percolated down to her son.
"Rohan knew that I love history. I read the classics and he picked it up along with computers from his father."
So while he did his PhD in computer science at Harvard University, he also took a lot of history courses, particularly about the Byzantine empire. Then, he took Sanskrit classes. Then, he took classes on Greek literature.
"One day," says his proud mother, "he came and told me, 'The sum total of Greek and Latin classics will only be half of our Sansrkit classics. Amma, you know how many classics we have in our country?'"
Thus was born the Murty Classical Library of India, which was established at Harvard and is dedicated to preserve literature in ancient Indian languages.
"That is my son's," says Murty firmly. "Entirely Rohan Murty."
Like history, and reading, she has another passion -- the movies.
"Of course, I love Bollywood," she says. As a young girl, she would skip classes to watch the movies of her favourite stars. Today, her day does not end unless she watches a movie for at least half an hour.
To find out who Sudha Murty's favourite actors are, do watch the video below
She watched Dangal and loved it. Despite biopics being the flavour of the season, she does not feel her life merits one, so there is no question of choosing an actress to play Sudha Murty.
"First of all, I am a very ordinary person; there is nothing to make a movie about me. Second thing is, what is not possible, I don't even think about that."
Do read the INTERESTING FEATURES in the RELATED LINKS below.