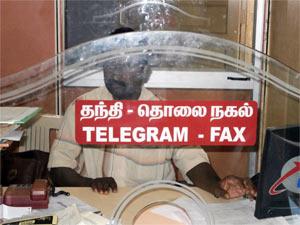 Telegrams were, once upon a time, the lifeline of Indian villages. Urgent news reached the tiniest hamlets through Morse machines. How will the closing of the telegraph office affect a small village in Tamil Nadu? A Ganesh Nadar reports
You want to send a telegram?"
The village postmistress at my gaon, Panickanadarkudieruppu, in the deep south of Tamil Nadu, looked sceptical.
I patiently explained to her that I wanted to write about the telegraphic service because the service was going to close down July 15.
"Go to our taluka headquarters at Tiruchendur. It is still working there" she said.
Thiruchendur is 18 km away and the famous abode of the Lord Muruga, second son of Lord Shiva. People come from near and far to worship at this seashore temple. But not many come anymore, from the surrounding lush green paddy countryside, to send telegrams. The telegraph office is inside the Bharat Sanchar Nigam Limited telephone exchange.
Telegraphs started being sent in India in 1860 in Kolkata (then Calcutta). The telegraph department was initially a part of the postal system.
In the 90s, with the beginning of liberalization, this department was taken away from the post office. It was merged with BSNL, the state-owned telecommunication company. The employees were given a choice of staying on at the post office or joining BSNL. Most of them joined BSNL.
The office is fair sized but only three employees visible. "Today is a second Saturday so half the people are on holiday explained the lad at the telegraph counter.
The counter says telegram and fax.
Come Monday it will say only fax.
P Murugesan is the senior most staffer here today. He joined the post office in 1981. "I joined as a telegraphist. That's what we were called those days," he explains, speaking in Tamil.
After being selected he was sent to Meenabakkam, outside Chennai for training. It took all of eight months. He learnt the Morse code and also how to operate the Morse code machine. He joined work at the head post office of the coastal town of Tuticorin and was there till 1986.
"In the marriage season it used to get so crowded. We had a tough time manning the counters. Those days it was only Rs 3.50 to send a telegram. It was at that rate for eons. Suddenly one day we got a circular saying the rate had increased to Rs 28 per telegram. They increased it by eight times in one day".
He said their regular customers were the banks. The State Bank of India alone sent 70 telegrams a day. There were many other banks too. The Tuticorin beach post office would get 150 telegrams a day.
"I never understood what the banks sent. They had a code language which they used for fund transfers. Since it was in English I just typed it without understanding it. It would go something like UTSEVROP… weird! You must have heard of VVD Coconut Oil Mills? They sent 40 telegrams on alternate days about goods dispatch."
From the beach post office messages would go to the head post office by ticket tape. They would cut and paste this to send it onwards.
Addresses were part of the telegram and were chargeable. So larger companies, Murugesan explains, registered special short-form addresses with the telegraph department. For instance The State Bank of India registered themselves as Thistle. If you sent a telegram to Thistle Tuticorin, then the SBI branch there would certainly receive it. For this service SBI was charged only Rs 200 a month.
Even marriage cards those days had a 'gram' address to which out-of-town relatives could send greetings to make it more economical for the well-wishers.
"In 1981 our teleprinter in the head post office had eight circuits. We were so busy. There were 15 sets of Morse machines. Each was connected to four post offices. Each post office had its own Morse set. Those days postmasters had to know the Morse code (too)."
But once the post office got phones, they started the system of calling and reading out the messages. The Morse machines gathered dust and were forgotten. No one knows when they actually stopped using them. They just faded away.
In 1981 the head post office in Tuticorin handled 5,000 telegrams a day. The service was under pressure. The tele-printer came to its rescue; then the FTP or formatted tele-printer and after that today's WTMS or web-based tele-message service.
Murugesan remembers, "Villagers got nervous when the postman said 'Telegram.' They always presume someone is dead. City folk are not that nervous."
"Court orders went through our office. Finance companies intimated clients about vehicle seizures through our services. Those days we had a law that ensured privacy of telegraphic messages. Now everybody reads them."
"The beginning of our end was in the year 2000 when BSNL introduced cell phones. Before that only private companies had mobile services."
A bus conductor dropped by, in front of me, at the Thiruchendur office. He started arguing with Murugesan, "Why are you stopping telegrams? When I need leave urgently I always send a telegram. It's proof of intimation. When I take ten days leave, I always extend the leave through telegram. Now you are leaving me solution-less."
"You can call your office?" offered Murugesan.
"On the phone they can refuse," replied telegram-happy bus conductor.
"Then send an e-mail" said Murugesan. "Your sent mail will be proof.
"The sent mail is not proof! We should get a received mail as proof," said the upset conductor.
Murugesan was stumped. He just smiled and said to me, "Most people are not bothered. But it's people like him who are going to miss us the most."
Photograph: A Ganesh Nadar