"Slogans are a subset of freedom of expression. You express your politics through it. I can chant any slogan, you can differ or agree. But you can't slap sedition charges," Aparajitha Raja, the 25-year-old president of the JNU unit of AISF and daughter of CPI leader D Raja, tells Shivam Saini.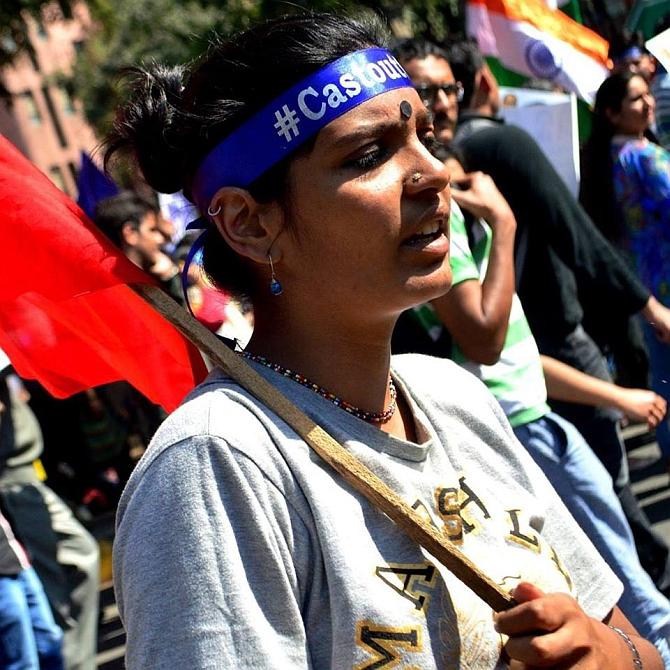 For the past few days, her phone has not been turned on much.
Concerns for security also led her to temporarily move out of her room in one of the hostels at Jahawarlal Nehru University and move in with a friend on the same campus.
She has been "strictly asked" not to walk around campus or outside unescorted.
These days, a bunch of "comrades" almost always surrounds Aparajitha Raja, an MPhil student at JNU's Centre for Political Studies.
Raja is among the 20 students whose names were released by the Delhi Police earlier this month in connection to an event organised on February 9 to protest the hanging of Parliament attack convict Afzal Guru in 2013, where it has been alleged that "anti-national" slogans were chanted.
"The only sad part is that now people know who my father is," says the 25-year-old president of JNU unit of the All India Students' Federation, and daughter of D Raja, the Communist Party of India's national secretary and a member of Rajya Sabha.
AISF is the student wing of the CPI.
Soon after the incident, which also led to the arrest of JNU Students' Union President Kanhaiya Kumar on sedition charges, Bharatiya Janata Party MP Mahesh Giri uploaded a video of the event, alleging that Aparajitha had also participated in the protest.
Around the same time, D Raja was reported as saying that he had received calls carrying threats to his daughter.
When I meet Aparajitha on campus, she chooses a quiet spot shaded by trees for us to chat.
Dressed in a bright blue-and-red salwar kameez, she settles herself on a stool.
Her face, though weary with lack of sleep, shows little sign of the deepening turmoil at JNU.
She is rather amused at one of the recent tweets about her that urged Prime Minister Narendra Modi to press sedition -- incorrectly written as "seduction" -- charges against her.
But what happened on the evening of February 9 is far from hilarious.
Aparajitha says she joined in only after she received a call from one of the organisers of the event.
The permission for the event -- a cultural evening titled "The Country Without a Post Office" -- that was scheduled at 5 in the evening was withdrawn, she says, after the Akhil Bharatiya Vidyarthi Parishad wrote to the authorities, citing concerns that the anti-national activities would disturb peace on campus.
"But the organisers decided to go ahead with the event anyway," she says, adding that she joined the protest towards the end of the programme.
Although she denies having raised "anti-national" slogans, Aparajitha makes her views on sloganeering clear.
"Slogans are a subset of freedom of expression," she says in a soft voice. "You express your politics through it. I can chant any slogan, you can differ or agree. But you can't slap sedition charges."
She, however, terms some of the slogans raised that day "juvenile and senseless". All the same, she adds: "These slogans have a context. You cannot decontexualise or ahistorically look at anything. They are shouted every day on the streets of Kashmir. You cannot see things in isolation."
A few days after the event, JNU authorities suspended eight people, whose names had also appeared in the initial list of 20.
"From there on, we could see the plot," says Aparajitha, whose Facebook timeline from those days is flooded with calls to boycott classes and a shutdown of the university. "We were only being cautious."
The young activist, who grew up in Delhi and attended Hindu College before she came to JNU, fondly remembers her childhood days when she would tag along with her mother, social activist Annie Raja, to protest marches.
"I was in class II when at this particular trade union march, from Ramlila Maidan to Jantar Mantar, I was so tired of walking that I was wailing," she says laughingly. "I asked her to carry me instead."
For now, however, her biggest concern is a dissertation on which she has not started work yet.
"I was going to go to my friend's place in Chennai and write my dissertation. You need a certain detachment to be able to write. I cannot detach myself when I am on campus," she says.
"Plan spoilt."
Photograph Courtesy: Aparajitha Raja/Facebook