'At an altitude of 5,000 metres, the levels of oxygen in the blood of a healthy soldier would be similar to that of a patient with a severe lung disorder at sea level.'
'While such patients are admitted to ICUs, confined to bed and treated with continuous oxygen therapy, the soldier at 5,000 metres with similar levels of oxygen in his blood performs intense physical activity and fights the enemy!'
BharatShakti.in founder Nitin Gokhale reveals the ordeals that await soldiers when they are posted to the Siachen glacier.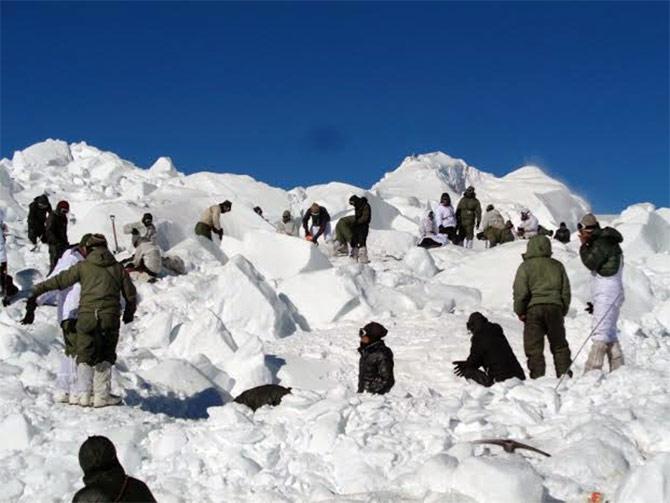 IMAGE: The Indian Army's rescue operations at the Siachen glacier this past week to locate the 10 soldiers buried in an avalanche.
The miraculous survival of Lance Naik Hanmanthappa despite being buried under 35 feet of snow after an avalanche hit his post on the Siachen glacier has once again brought the focus back on the tough conditions under which Indian soldiers are deployed at the world's highest battlefield.
Despite tremendous improvement in the facilities -- better tents, better snow clothing, better food and well-rehearsed standard operating procedures (SOPs) -- the Siachen glacier presents a unique set of environmental challenges for the human body. These include low oxygen, partial pressure due to reduced barometric pressure at high altitude (HA), extreme cold, high levels of ultraviolet radiation and low levels of humidity.
Survival on the glacier involves battling not just these gruelling environmental conditions, but also combating long periods of isolation, making do with tinned and preserved foods, battling to obtain clean drinking water, living in cramped inhospitable temporary shelter without electricity and the absence of a host of things considered essential and taken for granted by civilised society.
Add to this, the constant threat of enemy action, which requires man and machine to be fighting fit and alert 24 X 7.
Siachen therefore becomes the toughest call of duty for the Indian soldier.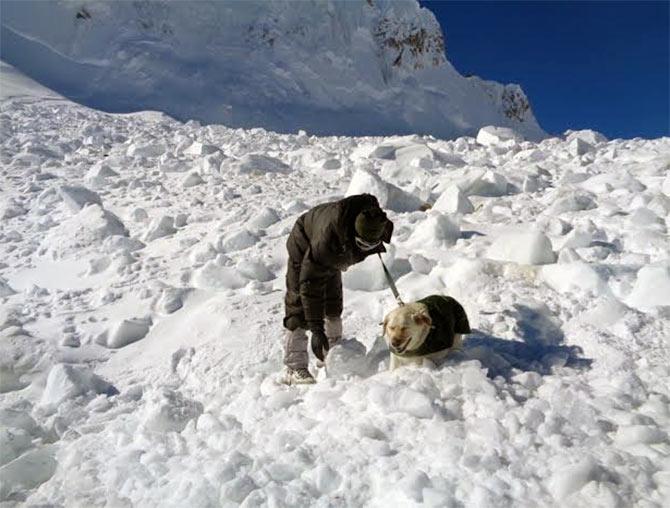 IMAGE: Specialised rescue dogs were pressed into service. 'The dogs, Dot and Misha, did a tremendous job,' army officers said.
"The human body makes adjustments in its functioning to enable individuals to live and work at these extreme altitudes," says an Indian Army doctor. "These adjustments constitute the phenomenon of altitude acclimatisation."
"Acclimatisation, which largely involves increase in the rate and depth of breathing and increase in haemoglobin levels in the blood, however, does not allow the human body to function on Siachen as it does at sea level," he adds.
"At an altitude of 5,000 metres, for example," he says, "the levels of oxygen in the blood of a healthy soldier would be similar to that of a patient with a severe lung disorder at sea level. While such patients are admitted to ICUs, confined to bed and treated with continuous oxygen therapy, the soldier at 5,000 metres with similar levels of oxygen in his blood performs intense physical activity and fights the enemy!"
IMAGE: The ice boulders the rescue team had to deal with.
Studies have shown that medical problems can occur within a few days of reaching high altitudes or at times even after months of stay on Siachen. Acute Mountain Sickness is one of the commonest acute high altitude illness encountered by almost 20 to 30 percent soldiers on arrival at the high altitude.
Though doctors say this condition is largely benign and self-limiting if recognised and treated in time, it is extremely distressing and often demoralising for the soldier. This is understandable since a healthy, physically fit soldier suddenly finds himself experiencing headaches, nausea and loss of appetite for no apparent reason and it spooks him out, often causing him to wonder what other terrible things lie ahead.
A prolonged stay at these high altitudes presents a completely different set of medical challenges. The human body is not designed to reside and function at such altitudes and successful altitude acclimatisation does not occur at these heights.
With added effects like impaired absorption of food from the intestine, dulling of taste sensation and severe loss of appetite, the combination of low oxygen levels, impaired nutrition, raised haemoglobin levels, lack of mobility and dehydration make the soldier susceptible to a host of medical ailments.
These could range from raised blood pressure, increased susceptibility to infections and weight loss to life threatening events like blood clots in the lungs, brain, intestines, spleen and heart. Many soldiers also report sleep disturbances, impaired memory and loss of libido.
Take the case of Captain Rajesh Mehta of the 10 Dogra Regiment. He would never have thought being posted to Siachen would alter his life so drastically. When he ascended to 18,000 feet after proper acclimatisation, he led his men to the northern glacier in early 2005.
Before going to the glacier, he was active in a counter-insurgency area and also did the commando course, earning the coveted Instructor grading. In February 2005, days after settling down at his post, Captain Rajesh developed clots in the veins of his brain, hands and legs.
Doctors advised immediate evacuation, but a severe snow storm for 10 days prevented any helicopter flights. His condition deteriorated. When flying resumed, he was first airlifted to Partapur, then flown to Chandigarh before being admitted to the Research and Referral hospital in Delhi.
The clotting was so severe that doctors had no option but to amputate his right leg from his hip, left from his knee and the left arm from his elbow. Any lesser person and any other organisation would have given up. But army doctors with their skills and care and Captain Rajesh with his indomitable spirit, helped on by his equally courageous wife, proved everyone wrong.
The army provided singular support to Captain Rajesh by way of intensive medical care and suitable employment in the army to rehabilitate him. Four years of treatment enabled Rajesh to recover. Artificial limbs were provided once his medical condition stabilised.
Nearly nine years after he was evacuated from the glacier in a near-dead situation, Rajesh was promoted to the rank of lieutenant colonel. He is ow posted in Pune.
"Despite the physical and mental challenges he faced, Rajesh Mehta has continued doing his work devotedly and always with a helpful attitude to find solutions to the problems of soldiers," says a retired army officer.
"In such adverse physical conditions many would give up hope," the officer adds, "but not this young man, a trained commando and an inspirational leader of troops who lives up to the motto 'Mushkil Waqt Commando Sakth (When the Going Gets Tough The Commando Gets Going).'
"I am especially grateful to my wife, her courage, fortitude and support during our ups and downs," says Rajesh. "My young son too is spirited and wonderful company for me. I feel great pride in being part of such a wonderful organisation, the Indian Army, its humane approach to employment management and thank them for taking care of me and my family in every way."
"I wish to share with you what helps me cope with my disabilities of triple amputation and CVA (Cerebral Vascular Accident)," says Lieutenant Colonel Rajesh. "As per medical prescription, I was bound to be on lifelong medication. During the post amputation period my entire time was spent on the hospital bed with hardly any scope of exercise except being picked up on a wheelchair and taken around."
"Fortunately for me," he adds, "my doctor suggested I could follow the yoga being telecast live on TV in the early mornings. Initially it was difficult for me to pick up the technique of Anuloma Pranayama, breathing through alternate nostrils."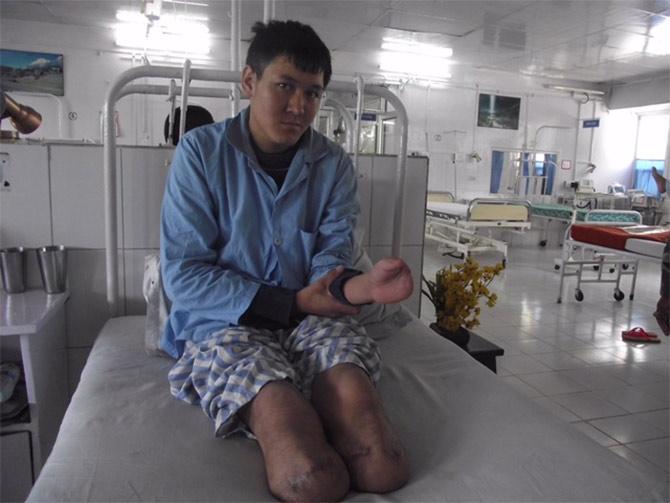 IMAGE: Nima Norbu after his rescue and surgery.
The story of Nima Norbu, a porter from Warshi village, very close to the Siachen base camp, is equally inspiring. A pleasant young man, he started carrying loads up the glacier like all his friends and family from the area when he was barely 20.
In December 2012, he was accompanying a platoon of soldiers and a group of fellow porters when he slipped into a crevasse all of a sudden. The crevasse was barely two feet in diameter, but was deep enough to swallow him.
Initial efforts to pull him out failed and as night fell, the rescue attempt had to be abandoned. Early the next morning the search for Norbu began again. Through the day, soldiers and porters looked for him.
Incredibly, as the daylight started fading again, Norbu was located nearly 25 hours after he fell in. Brought out unconscious, he was immediately flown to Partapur hospital and the next day to Chandigarh and then to Delhi's RR hospital. Prolonged exposure to cold forced the doctors to amputate -- much like Rajesh -- Norbu's three limbs.
From then on life looked futile, but the Indian Army's fantastic support system came into play again. Voluntary personal donations, funds from the army welfare fund and world class medical attention allowed Norbu to rebuild his life.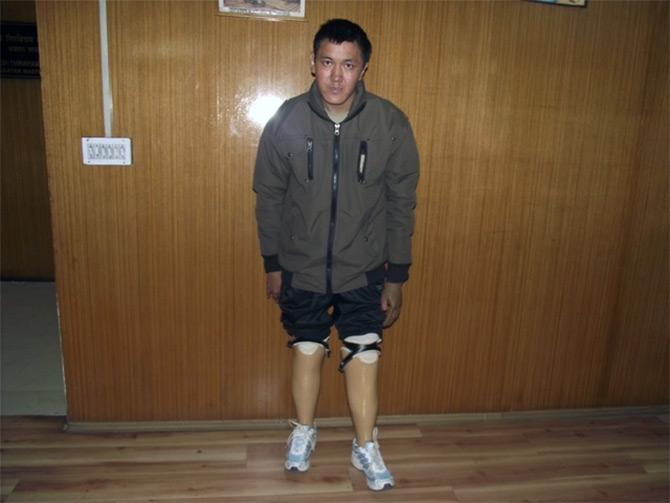 IMAGE: Nima Norbu today.
When I spoke to him in his village, at first glance, Norbu looked absolutely normal. Three artificial limbs allow him to move about on his own. Family and friends have rallied around him. A corpus of about Rs 11 lakh (Rs 1.1 million) has given Norbu a base to begin life anew.
"I cannot be my old self again, but such generous help from the army has given me renewed hope. I am going to educate my child so that he does not have to become a porter," Norbu tells me.
What about his fellow porters? Do they fear going to the glacier?
"We never fear the mountains or glaciers," says Norbu. "They are our natural abode. My friends continue to go up. And they will continue to help the army. After all, the army is here to protect us Ladakhis."
This then is the story of Rajesh and Norbu, two different personalities, victims of two different circumstances, but both displaying indomitable spirit.