Strident Hindutva has not been the Shivraj Singh Chouhan's hallmark in his long tenure as chief minister.
What has changed?
Jyoti Punwani finds out.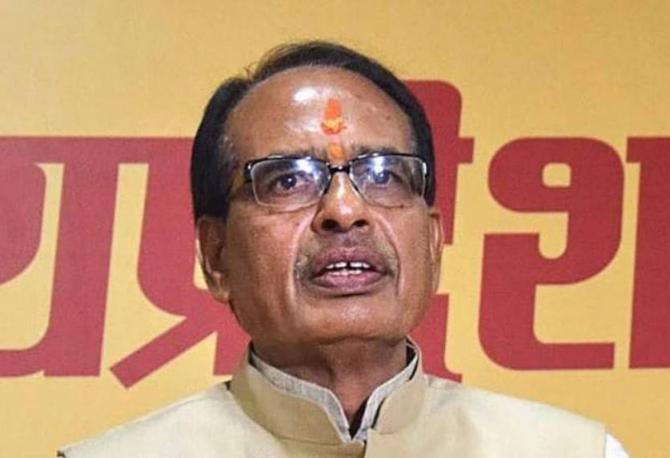 In December 1990, Vishwanath Pratap Singh, who had stepped down as prime minister barely a month earlier, was to visit Bhopal. He was warned not to by Shivraj Singh Chouhan, head of the Bhopal unit of the Bharatiya Yuva Jana Morcha, the BJP's youth wing.
Chouhan had been elected MLA for the first time that February; his party had swept Madhya Pradesh. The CM was Sunderlal Patwa, a man who made no bones about his Hindutva beliefs.
So it was easy for Chouhan to carry out his warning. The former primemMinister was given a violent reception when he landed in Bhopal.
The BJP had withdrawn support from the V P Singh-headed coalition government at the Centre barely a month earlier, after then Bihar CM Laloo Prasad Yadav had arrested BJP leader Lal Kishenchand Advani and stopped his rath yatra entering Bihar en route to Ayodhya.
So Chouhan could be said to have merely been following his party line when he warned V P Singh not to step inside Bhopal.
But it wasn't just that. Chouhan had joined the Rashtruiya Swayamsevak Sangh when he was just 13. Both V P Singh's secularism as well as his Mandal politics must have been anathema to the then 31 year old.
Why then are we surprised at what the same man is doing today as chief minister of Madhya Pradesh?
The last week of December saw three riots break out in MP, triggered by yatras for the proposed Ayodhya temple. Stones were pelted on the rallyists; the latter attacked mosques and burnt homes.
Riots have taken place under Chouhan's watch earlier, in 2008 and 2016. The police then and now, acted in their usual partisan manner.
This time, however, what took everyone aback were the administration's actions after the riots.
An alleged stone pelter's home was demolished in Ujjain, and in Chandankhedi, Muslim homes were partially demolished the day after the riots, ostensibly in a road widening exercise.
Strangely, as one villager pointed out to this reporter, the road passed through a string of villages, but was widened only in the Muslim-majority Chandankhedi village.
If these actions were shocking, so were Chouhan's statements after the riots.
The CM threatened to pass a law that punished stone pelters with life imprisonment and which also allowed demolition and/or auction of their homes. But he said not a word about those who shouted communal slogans, hoisted saffron flags on mosques and attacked them.
Earlier, the CM had threatened to bring a law against 'love jihad', threatening to 'break and destroy' those who indulged in it.
On January 9, the law came into force. Modelled on the UP law passed in November, which has since been wreaking havoc on innocent lives, Chouhan's law has stricter punishments.
Finally, the Munawar Faruqui incident. The January 1 arrest of the stand-up artist on the complaint of a BJP MLA's son, and the police's opposition to his bail despite admitting they had no evidence that he had mocked Hindu deities as alleged, has caught the nation's attention, but the CM has chosen to say nothing. No action has been taken against those who reportedly roughed up the audience.
These actions have surprised many because this strident brand of Hindutva has not been the hallmark of Chouhan in his long tenure as chief minister. The man who has ruled the state since 2005, except for a gap of 15 months after his party lost the 2018 assembly elections, is described by Muslims as "soft".
Madhya Pradesh is one of the few BJP states where a substantial number of Muslims (who comprise only 6.5% of the state's population) vote for the BJP. According to CSDS Lokniti data, 16% of Muslims voted for the party in the 2018 assembly elections, when Chouhan was seeking a fourth term.
***
Since 1985, when the Ayodhya movement began and Hindutva politics became mainstream, Madhya Pradesh has seen four BJP CMs.
Uma Bharti has always been proud of her involvement in the Babri Masjid demolition movement; and (the late) Babulal Gaur was a long-time RSS member. Yet, both were chief ministers for two short a period to leave a mark.
It was (the late) RSS veteran Sunderlal Patwa's two-and-a-half year tenure as CM in the stormy period between March 1990 and December 1992 that remains in memory. That's when the Bajrang Dal felt emboldened enough to put up a banner at the Bhopal railway station -- on central government property -- which read: 'Hindu rashtra ke rajya ki rajdhani mein Bajrang Dal aapka haardik swaagat karta hai (<em<>Bajrang Dal welcomes you to the capital of a state in the Hindu Rashtra).
A few months before V P Singh faced a violent reception in Bhopal, Bajrang Dal members had assaulted then Uttar Pradesh CM Mulayam Singh Yadav in Indore at a Hindi Diwas function at which CM Patwa was present.
Of course, no action was taken against the Bajrang Dal on either occasion.
In the same way, no action was taken against a sub inspector who was persuaded in 1990 by then Indore BJP MLA Kailash Vijayvargiya to join a Ram yatra and sing a bhajan. In an interview with this reporter, Patwa defended the policeman, saying he had taken out his cap and belt before joining the yatra.
As CM, Patwa's official Diwali cards had sketches of the proposed Ayodhya temple on them; State transport buses were arranged for BJP workers going to Ayodhya for the first assault on the Babri Masjid in October 1990. At the very first meeting of the National Integration Council in 1990, the MP CM described Christian missionaries as 'traitors'; for him, Muslims were 'Ram ki aulad"'
In contrast, Shivraj Singh Chouhan has been a dove, not only in speech, but also in action, specially in his first two terms.
From hosting iftaar parties (even wearing a topi initially, later replaced by a turban) to organising mass nikaahs for poor girls; from laying the foundation stone of the state's first Haj house to allotting land at an annual lease of Re 1 for a centre of the Maulana Azad National Urdu University, Chauhan has done what very few RSS CMs have.
Hence, even though he gave only one Muslim candidate a ticket in the 2013 assembly election, the community voted for his party in large numbers.
Of course, circumstances were very different when Chouhan took over in 2005 from when Patwa took charge in 1990, or when the BJP formed governments in state after state in 2017.
Chouhan became CM a year after the BJP had lost power at the Centre; the party remained in the Opposition for almost a decade while he governed MP.
Hindutva was not upfront on the political agenda during that time. Development seemed to be Chouhan's main focus: NDTV even gave him its 'Leader of New India (development)' award in 2011.
So, what has happened suddenly? Why does the 'soft' BJP CM growl: 'I'm in a dangerous mood these days.'
"We don't know, we plan to ask him," says a bewildered Dr Hamid Baig, chief of the Jamaat e Islami, Bhopal.
***
Political observers in the state ascribe the change to the new situation in which Chouhan finds himself, which prevents him from being his own man.
Part of the L K Advani camp, Chouhan had a political standing of his own, independent of Modi. Unpopular therefore with the party's powers that be, his losing the 2018 assembly elections made his position precarious, even though the BJP received 1% more of the vote share than the winning Congress.
Back as CM now, he is dependent on former Congress leader Jyotiraditya Scindia who joined the BJP with 22 MLAs last March, bringing about the fall of the Congress government.
With 15 of them winning the by-polls last November, Chouhan has had to accommodate them in his cabinet at the expense of his own party hopefuls.
His new party chief in the State, V D Sharma, also an RSS veteran, is not his favourite person; and there are constant rumours of Chouhan being replaced either by MP Home Minister Narottam Mishra or the high profile BJP leader Kailash Vijayvargiya.
Strident Hindutva then, might be one way of currying favour with both Nagpur and Delhi, feel these observers.
It is also, says writer Shams ur Rahman Alavi, a way of getting people's approval.
"In the last six years, Hindus have started displaying a majoritarian mindset," says Alavi. "When they see a Muslim's home demolished on mere suspicion, and hear talk of a law that would make such demolitions routine, they cheer. Muslims must be taught a lesson, they feel."
61-year-old Chouhan who studied in Bhopal, is a product of the old Bhopal culture, points out Alavi, where even RSS stalwarts such as Babulal Gaur would have Muslim friends, where Arif Baig of the Jan Sangh could win the Bhopal Parliamentary seat on a Bharatiya Lok Dal ticket in the historic 1977 election, defeating the Congress''s Shankar Dayal Sharma (later India's ninth President).
Today, this old, gracious city is represented in Parliament by terror-accused Pragya Thakur.
Yet, MP has also been a base for the RSS.
Even in his initial years as CM, Chouhan had started introducing Hindutva policies. Way back in 2010, he amended the MP anti-cow slaughter law to make its punishments more stringent; between 2007 and 2016, 22 alleged violators were arrested under the National Security Act.
It is in crucial fields like education, however, that Chouhan made significant changes.
Compulsory surya namaskar, recitation of 'bhojan mantra' before eating the mid-day meal (wherein eggs were banned), and introduction of 'Geeta Gyan' in all government schools, were measures introduced in his first two terms.
'Kisiko takleef ho to ho (if anyone is offended, let him be),' the CM had said at an RSS school in Indore, announcing the Geeta decision.
He later exempted Urdu schools from his order, and his government was forced by the court to make the surya namaskar voluntary.
However, as Masood Ahmed Khan from the Coordination Committee of Indian Muslims points out, when a few students stay out of an activity being performed by the rest of the class, it is the former who feel stigmatised.
"Not even Gujarat has introduced such measures," says Masood, who disagrees with the assessment of Chouhan as a "moderate".
Why then has this description stuck to the MP CM?
There can be two reasons.
One, only the poorest go to government schools, the children of opinion makers remain unaffected by such moves.
Second, a BJP chief minister who does not flaunt his dislike of Muslims, remains accessible to, and even cordial with influential Muslims, and whose government is seen as sensitive to their identity, can only be labeled a "moderate" in these times.
The question is: can these times allow such a person to remain so?
Feature Presentation: Aslam Hunani/Rediff.com