Indrani and Peter Mukerjea seemed more at ease on Wednesday, maybe with the INX Media interrogation over temporarily, chatting cheerfully and easily between themselves, and with former husband Sanjeev Khanna, at the back of the courtroom, in the accused enclosure.
Vaihayasi Pande Daniel reports from the Sheena Bora murder trial.
Illustration: Uttam Ghosh/Rediff.com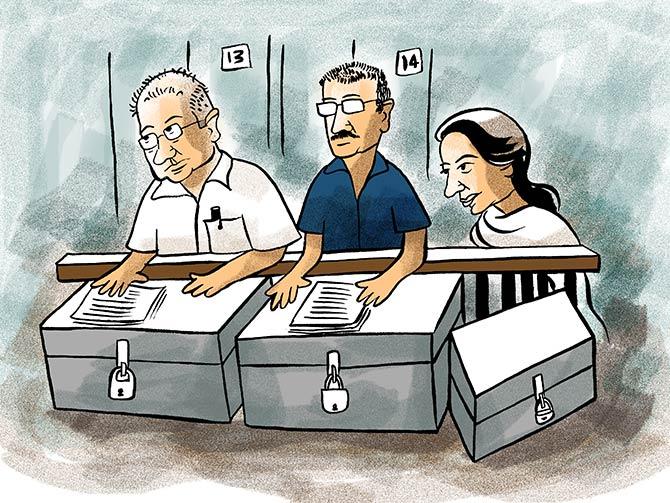 Temperatures outside Mumbai city civil and sessions court's Courtroom 51 soared to 32 degrees C, with 71 percent humidity, on the afternoon of April 4 in south Mumbai.
Temperatures inside the courtroom, where the Sheena Bora murder trial was taking place, were not any less. For a good reason.
Sudeep Pasbola, Indrani Mukerjea's defence lawyer in the last lap of his cross-examination, sharply turned up the heat on Witness One, Sub-Inspector Ganesh Dalvi, on Wednesday.
Through the 120-minute hearing, Pasbola -- who closed his cross-examination of Dalvi a little less than a month after he started it -- established two realities for anyone observing this case.
The lawyer, who is not given to flamboyance, proved that his tenacious, dog-with-a-bone-in-his-mouth approach can bring a witness to the tripping stage.
Secondly the tripping of a witness is a not a grand moment that can be marked with the roll of drums or fanfare.
Rather it is the stealthy, incremental, sucking away of the ectoplasmic credibility of a witness, even for a PW as dignified as Dalvi (PW=prosecution witness), until before you realise it, it is finally gone with a loud pop.
If Tuesday, or earlier hearings, gave the appearance that the sub-inspector was struggling awkwardly with his memory, Wednesday clearly showed Dalvi up to be all at sea under the sharp, bespectacled, gaze of CBI Special Judge Jayendra Chandrasen Jagdale.
By the end of his stint in the witness box, Dalvi was chopping and changing his version of events of 2015 at a frequency that seemed to suggest that he was just not saying what had actually happened, but merely what he was supposed to say and the two versions were tangling together and tying him up in knots.
Pasbola, from time to time, raised this point, plaintively asking the judge, "Why doesn't he just say what happened?"
For instance Dalvi was asked, in detail, about his interrogation of Accused No 3 and approver Shyamvar Pinturam Rai, Peter and Indrani Mukerjea's erstwhile driver.
Dalvi had said earlier that he was part of the posse of Khar police station cops who arrested a fleeing Rai at Carter road, Khar, north west Mumbai, on August 21, 2015 for unlawful possession of a crude country-made gun and three live cartridges.
After the panchnama process Rai was brought to the Khar police station where he was interrogated by several policemen, including Dalvi.
When asked how the interrogation took place, Dalvi first said he and his colleagues interrogated Rai as a group.
Hardly a minute later, he flipped his answer and declared that each policeman had interrogated the driver separately. Still later, he seemed further confused.
Can the passage of time really account for such an odd flip-flop?
In this manner, Dalvi stumbled many time during the course of the hearing on Wednesday.
Like on the day of Rai's arrest, there was evidence in Dalvi's first statement to show that he said he had come on duty in the morning and at 1600 hours was patrolling in the Khar police station area.
The police sub-inspector had no explanation for how he then came to be in the Carter road area instead, hardly an hour later at 1700 hours.
Or who was with him when Rai was arrested on August 21, 2015.
Dalvi told the court that the police Tata Sumo, that came across Rai, was driven by his colleague, N C Nagre.
Pasbola accused Dalvi of lying saying, as per records, Nagre was not even there.
When Pasbola questioned Dalvi about how he could have been on day duty and patrolling in the Khar police station area at 1600 hours, but also reach Carter road at 1700 hours and be on evening duty, Dalvi was flummoxed.
Special Public Prosecutors Kavita Patil and Bharat Badami quickly attempted to come to Dalvi's rescue, saying it was possible and objected to the lawyer's question.
Pasbola snapped at Badami gruffly: "My learned friend does not understand. He needs to learn!"
Badami snapped back: "I don't want to learn from you!"
Pasbola: "You should not!"
Badami: "Otherwise, where will I go!"
Additionally, Dalvi -- who was, Pasbola alleged, a young junior officer given the unfortunate task of concealing his seniors' mistakes -- did not offer particularly good credentials for the way a police station in Mumbai conducts an investigation.
If Rai was indeed arrested under the Arms Act and had not been in protective police custody from much earlier, as the defence charged, then it would seem that police investigations occur in a very clumsy, seat-of-the-pants manner.
Like, for instance, Dalvi confessed he had no written record of his interrogation -- which he said, had been done separately -- of Rai, on some days:
Pasbola: "On August 22-23, did you make a record of your interrogation of Shyamvar Rai?"
Dalvi, shaking his head: "No."
But 15 minutes earlier Pasbola asked: "On August 22, did you record the statement of the accused?"
Dalvi: "Ho (Yes)."
Given that Rai spent several days at the Khar police station in police custody -- August 21, 22, 23, 24 and perhaps beyond -- after his arrest on August 21, being interrogated by Dalvi and his colleagues, Pasbola delved into what went on during those days to get a sense of the truth.
Pasbola: "Did the accused show any remorse?"
Dalvi: "Aathvath nahi (I cannot remember)."
Pasbola: "At the time, did you ask the accused if he was ready to confess before a magistrate?"
Dalvi: "No."
Pasbola: "Was a statement from Shyamvar Rai recorded on 24/8?"
Dalvi: "A statement was recorded on 24/8. I was not present."
Pasbola: "Did you interrogate Shyamvar Rai on 24/8?"
Dalvi: "Yes on 24/8, I interrogated Shyamvar Rai."
Pasbola: "You did not find it necessary to take down his statement?"
Dalvi: "I think Dinesh Kadam (his senior at Khar police station) did?"
Pasbola: "On August 23-24, did the accused again give a confession?"
Dalvi: "Aathvath nahi."
Further, Dalvi stated that he could not recall the duration of his interrogations of Rai and it was not entirely clear, through Pasbola's querying, on which of these days he conducted an interrogation himself.
He did say that, for example, on August 23 he began questioning Rai at 10.30 am, but could not remember how long for.
Pasbola then moved on to examine Dalvi's participation in the search of Rai's home in Mosambi Tabela, Vakola, north west Mumbai, on August 23, 2015.
Dalvi, on the lawyer's questioning, said Rai had been asked about what objects of interest relating to the case were lying in his home, but Rai was not cooperative in supplying proper details.
Pasbola:"How long were you in the house of Shyamvar Rai?"
Dalvi: "2 to 2½ hours."
Pasbola: "Was Shyamvar Rai's wife present in the house?"
Dalvi: "Yes."
Pasbola: "When was the first time you saw Shyamvar Rai's wife?"
Dalvi: "In her home on August 23."
Pasbola: "Did you see her in the police station at any time?"
Dalvi: "Aathvath nahi."
Pasbola: "How many rooms did Rai have in his house?"
Dalvi: "One."
Pasbola: "How large a home was it?"
Dalvi: "12 feet by 15 feet."
Pasbola: "Did you take the measurements of his home?"
Dalvi: "Yes, I measured his home."
Pasbola: "Did you find any papers of agreement in Shyamvar Rai's home?"
A vacant uncomprehending look crossed Dalvi's face. But he then mentioned that Rai's driving license had already been taken earlier.
Pasbola was impatient with that answer.
Prosecutors Kavita Patil and Bharat Badami were impatient with Pasbola's line of questioning.
Judge Jagdale instructed Pasbola to more specifically spell out what documents he was asking about.
Pasbola trying again: "Did you find any papers of agreement, affidavits, house rent receipts in the house of Shyamvar Rai at Mosambi Tabela? Documents of tenancy?"
Dalvi: "Aathvath nahi."
Pasbola: "Did you find a mobile or SIM cards or the khoka (box) of a mobile phone?"
Dalvi: "No."
Pasbola: "Any personal documents?"
Judge Jagdale again: "If you ask specifically he will say."
Pasbola: "PAN cards, bank pass books?"
Dalvi: "No."
Pasbola: "In the drawers?"
Badami sharply: "He has already said. Why are you now asking about drawers?"
Pasbola: "Did you ask him about his brothers and sisters. And where they lived?"
Dalvi: "Aathvath nahi."
Pasbola then began to ask Dalvi about the panchnama that took place at Rai's home. For the second panchnama two panchas (the witnesses required for a panchnama) were called.
The lawyer narrowly questioned Dalvi about who these panchas were.
Were they panchas known to the Khar police station and had they acted before in cases for the Khar police station?
Did they live near the Khar police station? Did Dalvi ask the panchas if they had any connection with the Khar police station?
Dalvi had just one standard answer each time.
"Aathvath nahi."
Pasbola enquired if a statement was taken from Rai's wife Sharda in the panchnama. If she had signed the panchnama. And if a copy of the panchnama was given to Rai. And to her.
Was it entered in the Khar police station diary that a copy of the panchnama was given to Rai?
Dalvi said Sharda Shyamvar Rai had spoken to his colleagues.
About the rest, Dalvi, strangely, and crucially, said he could not remember and backtracked to say he had. But added that he had not given a copy of the panchnama to Rai's wife.
Pasbola asked: "Tumhala vaatla nahi ka ki tya lady la tevha copy dyayla pahije hoti? (You did not think that the lady should be given a copy then?)."
Dalvi did not reply.
Mumbai police guidelines clearly state: 'An accused/a person whose premise has been searched, must get a copy of the panchnama.'
Is it possible that Dalvi did not know that?
Pasbola, while wrapping up his cross examination, levelled a series of three accusations at Dalvi.
1. "The panchnama prepared by you (at Shyamvar Rai's home) was a false one and was done with the help of stock panchas."
2. "You did not apprehend Shyamvar Rai on August 21, 2015."
3. "Shyamvar Rai did not show any places in Pen to you. On August 22, you did not go to the Pen police station."
As a junior officer, Pasbola added, Dalvi was trying to "conceal" the actions of his seniors.
"You are misleading the court when you say that you do not recall (the sequence of events)," Pasbola said in closing, forcefully and grimly.
The next 20 minutes were spent in the omissions process, which is a vital part of a cross-examination.
This involved Pasbola pointing out the differences between the statement Dalvi made first to the Khar police station and then to the CBI and at each juncture physically showing the statements to Dalvi and asking why these odd differences occurred.
Dalvi every time offered no cogent reply or even a shrug. But it was faithfully recorded in the court records that he had no idea why the discrepancies had occurred.
Example: In his earlier statement Dalvi had not mentioned that Rai had in his right pant pocket a Karbonn mobile and in his left pocket currency notes worth Rs 100.
From time to time Badami and Patil interrupted the proceedings, their objections making Pasbola laugh or comment, like he did on Wednesday, "At 5 pm my learned friend has developed a sense of humour!"
Patil said with respect to Dalvi's first statement: "It has already been exhibited."
Pasbola: "But there can be omissions."
Judge Jagdale agreed: "There can be improvements."
When the omissions process concluded, Pasbola signaled that he was done and offered a general "Dhanyavad" to the court and to the judge and bowed out.
Indrani and Peter Mukerjea seemed more at ease on Wednesday, maybe with the INX Media interrogation over temporarily, chatting cheerfully and easily between themselves, and with former husband Sanjeev Khanna, at the back of the courtroom, in the accused enclosure.
There exists an unusual bonhomie between the trio, who have be tossed together in an unusual and fateful manner, by this case.
Indrani, wearing a white sleeveless dress that she had converted into a kurta, a white chunni, and beige tights, matched with a white bindi, always seems to talk for the two of them.
They each had a copy of Dalvi's statement to the CBI and were following the omissions process, as and when they could hear the proceedings at the rear.
After Pasbola ended his cross examination, Judge Jagdale quickly and crisply got down to the business of scheduling the next hearings with the lawyers of Accused No 2 and Accused No 4.
Keen to have Dalvi wrapped up as a witness this week, he sternly asked the assistant of Niranjan Mundargi, Sanjeev Khanna's trial lawyer, to appear on Thursday in court.
The young assistant told the judge they needed just one hour of time to cross-examine Dalvi, but preferred Friday because he said he would have to check his diary.
The judge went apoplectic, bellowing, to the amusement of the court, something to the effect: "I have to see your diary or my diary!?!!"
He ordered the hearing to take place on Thursday afternoon.
Then Vishal Gupta, Amit Ghag and Anup Pandey -- Shrikant Shivade's assistants -- approached the bench asking for more time for Shivade, whose turn to cross-examine Dalvi might come up, once Mundargi is done, either later on Thursday or Friday.
Shivade is away in Jodhpur representing actor Salman Khan in the black buck case, the verdict for which is expected on Thursday.
This time Judge Jagdale was more patient, but still firm. He reasoned with the trio of lawyers saying what was the need to further delay.
"The witness has not even said anything against your client," the judge pointed out.
He insisted on the completion of Dalvi's cross examination by Peter's lawyers by the end of the week.
The courtroom then emptied out, with lawyers, the police and accused departing, leaving a group of journalists eagerly waiting to hear the CBI's reply to Rai's bail application received on Tuesday.
Judge Jagdale, quizzically, noticed the group of journalists and then himself exited Courtroom 51.
Badami finally killed the suspense.
He told the assembled journalists that he had asked for more time to reply to Rai's application.
Rai's letter, which was addressed to Judge Jagdale and was handwritten in Hindi, in late March -- and took 10 days to reach Courtroom 51 from Thane -- stated that he had already spent 30 months in jail and there was no one in his home to care for his 10-year old daughter, three-year-old son, 75-year-old diabetic mother and wife.
Since he had been the only earning member, his family's economic situation had been progressively worsening, along with his mother's health and he requested bail.