Why had the CBI decided to have Waghmare tell the court the tale surrounding this odd trip to Kolkata made for even odder reasons, close to a year-and-a-half after Sheena's murder?
To show the kind of person Indrani was?
And that the murder of her daughter was not a heat of the moment crime, given Indrani was capable of other odd, suspicious, premeditated acts like this?
Vaihayasi Pande Daniel reports from the Sheena Bora murder trial.
Illustration: Rediff.com/Uttam Ghosh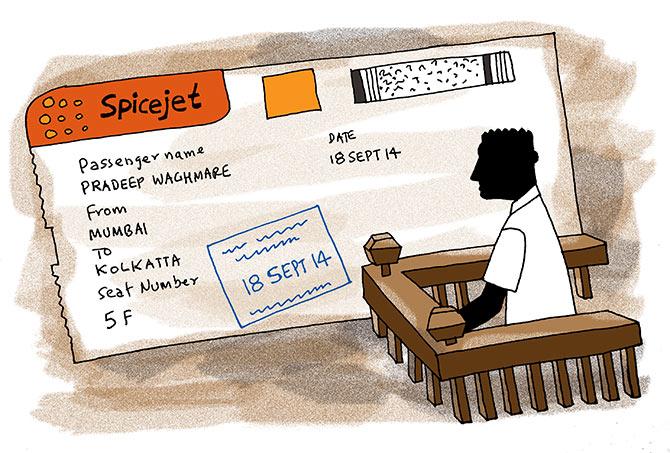 Nirav Modi, who allegedly audaciously pilfered a whopping Rs 11,400 crores from the country, went even a step further on Monday, June 4.
The absconding diamantaire, in absentia, stole precious time away from the Sheena Bora murder trial at the Mumbai city and sessions court, Kala Ghoda, south Mumbai.
The Monday hearing was scheduled to begin half past midday at Courtroom 51 on the third floor.
Everyone, by some rare providence, was in attendance on the dot of time: The accused, the lawyers, the prosecution, the CBI and even the brand new witness, PW4 (Prosecution Witness 4).
But then Vijay Kumar Aggarwal waltzed in.
In tight white pants, a short black coat, the lawyer white tie, flyaway hair and too long sideburns, the Delhi criminal advocate representing Nirav Modi had also defended some of the accused in the 2G spectrum case.
He took the lawyer's stand, trailed by his team of 10 or more lawyers, and began addressing CBI Special Judge Jayendra Chandrasen Jagdale in a sing-song voice.
Aggarwal punctuated each of his sentences, thrice over, at least, with chants of "My Lord" that came out in a strangled drawl, sounding like "Mylaw, mylaw."
It was a plea for bail for the others implicated in the PNB-Modi case. Aggarwal stressed, on and on, how the accused had no reason or means to flee and could even be instructed to curtail their movements to only one part of Mumbai if need be.
He waxed and waned, in an attempt to be persuasive, appropriating well over an hour-and-a-half, with his never-ending discourse.
The Sheena Bora murder trial hearing had to be postponed to after lunch.
PW4 turned out to be Pradeep Waghmare, who once worked as an office boy at Star India Pvt Limited, the company Peter Mukerjea once helmed.
Later he doubled up as both office boy and cleaner at INX Services Pvt Ltd and at the Mukerjea residence at Marlow, Worli, south central Mumbai.
A cheerful man of short stature and simple manner, wearing modest clothes, Waghmare, in his first appearance, seemed nothing like his former pal, the rather outrageous and twisted-as-a-chakli- mentality Mukerjea driver Shyamvar Rai.
He was more grounded, it seemed -- a biddable, easy-going and non-controversial sort.
Waghmare, who must have been in his late thirties, also seemed conscious of his 'station' in life. He gave his answers in a low, barely audible, voice, without any emotional inflections, opting to speak in Hindi in court.
At times he looked a little worried and anxious and took a break for a few minutes, in between, because his stomach hurt.
His wife, wearing a colourful striped pink kurta and a pink churidar, holding a brown handbag, also sat in court, alertly watching the proceedings.
A Class 8 pass, Waghmare, in his years at Star (from 1999) and INX (from 2005) had cleaned his boss' office and later the flat too and did filing, as well running a few errands like depositing cheques at banks or withdrawing money.
Through his long association with the Mukerjeas, he had met Sheena quite a few times and knew her as the sister.
He was also acquainted with Rahul Mukerjea -- Peter's son from his first marriage -- and Indrani Mukerjea's younger daughter Vidhie and was aware of the existence of Mekhail Bora, Sheena's brother. He had spoken on the phone with Mekhail.
Waghmare knew some of the intimate family details too. He was aware that Indrani financed Mekhail. And that Sheena worked for 'Reliance Metro' and was living with Rahul in Andheri. He had even taken an AC to their flat with Rai.
He remembered when the Mukerjeas moved away to "London", but that they visited on and off. He stated this all very matter factly.
He was asked if Indrani "Madam" and Peter "Sir" were in the room.
"Jee (Yes)," he said politely, not looking at them. Nor was he requested to identify them.
The crucial part of his 75-minute testimony to the court, that was guided by CBI Special Prosecutor Kavita Patil, wearing a refined black chiffon sari with a beige patterned border, was about his visit to Marlow on April 25, 2012, a day after Sheena Bora's alleged murder.
On certain days of the week, Waghmare didn't show up at the INX office, which had by then had moved to Thane West, outside Mumbai. Instead, he journeyed across town to reach Flat 19, fifth floor, at Marlow and did the 'housekeeping' at the Mukerjea home.
But Indrani's secretary, Kajal Sharma, on Indrani's say so, instructed Waghmare to not clean the family home on April 23, 24 and 25, 2012 or come to Worli, but report to Thane.
Yet on April 25, Waghmare received a call asking him to come across to tidy the flat and he headed there at 3 pm.
What greeted him on his arrival at the Mukerjea building in Worli was mildly perplexing.
"The security guard -- (named Maruti Varke) -- bole ki Rahul aaye the police ke saath doh-teen baar (The security guard said Rahul had come with the police two or three times). At that point Rahul came. Rahul bola, "Sheena kidhar hai, maloom hai aapko? (Rahul asked where is Sheena? Do you know?)"
Waghmare explained to Rahul he had not been coming to the building for the last few days and he didn't know where Sheena was.
Rahul went away and Waghmare headed to the Mukerjea residence. "Flat khula tha. Kitchen mein gaye. Kitchen mein dekha ki 2-3 din (purana) khana tha. Daru ki bottle thi. Water bottles tha. Khana basa tha. Bin mein dal diya. Bottles phek diya (The flat was open. I went in the kitchen and found 2-3 day old food, liquor bottles and water bottles. The food was smelling and I put it in the bin. I threw the bottles)."
The food, Waghmare was from a "hotel" because it was in white plastic containers. Elsewhere in the house there was, as per his description "Black colour ka slippers. Nightie ka kapra pada tha (There were black-coloured slippers and a nightie)."
Waghmare said they were men's slippers and he had not seen them before.
A nightie, booze bottles, unfamiliar men's slippers, stale food and an empty flat -- a narrative of strange happenings. Waghmare didn't feel or express that, but it was not what he encountered usually at the Mukerjea home.
He cleaned the flat and went down to neaten up the garage, when Rahul arrived once more.
He was having an agitated altercation with the building security guards, who would not let him in. Waghmare said he intervened.
Rahul came over to the garage. "Puchha Sheena kahan hai? I told him "Mere ko maloom nahin hai (giving the reasons why). English mein kuch (galee) bolke chala gaya (He asked where Sheena was. I said I didn't know. He swore in English and went off)."
After he had tidied the garage, Waghmare went back to the flat. He said he could not remember whether he had called Indrani "Madam" or she called him. He told her that Rahul had come looking for Sheena.
After 10 or 15 minutes a phone call came -- this time from "Peter Sahib" and he wanted to know if Rahul had come. Waghmare said he explained how Rahul had shown up looking for Sheena and he didn't know where Sheena was because he had not come to the flat for a few days.
Peter offered Waghmare an explanation. "Peter Sahib bola ki Madam ne Sheena ko Rahul se chhuraya aur jaane do (Peter Sahib said Indrani had shaken Sheena free from Rahul and not to worry)."
Shortly thereafter, Rai popped by at the flat, offering a spare suitcase, that Indrani was discarding, to Waghmare who said he was interested in it.
Rai and Waghmare went down to the garage. Rai took the bag down from on top of an "almirah" and gave it to him. Waghmare left for home with the suitcase in tow.
A few days later, Waghmare went with Kajal Sharma, Indrani's secretary, who he reported to, to courier Sheena's resignation letter. He said he was aware it was "Sheena's istifa (resignation) letter" on which Kajal had signed for Sheena and they couriered it from Mulund, north east Mumbai.
Waghmare wrote the address on the envelope, he said. After that, the pair went to a PCO and called Reliance Metro Mumbai One to say that the resignation letter had been couriered.
In the interim, between 2012 and 2014, nothing noteworthy occurred. The Mukerjeas moved back to Bombay in 2013.
In September 2014, Indrani sent Waghmare to Kolkata on an unusual errand.
He did not describe it as out of the ordinary or even surprising. But phlegmatically, without ascribing any opinion, outlined the sketchiest details of the said task.
"Dava le ke aane ka tha udhar se (I had to bring medicine from there) from a man named Sujit. She told me to buy bottles of Dabarlal dant manjan (tooth powder) and empty them and fill them with this medicine. If I encountered the police I should just throw the bottles away."
The way he recounted it, he made it sound as if going to Kolkata to retrieve medicine the police might be suspicious of, was all par for the course in a cleaner/office boy's daily routine. No big deal.
Waghmare -- always dutiful, it seemed, not the kind to question why -- purchased the bottles, but the medicine was never delivered to him in Kolkata, so he boarded a plane back to Mumbai, without the particular medicine, after Indrani sent him a Jet Airways ticket on his cell phone.
Why had the CBI decided to have Waghmare tell the court the tale surrounding this odd trip made for even odder reasons, close to a year-and-a-half after Sheena Bora's murder?
To show the kind of person Indrani was? And that the murder of her daughter was not a heat of the moment crime, given Indrani was capable of other odd, suspicious, premeditated acts like this?
In 2015 Waghmare had a call from the Khar police station because "Madam ka enquiry chal raha tha (an enquiry into Indrani's actions) in the Sheena Bora murder."
He also had to deposit ("jama kiya") with the police, against a panchnama, the suitcase, his air ticket and boarding pass, which he, for some reason, still had in his possession.
Perhaps he had kept the boarding pass and ticket as a souvenir of his trip which might have been his first flight. Patil didn't ask why he still had it a year later.
Patil requested Waghmare to identify a few documents and exhibits.
Waghmare's boarding card made an appearance.
On what was likely his first flight, Waghmare had flown Spice Jet to Kolkata in seat 5F, probably a window seat that would have afforded him, after take off, a view of Thane, where his office was.
The peon confirmed it was his boarding pass and the return ticket a day later, arriving in Mumbai after midnight, had been his.
The Suitcase, wrapped in white muslin and seals, reprised its role on Monday in court, reacquainting itself with those in Courtroom 51.
This was said to be an exact twin of the suitcase that Indrani purchased on April 24, the day of the murder, from Dadar, central Mumbai, that had been used to store Sheena Bora's body in the Marlow garage through the night of the murder. The sister suitcase had allegedly been burned with Sheena's body in Raigad.
Grey in colour, it had black double straps. The suitcase's size, re-examined, was as awfully baffling on Monday, as it was when it debuted on August 1, 2017 in court, its smallness causing amazement.
Its dimensions? Hardly two feet long and 1.5 feet wide and less than a foot deep. It would have been difficult to store anything larger than a medium-sized dog in it. Or maybe two or three cloth bundles of legal files.
The Suitcase was, one noticed this time around, astonishingly new looking. It had suffered no wear and tear in the three years of Waghmare's care/usage or through the passage of time. Rather it looked like it had travelled from the shop straight to the court premises.
Waghmare looked at it cursorily -- perhaps too quickly -- and said it was the same piece of luggage. It was then borne away, back to exile.
The Mukerjea retainer subsequently identified a few cheques he had deposited for Sharma and the rental agreement for the INX Media Thane office, he had signed on as witness, and before you knew it Aggarwal was back with his band of black to continue his flowery bail plea on behalf of those accused in the Modi case.
The room filled up further as Waghmare departed and Aggarwal started up and was still going on, without an end in sight, as one exited the court at 4.30 pm. The peon was due back in court for cross examination by the defence on June 11.
The postponement of the morning hearing to afternoon, afforded the accused plenty of time in the corridors outside Courtroom 51.
Indrani, pristine in all white, barring a two-tone bindi, kept busy with her lawyers Siya Chaudhri and Sudeep Ratnamberdutt Pasbola, who came across for a few minutes too.
Sanjeev Khanna, Accused 2 and Indrani's former husband, chatted with his cousin and his lawyer Shreyansh Mithare.
Like earlier, the lines of combat, between the accused, the defence and prosecution, temporarily dissolve, or get briefly suspended, as unexpectedly friendly chit-chat starts up when there is time to while away during a swelteringly hot interlude.
One of Peter's lawyers told CBI Investigating officer Kaushal Kishor 'KK' Singh that he was getting more handsome by the day. Singh, tongue in cheek, said it was the days he spent in Mumbai.
CBI Special Prosecutor Bharat Badami jovially declared that Peter was getting more handsome daily, as well. Peter laughed uproariously and said he was becoming more and more bald.
Everyone asked Peter anxiously where his lunch was. It finally appeared, to everyone's collective relief -- burger, fries et al -- courtesy two friends.
Jokes flew about over Indrani's recent stint in the hospital for chest pain that was diagnosed as cervical spondylitis. She needed an air-conditioned holiday weekend in the ICU, it was suggested not cruelly.
Matters were slightly more serious two doors from Courtroom No 51.
On Monday, June 4, the 60th witness, a police officer, in the Sohrabuddin Sheikh and Tulsiram Prajapati alleged fake encounter case, turned hostile among the 86 who have already appeared, in Judge S J Sharma's Courtroom 49, which has, for some reason, a large picture of Lord Ganesha prominently pasted on its wall.
Ganesha also has an area, all to himself, in the old wing of this civil and sessions court, where a special shrine is maintained, with a light, mala and all, in the foyer where court employees punch their duty cards.
A painful brouhaha erupted in the courtyard of the court when a prisoner, being taken back to jail refused to wear handcuffs.
He bellowed and raged like a wounded, cornered, animal. It was a terrible sound. But he would not allow the police to put them on.
Anyone present in the court, when the flare-up began, stepped to the window to look down at the row in progress.
Mild interest flickered briefly and was extinguished. It was followed mostly by incomprehension.
In that moment, two different worlds collided.
How many, who had never brushed up against the law, accidentally or otherwise, could understand the anguish of this accused?
Just a few. Perhaps.