After ten minutes no one could keep track of the legal team's questions on the geography of the route Sandeep Patil took on his Pulsar Bajaj motorcycle, on the morning of April 25, 2012.
Not the judge. Or the onlookers.
Least of all Patil.
Vaihayasi Pande Daniel reports from the Sheena Bora murder trial.
Illustration: Dominic Xavier/Rediff.com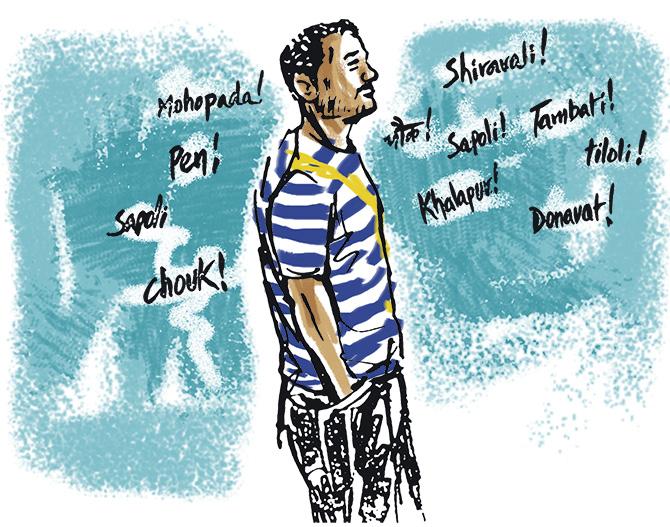 You didn't dare step into CBI Special Courtroom 51 at the Mumbai city civil and sessions court, post 3.45 pm, July 12, during the hearing of the Sheena Bora murder trial.
For an hour or so, the Kala Ghoda-located courtroom had been converted into a classroom for an intense Geography 101 on Maharashtra's Raigad district.
Everyone in the room had been trapped, or walked headlong, into a geography maze.
Raigad place names, individually, do not have a distinctive resonance to them.
Said together, in quick succession, they impart a continuous sound or ululation, similar to say the ocean rushing onto the beach or the rhythmic whoosh-whoosh of a steam engine.
Shiravli, Khapoli, Sapoli, Savroli, Ransai, Tiloli, Tambati, Donvat, Talashi, Gagode Khurd, Gagode Budruk, Khalapur...
It might have a melodious cadence. But they are tongue twisters.
Heard at once, one name is indistinguishable from another, and that doesn't help understanding the geographical lay of the land any better or quicker.
It all became even more complex when one was trying to differentiate between two different routes taken by a witness, that has these places on it.
Does Sapoli come before Khopoli or Tiloli and Taroli?
Are Shiravli and Savroli the same place or neighbouring towns?
Did the witness go from Shiravli to Sapoli via Savroli on the Khopoli-Pen road or from Tiravli to Sapoli via Khopoli?
The witness, gym owner Sandeep Patil, who hailed from the heart of this district (this jumble of names, apologies Raigad-ites), from Mohopada, close to Shiravli -- or was it Sharavli? -- was equally confused.
It was not for nothing that the courtroom was engaged in Raigad geography in this devoted, painstaking manner.
In an apparent earnest bid to understand how Patil came to be at Gagode Khurd (now that's a karkash or harsh-sounding place name), the spot where Sheena Bora's body had been allegedly burned, a day after the murder, April 2012, it would appear that defence lawyers Sudeep Ratnamberdutt Pasbola and Niranjan Mundargi had carefully constructed this geography maze to entrap Patil.
And it worked.
After ten minutes no one could keep track of the legal team's questions on the geography of the route the witness, PW12, took on his Pulsar Bajaj motorcycle, on the morning of April 25, 2012.
Not the judge. Or the onlookers. Least of all Patil.
And it was about a route taken six years ago.
He started making mistakes.
Patil the Accidental Witness, in his testimony to the court on Wednesday, recounted that he happened to be travelling in the wee hours of the morning of April 25 from his home in Mohopada to Shiravli and then on to Pen (these routes are befuddling, eh?) when he encountered a silver car on the Khopoli-Pen highway.
Three people were standing outside the car.
Three years later, when the Sheena Bora murder came to light and the investigation began by the Khar police, north west Mumbai, Patil, who runs Sandy's Fitness Care Gymnasium, near the Shiv Sena shakha, at Mohopada's main market, remembered the car and the trio he passed that morning.
He apparently put two and two together and realised he had seen the accused at the site where Sheena's body had been disposed of.
He approached the Khar police station with his unusual tale; evidence, that arrived too serendipitously, that the police were lucky to get their hands on,
Thursday, while cross questioning Patil, Pasbola shed his black advocate brogues and got into the gym owner's shoes trying to understand the events of that morning six years ago.
Pasbola: "There are two ways to reach Shiravli -- one via Pen and one via Khalapur."
Patil: "Yes."
Pasbola; "The road to Shiravli via Khalapur is 10 km longer?"
Patil shrugged.
Pasbola: "Did you prefer to go to Shiravli via Khalapur?"
Patil: "Yes."
Pasbola: "You left (your place in Mohopada) at 5 am and reached your friend's home at 6 am in Shiravli. While returning you came via Pen?"
Patil agreed saying he took the Pen "rasta" (road) on the way back because he had some work there.
Pasbola: "Going to Shiravli you don't cross Gagode Khurd?"
Patil: "No, you don't cross Gagode Khurd."
Pasbola, aided by Mundargi, (the Topography Man of previous hearings in this case), and by a whole sheaf of Google maps, pictures and route diagrams, ploughed on, his Geography Onslaught just warming up: "You saw the silver car while going to Pen?"
CBI Special Prosecutor Kavita Patil tried to interject a few words at this crucial juncture.
Pasbola a little short with her: "Ek (one) minute Madam!"
Sandeep Patil, already confused: "I saw the car while going to Shiravli."
There was a pregnant pause.
Kavita Patil mumbled something to CBI Investigating Officer Kaushal Kishore 'K K' Singh.
Pasbola sharply asked her to quieten down.
Kavita Patil flared up: "I was not talking to the witness. K K Singh (Hindi-speaking, who hails from Ranchi) wants to know the question because it was in Marathi!"
Pasbola retorted: "He (K K Singh) can ask me!"
The lawyer then questioned why in his statement to the court on Wednesday Patil had said he had seen the silver vehicle on the way from his friend's place in Shiravli village.
He also questioned why he told the police and subsequently the CBI that his friend lived in the village of "Tiravli" (or Tiruwali).
Patil, looking less beefy on Thursday in a loose cobalt blue, yelllow and white striped T-shirt and black jeans, a red puja thread on the left wrist and an Acer band on his right wrist, was left baffled.
He raised his hand and twirled it in a gesture of puzzlement.
Pasbola, in an unexpected change of subject, abruptly asked about Patil's background.
Had he not been born, raised and schooled in Mohopada, a town of population of 9,000 odd* in Karjat taluka?
Patil agreed, giving Pasbola a long, searching look, wondering probably where the lawyer was headed next on his Q and A discovery expedition.
Pasbola: "Pen, Khalapur, Tiravli... You would have been to these places anek (innumerable) times?"
The lawyer also suggested being a local he would be quite familiar with all the routes of the area.
Patil did not entirely concur, but Pasbola had already shot off again, down another path: "While going from Shiravli to Khalapur you would travel through Rasayani, Lodhivali, Chouk, Khalapur, Savroli, Tambati, Donavat, Gagade Khurd..." he rattled off.
The gym instructor, for a moment, stupefied, as he was hammered on the head, by the Lord of Raigad Geography, with a barrage of place names, hurriedly staved him off with: "Maitee nahi (I don't know)."
The judge beaming, his eyes crinkled in amusement, as he dictated half the names of the towns in Raigad in one sentence to the court stenographer: "Donavat, Gagade Khind..."
Pasbola, the Lord of Raigad Geography, corrected: "Sir, it is Khurd, not Khind. Khind means something else."
Patil mumbled, if one heard correctly, that Tiravli (which shows up on no maps) was near Patalganga?
Pasbola, by then totally in the swing of things, perkily and gleefully answered a question with a question: "And Sapoli is near Tiravli?"
A colleague wondered aloud: "Is he supposed to be a gym instructor or an auto driver?"
The vigorous geography banter continued, with Patil getting more glum and quiet, and at points tossing both hands in the air, to indicate it was beyond him.
Pasbola, who was getting exponentially chirpier, was unstoppable. He turned the Q and A towards the mysterious Tiravli and began to happily ask route, topography, geography questions about this village, while Patil kept reiterating, at intervals, that he had not been to Tiravli that day.
Patil looked worn out.
Kavita Patil asked the judge if he could be asked to sit down.
CBI Special Judge Jayendra Chandrasen Jagdale said Pasbola, who is nearly 60 was still standing, so why did a gym instructor need to sit down?
Pasbola stands through his work week in successive courtrooms between the high court and the sessions courts and again on the weekends or holidays when he plays golf.
So Patil continued to stand. As did Pasbola. The lawyer usually rocks on his heels while cross examining, his hands laced together behind his back.
Pasbola turned his attention to Patil's visit to the Arthur Road Jail and the Byculla Jail, both in central Mumbai, where he had gone in late September 2015 to identify the accused.
He asked several questions about how the procedure called the Test Identification Parade took place.
Most relevant was that Patil could not remember how many people were wearing glasses, if any, in the line up the jail officials set up of 7 men for the identification of Accused No 2 Sanjeev Khanna, a businessman from Kolkata who was once Indrani Mukerjea's husband and who wears glasses.
Pasbola went on with many more random queries about the venues where the Test Identification Paradehad taken place in the jails.
Was it in an open place?
How many doors were there? Windows?
Judge Jagdale, after one plus hours of Pasbola's 'cross' was mildly exhausted, it seemed, too: "Why are you asking all these odd questions?"
The witness, who all and all was a patient man, grinned in relief.
Pasbola assured the judge he would not take much longer.
The lawyer spent two minutes checking if Patil had heard about an unidentified body being discovered in Gagode Khurd in 2012.
The gym man had not.
Pasbola forged on, stating the police in that area when they found an unclaimed corpse would post notices all over the place.
Had Patil not seen the notice about the half-burnt body found at that village as early as 2012?
Patil did not know.
Observed across two days, Patil was an unusual man. Even if he looked a bit fierce and unapproachable -- maybe because of his biceps, beard and luxuriant, up-pointing moustache -- he very patiently and quietly handled Pasbola's 70, or so, taxing and sometimes bizarre questions.
Apart from pulling a few faces, squinting up his eyes in bewilderment or making ya-whatever kinds of gestures with his hand/s, he kept exceedingly calm and never took on the lawyers.
He hardly spoke, except to say yes or no.
Something about this voluntary eyewitness set him apart from the other witnesses.
Perhaps it was his air of mild disinterest, indicating the proceedings did not really affect him.
His detachment and body language and lack of emotion seemed to suggest that he was not in any way invested in the process.
A few questions were directed at Patil about the nearest police station to his home.
The witness said he came under the jurisdiction of the Rasayani police station, which is a few kilometres from Mohopada.
Pasbola wondered, that after the news of Sheena Bora's murder broke and Patil saw on television the faces of the accused, rewinding him to a day in April 2012 when he first saw them, why hadn't he approached the Rasayani police or the Pen police?
Pasbola: "What is the distance from Rasayani to Pen?"
Patil: "30 km."
Pasbola asked, that after hearing of the "ghatna" (incident): "Why did you go to the Khar police station? And not to any other police station?"
Patil simply said: "Nahi (No)," offering no further explanation.
Pasbola: "You saw on the news that the matter was being investigated by the Khar police (station) so you went there?"
Patil said yes.
Pasbola, pounding his fist down hard on the table, on his thapi (sheaf) of papers, to add special punctuation: "Didn't you think of going to the Pen police station? Did you not think of visiting any other police station? Pen? The CID?"
Patil, slightly uncomfortable: "No."
Pasbola, his volume rising: "On 9/9/2015 did you not visit Pen police station? If not why does it say here in your statement that on 9/9/2015 you visited Pen police station?"
Patil, looking a touch queasy: "Athwat nahi (I don't remember)."
The lawyer delved into the details of Patil's gym and the mission that had taken him to Shiravli and Pen that morning.
He has been running Sandy's Fitness Care Gym at Mohopada (also called Wasambe) for eight years and managed the gym with the help of his brother but had another man who cleaned the premises.
Pasbola was surprised to learn that the gym opened at 0530 am and closed at 12.
Pasbola: "Duphari ya ratri? (Afternoon or night?)"
Patil clarified midnight. Mohopada evidently takes its gymming seriously.
On April 25, 2012, Patil had headed to Shiravali to borrow his friend's tempo so he could pick up some goods from Pen.
Pasbola: "How long were you in Pen? How long did it take to load the goods?"
Patil: "I cannot recollect."
Pasbola: "What goods did you collect?"
Patil: "Gym cha samaan (goods)."
Pasbola impatient, voice rising: "But what samaan?, speak up!"
Patil reluctantly: "Dumb bells, flat iron bench, rowing machine."
Pasbola didn't really need to put the next question. But he did. One anticipated the answer before the question had been even completed.
The lawyer asked if Patil had any record or receipts of the trip or accepting the goods.
It turned out Patil had not paid for the goods. He only reimbursed for the "bhada" (fare) of the tempo and he didn't remember how much.
He had no receipts or paperwork related to the trip he made that day.
Indian court witnesses, though, are owed additional latitude when it comes to memory. It is one thing to ask a witness to recall an incident of one or two years ago. But asking a witness -- because of the system delays -- about something that happened six or eight or ten years ago, without a few inaccuracies, inevitably creeping in, is expecting them to have sterling memory.
Everyone's memory gets ragged around the edges after half a decade or a decade, age not withstanding.
Towards the end of his cross examination of Patil, Pasbola focused on the descriptions of the accused the gym owner had submitted.
In his statement to the police, Patil had offered the exact ages, weight, height, skin colour of Accused No 1, 2 and 3, who he had seen, by his own estimate, for precisely 30 seconds that day in April 2012.
Pasbola: "How did you state the exact age?"
Patil: "I have stated andaaza (approximately)"
Pasbola disagreed: "You have said here exactly 47 years."
Patil smiled.
Pasbola: "You said 47."
Patil repeated: "Andaaza."
An argument ensued. Kavita Patil stated that it "definitely stated andaaza."
Pasbola said it read andaaza in only one place after which there was a full stop.
Kavita Patil quibbled that it was a comma.
Pasbola disagreed and said the statement then continued on, offering a wealth of exact details of three people that Patil saw for half a minute while moving past them on a motorbike.
Judge Jagdale: "Obviously it is absurd."
Pasbola: "Exactly, My Lord, I want to bring it on record. It is absurd."
Sandeep Patil kept reiterating andaaza and Pasbola kept repeating dekho (see), at his statement, which had been dug up for him.
Judge Jagdale laughed.
Indrani laughed heartily too, from the back, beaming.
She had mentioned earlier, to someone that the details of her weight had been given so exactly and such details even her husband, soon to be ex, Peter Mukerjea, former CEO of Star India, hadn't known.
Pasbola glancing at Patil's earlier statement: "How did he remember one person was fair? Another of wheat complexion? How did he know exactly?"
Patil, tiredly, once more: "Andaaza."
Pasbola utilised a few minutes on Thursday pinning down what information Patil gathered from the "TV channel" news and the newspapers about the Sheena Bora murder and investigation.
Patil said he got to know the names of the three accused he saw that day on television. And saw their faces.
Pasbola speculated why Patil had not told the police he knew the names of the accused. Or later at the identification parade.
One pondered how Patil saw the Mukerjeas' former driver Shyamvar Pinturam Rai's face on television, because it was barely shown. Sanjeev's was also revealed just a few times.
It was Indrani's face that was broadcast repeatedly across the television channels, bringing her instant notoriety, years before her trial began.
Pasbola didn't ask that question.
Ninety minutes later, Pasbola wrapped up his cross examination of Patil after stating that he had falsely deposed: "I put it to you that Dinesh Kadam (a police inspector then posted at the Khar police station) and the police at the Khar police station knew you and so they called you to Pen and took your signatures on September 9, 2015."
Patil shook his head, denied it and said no.
Sanjeev's trial lawyer Mundargi then took over.
Mundargi cheerfully inaugurated his cross-examination of the gym owner with: "Sandeep,. how long have you been driving a motorcycle?"
Patil: "10-15 years."
Mundargi has a very sunny, brisk demeanour. He is unfailingly polite to a witness.
Since he represents Accused No 2, who was with Indrani most of the time through this alleged crime, the bulk of the questions he might need to ask a witness had been taken care of by Pasbola.
Mundargi, who must be in his early 30s, never has more than a few questions to interrogate a witness with. But he always chooses hard-hitting ones.
The lawyer checked if Patil had seen any other car parked on the Khopoli-Pen road that morning.
Patil said no.
Mundargi: "Ghadi ki light chalu hote ya bandh hote? (Was the car's lights on or off?)"
Patil did not remember.
The lawyer asked if the gym owner recalled the shape of the headlights on the car.
Were they round or square?
The judge smiled. Patil didn't know.
Mundargi asked if there was any actual evidence, other than his verbal statement -- "his words" -- that Patil had taken the road on April 25, 2012. There wasn't.
The advocate enquired about the distance between Shiravli and Gagode Khurd.
Patil said it was 10 km.
Everyone in the room, looked up dismayed, wondering if a second geography lesson was all set to start up.
The judge quickly put in that all those distances had already discussed.
Mundargi clarified that that distance had not been asked and then steered the cross examination away from road/route mapping -- to everyone's collective relief -- and he too verified if Patil had seen "all" the pictures of the accused on television.
He wanted to know on which channels or in which newspapers had the gym owner heard the news of the Sheena Bora murder and if Patil regular followed these kinds of murder cases.
Patil could not remember where he heard the news first. And said he had only ever followed the Sheena Bora murder. He gave no reason.
Unlike other witnesses, Patil never had to be cut short for volunteering extra information or wandering off on a merry tangent.
The lawyer sought a few details about Patil's eight-year-old gym.
The gym had 50 to 60 members, some of whom were lawyers and policemen, but had no documentation or licenses showing it was a gym.
Patil's terse explanation for that; "Local gym hai."
Judge Jagdale smiled hugely when he heard that.
It must be more than a coincidence that most of the witnesses who have stepped up into the box at Courtroom 51 in this murder case have either lacked licenses for their business or had no receipts or records.
While closing his cross examination -- it was past 5 and the judge was speeding Mundargi up -- asked a simple but pertinent question.
"Do you remember the ages or heights of the tehsildar and the two panch (witnesses for the panchnama who accompanied Patil to the Arthur Road Jail and Byculla jail for the identification parade)?"
Puzzlingly, Patil, who would have spent at least 30 minutes with these three (the tehsildar and panch), if not more, could not recall details of their appearances.
But his memories of what happened six years ago across 30 seconds was stronger.
Mundargi started to put across his closing statement that declared Patil had deposed falsely.
The judge cut him short and joked: "Shall I cut-paste?" indicating he could repeat Pasbola declaration on Patil's false deposition.
The lawyer and the judge laughed.
A few more questions later, the cross examination of gym instructor and owner Sandeep Patil came to an end. Peter's lawyer declined conducting a 'cross'.
Patil bowed his head and his hand went up to his chest in respect and he exited the witness box and left the court.
The witnesses all seem to exit the courtroom at great speed. Either in utter relief. Or to avoid any unnecessary encounters, perhaps with the media.
Suddenly Amit Desai, the lawyer for some of the PNB scam accused, came bursting into the courtroom, trailed by a dozen marching assistants.
And the room, in a split second, became a sea of black, making it difficult for the defence team in the Sheena Bora trial to squeeze their way out.
Desai, a tall, silver-haired man, well known in the legal field, requested the judge to wait just a few minutes.
He said excitedly he finally managed to "catch hold of" a particular CBI prosecutor (or was it officer) at the high court and bring him to the sessions court and he would be there in "30 seconds."
They were apparently working on the transfer of the case from the enforcement directorate to the CBI.
Vipul Ambani, one of the accused in this case, and his family, were waiting outside in the corridor since morning.
"I am not allowed to work till midnight and 2 am," said Judge Jagdale with a guffaw, perhaps referring to a record recently set by a Mumbai judge.
The judge waited five or ten minutes for the man who was supposed to come in 30 seconds and didn't and then he departed.
*Census 2011