Mekhail hopped off the bench in a hurry and turning his back to Indrani, stood at the window.
Indrani ignored him too.
Mekhail is getting married later this year.
His mother will, of course, not be in attendance.
Nor, of course, would he want her to be there, if she could.
Vaihayasi Pande Daniel reports from the Sheena Bora murder trial.
Illustration: Dominic Xavier/Rediff.com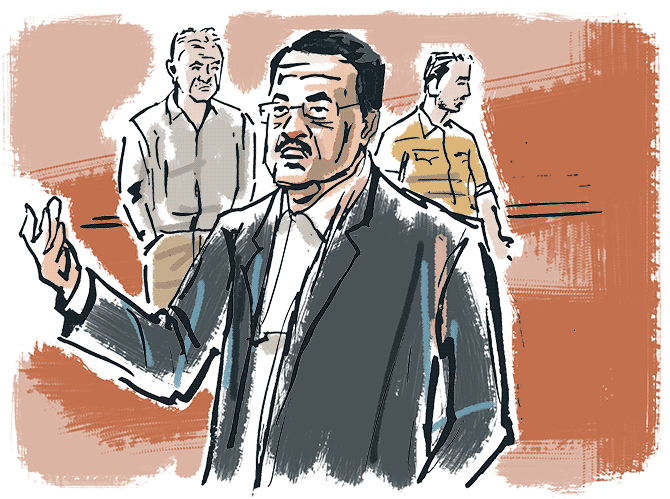 His wrists were bare.
They were unadorned on the day after Raksha Bandhan when a number of wrists in CBI Special Courtroom 51 sported richly-coloured rakhis.
But not his wrist.
It was empty.
His bare wrist was the reason why we were assembled in this courtroom on Monday, August 27, at the Mumbai city sessions and civil court, Kala Ghoda, in the Sheena Bora murder trial.
August 13, 2011 would have been the last time Mekhail Upendra Kumar Bora received a rakhi from his sister Sheena, with whom he did exchange rakhis, he said, even though it is not a huge festival in their native Assam.
The sister who disappeared 2,316 days ago.
The sister whose murder he told Shrikant Shivade, Accused No 4 Peter Mukerjea's lawyer, on Monday, he was "shocked" to hear had been executed by his mother, when the news broke on television on August 25, 2015.
Shivade spent a little over 70 tidy minutes cross examining Mekhail on his last day in court.
The perfectionist lawyer meticulously and systematically dealt first with all the references or allegations, through this case, which Mekhail, the stepson Peter never knew about, had made against his stepfather.
There were just a handful.
It was about eliminating probabilities or creating them if need be, which is the method Shivade prefers while constructing and conducting his examinations.
He also believes in scrutinising the conduct of the witness and underlining, with an imaginary black Sharp marker, the infirmities in a testimony.
Shivade, in a friendly manner, opened his 'cross' asking him if he was Mekhail or Mikhail?
Shivade explained to CBI Special Judge Jayendra Chandrasen Jagdale: "Maybe Mikhail Gorbachev, after the Russian PM?"
CBI Investigating Officer Kaushal Kishore Singh, who was wearing a pink shirt, offered: "Mekhail means rising sun."
Mekhail clarified that it was with an "e". He said later, outside the courtroom, that there were very few Mekhails that he knew of and one of the most famous Mikhails was Mikhail Kalashnikov, who invented the AK-47.
Shivade, like Accused No 2 Sanjeev Khanna's lawyer Niranjan Mundargi had too, enquired if Mekhail first "heard" or first "read" the news of Sheena's killing.
Mekhail said he heard it on television.
Shivade: "Jab pehle baar dekha toh maloom pada ki Indrani arrest ho gayi. Shock hua hoga ya surprise? (When you first heard the news you got to know that Indrani had been arrested. Were you shocked or surprised?)"
Mekhail, without hesitation: "Shock."
Shivade in Hindi: "Did you feel that you should leave that very day for Bombay to tell the police what you knew? Ussee din nikalna chahiye aisa khAyal man mein aaya (Did it come to your mind that you should leave that very day?)"
Mekhail started to calmly explain that it was beyond his ability to just get up and leave for Mumbai because his grandparents were at that time not well.
Shivade's friendliness immediately vanished, trotting off out the courtroom door and irritation crept in.
Sternness too, which set the tone for the rest of the cross-examination -- like a severe schoolmaster putting in line a pupil who tended to cheekily be extra smart.
The boundaries hence forth had been clearly demarcated.
He snapped: "Vazah nahin chahiye. Mekhail bhai idhar dekho! (Reason we don't need. Brother Mekhail look this way!)"
Mekhail coolly ignored him.
Shivade, peremptorily: "Mekhail bhai idhar dekho! (Brother Mekhail look this way!)"
Mekhail shortly, refusing to comply: "Sunai de raha hai. Soch bhi nahin sakte nikalne ke liye... (I can hear. I couldn't even think about leaving Guwahati)", adding that his grandparents weren't well enough for him to leave just like that, so the possibility of such a thought even occurring was impossible.
The cross examination after that continued on the same keel.
Pleasant but taut.
Shivade always speaking in a level, soft voice, its firmness unmistakeable, has an iron-fist-in-velvet-glove approach.
Mekhail, equally stubborn, never let the lawyer get the better of him, as he is want, trying to get the last word.
At the back of the courtroom it was Peter on Monday who watched the proceedings especially raptly, taking notes as he normally does, using the stack of trunks in front of him as a table.
You wondered what he must be thinking when he looked at Mekhail, the young man he had set eyes on hardly twice in the years before the murder.
But it was the slightly late-in-the-day statements from Indrani's son and former driver Shyamvar Pinturam Rai that had been responsible for Peter's arrest in 2015.
Indrani, dressed in a white kurta-salwar and white chunni, was tuned out, antennae down, Monday on some other planetary wavelength and was only physically in the room.
Before going into the courtroom she had her puja mala (beads) out and was praying, sifting the beads through her fingers in jhap (concentration).
In the accused box she sat with her head resting on her arm, her face often turned in. When the hearing was over she held up a small, thin book of scriptures and offered a prayer bowing her head.
The bail application seemed to be weighing on her mind.
Shivade to Mekhail: "Dar lag raha tha? (Were you scared?)"
Mekhail thought for a moment: "Dar nahin (Not fear)."
Had he told his grandparents that Sheena had been murdered?
Did the Mumbai police come and see him in Guwahati after Indrani's arrest and when?
What had he told the police in Guwahati?
When did he go to Mumbai?
When he arrived in Mumbai when had he gone to the police station?
Had it been police officers in uniform who interrogated him?
Mekhail recounted in a low voice that he had not told his grandparents because they were not in the mental state to receive the news and finally never knew about Sheena's death or perhaps Indrani's arrest even.
He said the Mumbai police had come to see him at his home in Guwahati on August 28, 2015 (he was not entirely sure of the date) and didn't ask him anything specific then.
He bought an air ticket and set out the next day for Mumbai and went to the Khar police station, north west Mumbai, who was handling the investigation, straight from the airport, where the policemen who spoke to him were all in uniform and the whole process took two to three hours.
Shivade edged towards the main aim of the day's skirmish and asked if the Khar police had enquired from him if Sheena had any "jhagda" (fight) with anyone.
That would have been the most obvious, common-sensical question from the police in a murder investigation.
Not for Mekhail.
His answer was vague, saying he must have and didn't say if he was sure he had or sure he hadn't -- a kabhi-ha-kabhi-na (neither here nor there) answer that is a like a red rag to a bull for any defence lawyer.
Shivade didn't react. He was not tempted to immediately demolish the reply. He is a man who bides his time.
Instead he retreated a bit, regrouped and determinedly approached the same issue from several angles like a tenacious Maratha warrior circling a fortress for entry.
Shivade: "Abhi yeh batao, Sheena kis ke saath kya rishta thee yeh topic ke baare mein toh aap ko pucha gaya? (Tell us if the police asked you anything on the topic of Sheena's relationships with others?)"
Did he know the state of Sheena's equation with various members of the family?
Did he remember it when the police were interrogating him?
Didn't he think it important to tell the police about her relationship or lack of it with various members?
Mekhail waffled along.
He said he did not know what he told the police and whatever he had would be in his statement. But he confirmed that did know of the nature of the relationships Sheena had with others in the family.
The advocate then changed tack asking Mekhail if before meeting the police had he done some advance planning with himself and decided: "Yeh cheez bata do. Yeh cheez mat batao... Kaun sa cheez batana chahiye aur kaun sa cheez chipane chahiye (This I will say. This I will not... What I should tell them and what I should hide from them)."
Mekhail: "Aisa kuch nahin (Nothing like that)."
Shivade embarked on a small rewind: Mekhail had heard from Sheena that Peter and Indrani Mukerjea were not in favour of the relationship between her and Rahul, Peter's son from his first marriage?
When did he become aware of that? Did he remember when? When and where did Sheena tell him?
Shivade: "Sheena ne kab bataya ki her relationship with Rahul was disliked by Peter Mukerjea and Indrani Mukerjea (which he said in court). Yeh Sheena ne kab batayee aapko? Kaun sa saal, mahina, tareek? (You said in court that Sheena told you that her relationship with Rahul was not liked by Indrani and Peter Mukerjea. When did she tell you this? What year, month, date?)
Mekhail's recollection about this conversation he had with his sister was reasonably good seven or eight years later and Shivade demonstrated this before the court.
Mekhail: "Mere khayal se 2010-2011 ke beech mein (According to me it would have been between 2010 and 2011)."
Shivade: "Jagah bata sakte? (Can you tell us the place where she said it?)"
Mekhail: "Delhi. Rahul and Sheena Dilli aaye the (Rahul and Sheena had come to Delhi)."
Shivade impatiently: "Dilli bahut badi hai. Connaught Place mein bataya? Rasta par bataya? Ghar mein bataya? Hotel mein bataya? (Delhi is a very big place. Did they tell you in Connaught Place? Or on the road? Or at home? Or in a hotel?)"
Mekhail thought for a bit.
Shivade, exasperated: "Kitna time lagta hai? (How long does it take you to answer?)"
Mekhail, refusing to browbeaten: "Sochne ke liye lagta hai (For thinking you need time)."
Finally he offered he was not sure of the place and seemed to mumble something about it being at a friend's place.
Closing in for the kill, Shivade: "Yeh baat police ko bataana chahte the ya chupane chaate the? (Did you want to tell the police about this conversation or were you hiding it?)"
Mekhail protested mildly using the same words: "Aisa kuch nahin (Nothing like that)."
Shivade: "Yeh baatein mahatvapurn baatein thi (This was an important conversation)."
Judge Jagdale: "How can he decide that?"
Couching it slightly differently, Shivade softly asked why he had not mentioned such an important conversation that he had with Sheena to the police as it was not in his statement to the Khar police.
Mekhail, feigning indifference, replied casually: "Pucha hoga to bataya hoga. Hai toh bataya hoga. Nahin bataya toh nahin hoga (If they asked me I would have told them. If it is in the statement I told them. If it is not I didn't tell them)."
Shivade emphasised that this whole conversation appeared nowhere in his statement to the police. And even if his statement had been recorded in Marathi, it had been translated to him and explained, but yet this bit of information that Sheena had told him that both Peter and Indrani disapproved of her relationship with Rahul appeared nowhere.
The lawyer then moved on to Mekhail's assertion in his testimony before court that in 2010-2011 there had been a big fight ("bada jhagda") between Sheena and Peter and Indrani Mukerjea.
That Peter had also been part of this fight had not appeared anywhere either -- not in what he told the police nor in the statement given to the CBI.
Shivade delved around to find out when Mekhail first heard this from Sheena and why it was missing in the relevant places.
Mekhail started off on a long-winded, till-the-cows-come-home explanation.
Shivade cut him off.
CBI Special Public Prosecutor Bharat Badami: "Bol raha hai (He is saying)."
Shivade turned fiercely to Badami and asked him not to interfere or interrupt, adding: "Mr Badami have a heart."
Shivade to Mekhail: "Mere taraf toh dekho. Hypnotise nahin karenge (Look at me. I won't hypnotise you)."
Mekhail, perkily: "Kar bhi nahin sakte (You won't even be able to)."
Shivade, who stands angled towards the witness box, always wearing dapper black coats of the darkest shade of black and the whitest of shirts and neckties, deems it important to study a witness during a cross examination and often requests a witness to look at him so he gets an answer along with a reading of the witness's face.
Mekhail though would not oblige, mostly. He had not been told not to, he said later. But because he felt there wasn't any need and he didn't want to look at the lawyer.
Mekhail, you sense is a rebel, always out fighting off imaginary dragons and demons. Not that some of those demons have not been a reality in his event-laden life.
Sheena, his grandparents and even his much-maligned mother might have provided counsel, grounding and a measure stability in his life when he needed it and paradoxically, given the circumstances, with their departure you realise wild-child Mekhail is quite alone, orphaned in this world, devoid of familial support.
Mekhail said Sheena had mentioned this fight to him when she came to Guwahati in November-December 2011 to attend her friend Sanjana Phukan's wedding, which was the last time Mekhail met her.
They had discussed the issue on Facebook as well. But he could not offer any substantial or intelligible reason for why Peter's name was missing from the dialogue at the outset.
Shivade then moved on to dissect the word 'dislike' that Mekhail had used to describe what Peter thought of Sheena's relationship with Rahul in his testimony to the court last month. He said the word 'dislike' had neither appeared in the Khar police statement nor in the CBI statement.
Shivade: "Your CBI statement was recorded in English?"
Mekhail: "Hindi mein bola tha (I spoke in Hindi)."
Shivade then wondered out loud if Mekhail had not had an education in English medium school.
Judge Jagdale hastily declared that already much had been discussed on that subject.
Shivade continued examining why he told the court that Peter 'disliked' the Sheena-Rahul relationship when earlier he had said that Indrani and Peter were not 'in favour' of it.
Again, Judge Jagdale intervened: "That is my fault. He has said it in Hindi and I have translated it."
Shivade, amused: "I cannot argue that."
Judge Jagdale: "You can ask your comrades. They were all there. That is a personal interpretation on what pedestal it was."
There was some further deliberation on whether na pasand translated to dislike and it was clarified, for the court records, that the word 'dislike' had come into the witness's testimony when it had been translated from Hindi.
Some 40 or 50 minutes into the cross examination Shivade had summarily and thoroughly dealt with the most crucial/explosive statements Mekhail had made on Peter's connections with the case, in the neat manner that a bomb disposal squad man removes a few dozen fuses to deactivate a couple of grenades.
The lawyer had steadily, painstakingly, brick by brick, carefully erected a sturdy wall to separate Peter from whatever else had transpired in this case.
If you looked behind you could imagine a little brick wall separating Peter from the rest of the accused in the aropee box.
For a good measure Shivade decided to introduce a small portion of the transcript of then Times Now anchor Arnab Goswami's interview of Mekhail about Peter to cement his repair job a little bit further.
The portion went like this: 'Sheena used to tell me he is a fine guy, there are no problems. She was okay with Peter and there was no issues with him.'
Shivade then asked Mekhail: 'Yeh baat barabar hai? (Is this correct?)'
Mekhail started off on a tangent: "Starting mein theek tha. Koi problem nahin tha (In the beginning it was fine. There were no problems)."
Shivade cut him off, in spite of Badami's protests, and asked him to answer the question and then repeated the question.
Mekhail said he was listening and added brashly that when Shivade was done talking if he could inform him and then he would reply. He then agreed there had not been any issues, but he said once more: "Starting mein theek tha."
Shivade translated: "Initially it was fine" and then added, stressing on the word initially, that in no statement or interview had Mekhail stated it that way using the word initially.
"Humara kehna hai ki Peter aur Sheena ke beech mein koi bhi ghatna nahin tha, koi bhi quarrel nahin tha. The CBI told you to add this to your statement," Shivade declared.
"Aap ne CBI ke saath deal kiya jhoota bayaan dene ke liye to justify Peter's arrest. Sheena ne kabhi yeh baatein Peter ke baare mein nahin bolee! (It is my view that there was never any issues or quarrel between Peter and Sheena. The CBI told you to add this to your statement. You made a deal with the CBI to give a false declaration to justify Peter's arrest. Sheena never said these facts in relation to Peter!)" Shivade added.
Mekhail insisted, half-heartedly, without aggression: "Batayee thi (She said)."
Shivade: "Aap jhoota gavai de rahein hai CBI ke dabao mein (You are giving a false testimony under pressure from the CBI)."
Mekhail, firmly: "Mein apne marzi se de rahein hai (I am giving it of my free will)."
With that Mekhail's one-month-and-4-day tryst with Courtroom 51 came to an end.
Before departing the courtroom he requested permission from the judge if he could say something.
He got back on the stand and said in Hindi that for three or four days he had only heard wrong ("galat") things said about him and "Humko kharab laga. Achcha nahin laga (I didn't feel good about it)."
Continuing, Mekhail said allegations that he had demanded a foreign trip did not sit well with him, adding with his own logic "jaan bujh ke thodi na kiya (none of it was done deliberately)."
The judge pacified him, saying: "Everybody goes on foreign trips."
Indrani's bail arguments were pending, but before any decisions could be reached the court policeman took the stand to complain about a lawyer who had asked him to vacate his chair and move to another chair.
When Judge Jagdale, who is slow to anger, heard the complaint, his wrath climbed to the rafters and he gave the junior lawyer an awfully fierce dressing down. "Even we were once junior members of the bar and we never had this kind of arrogance. This is highly condemnable."
Still furious, he got up and walked out of court, shaking with anger, for the lunch recess without scheduling the next court date or the bail hearing.
The young lawyer, on whom this ticking off had no effect, said later with a logic that made sense only to him: "How can constables be sitting when lawyers are standing?"
After the lunch recess the judge heard the bail application of a man named Charlton Fernandes who had been in jail for too many days, in the judge's view, for a 11 year-old home loan fraud case.
The prosecution put forward some arguments about how the man might abscond and he had absconded earlier before he could be charged in this 2007 case. The judge would not hear anything further and dictated an immediate order for his bail.
The next witnesses were scheduled for August 30. Indrani's bail application arguments from the prosecution side were postponed to Tuesday, August 28.
Mekhail, still wearing his same signature mustard shirt and dark trousers, like a uniform, which he said ruefully he had been wearing because he hadn't brought enough clothes from home, exited the court room, relieved to be done and finally returning to Guwahati.
He was sitting on a wooden bench outside waiting for an expenses reimbursement cheque of Rs 16,000 for stay, food and transport from the CBI when he noticed his mother leaving the court room.
Mekhail quickly swapped benches so he didn't have to see her.
But instead of turning right from the courtroom to head to the stairs, looking for her lawyers, she turned left towards the bench where Mekhail was sitting.
He hopped off the bench in a hurry and turning his back to her and stood at the window.
She ignored him too.
Five minutes later she departed for jail.
It might be the last time mother and son would see each other, having avoiding mostly each other's gazes over 12 court appearances.
And neither could be more happy, it would seem.
Mekhail is getting married later this year.
His mother will, of course, not be in attendance.
Nor, of course, would he want her to be there, if she could.