It is not often that Goswami's Nation-Wants-to-Know shows become material evidence in a murder trial no less.
Nor was it something CBI Special Judge J C Jagdale was wildly enthused about.
It had to be done because as he put it to CBI Special Public Prosecutor Kavita Patil caustically: "Your witnesses gave interviews to channels about a serious crime."
Vaihayasi Pande Daniel reports from the Sheena Bora trial.
Illustration: Dominic Xavier/Rediff.com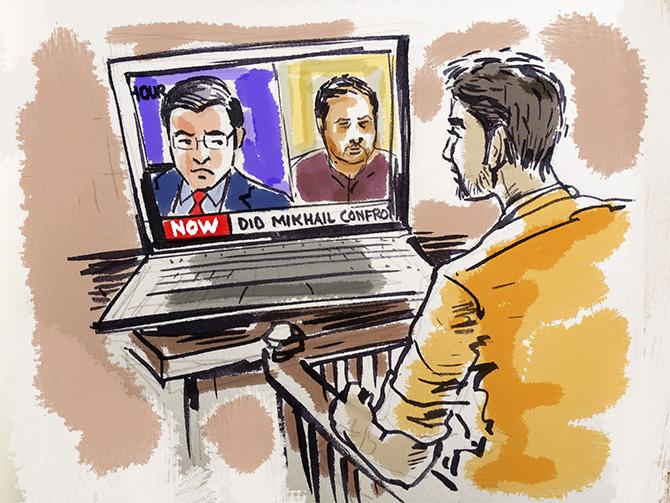 Arnab Goswami was a no show.
The newscaster was slated to join the Monday, August 20, hearing of the Sheena Bora murder trial.
Fortuitously, not in person.
But via one of his earlier broadcasts.
That would have perhaps been a first.
It is not often that Goswami's Nation-Wants-to-Know shows become material evidence in a murder trial no less.
Nor was it something CBI Special Judge Jayendra Chandrasen Jagdale was wildly enthused about. It had to be done because as he put it to CBI Special Public Prosecutor Kavita Patil caustically: "Your witnesses gave interviews to channels about a serious crime."
Those present at CBI Special Courtroom 51 were promised a viewing of one of Arnab's hour-long inquisitions, titled a 'mega exclusive', in the course of the session at the Mumbai city civil and sessions court, Kala Ghoda, on Monday.
Alas, technology played a spoil sport.
The inadequate volume of the laptop speakers prevented the screening of Goswami's interview with Mekhail Upendra Kumar Bora from 2015. Mekhail declared he could not hear the broadcast because the voices were all but inaudible.
There sat Mekhail, wearing a mustard-hued shirt and dark trousers, upon the stool in the witness box, with an open laptop in front of him, with Goswami's face paused in perpetuity.
Subsequently 20 minutes or more was spent on arguing if the written transcript was admissible or whether instead CDs could be heard -- more time than Judge Jagdale would have perhaps deemed necessary, for an interview he had, shocked, called bitingly an attempt at a "parallel investigation."
The court was obliged to go home on Monday without hearing from the television anchor what he had termed the 'facts that were never revealed before'.
The Monday hearing began 90 minutes late.
At 12.30 pm, the scheduled time, the courtroom was still jam-packed, like a Mumbai local, with the Nirav Modi-PNB scam accused -- some 20 of them or so including Firestar CFO Vipul Ambani and former Allahabad Bank MD Usha Ananthasubramanian striking for her grey sari, big bindi and long, curious stares -- now out on bail, who had arrived for a hearing.
Some 50 people, the accused, their lawyers and relatives were milling in and out of the courtroom or in the hallways outside.
The Sheena Bora murder trial hearing was put off till 2.45 pm.
When it began, Indrani Mukerjea's lawyer Sudeep Ratnamberdutt Pasbola spent the initial 15 minutes enquiring minutely about the Gurgaon flat, that was partly in Mekhail's name, that he was trying to sell in April 2012 -- to use the money to buy a Tata Aria for himself -- and the correspondence that went back and forth between mother and son on e-mail on that.
Interestingly, the other name on the flat was of an Agnes, who had once been Indrani's assistant.
The advocate also sought to establish the nature of the interactions between the Mukerjeas' former driver Shyamvar Pinturam Rai and Mekhail at that time.
Rai had come to Delhi during that period at Indrani's behest, like a dogsbody, to help with the running around for the sale apparently. This bit of information had not emerged in earlier hearings or Rai's testimony.
While there were some small disagreements on the approach to selling the flat, over e-mail, and Indrani kept advising and cautioning Mekhail about what to do and what not to do, it was happening amicably.
In the middle of this, Pasbola suddenly popped a question at him about his deteriorating relationship with his mother.
Pasbola: "(In April 2012) aap ka sambandh Indrani ke saath bilkul achcha tha (Your relationship with Indrani was just fine). 'Love you Mummy'. 'I love you' (is written in all the mails)."
Mekhail, stone-faced: "Mein Mummy bolta. Woh beta nahin bolti (I called her mother. She never called me son)."
Indrani smiled mysteriously at the rear of the room.
Pasbola: "Aap ka aur Indrani ka sambandh kharab hua uska immediate reason tha ki usne pocket money bandh kiya (Your relationship with Indrani soured and the immediate reason was because she stopped your pocket money)."
Mekhail: "Nana-Nani ka paisa bandh kiya. Hum ko kitna deti thi? (Money to Nana-Nani was stopped. How much did she give me?)"
Pasbola quietly, silkily: "Ghadi, sab (Cars, everything)..."
Mekhail said they were not in his name.
Pasbola reiterated, reminding him: "Aap ka pocket money bandh kiya iss liye (It was because she stopped your pocket money)."
Mekhail: "Nana-Nani ka kharch. Pura connection toot gaya (She stopped looking after Nana-Nani's expenses. The whole connection broke)." He strongly insisted that pocket money had nothing to do with it.
Pasbola going over the details of the break in contact between him and Indrani, the lawyer had him recall some of the things he said to his mother, between April 2014 and August 2015, in an attempt to set the record straight.
It was, his gist, not all about Good Son-Bad Mother, but possibly about Bad Son-Good Mother too instead.
Indrani sat serenely in the back, looking like a madonna in her full white garb, through this appraisal.
If nothing else, it was an exercise in salvaging some meagre pieces here and there of her reputation that Mekhail had with his earlier court statements destroyed.
The lawyer then asked softly: "April 2015 mein achanak ma ko galee dene ka kya karan tha? Bitch kahalaya (What was the reason for suddenly insulting her in April 2015. You called her bitch). By calling her a bitch and said so many things. Threatening her."
Pasbola stressed on the word bitch, accentuating it loudly for all to hear, trying to build horror.
The messages in which Mekhail abused his mother were pulled out and shown to him.
Mekhail shortly, dourly: "Nahin dekhna hai (I don't want to see them)."
He closed his eyes for a long moment and fiddled with his hands and then offered that the reasons for his were in the messages further ahead.
The judge began to read out the messages: "Stop being a bitch. God is watching you. Fear that money can't keep you young. And you will be old and helpless..."
The words hung in the courtroom. Stark. Frozen.
Pasbola asked again, as if puzzled and deeply perplexed how a beta could do this to his ma: "My question was: What was the reason for these messages in May 2015?"
Mekhail, taking a deep breath: "Sir, mera Nana-Nani ka tabiyat bahut kharab tha. Nani bed ridden thi. Un logon ka halat bahut kharab tha. Medical help woh bhi nahin tha. Baar-baar request karne ke baad aadmi ka frustration ho jaata (Sir, my grandparents were in poor health. My grandmother was bed-ridden. Their situation was very poor. There was no medical help. After multiple requests a man gets frustrated)."
After this emotional high, Pasbola turned his focus to the back and forth that occurred between Mekhail and Sheena's Mumbai landlord.
In his testimony Mekhail had said that Indrani had asked him to look into the cancelling of the leave and license agreement Sheena had with a Domnic and Melanie Machado for her Andheri flat that she shared with Rahul Mukerjea (Peter Mukerjea's son from his first marriage) with whom she was in a relationship.
Indrani said Sheena would send the cancellation of the agreement to Mekhail from her Hotmail address.
After she did that, Mekhail tried to fax the cancellation of the agreement to the Machados in Mumbai. When he could not achieve that, he called the Machados for their address.
The advocate had several issues to raise over this part of Mekhail's testimony to the court:
It wasn't Mekhail that called, but Machado who called him and he subsequently e-mailed Mekhail too.
He wondered if Mekhail, who had been in touch with his sister before on multiple mediums, recognised the Hotmail address from which Sheena sent the agreement, given that it wasn't her usual one (Indrani's secretary Kajal Sharma had created it, she had admitted).
He wanted to know what happened to that e-mail from Sheena? Had he deleted it?
And what happened to the e-mail address to which it was sent -- mekhail77@gmail.com
About recognising the e-mail address, Mekhail said he and Sheena didn't mail much, so he could not remember when he saw her mail anything about the unfamiliarity of the address.
His gmail account he could no longer access because he got locked out of it, he claimed, after his mobile number changed.
About deleting the mail Pasbola stated: "Aapne koi mail nahin diya police aur CBI ko jisme Sheena Bora ka mail tha (You didn't give any e-mail to the police or the CBI in which Sheena Bora's e-mail was there)."
Mekhail replied: "USB se kya nikala maloom nahin (What they took off my phone via the USB cord I don't know)."
Pasbola repeated emphatically for effect: "Kya nikala maloom nahin (What was taken don't know)."
Pasbola explored this point further.
He wondered why Mekhail had not e-mailed Sheena at this Hotmail address when he was looking for her.
He asked about their last conversation and if Sheena had spoken about her marriage or engagement to Rahul Mukerjea (Peter Mukerjea's son from his first marriage).
Like earlier, Mekhail said she had not and he was not aware of the marriage or engagement between his sister and Rahul.
Pasbola put to Mekhail the most critical question of the Monday hearing: "When you got Domnic Machado's letter that must have been the first time you realised that Sheena and Rahul were married."
In the e-mail, which was brought before the court, Domnic made a reference to the flat being rented by Sheena and her husband Rahul and that Mekhail would have read that.
Mekhail didn't look taken aback or nonplussed by this information.
He recited his standard answer to that question: "Relationship mein tha patta tha (I knew they were in a relationship)."
Pasbola sharply: "Marriage ka baat kar raha hai (But he is referring to marriage)."
Mekhail: "Dhyan mein nahi aaya (I didn't notice that)."
One of the defence lawyers muttered: "Itna smart hai woh! (He is very smart!)"
Pasbola, narrowly: "Woh mail padha nahin? (Didn't you read the mail?)"
Mekhail: "Padha tha, pura mail nahin pdrha (I read the mail, but not in in its entirety)."
One wondered how long the mail could have been. And if perhaps the Machados had been told Sheena and Rahul were married so they could rent the flat since in Mumbai landlords don't like to rent out flats to unmarried couples. No doubt, the Machados will be brought in as witnesses and that question will be soon answered.
If Pasbola's mission on Monday was to build some lack of concern on Mekhail's part for the manner in which Sheena disappeared, he achieved it.
There was, without doubt, something bizarre in Mekhail's lack of attempts or urgency between April 2012 and August 2015 -- three years and four months -- to get in touch with his Didi, his closest relative, who had vanished off the face of the earth without a word to him.
Though Rai had left the Mukerjeas' employ in 2012, for an odd reason Mekhail was in touch with the ex-driver right upto 2015. But not his sister.
They exchanged calls lasting upto 1,500 to 1,700 seconds and sometimes multiple calls on one day.
Pasbola asked whether Mekhail knew Rai was no longer the Mukerjeas' driver then and about the details of these strange calls.
Pabola, suspiciously: "Aap ka Shyamvar Rai se telephone contact 2015 tak chalta raha. Mummy ke saath jhagda hone ke baad (Your telephonic contact with Shyamvar Rai continued into 2015 even after your fight with your mother)."
Mekhail: "Kabhi kabhi phone karta tha puchne ke liye ki Indrani aayi hai ki nahin (I phoned sometimes to ask if Indrani had come to India or not)."
But not about his sister.
Pasbola reminded him that Rai was not working for his mother by then.
Mekhail in Hindi: "He would ask how I was managing Nana-Nani ka dekh bhal (care)."
Pasbola questioned if he had ever asked Rai where he was working after leaving his job with the Mukerjeas. Or at any point had he asked Rai to put him in touch with Indrani since he could not reach her and had been frantically trying to do so.
And had he asked Rai about Sheena's whereabouts.
It turned out that Mekhail was also in touch with former INX Media office boy and the Mukerjeas' house help Pradeep Waghmare. He said he had once asked Pradeep about Sheena. But not Rai.
Towards the end of Monday's Q and A, Paasbola once again asked about his not-rather-close relationship with Rahul. It had consisted of one meeting in February 2011 and a conversation after Sheena went missing in the end of April 2012
Pasbola: "Yeh jo phone kiya Sheena Bora ke puchtaach ke baarein mein phone kiya? (This call was to ask about Sheena Bora?) What did you tell him?"
Mekhail: "Kya bola exact yaad nahin. Indrani bolee ki Sheena USA gayee hai. Bakee batein Indrani se karna (What exactly I said I do not remember. Indrani said Sheena had gone to the US. And he needed to talk to Indrani)."
This wooden answer that he recounted also seemed not particularly convincing.
Mekhail had raised no alarm, then too, for a missing sister, even after her boyfriend/fiancé/husband was showing anxiety but referred him back to his mother and left it at that. That was Pasbola's point.
The lawyer announced -- it was past 5 pm -- to the judge that his cross examination of Mekhail was nearly over.
Only the questions he needed to ask Mekhail about his interview with Arnab remained and for that the interview needed to be played.
The judge said they could do that right there. Pasbola said it was one hour long and suggested they do it on Tuesday.
The judge, implacable: "From 3 days your cross examination has gone to six. I am sitting here. We can see it."
A laptop was produced and placed before Mekhail. Mekhail said he could not hear it. The transcript was pulled out which he started to read.
In between he commented about an inaccuracy because he said he had never referred to the television host as Arnab Bhai
Patil got up to question the authenticity of the transcript.
And then a storm broke out.
Patil with the judge about the use of the transcript. Pasbola with the judge on what he could ask about the transcript of Mekhail.
The words flew back and forth:
"It cannot be taken on record..." "Document on record to refresh his facts..." "He is not denying the interview. Not a piece of evidence. He cannot put it on record..." "He can. The law is very clear..." "I should be at least allowed to ask about the foundation of the transcript..." "Directed advocate Pasbola to put specific questions to the witness regarding the transcript of the so-called interview. But advocate Pasbola insists!..." "I am not running away, shying away...."
Mekhail looked bemused.
At the back the accused viewed the argument closely. Peter's eyes widened as he watched. Indrani looked on keenly. Sanjeev Khanna, Accused No 2, seemed less faraway than usual as he too observed the dispute.
To settle the various objections it was agreed that hearing the CD, that was in the court's possession, on Tuesday was the best solution. Decided.
It was nearly six and Peter had not had his lunch because his permission to eat had not been sanctioned earlier for lack of opportunity. The judge would not agree, but then relented and gave the former Star CEO 10 minutes to wolf down his burger and fries.
As the hearing came to a close, and the accused departed, the CBI put in its reply to Indrani's bail application that argued that her crime was too heinous for her to be given bail.
They added that the Byculla jail was perfectly alert to her security and health issues granting her a separate cell, around the clock guards and close access to a hospital. And that she could have brought harm onto her person herself: 'It is pertinent to mention here that on each and every date of trial, accused/applicant happens to meet many known persons outside the courtroom and exchanges papers...'
'She is fully safe in judicial custody, as there is no access of persons from outside into the jail premises.'
The statement was signed by Kaushal Kishore Singh, the CBI investigating officer.
After a hearing scheduled tentatively for Thursday August 23, during which arguments from both sides shall be heard, the decision for Indrani's bail will rest with the judge.