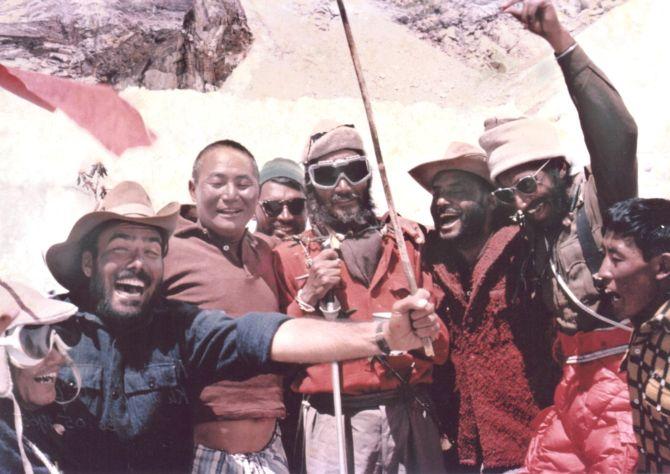 Image: Captain Manmohan Singh Kohli and his team at the summit of Mount Everest, May 20, 1965
Exactly 50 years ago, the first Indian team led by Manmohan Singh Kohli reached the summit of Mount Everest.
As Captain Kohli and his team are felicitated to mark the anniversary, he remembers the event that continues to inspire generations of Indian mountaineers. Payal Mohanka reports for Rediff.com
On May 20, 1965 the country resounded with joy as an Indian expedition scaled Mount Everest for the first time. Two unsuccessful attempts had been made earlier, in 1961 and 1963. This time there was jubilation as nine members of the team reached the summit of the world's highest peak, a record which remained unbroken for 17 years.
In Kolkata to celebrate the golden anniversary of a truly glorious event in his life, Captain Manmohan Singh Kohli, who led the team, has every right to feel a surge of fulfilment. The Indian Mountaineering Foundation's east zone committee felicitated members of the 1965 expedition. Besides Captain Kohli, three other members of his team attended: Sonam Wangyal, Brigadier Mulkraj and G S Bhangu.
Captain Kohli, a retired naval officer, radiates a quiet sense of triumph as he describes an almost spiritual experience. "Pilgrimage" is the word that comes to his mind. "Not just Everest, but Indian mountaineers have always considered Himalayan peaks truly sacred," he explains. He is a president of the Indian Mountaineering Foundation and co-founder of the Himalayan Environment Trust.
"Mountaineers march on like pilgrims. When they reach the summit, they bow their heads in deference. In accordance with our faith, we leave a symbol. For instance, a Buddhist may leave behind a locket of the Dalai Lama, Hindus an image of Lord Rama or Krishna, we Sikhs a picture of Guru Nanak," Captain Kohli adds.
A smile lights up his face as he remembers a colleague narrating how he carried a picture of Guru Nanak to the summit. It was pointed out to him that he had not carried the picture to the summit, but it was the picture of the revered Guru that had carried him to the summit. "Faith has always been part of our journey. The power of faith is incredible," he says.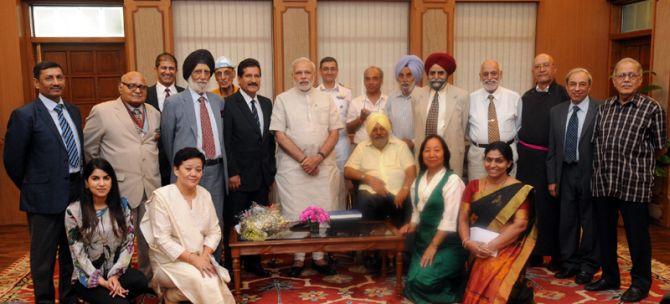 Captain M S Kohli (in black turban) and his team with Prime Minister Narendra Modi, May 20, 2015.
Captain Kohli has written 27 books on his adventures, but he has refrained from using the word 'conquest.' "We use the word climb or ascent," he points out. His next book, Sea to Mountains, a saga of naval adventures, will be released shortly.
With every new height he has soared, Captain Kohli has emerged an even more grounded man. Victory has brought with it a sense of humility, not pride. Pitted against the power of nature, howling winds blowing at 140 km an hour, the torture of high altitudes, aching ribs, the sense of divine wonderment as they take the final step makes for an overwhelming experience that just makes a mountaineer bow his head with sheer respect.
Accolade and honours have only deepened his values. The one thing he treasures most is the team spirit he always inculcated.
"Each and every member of our team, the climbers, the doctors, the communicators, each one used the last ounce of energy he possessed to fulfill our mission. They pushed their boundaries to the maximum level to excel," he recalls.
The Government of India announced Arjuna Awards for 11 members of the team. Captain Kohli rejected this. He wanted an award for each of the 19 members or nothing at all. The government explained that it could not give more than 11 awards. Finally, Captain Kohli found a solution. He requested the government to grant the team an Arjuna Award. "This was the first time that a team was being given this award. It had never happened before or after 1965," Captain Kohli adds. A special tribute to a team where every member had contributed.
Captain Kohli, who also received a Padma Bhushan, was invited to address a joint session of Parliament in Central Hall on September 8, 1965. "There were seven or eight political parties. Leaders of different parties vied with each other to shower praise on our success. We were overwhelmed," recalls the veteran mountaineer as a deluge of delightful memories swamp him.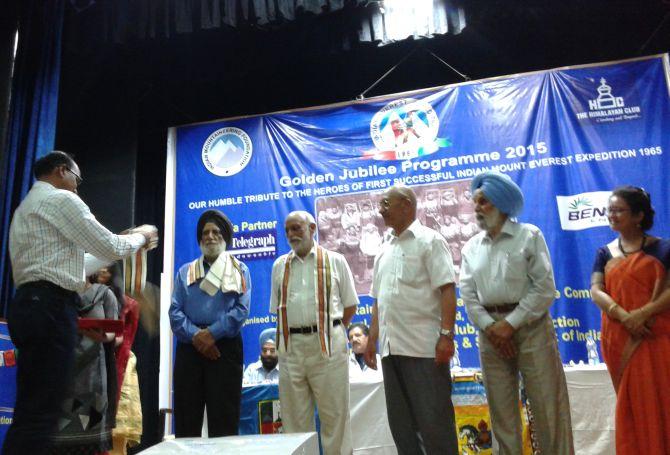 Image: Captain M S Kohli and his team being felicitated by the Indian Mountaineering Foundation in Kolkata.
Even before 1965, Captain Kohli had savoured success several times. In 1956, then prime minister Jawaharlal Nehru invited his team home for tea when they scaled Saser Kangri, the highest peak in the East Karakoram range. But 1965 was the crowning glory. Indira Gandhi, who wrote the foreword for one of his books, described it as one of India's six major achievements after Independence. His first book had a foreword by President Rajendra Prasad.
At a felicitation in Delhi, May 20, exactly 50 years after the ascent, Prime Minister Narendra Modi noted, 'The 1965 expedition had rejuvenated a whole generation of Indians.'
In 1965 there were just two or three expeditions to Everest. By 1966, the figure had gone up to 15. This adventure sport got a huge impetus in India as the number of clubs too went up from four to 40, just two years after Captain Kohli's team's success.
The 1953 climb by Tenzing Norgay, who lived in Darjeeling, and Edmund Hillary gave this adventure sport a huge boost. The Himalayan Mountaineering Institute in Darjeeling, where Captain Kohli and his team are headed as part of the golden jubilee celebrations, offers a host of basic and advanced mountaineering courses.
With their exemplary team spirit and sense of dignity, Captain Kohli and his men continue to inspire generations of mountaineers.