Sasikala's name is doing the rounds for the general secretary's job, but it is one thing for Sasikala to acquire power under Jayalalithaa's wing and quite another when the CM is somebody else, says Aditi Phadnis/Business Standard.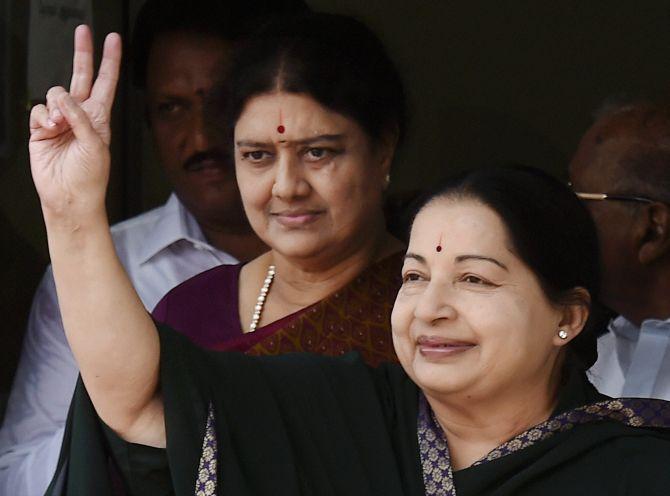 The hurricane hit in 2011.
In a terse communication, All India Anna Dravida Munnetra Kazhagam (AIADMK) cadres were informed that V K Sasikala had been expelled from the party's primary membership along with her husband M Natarajan and 12 of their close relatives.
Jayalalithaa, AIADMK general secretary, announced this first on Jaya TV, and later through a statement.
She asked party activists not to have any contact with Sasikala, a member of the executive council, and the other expelled members.
Sasikala was asked to leave the chief minister's Poes Garden residence.
Though Jayalalithaa gave no reason for their expulsion, party sources said interference of family members in the administration and political overreach were the reasons for their downfall.
AIADMK cadres burst crackers when the announcement was made.
Others were shifted too. A Panneerselvam, officer on special duty, special programme implementation department resigned and Pon Manickavel, DIG, Intelligence, was moved.
Clearly, the chief minister got some information that there was some sort of conspiracy in which Sasikala, her family and bureaucrats were involved.
Both Panneerselvam and Manickavel were seen as being close to Sasikala.
It was the ultimate soap opera to beat all others.
Here were two friends, Jayalalithaa and Sasikala, who met in the early 1980s.
Sasikala, from the Thevar community (Kallar, actually but let's not get involved in sub-caste politics) belonged to Mannargudi, a biggish district town in Tiruvarur district.
Natarajan was a public relations officer with the state information department. He had encouraged his wife Sasikala to start a video parlour business and she used to produce videos of political meetings addressed by Jayalalithaa.
At that time, Jayalalithaa was a functionary in the party, later becoming propaganda secretary. The two women gradually became friends.
The friendship deepened after M G Ramachandran's death. Jayalalithaa adopted Sasikala's family as her own and a nephew of Sasikala, Sudhakaran, grew so close that Jayalalithaa declared him her foster son.
This tells us how utterly lonely Jayalalithaa felt and how intensely she felt towards her new found family.
But the same emotional turbulence that had marked Jayalalithaa's life was to accompany her now.
Sudhakaran's wedding was celebrated by Jayalalithaa as a family event: But she disowned the son and later, for good measure, included him in the list of those who had been expelled from the AIADMK in 2011.
Others on the list give us clues about the stranglehold of Sasikala's family on Jayalalithaa.
T T V Dinakaran and V Bhaskaran, who featured on the list, were sons of Sasikala's sister Vanithamani.
All of them had benefited from their proximity to Jayalalithaa:
Dinakaran had been MP in both the Rajya Sabha and Lok Sabha.
Bhaskaran had served as the managing director of JJ TV, which folded up before the launch of Jaya TV, the AIADMK's official channel.
S Venkatesh, a doctor who was also on the list, was the son of Sasikala's brother Sundaravadanan. He was the secretary of the party's youth wing and was seen as a prominent leader.
It was he who held parleys with the leaders of the alliance parties for the 2009 Lok Sabha polls, but was removed from his party post in September 2010.
Many others, including some who belonged to Sasikala's husband's family were expelled.
But she came back!
Sasikala returned in 2012, with some residual members of the family in tow. One of them was Ilavarasi, Sasikala's niece.
While O Panneerselvam has been named chief minister hours after Jayalalithaa's death, the party does not have a general secretary yet.
Sasikala's name is doing the rounds for this job, but it is one thing for Sasikala to acquire power under Jayalalithaa's wing and quite another when the CM is somebody else.
MLAs alone cannot decide who their party chief will be: The consent of district leaders needs to be taken as well.
Moreover, both O Panneerselvam and Sasikala are Thevars (although from different sub-castes).
While the Thevars are influential and numerous (12% of the population), they are not the only mainstay of the AIADMK.
Self preservation instincts are likely to intervene in the decision to appoint a party chief.
When it comes to charisma and control, no one can fit into the shoes left behind by MGR and Jayalalithaa.
Will Sasikala be the one?
Hard to say.
IMAGE: J Jayalalithaa and Sasikala Natarajan after the AIADMK general secretary filed her nomination papers for the 2016 assembly election at the Tondiarpet zonal office in Chennai in April. Photograph: R Senthil Kumar/PTI