'Today it is not about seeking blessings, but seeking selfies.'
Payal Mohanka listens to the 'uneducated guru', Sadhguru Jaggi Vasudev, explain the mysteries of life.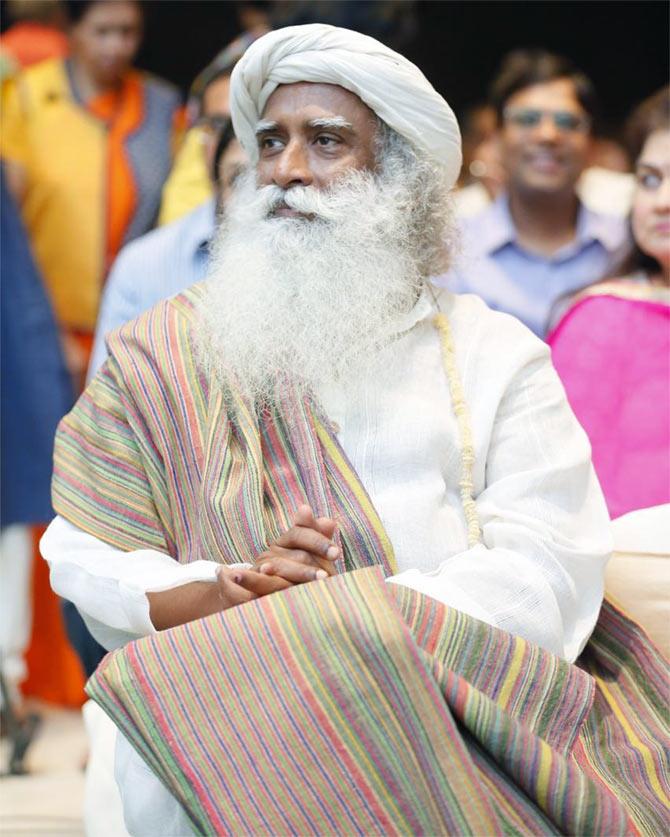 IMAGE: Sadhguru Jaggi Vasudev, a guru equally at ease playing golf as he is deciphering the conundrum of existence. Photographs: Kind courtesy Ladies Study Group
The flowing white beard may reiterate the preconceived image of a mystic, but this guru is different.
The Isha Foundation's Jaggi Vasudev, popularly referred to as Sadhguru, is equally at ease playing golf at Kolkata's Tollygunge Club and a few hours later addressing a 300-strong audience at an event organised by the Ladies Study Group, a prestigious Kolkata organisation celebrating its 50th year.
Arguably the most 'contemporary' yogi with a firm grip on the pulse of our times, his scientifically structured programme, 'Inner engineering,' is aimed at transforming lives from within.
"Stress, joy, peace -- everything has a chemical base. We need to plant trees in our head," he told his audience.
The 58-year-old spiritual master took the enrapt Kolkata audience on a beautiful journey replete with lively anecdotes.
"Sadhguru means an uneducated guru, not one who can teach the Upanishads and the scriptures, but one who knows only this piece of life," he explained. "Today it is not about seeking blessings, but seeking selfies."
For the gadget-addicted the message was clear: The way to the outside is through the inside.
"Unless you do the right thing 'within'," he said, "right things will not happen to you in your life. The world will not happen your way."
"Only one person must happen your way. Just you. You must happen your way. Only then will you be blissful," Sadhguru added. "It is not how others experience you, but how you experience yourself."
"Our fundamental perceptions are through our sense organs. We know things through comparison," But this, Sadhguru felt, is a distortion of reality. "We have to turn inwards. We create ghosts in our head. We create an artificial fight and we don't know how to stop the drama."
Human beings, he said, spend a lifetime shying away from their thoughts and emotions. "We cocoon ourselves because everything in the world hurts us," Sadhguru said. "We protect ourselves. We need to meet people, but we also need to be by ourselves. How much of our suffering is from the outside world? Our own thoughts and emotions are enough to torture us for a lifetime."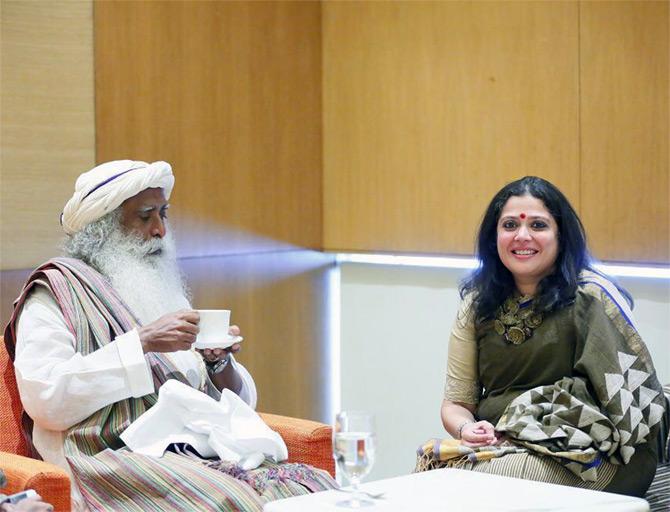 IMAGE: Sadhguru Jaggi Vasudev with Ladies Study Group President Abhilasha Sethia.
It was either an attempt to inject humour as the talk took a serious turn or was it the presence of a large number of women in the audience that prompted Sadhguru to share the following anecdote. During one of his visits to the United States, Sadhguru said he visited a doctor's home.
After a while, he wished to use the washroom so he strayed towards a door which looked as though it would lead him there. To his surprise he found himself in a very spacious room lined with shelves which had 700 to 800 pairs of shoes displayed.
Just then, the lady of the house, also a doctor, entered the room and looked quizzically at him.
Sadhguru explained he had entered the room by mistake. The lady looked a little awkward. Sadhguru could not resist asking her, 'How many times do you plan to come back to earth? I don't think you can walk so much in one life.' The lady was at a loss for words.
With a glint in his eye, Sadhguru added, "Later I spoke to a man who worked with women's fashion. He explained that a woman buys endless pairs of footwear as that is one size that does not change!"
The Ladies Study Group audience was reminded they live in a goal-oriented society. "We want a flower, but we are not interested in the plant which needs soil, water, manure and sunshine. If the process is not right, you will end up with a plastic flower."
He urged the audience to live in the moment and shun prophecies, "When you can't handle today, knowing tomorrow will be a disastrous process," he said. "Knowing tomorrow means you will not live today."
Sadhguru shared his impressions of God with a delightful anecdote. "We see God as a man because whatever ideas we have about God are all culturally relevant."
An 8-year-old boy in New York asked his mum, 'Is God a man or a woman?' The mother gave him a surprised look and said, 'Both.'
The boy was in deep thought. He then asked, 'Is God black or white?' She again looked at him and said, 'Both.'
The little boy was again in deep thought, 'Is God straight or gay?' he asked. His mother once again replied, 'Both.'
The little boy's face lit up. 'I got it, I got it. Michael Jackson!' he exclaimed with joy.
Sadhguru remembers an individual who walked up to him and said, 'Bless me that nothing should happen to me.' The yogi smiled at him and blessed him, 'May everything happen to you. You must experience life. Why do you want to avoid life? Death is the only efficient way of avoiding life.'
Beleaguered with woes, he said, modern man wishes to experience life but by insulating himself. "Because your psychological drama is not in your hands," Sadhguru stressed, "You can organise your external life, order will come, but well being will not.'
"It is all about cultivating your thoughts," he said. "This is a natural consequence of meditation."