'I consider myself a pilgrim who is here to shape tomorrow.'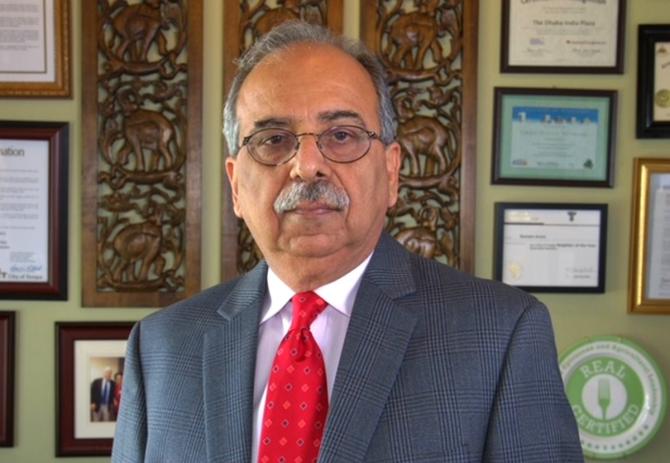 In front of a classroom full of children aged about 10 stood a frail elderly woman wearing a white sari with a blue border, asking them to give whatever they could for the underprivileged.
A boy put his hands in his pocket, knowing full well that there was not a paisa in there.
She saw the embarrassment on his face and told him, 'That is what I want, a willingness to help and the willingness to give, not the money itself.'
The lady was Mother Teresa and the young boy was Raveen Arora, a child born in a refugee camp after his family moved to Kolkata from Pakistan after Partition.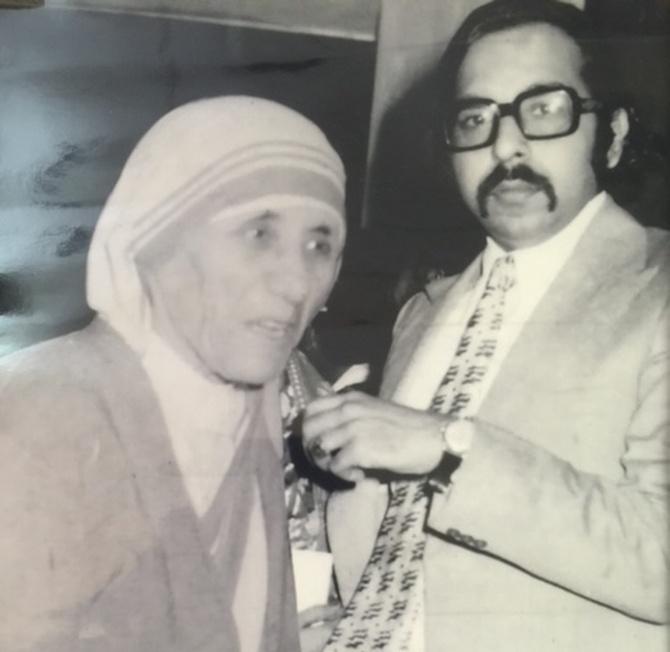 Raveen Arora now lives in Tempe, Arizona, and has been nominated for the Nobel Peace Prize, which will be announced in October.
Arora, who has lived in the US since the early 1980s, has been instrumental in bringing a part of India to the desert of Arizona. He has also brought his warmth, which is evident in the telephone conversation with Rediff.com US Contributor Abhijit Masih.
Arora says the warmth is a natural part of his Indian culture and heritage.
The chance encounter at his school with the unassuming nun from Missionaries of Charity -- who was awarded the Nobel Peace Prize in 1979 -- altered the young Arora's mind and, in time to come, the course of his life.
"I had a very modest upbringing. We used to live near the slums and had to add water to milk to ensure there was enough for everyone.
"I used to stand in the line with my father at the ration booth.
"My mother used to make clothes for my siblings and me from my dad's old pyjamas," he recalls how his father used to work menial jobs to make ends meet.
A spirit of service towards humanity was instilled in the young child's impressionable mind which -- even though he is in his seventies now -- he still carries in his heart.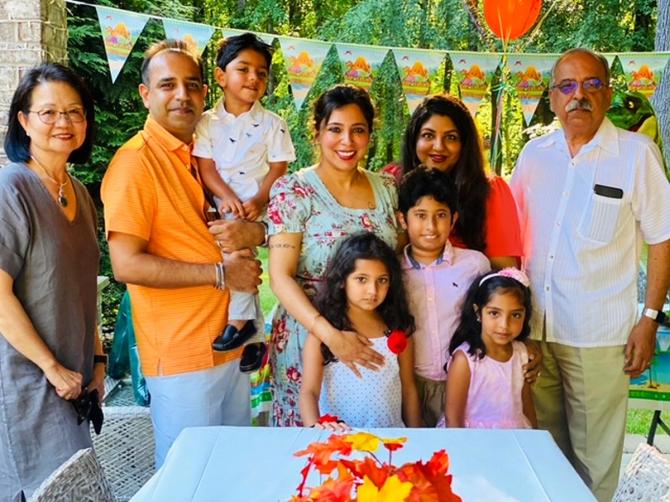 Another encounter that had a profound impact on young Arora's's life also took place when he was in school. He had the opportunity to visit the Himalayan Mountaineering Institute in Darjeeling, where he met Tenzing Norgay.
The inquisitive boy asked the legend who conquered Mount Everest, "How did you climb such a tall mountain?" Norgay's response changed Arora's life: "Aim high and work hard. If I do, you do."
This small nugget of inspiration helped Arora liberate his family from a life of squalor in Kolkata and become the owner of the Indian Plaza in Tempe.
Inspired by Norgay's words, Arora graduated from St Xavier's in Kolkata and moved to Los Angeles in 1981 to do a PhD in white collar crime. He did some consultancy work, before settling down in Tempe, where he developed an Indian centre that became a one-stop shop for all things desi.
"People start a business for profit, mine was for a purpose. It was for the people because I had worked with Mother Teresa, worked for the Tibetan and Bangladeshi refugees. I was born in a refugee camp, so my constant endeavour is to raise the profile of the Indian community," he explains the reason behind the centre.
In a community that predominantly white, Arora's India Plaza offered Indian cultural exports like food, yoga, artefacts and beauty products.
The Plaza has an Indian restaurant, a store that sells herbs and spices, a gift boutique that sells miniature Taj Mahals and a beauty salon that specialises in mehendi (henna) designs.
At Arora's India Plaza, people imbibe Indian culture and values, foremost of which is the custom of helping the needy.
Arora's Plaza opened its doors in 2003, in a ghetto area where crime and drug abuse was rampant. His multicultural centre represented Indian culture, food, service and values.
"In the last 20 years, there has been no instance of a break-in or a drug-related incident or crime. Not once have the police visited the India Plaza," he says proudly.
The community has embraced this minority man of colour, taking notice of how this little Indian nook has helped in transforming the town.
A firm believer of diversity and inclusion, Arora's first act of kindness when he opened the Plaza was to provide free cold water bottles to anyone passing by, especially during the hot Arizona summer.
He did this five days a week, from noon to evening, and had fans put up outside the Plaza to help people cool off as they took shelter from the blistering heat.
"Unlike in India, here in the US, the poverty is not so open," he says.
One night, Arora found a homeless person eating out of the dumpster behind his plaza.
The next day, he put up signs near the dumpsters inviting the homeless to come to the front for a warm meal instead.
"If you are giving food to someone, do not give it out of pity," he says. "Give it with respect."
Slowly, word got around and Arora started getting recognised for his spirit of service.
His involvement with various social clubs -- as well as his continuing humanitarian work -- resulted in the Alliance International, an India-based global organisation, recommending Arora for the Nobel Peace Prize for his leadership and service.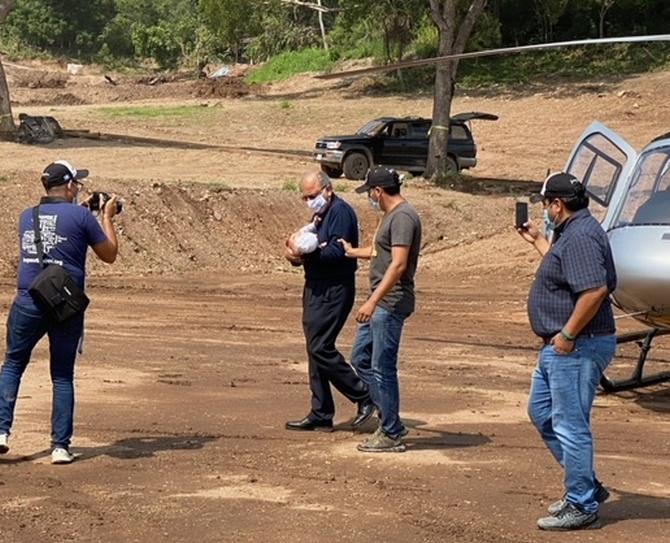 Arora truly believes in the mantra of culture before strategy.
"Unless you create a culture of dignity, respect, humility and belonging in any setting or relationship, you will not prosper," he says.
Despite a life of hardships, twists, turns and disappointments, Raveen Arora considers himself blessed.
"I consider myself a pilgrim who is here to shape tomorrow, be it for my own grandchildren or anyone from the community. That is the mantra of my life."
Arora now spends his time serving the poor and the needy and travels around the world to share his life experiences.
In the midst of doing all this, he finds time for his family.
During the summer this year, Arora and his wife split their time between his son in North Carolina and their daughter in Texas.
As for the Nobel Prize? He leaves it to destiny.
Feature Presentation: Rajesh Alva/Rediff.com