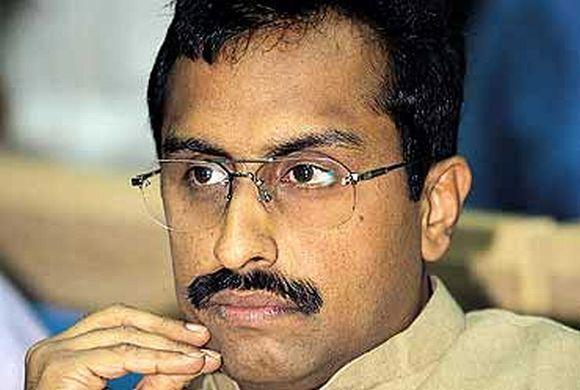 From planning Prime Minister Narendra Modi's foreign trips to playing a key role in the Jammu and Kashmir elections, former RSS spokesperson Ram Madhav is become increasingly important in the BJP
Ram Madhav, the suave former Rashtriya Swayamsevak Sangh pracharak, currently finds himself in the unfamiliar circumstance of being singled out for a smear campaign. His detractors have been busy telling journalists that the Sangh didn't "loan" Madhav to the Bharatiya Janata Party but that he was asked to leave his parental organisation for his several acts of omission and commission. These "acts", however, remain unspecified. Then there are rumours about the 49-year-old BJP general secretary's personal life circulating on the social media for over a month now.
A party insider says that much of the "chatter" targeting Madhav, both within the party and on the social media, started after the former RSS spokesperson made the shift to BJP in early July. Since then Madhav has become one of the most well- known faces of the revamped BJP hierarchy and a pivotal member of party president Amit Shah's team.
Clearly, Madhav's star is on the ascendant. This has made his rivals, both in the party and RSS, uncomfortable. The former electrical engineer was even talked of as a possible inclusion in the Narendra Modi-led cabinet in the reshuffle in early November. "This impression was spread to portray him as impatient and ambitious," says a party colleague.

Madhav has emerged as Modi's 'ambassador at large'. He is credited with playing a key role in organising Chinese President Xi Jinping's visit to India in mid-September, Modi's speeches at Madison Square Garden in New York in end-September and the November 17 speech at the Allphones Arena in Sydney. Madhav is somewhat of an expert on India-China relations, having written a book on the subject published earlier this year: Uneasy Neighbours: India and China after Fifty Years of the War. His familiarity with Chinese politicians and diplomats was the reason he was sent to Beijing in early September to prepare for the state visit of Xi. He has also been instrumental in building stronger party-to- party linkages between the Chinese Communist Party and BJP. Since September, two delegations of BJP legislators and youth leaders have visited China.

When Xi visited India, Madhav was in the United States to resolve differences among the Indian diaspora outfits that have been forever at loggerheads. Modi's speech at Madison Square Gardens ran the risk of being reduced to a 'Gujarati Hindu only' affair as also fall victim to infighting between the various diaspora affiliations. Madhav, along with some of his close aides, tried to make the event more representative of India's religious and linguistic diversity.

A month later, Madhav waded through a minefield of competing egos and spheres of influence among non-resident Indians in Australia as he prepared for the Modi's mid-November visit to the country. The man from Andhra Pradesh's East Godavari district was in Australia in the third week of October to bring these warring factions to work with a common purpose. Having learnt his lessons from the New York event, Madhav tried to involve all sections of the Indian community. The Overseas Friends of BJP, the party's outreach wing for people of Indian origin, was asked to stay in the background. Similarly, the Hindu Swayamsevak Sangh, the overseas affiliate of RSS, was also asked to keep away from the spotlight. Modi's New York event had, at one point in time, looked set to be a disaster. These outfits, and their leaders, were thought to have contributed to the mess. In Australia, Madhav and the others pushed the Indian community to set up a more 'secular' Indian Australian Community Foundation as the platform to organise Modi's address to NRIs in Sydney. This helped attract a cross section of the Indian community to Modi's function, even though the people managing the new outfit were primarily associated with the Vishwa Hindu Parishad in Australia.

Madhav, ably assisted by the ministry of external affairs, also put in place the plan to have Modi visit Fiji, days before Xi's visit there. It was a diplomatic coup. Nearly 40 per cent of Fiji's population comprises people of Indian origin, and Modi's visit is being seen as the step to connect with descendents of indentured labourers in Suriname, Mauritius, Reunion Islands and the Caribbean. "We are gradually building a political constituency for Modiji's leadership among the Indian diaspora," says a BJP source associated with the process.

Several years of being the spokesperson of RSS have helped Madhav build a network of friends among diplomats and youth political leaders from across the world. Madhav edited a Telugu weekly before moving to Delhi to help RSS veteran M G Vaidya in the prachar vibhag, or communications department, of the Sangh. He soon became the Sangh's "modern face", particularly for engaging with embassies, foreign governments, political parties and the mainstream English language media.

This helped Madhav win many friends for Modi in Asia and Africa when the then Gujarat chief minister was declared a pariah by much of the western world for his alleged failure to prevent the 2002 communal riots in the state. Apart from China, Madhav has also been a frequent visitor to Israel, and through the New Delhi-based think tank, Vivekanand International Foundation, helped Modi reach out to the Israeli leadership. A first ever visit to Israel by an Indian prime minister looks a distinct possibility during Modi's tenure.

Madhav is also a director of think tank India Policy Foundation. Railways Minister Suresh Prabhu, Minister of State for Finance Jayant Sinha and Shaurya Doval are other members of the think tank that organised Modi's interaction with some of the world's leading investors and corporate leaders in February. The foundation is said to have helped Modi formulate his foreign policy.

Meanwhile, Madhav, to the chagrin of his rivals in the party, has also handled BJP's preparations for the assembly elections in Jammu and Kashmir, alongside his "ambassadorial" assignments. He has assisted senior RSS leaders Arun Kumar and Inderesh Kumar to strategise BJP's election campaign in the state, and was instrumental in Kashmiri leader Sajjad Lone meeting the prime minister.
READ: Is the RSS running the Narendra Modi government?
That the smear campaign against him is yet to damage Madhav's stature within the party has much to do with his loyalty to Modi and Shah. In 2013, Madhav was among the rare RSS men to support Modi when L K Advani and several other senior leaders resisted the move to make Modi the chairman of the party's election campaign committee. Neither did Advani and others want Shah to be made prabhari, or in-charge, of Uttar Pradesh. Madhav worked hard to crush the dissent against Modi in Delhi and was blunt about the limited role that Advani could play in leading the party in the 2014 Lok Sabha elections. Eventually, Shah was made the UP prabhari and Modi the chairman of the election committee.

But Madhav currently faces the toughest challenge of his career. The Brahmin from Andhra Pradesh is a bachelor, a teetotaler and a vegetarian. However, his personal life has become a subject of much discussion in Sangh circles. "He might be drinking water in a restaurant but his rivals will say he was found sipping champagne," says a BJP leader. One of his well-wishers, a mid-level leader in BJP, says that there was indeed an "internal campaign" to halt the rise of Madhav in the party. Madhav himself was unavailable for comment.

BJP mostly draws its leaders from its students' wing, the Akhil Bharatiya Vidyarthi Parishad. Few RSSpracharaks — Modi is an exception, and so is Haryana Chief Minister Manohar Lal Khattar — have survived the political intrigue within the party to become its front ranking leaders. Whether Madhav can come out un-scathed from his current crisis could well decide his future career in BJP — and in national politics.