The vigour Divya Spandana has added to Rahul Gandhi's social media persona has brought him back in the reckoning, discovers Archis Mohan.
Illustration: Dominic Xavier/Rediff.com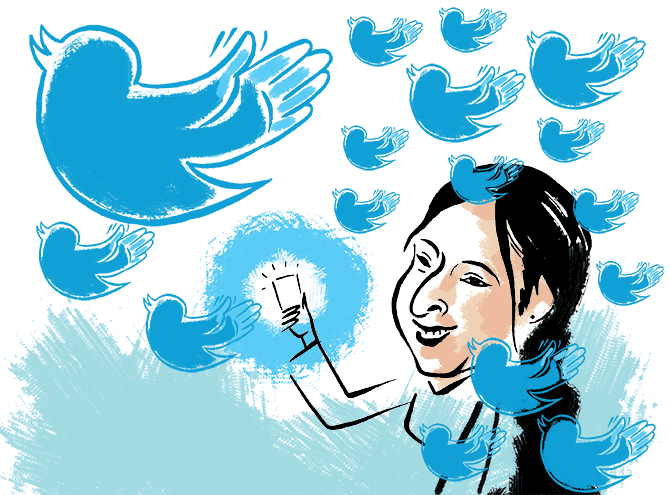 Since May 2017, Congress Vice-President Rahul Gandhi has added close to two million followers on Twitter. The social media presence of his party has seldom been more vibrant.
Divya Spandana, who turned 35 a couple of days ago, has been credited with the turnaround.
In May, Rahul Gandhi replaced Rohtak Lok Sabha member Deepender Hooda with Spandana as the social media digital communications head of the Congress party.
The 39-year-old, soft-spoken and uncontroversial son of former Haryana chief minister Bhupinder Singh Hooda had led the team at a difficult time. That Gandhi thought little of social media as a platform to reach out to voters made Hooda junior's task that much more arduous.
Enter Spandana, who brought the much-needed vitality to the Congress social media presence. But this liveliness is probably matched by the heartburn her entry has caused among the younger ranks of the party leadership.
The Bengaluru-based Spandana, who as Ramya was one of the top actors of Kannada cinema for 12 years, has rejigged and revitalised the team by bringing in data-crunchers and graphic designers.
She has also included more women on the team. Today, women form two-thirds of the team.
The bigger challenge that she and her team have accomplished is convincing Rahul Gandhi to use social media. Former members of the Congress social media team say it used to be demoralising to interact with their leader.
In 2013, as the Bharatiya Janata Party's social media team monopolised the space in the run-up to the Lok Sabha elections, Gandhi told his social media squad he didn't care much for Facebook, Twitter and the like.
A former team member recalls that he once said the BJP was a middle-class party that needed social media to reach out to its supporters while the Congress was the party of the poor who didn't possess fancy smartphones.
"It was a morale buster for the team," its ex-member says.
If they thought Gandhi had altered his opinion of social media when he met them again in early 2016, they were disappointed.
While he applauded the team for its good work, he said he didn't see himself increasing his engagement on social media as he felt the platform engendered 'negativity'.
A year later, Gandhi is quite a star on Twitter. He is serious, witty, self-deprecating and even willing to pepper his tweets with poetry from Mirza Ghalib and Avtar Singh Sandhu, better known as 'Pash'.
Those who have known the Congress leader long enough say he is all of this and more, but it's only now that he is beginning to shed his reserve.
'Gabbar Singh Tax' and 'Modi Made Disaster' are slogans that have already become part of Congress folklore.
So, when in mid-October, BJP leaders, including Information and Broadcasting Minister Smriti Irani, alleged that the spike in Gandhi's Twitter following was because of 'bots', or when Law Minister Ravi Shankar Prasad wondered whether Gandhi has ever read Ghalib or 'Pash', Spandana and her team took it as a left-handed compliment.
Spandana quickly rebutted Irani's claim while other Congress sympathisers pointed out on social media that it was a case of the pot calling the kettle black.
A matching percentage of 'bots', or fake followers, comprised Prime Minister Narendra D Modi's 36.6 million followers on Twitter.
Gandhi had 2.49 million followers in July; it increased to 3.4 million by mid-September and stood at 4.26 million on November 10.
With Spandana leading it, the Congress social media approach has been more combative.
'The mask is off, not that we did not raise these issues earlier,' she told News18.com last month.
While her success has won her legions of admirers and gushing media coverage, the number of her rivals too is growing within the party.
After taking over in May, Spandana had surprised most with the sarcasm she displayed on Twitter. But now, with signs of rivalry evident, the former actor prefers to stay away from the media and restricts herself to retweeting press conferences, statements and articles of other party leaders.
Also helping the Congress' vibrant social media presence is a synergy among the social media teams of other Opposition parties.
Trinamool Congress Rajya Sabha leader Derek O'Brien has played a key role in bringing the Opposition parties on the same page, and has been helped behind the scenes by the Aam Aadmi Party's Ankit Lal.
The Dravida Munnetra Kazhagam's M K Kanimozhi, Rashtriya Janata Dal leader Tejashwi Yadav and a group within the Communist Party of India-Marxist exchange notes several times a week on common topics that they would collectively raise on social media.
Spandana is an important cog in this wheel.
She grew up in Ooty and Bengaluru, raised by a single mother, which is something she has spoken about often.
Known as the 'golden girl' of Kannada cinema, Spandana did her first film in 2003. She has also acted in Telugu and Tamil films.
In 2012, she quit films to join politics and won a Lok Sabha by-poll from Mandya in August 2013, only to lose the seat in the 2014 Lok Sabha election.
Combativeness has been her leitmotif. During her acting career, Spandana raised her voice against the pay disparity in the film industry.
In 2016, she refused to apologise after a sedition case was slapped on her when she said Pakistanis were good people.
When her fans tweeted to wish her on her '27th birthday' in 2014, she said she was 31.
In 2016, when a woman police officer was transferred, ostensibly because she disconnected a phone call from a minister, Spandana criticised the minister. It mattered little that the minister belonged to the ruling Congress party in Karnataka of which she was a leader.
Now, the vigour she has added to Gandhi's social media persona has brought him back in the reckoning.
But then, her name itself means 'vibrant'.