Cup.
Bat.
What are the images that come to mind when you think of them?
Those, say Amsterdam-based artists Jorge Mañes Rubio and Amanda Pinatih, are the very images they want to challenge.
Will their effort pay off? Savera R Someshwar/Rediff.com leaves you to decide.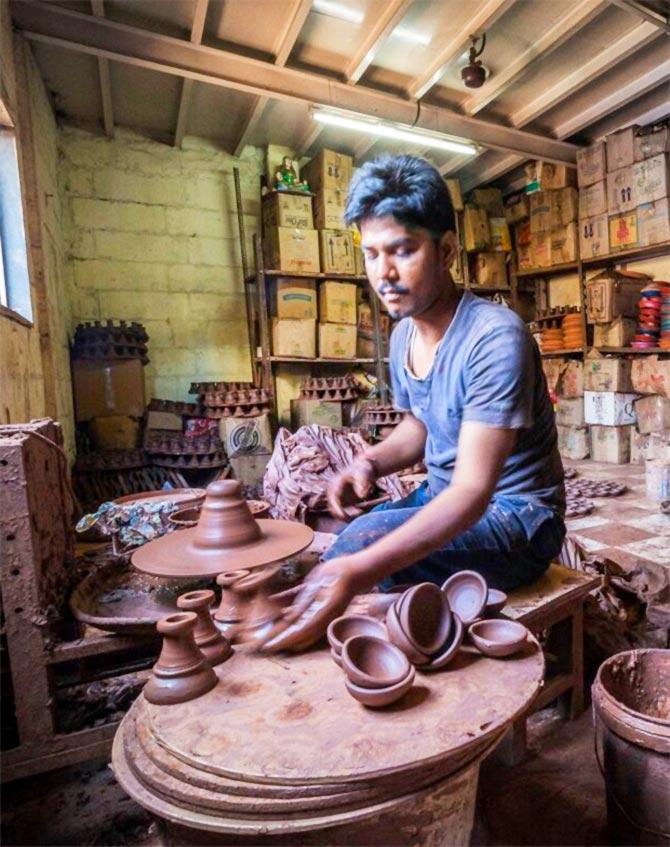 IMAGE: Is this all a potter's wheel can churn out, ask Jorge Mañes Rubio and Amanda Pinatih. Photograph: Kind courtesy Design Studio Dharavi
Museum is not exactly the word that comes to mind when you step into this little square of open land near the Kumbharwada (Potters's Colony) signal in Dharavi, Mumbai's much coveted real estate that sprawls over nearly 600 acres, houses families cheek-by-jowl in tiny one-room homes that lean into each other, accessed by everything from roads to very, very, very narrow lanes bisected by vein-like gutters though which flows sludge-like, smelly dark liquid... the amalgamated refuse of the thousands of people who inhabit this patch of land once infamously known as Asia's largest slum and then made famous by Danny Boyle's Slumdog Millionaire.
In front of you is a bright white 8 feet by 4 feet cart, a little like the one you see pushed vegetable vendors all over Mumbai. Only, it is larger, made of metal, brightly lit, with brick-coloured panels that open welcomingly to 24 feet, can bear the weight of almost 1,000 kgs and looks quite out-of-place.
It is this dichotomy that, hope Amsterdam-based artists Jorge Mañes Rubio and Amanda Pinatih, will draw the people of Mumbai in. And inspire the people of Dharavi, many of whom stand around stoically, wondering what was happening.
"Museum," say best friends Akansha, Ayesha and Riya, bright eyed 10-year-old Class 6 students who stay nearby. They explain that museums normally "carry things about the past" but this one is different. This one, they proudly say, showcases "Dharavi ki kala (the creativity of Dharavi)."
That, says 31-year-old Rubio, is the museum's very purpose. Both Rubio and Pinaith admire the way the denizens of Dharavi have found ways to earn a living. "You can bring a purse here," says Rubio, "or a jacket, or hand over a design for shoes, and they will replicate it for you."
What they hope this museum will do is help the citizens of Dharavi tap into their creativity.
Looking around him, says Rubio, is motivation enough, as he recalls his first visit to Dharavi four years ago. Crammed into tiny spaces, where you would believe a nuclear family could live, hundreds of cottage industries flourish, making everything from earthen lamps to designer rip-off to food products to even soaps.
With a dash of creativity, they hope these entrepreneurs -- from those who maintain their generations old family trade to those who are using the latest technology to set up new business -- will be able to expand the scope of what they do, reach wider audiences and make more money.
To break the communication barrier, and earn the trust of the residents of Dharavi, they turned to URBZ, an experimental urban research and action collective. It was here that they met Shyam Kanle, who lives in Dharavi and has been working to improve the condition of its residents. Kanle, who belongs to a family of basket weavers and broom makers, stepped in as facilitator.
On February 18, the museum launched in Kumbharwada with exhibits made by the potters, given a design and colour spin by Rubio and his team, whose effort is being supported by the Creative Industries Fund NL and The Art of Impact.
The museum, says Rubio, who has bundled up his hair in a bun to beat the heat, is interactive and will include workshops and, like a few days ago, even a cricket match. Each of the items in the museum, emphasises Rubio, is made by local talent.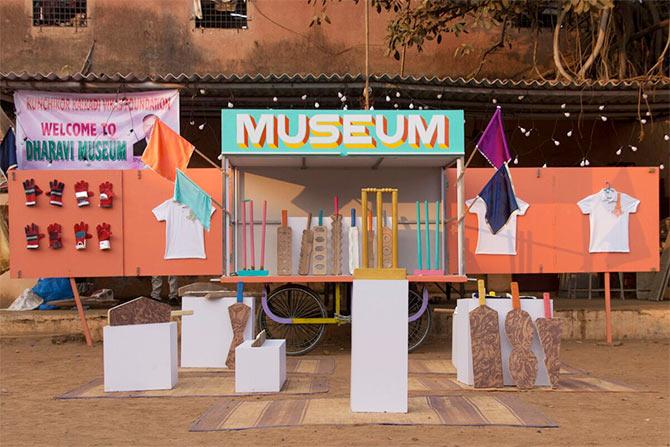 Yes, those are bats and you are supposed to play with them. To add some more change, Design Museum Dharavi offers modified gloves and stumps too.
Photograph: Kind courtesy Design Museum Dharavi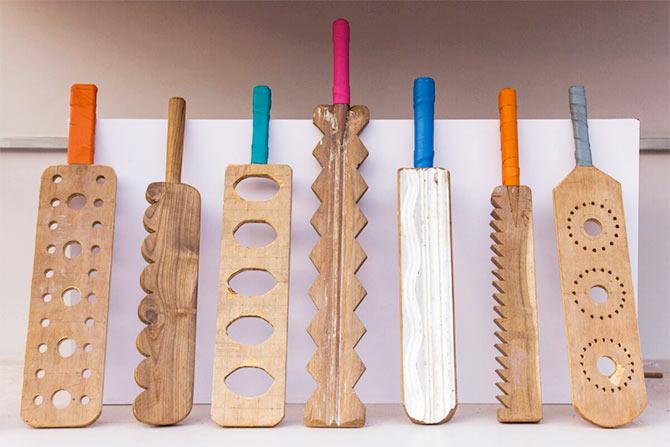 Twenty-seven hand-crafted bats, made from recycled wood in different shapes, sizes and designs, are tested by four teams from across Dharavi. Each has a brightly coloured grip. The leather gloves, too, are handcrafted and features different styles. Each team had its own uniquely designed tee shirt.
Photograph: Kind courtesy Design Museum Dharavi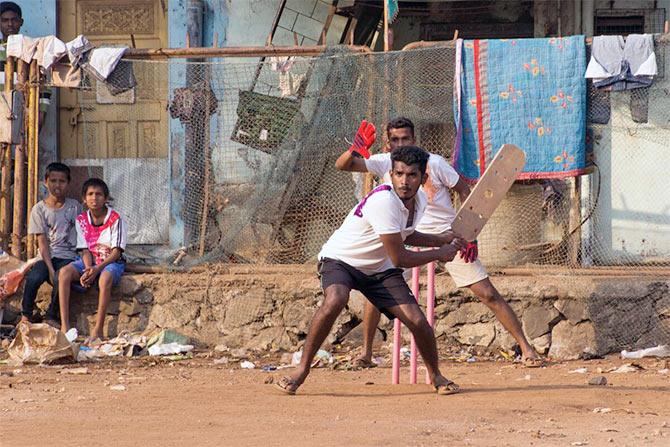 Now that the bats and gloves had been designed, it was time for some intense concentration and a game of cricket. Even the pink stumps did not distract the players.
While some of the bats worked, others shattered in a matter of minutes.
Photograph: Kind courtesy Design Museum Dharavi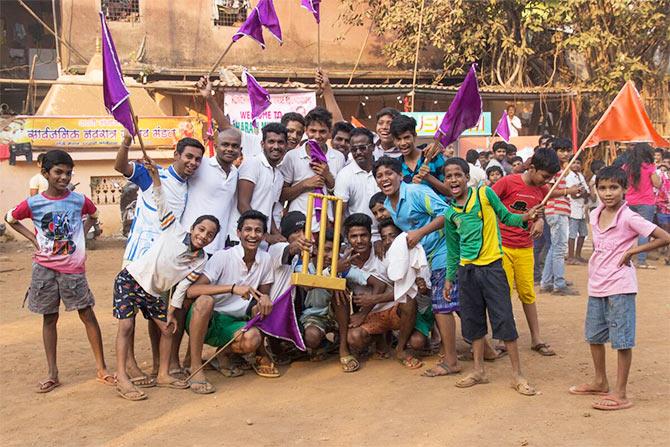 But the teams had a good time, and slipper-clad team Purple won the Golden Stumps :)
Photograph: Kind courtesy Design Museum Dharavi
The launch exhibit celebrated matkas (pots used to store water and keep it cool), brooms and tea cups.
Pots, that were generally stacked one top the other to save space, were given an exotic design spin.
Photograph: Uttam Ghosh/Rediff.com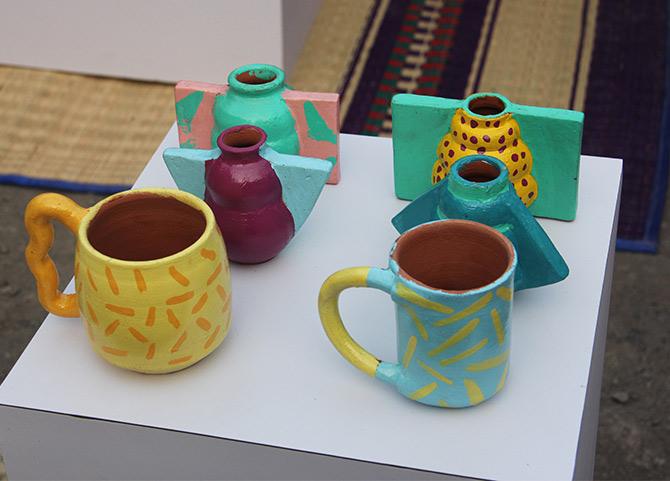 Why should a cup look like a cup? "Why indeed?" asks Rubio as he spotlights the exotic shapes of the cups, with handles shaped like the human ear, triangles or even rectangles, all inspired, he solemnly assures, from the varied ways in which he has watched the Dharavi residents pick up a hot cup of chai.
Photograph: Uttam Ghosh/Rediff.com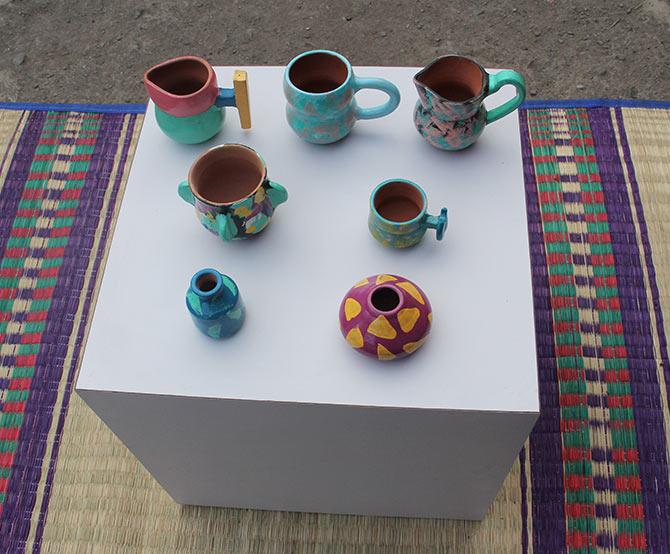 Resting on a pristine white block placed on a brightly coloured reed mat are still more exotic tea cups even more exotic handles. A couple look like diyas and we wonder how useful they would be while sipping a hot beverage.
Photograph: Uttam Ghosh/Rediff.com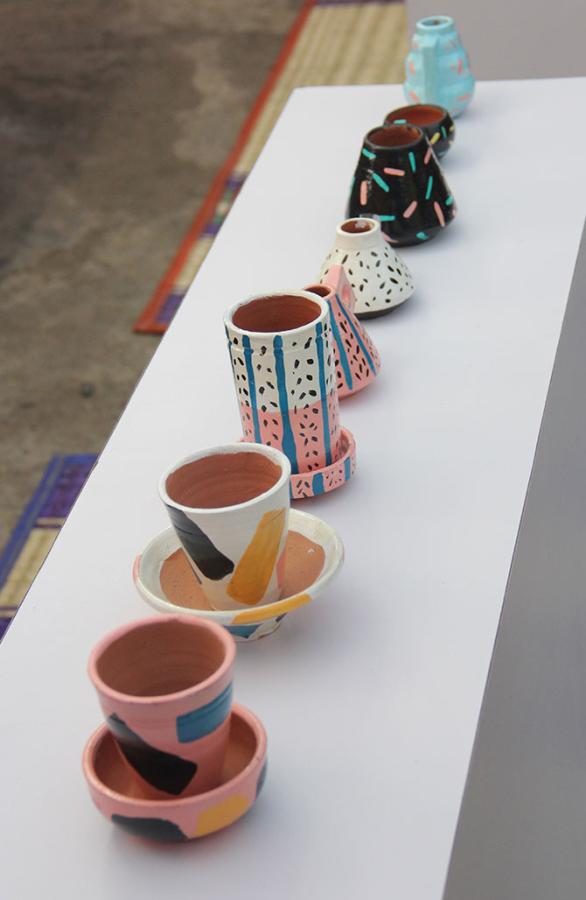 Experiment is everything, seems to be the motto. So there are more cup; some with saucers. "Sharing a cup of tea or sipping it from a saucer," says Rubio is something he has noticed as he watched endless cups of chai make their way down thirsty throats.
Photograph: Uttam Ghosh/Rediff.com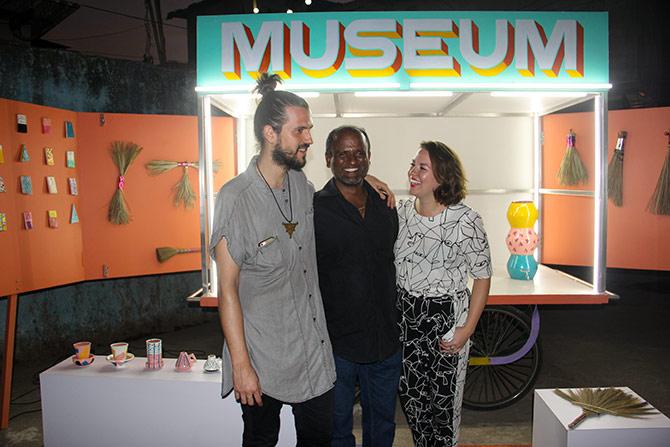 Rubio and Pinatih share a moment with Shyam Kanle, who has helped them with the project, as they celebrate the launch of what has been called the first ever moving slum museum in the world.
Photograph: Uttam Ghosh/Rediff.com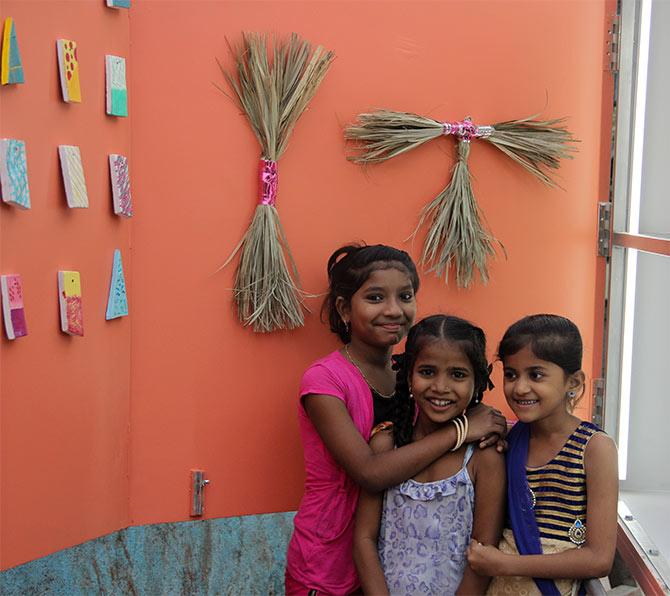 Best friends Akansha, Ayesha and Riya, who stay nearby, pose in front of the three-sided broom (in the corner) which they have made themselves and of which they are very, very proud.
Photograph: Uttam Ghosh/Rediff.com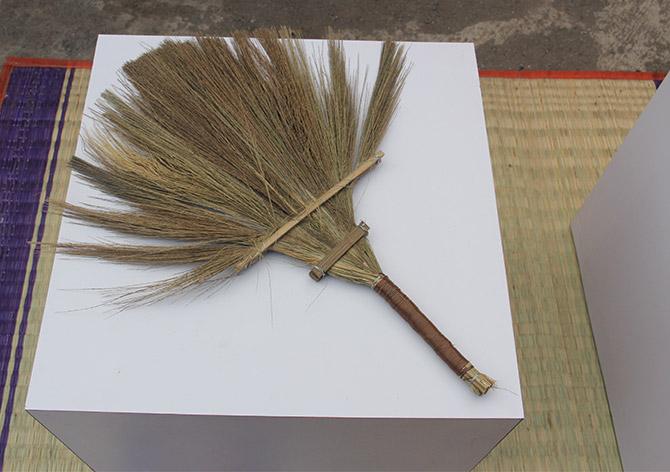 You might think that broom is good for dusting...
Photograph: Uttam Ghosh/Rediff.com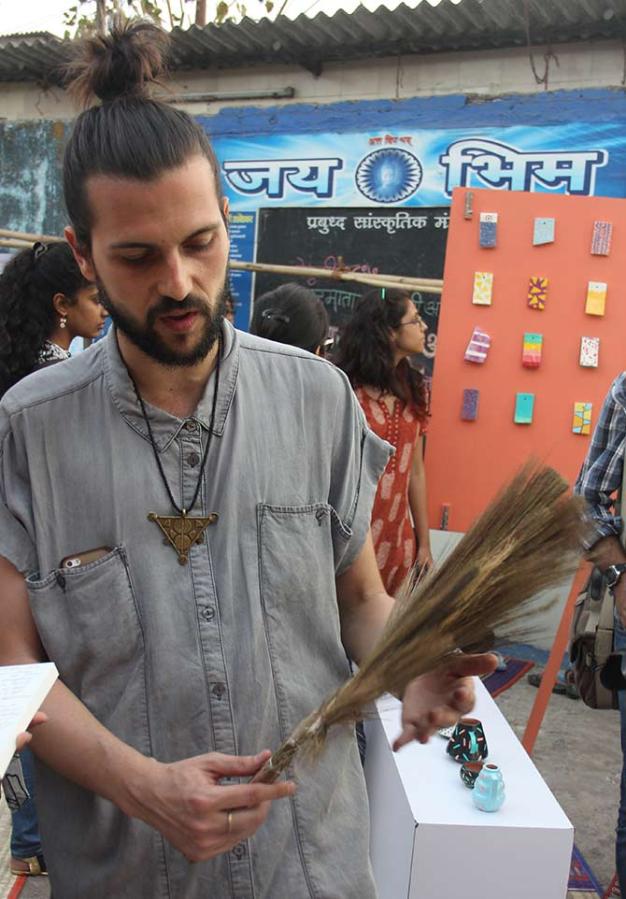 ...But Rubio has other ideas. "Why not look at it as hand-held fan," he asks with a smile.
Photograph: Uttam Ghosh/Rediff.com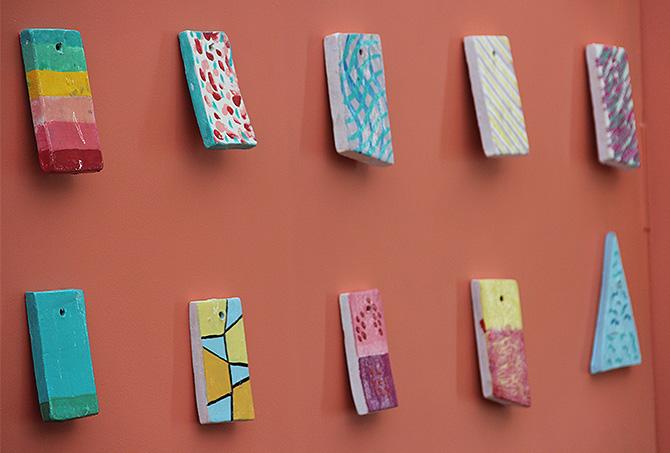 These exhibits grabbed a lot of attention. Not only were they bright and colourful, nobody seemed to know what they actually were.
"Diaries?" somebody ventured. Touching them put paid to that idea.
"Tiles?"
"Door-stoppers?"
"Coasters?"
"Design samples," says Rubio, "that the potters can offer as options to their clients."
Photograph: Uttam Ghosh/Rediff.com
And these, ladies and gentlemen, were the most excited visitors to the museum.
Photograph: Uttam Ghosh/Rediff.com