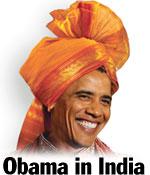 Rediff.com's Vicky Nanjappa asks former deputy national security advisor Satish Chandra what issues India needs to raise when Barack Obama comes calling.
Plenty of expectation surrounds US President Barack Obama's India visit.
Satish Chandra
, the former deputy national security advisor, sees it as an opportunity to build a strong relationship between the two countries.
Speaking to
rediff.com
, Chandra underlines this visit's importance in the Indian perspective, but adds that New Delhi must be assertive on certain issues so that the country's long-term interests are fulfilled.
"Indo-US relations are in a very good shape at the moment and this visit is an opportunity to better those relations," says Chandra.
"When the US president is in India, we should not just look at what we get from the US. The idea is to have a better understanding on issues that are critical to both nations," he adds.

India in the Afghanistan equation

"The events in Afghanistan affect India directly. What we have been noticing is that when the US conducts its policy on Afghanistan, it does not consult India or even take our interests into consideration despite the fact that whatever happens there affects us."
"It is necessary that we be assertive and put our point across on this issue."

Pakistan's diversion of US funds

"The general picture that we get is that these funds are being used for anti-terror activities. But the truth is that these funds are being used to procure arms, which in turn are being used against us."
"India would do well to address this issue during the visit."

"The main point we need to stress upon is that our core interest should be taken care of. We need to make the US look at us with a different perspective too."
"Today they are looking at us due to our economic growth. The fact is that our infrastructure continues to be very Third World and the truth is that it is Infosys and Tatas, which have put us on the map."

The 26/11 attacks

"Obama comes to India against the backdrop of the 26/11 attacks, the ongoing trial and the fact that most of the masterminds have not been arrested."
"Yes, he will be expressing his solidarity with the victims of the attacks. It is a PR exercise according to me, but I would add that it is important and a good one too."

"However, India must push the US to take a decision since most of the masterminds remain free. The Americans have not exercised their leverage with Pakistan. We need to raise this issue with the president behind closed doors."

"We need to convince them about the real threat. If the US decides to turn off the tap on Pakistan, then I am sure Pakistan will listen.
The Americans currently don't seem to be bothered about the export of terror from Pakistan to India and we must be assertive on this point and get the US to act on this."
The David Headley issue

"They say they gave us advance information, but the fact is that they never named him. I don't know the real reasons. It is said he was a double agent."
"However, that should not have come in the way of sharing proper information. If the US considers India a partner nation then nothing should have come in the way of giving us the information which was very crucial."

The Chinese threat

"India must realise that China is a far more important issue than Pakistan. On our own, we need to manage our relations with China so that we are at ease."
"Currently, we have seen China being very assertive and this is worrisome and poses many question marks."

"India and the US need to analyse this and remain in touch with each other. Both nations must be alive to the possibility that China's assertiveness could turn into aggressiveness."
"We need to cooperate with the US and discuss this issue. We know how China has broken into Pakistan-occupied Kashmir and this shows the mindset of China which is becoming a dominant player in Pakistan and is using that country as a cat's paw against us."

"Today Pakistan is being armed by two great powers and during the visit, India needs to sensitise the Americans to our concerns and expect them to act upon it so that we are at ease."