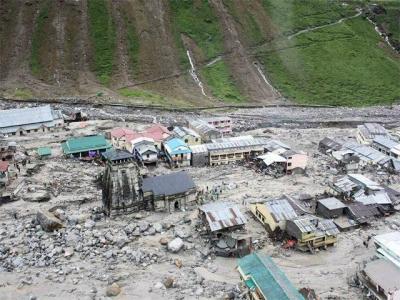 Disaster in Uttarakhand, Himachal Pradesh can be blamed on myopic industrialisation, urbanisation and tourism policies.

Advocates of indiscriminate urbanisation, industrialisation and tourism must restore the ecological integrity of the Himalayan watershed and comprehend its geological reality to prevent such occurrences in the future. Both Indian and Chinese agencies are myopically mutilating the watershed with mere monetisation in mind.

Devotees of all ilks are callous about the Himalayan watershed and are grossly anthropocentric in their behaviour. Ecological heritage must be conserved for coming generations. This principle applies to all places of worship. No agency should be allowed to build permanent structures in ecologically fragile zones.
Development fundamentalism combined with religious tourism is eroding ecological heritage.

In the aftermath of the recent disasters in Uttarakhand and Himachal Pradesh if lessons are indeed learnt then all ongoing development projects must be reviewed and revisited and their carrying capacity and cumulative impact on the Himalayan ecosystem should be assessed. The ecological integrity of the Himalayan watershed must be made non-negotiable.

It must be understood that the region is an eco-sensitive zone and deforestation has led to landslides and floods. Building of dams, tunnels, roads and townships has gone beyond the carrying capacity of these areas.

Meanwhile, operations at the 1,500 MW Nathpa Jhakri project in Himachal Pradesh, India's largest hydroelectric plant, has been stopped because of high silt content in the turgid and the fast-moving Sutlej River. The 1,000-MW Karchham Wantoo project has also been shut due to heavy silt in Sutlej. These projects feed the northern grid. The disaster seeks answers from the project proponents as to whether they had factored in their adverse consequences on this ecologically fragile watershed.

Studies done by Chinese Academy of Sciences in Kunming and University of Delhi on the impact 292 of the planned Himalayan dams have underlined that "about 1700 square kilometre of forests would be submerged or damaged by dams and related activities." Stage-managed and faulty environmental and forest clearances in India and China contribute to the colossal crisis that is staring us in the face.

If people destroy something replaceable made by mankind, they are called vandals; if they destroy something irreplaceable made by nature, they are called developers. This mindset is the cause of Himalayan watershed becoming disaster prone.

Image: The famous Kedarnath shrine in the Rudraprayag district of Uttarkhand has been severely hit by the floods | Photograph Courtesy: Gotham3/Twitter