'Given the current fear that the government is going to appoint judges who were in line with its ideology, there should be full disclosure in Parliament about the details of every judge appointee,' Indira Jaising -- the first woman to be appointed additional solicitor general of India -- tells Geetanjali Krishna.
Illustration: Dominic Xavier/Rediff.com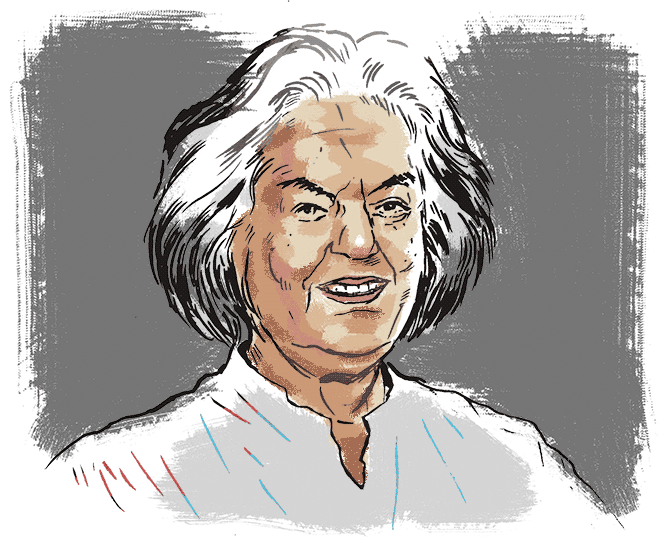 Her NGO Lawyers Collective filed the first petition to scrap Section 377 in 2001 on behalf of the Naz Foundation.
Earlier in the year, she was voted among the top 50 most influential leaders in the world by Fortune magazine.
She is the first woman to be appointed additional solicitor general of India and many of her cases are considered important legal landmarks.
Yet, Indira Jaising cuts a somewhat lonely figure in the Supreme Court, a rare voice always raised in support of minorities -- be they the Rohingya, homeless pavement dwellers or indeed women lawyers not unlike herself.
Heads turn as she walks into Elan at The Lodhi, in Delhi, her smile quickly disappearing as we find the place eclipsed by a large kitty party. Minutes later, we relocate to the mercifully quiet environs of Indian Accent, and settle down into a conversation.
I tell Jaising that I've followed her cases since 1986, when she helped Kerala-based Mary Roy secure equal inheritance rights as her brothers.
This resulted in the 1986 Supreme Court ruling granting all Syrian Christian women this right, overturning the archaic Travancore Christian Succession Act, 1916, and Cochin Christian Succession Act, 1921.
The firebrand lawyer has many such landmarks to her credit: She helped draft India's first domestic violence law; successfully prosecuted one of the country's first cases of sexual harassment on behalf of IAS officer Rupan Deol Bajaj against K P S Gill; and recently successfully argued that women should be allowed to enter the Sabarimala Temple.
In mid-August this year, the Supreme Court agreed to test out her plea for live-streaming of cases of Constitutional and national importance.
Her appearing on Fortune's list of 50 greatest world leaders of 2018 is richly deserved, I tell her. She smiles when she hears that, saying that the day the Fortune list was announced was quite the roller coaster for her.
"That day, I was smarting over the scathing remarks made by the Supreme Court against my submissions in the Judge Loya case," she recollects. "After 50 years of service to the judiciary, the court actually said I was guilty of contempt, for arguing that contempt action should be taken against the administrative committee of the high court for having transferred the CBI judge hearing the Loya case."
Right after this, when she received the news that she was on Fortune's power list, Jaising felt somewhat vindicated. "It was heartening for me to realise that people were cutting across international boundaries and appreciating work being done in India."
We toast to this with glasses of Svami, the latest artisanal Indian tonic water, garnished with slices of cucumber. Our shared starter, oven-roasted beetroot on a bed of goat cheese, arrives.
Jaising picks on it delicately as our conversation naturally veers towards the state of the Indian judiciary today. I ask her the question I pose to many public intellectuals -- does she feel frustrated about the present state of affairs in the judiciary?
She chooses her words with lawyerly aplomb: "The dominant narrative has definitely changed, and we have all observed the recent attempts to subvert the judiciary," she says. "But it gives me reason for optimism to see that no other institution has resisted the attempted subversion like the judiciary has."
After the now-legendary presser by the four senior-most judges of the Supreme Court, Jaising avers that there has been a positive change, even though it is not as palpable as expected.
"There is now a published roster of judges," she says. "So at least there's a degree of transparency."
However, the government's constant interference is something she worries about.
"For instance, when the petition to impeach the Chief Justice was submitted, it elicited an immediate and public reaction from the government as well as the prime minister himself!" she says.
Much of Jaising's work, I muse, has been tinged with activism. So I ask what she thinks can be done to improve the condition of the judiciary.
She tastes the delicately baked paneer with smoked eggplant that she has ordered before answering.
"Given the current fear that the government is going to appoint judges who were in line with its ideology, there should be full disclosure in Parliament about the details of every judge appointee," she says.
In fact, she has been fighting corruption from within the judiciary since 1989, when she challenged the appointment of Justice V Ramaswami to the Supreme Court of India.
When he became the first judge to be removed, many within the legal fraternity believed that by exposing corruption in court, Jaising was weakening its authority.
"The causes I have taken up since have been equally unpopular," she says unapologetically. "Professionally, I'm a bit of an outcast..."
It has been worth it. As we ponder over dessert, Jaising tells me about the many cases she has fought that have resulted in better judicial and police practices.
"Of these, the most tragic was the case of a 10 year old who became pregnant after being raped," she narrates. The child didn't comprehend her condition until it was too late for a legal abortion, so she had to carry the baby to term.
"It was almost too much to bear to see the child undergo this, but I was able to ensure that the court took care of her medical expenditure, education and nutrition," she says.
Her latest initiative is The Leaflet, launched in June this year as an imprint of the NGO Lawyers Collective (co-founded by Jaising and her husband Anand Grover). "It's a platform for cutting-edge legal, political and Constitutional opinion that I'm personally funding," she says.
"To mainstream legal opinion, which I think is critical today, we need to decode it for public consumption, and that's exactly what we aim to do."
Dessert, a giant helping of daulat ki chaat and a bowl of homemade vanilla bean ice cream, arrives. It's altogether too much food on a working day, she declares with delight.
The milky, frothy confection melts in the mouth as Jaising talks of her pet project, a smile transforming her face.
Some years ago, she found her junior in a distracted mood, constantly staring out of the window of the chamber.
It turned out that she didn't have child care arrangement that day and had no option but to ask her little daughter and her nanny to wait for her in the garden of the Supreme Court.
Jaising insisted on the child being brought in, but realised this was no solution.
"I realised that we often talk of the need to have more women in the workplace, but often don't make a conscious effort to enable this," she says.
With some cajoling and lobbying, Jaising was able to get a crèche set up in the Supreme Court premises.
"Today, it is a joyous bright space which enables mothers to work knowing their children are well looked after," she says. "To our delight, even the male lawyers have started bringing their children here."
Jaising is due in court shortly, but issues a warm invitation to visit the crèche before leaving.
As her upright frame in lawyerly black and white attire disappears from view, I reflect that all these years I've admired Jaising for the landmark cases she has so successfully argued in court.
Going forward, I'll remember her as the woman who made Supreme Court a kinder place for women to work in and in doing so, feminised it just a little.