Uttam Ghosh/Rediff.com recalls the many ways in which he has been influenced by Netaji Subhas Chandra Bose.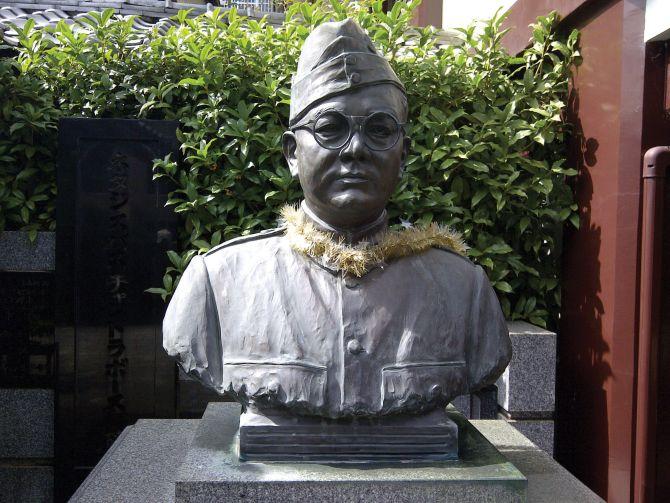 We lived in a completely isolated defence township in Ozar, Nashik.
It was the 1960s and we only got to hear of our freedom struggle in textbooks and from our parents and their friends, who came from all over the country to build a fighter plane factory with help from the Russians.
There were inspiring tales of the freedom struggle and horrific stories about Partition.
Subhas Chandra Bose's thrilling speech to the Indian National Army in Burma.
Video: Courtesy Penguin India
We would listen, wide-eyed, to the supreme sacrifices by revolutionary leaders who were then caged and tortured in the Cellular Jail in the Andamans.
We were hugely influenced by leaders like Mahatma Gandhi, Khudiram Bose, Bal Gangadhar Tilak, Bhagat Singh and Jawaharlal Nehru who led the Independence movement.
Those days, the Russians outnumbered us in the township. They came with their culture and history and they celebrated the October revolution every year. That's how we were introduced to world leaders like Lenin.
Every leader had a slogan which stayed in our minds.
I found Subhas Chandra Bose's slogan, 'Give me blood and I shall give you freedom!', different. It made me wonder what he meant.
There were pictures of him wearing an army uniform. For many of us, that made him stand out as compared to other leaders.
Netaji inspires the INA in Singapore.
Video: Courtesy Penguin India
His escape from house arrest made history. It made the freedom struggle very real to me.
It was only later that I realised how much Netaji had influenced India.
Most schools in rural India have his portrait on the walls alongside Mahatma Gandhi and Chacha Nehru.
There are Netaji clubs run by the local youth along the Narmada river in remote areas of Madhya Pradesh.
Schools in the dense forest districts of Orissa and rural Maharashtra proudly display pictures of Netaji.
His views on secularism, women and fascism are relevant even today.
His militant call is still remembered.
The difference between India's non-violent struggle and the militant view of leaders like Netaji is respected.
Many of Netaji's actions are debated in many homes even today -- his taking Japanese help. The making of an army that he thought would lead India to its freedom. His not being able to meet the Russian leaders.
A visit to his home, Netaji Bhavan, in Kolkata was a great experience for me; the freedom struggle had come alive.
The desk where Netaji sat and worked. How many historical decisions must have taken place here!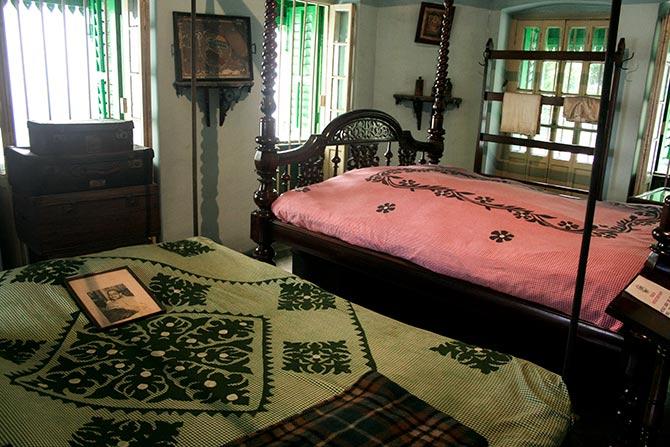 The bedroom where he slept at night and dreamed of India's freedom.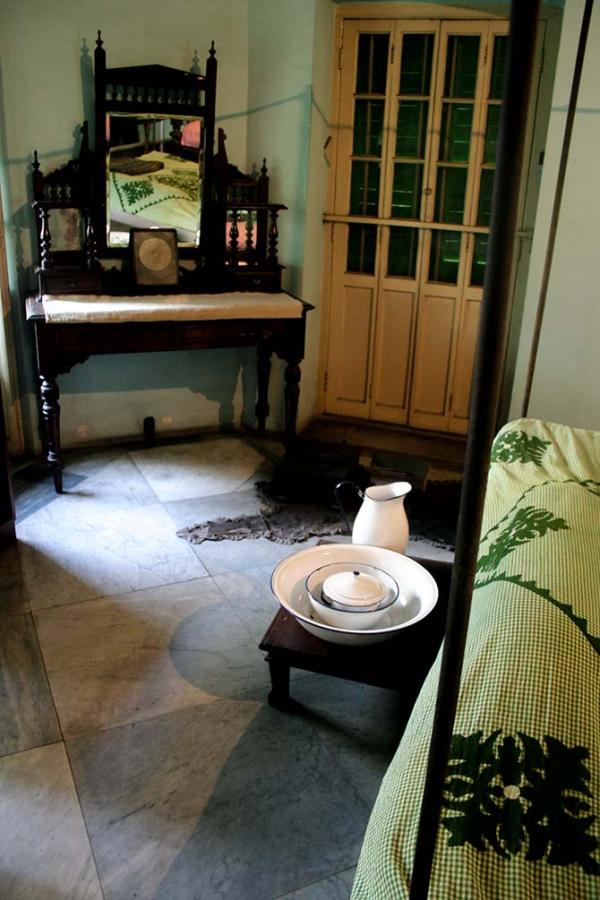 The jug and vessels used for his morning ablutions.
These painted footsteps are a reminder that Netaji once walked here.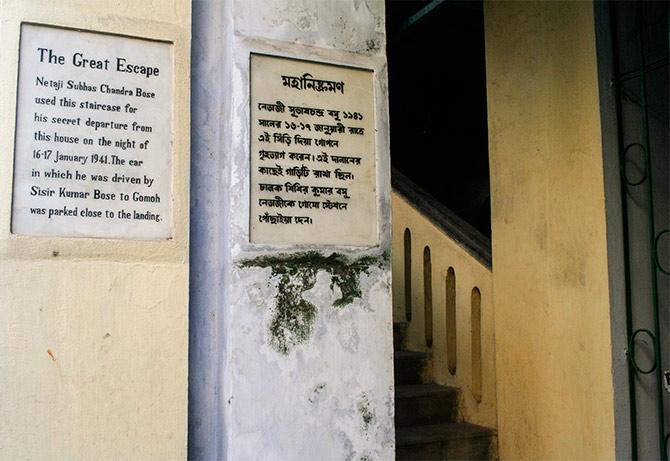 Which child's imagination does not thrill at the exciting tale of Netaji's back-door escape from his British jailers?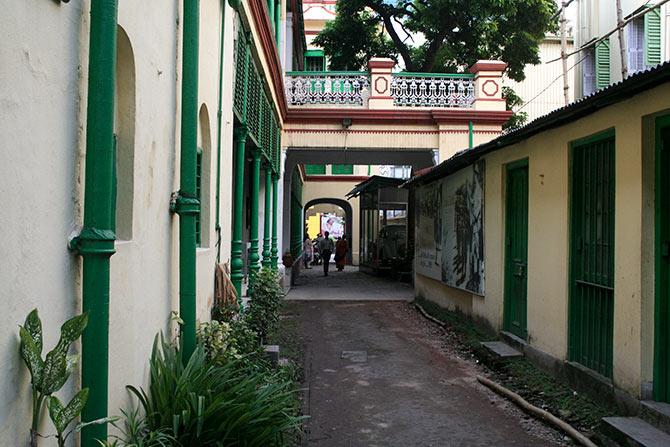 This route led to the car that was waiting to take Netaji away.
This was the car in which Netaji's nephew, Sisir Kumar Bose, drove him to Gomoh.
Netaji, in the uniform and the pose that almost every Indian is familiar with.
Finally, we leave you with this video of the Indian National Army's Jhansi Ki Rani regiment headed by Captain Lakshmi Sahgal.
Video: Courtesy Penguin India
Photographs: Uttam Ghosh/Rediff.com