'This was a total and complete failure of the State. When we begin to ask the right questions, only then will we know what led to a rape accused being dragged out of prison and being lynched by a mob.'
'It is also the failure of Naga society. Naga society must ask where we are going.'
'There are many elephants in the room. There is simmering anger at militarisation, the culture of impunity, criminal justice, sexual violence, outsiders, corruption, governance... but these issues must not overshadow what happened.'
Voices from Nagaland discuss with Archana Masih/Rediff.com the vigilante justice meted out in the street, the failure of the State on March 5 and the need for retrospection for Naga society.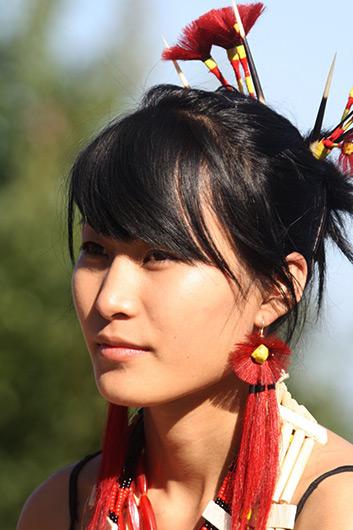 When A Jamir (name changed) heard that a mob had converged at the clock tower in Dimapur last Thursday, he went there to see if he could intervene. But he could not and was overwhelmed by the angry crowd.
A huge crowd had already gathered at the clock tower and were waiting for the mob from the jail to arrive. There were few police personnel, but he was surprised to find that there were no central forces.
"Security forces are there even when small incidents happen in the state -- but here when there was such a huge crowd, there were no central forces to be found," he says.
People who wanted to intervene did not know who to approach, he adds. After some time, the police rushed in from one side. They fired in the air. He could not see if the accused was dead by the time he was brought there by the crowd -- but the day ended with two deaths.
One strung up on the clock tower; the other slain by police firing in the street -- sending shock waves throughout the state and the rest of the country.
It was a horrific case of vigilante justice where a man accused of raping a student and of being a Bangladeshi illegal was lynched by an angry mob, which also consisted of school and college students.
It later turned that the slain man's father had retired from the Indian Army, and two brothers continue to serve in the army.
The home ministry has asked the state government to identify the source of the mass SMS messages that claimed he was a Bangladeshi illegal.
The incident revealed the failure of the State and highlighted the locals versus outsiders debate, especially illegal Bangladeshi immigrants, that has been a longstanding issue in the North-East.
It has also emerged as a moment for Naga society to introspect about what went so horribly wrong that day.
Rediff.com spoke to Nagas to find out what they thought on the incident and its repercussions on the state and its people.
Akum Longchari
Editor. Activist involved in conflict transformation and reconciliation
"For me as an individual, we have to condemn the incident as Nagas. Violence and retribution is not the way. There has to be accountability and what happened on March 5 must be taken for what it is.
Speculation and counter accusation will not help -- we have to come to the truth of the matter and find out why did it happen and where was the State?
This was a total and complete failure of the State. The rule of law was usurped. It is the duty of the State to protect a person in custody.
There is a tendency to see this incident from a different prism. March 5 must be taken for what it is. When we begin to ask the right questions, only then will we know what led to this.
It is also the failure of Naga society. Naga society must reflect why did this happen. The State must be held accountable, but simultaneously Naga society must engage and ask where we are going.
The underlying issues are also important to deal with. The criminal justice system, outsiders, governance -- but these issues at the moment must not overshadow what happened.
I would not say that the March 5 incident was because of a feeling of marginalisation. I wouldn't say that Nagas are marginalised by outsiders. There is simmering anger at the state of affairs -- militarisation, the culture of impunity, criminal justice, sexual violence, corruption...
There are many elephants in the room. People are talking about illegal migrants. Firstly, I disagree with the term IBI (Illegal Bangaldeshi Immigrant), it should be illegal immigrant.
Illegal immigrants are a political issue and it is an issue which is not faced by Nagaland alone but the North-East region. There is no effective mechanism to establish who is illegal and who is legal.
The last few days, I have been meeting people and people are in a state of shock. They do not know how to respond -- they are in a state of shock. They are still trying to find answers how it happened and how to respond.
A response should begin with self criticism and realisation that we need to reach out and engage in dialogue with Nagas and outsider communities.
I say once again March 5 should be seen for what it is. The law and order issue must be addressed."
Dr Lungsang Zeliang
Professor
"I was terribly shocked and condemn that something as inhuman like this could happen.
What seemed to start as a peaceful rally went out of hand. It is not easy to control a crowd of hundreds of thousands. It also shows the lack of training and unpreparedness of security forces in controlling mobs. It is important to train our police to deal with such situations.
The man was accused of the crime of rape, yet people should wait for due course of justice to be served to him, rather than taking the law in their hands.
Perhaps what led to this horrific incident is that society is also fed up with the slow cycle of justice towards those accused of rape and crimes against women.
It cannot be pinned down to one factor. It is a complex and complicated situation. In general, we Nagas are good to outsiders.
There is a feeling that illegal immigrants are here and many businesses are controlled by outsiders, but that may have been just a small factor in the incident (of March 5).
This incident is definitely going to affect Naga society. It will affect the inflow of tourists. This is not the true image of Naga society.
We don't know what went wrong. We need to introspect, engage and discuss what is going on in society.
It is also a reflection on our education system. We need to give importance to moral and value education. All stake holders -- lawmakers, policymakers, educators -- should be involved in working towards a better society, not only in Nagaland, but in the whole country."
Reverend Father Carolus Neisalhou
Vicar General, Diocese of Kohima
"Such acts of lawless are projecting a negative image of Naga society.
One cannot be led by mere emotions and mob psychology. Such acts have no place in a civilised society.
All people must abjure all forms of violence, instigation, intimidation, vandalism and false rumours.
Recalling the words of Mahatma Gandhi, 'Non-violence is the weapon of the strong', the public should tread the path of non-violence for amicable solutions."
Image: A Naga woman from the Sumi tribe in Zunheboto district, Nagaland. Photograph: rajkumar1220/wikimedia commons. Photograph published for representational purposes only.