For the last month-and-a-half, as doctors treat Tamil Nadu Chief Minister J Jayalalithaa, a different daily drama takes place outside the Apollo Hospitals gates in Chennai.
Rediff.com's A Ganesh Nadar spends a day outside the hospital.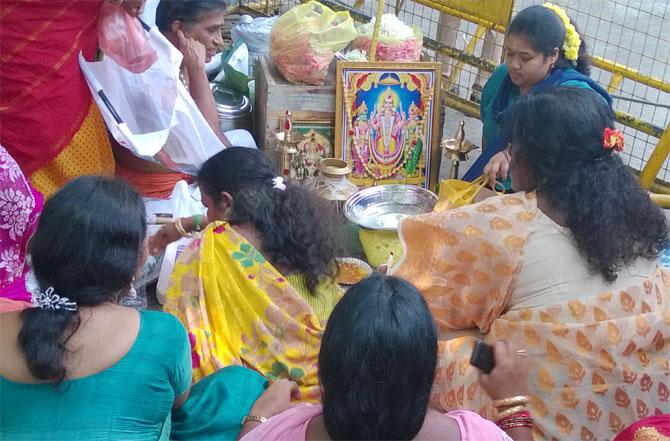 IMAGE: Seated on the pavement outside the Apollo Hospitals, AIADMK women workers pray for Jayalalithaa's swift recovery. Photographs: A Ganesh Nadar/Rediff.com
At 6.30 in the morning, there are more policemen outside the Apollo Hospitals on Greams Road, Chennai, than there are people.
At a little distance is an Amma Unavagam, well known for its Re 1 idlis and Rs 5 rice packets.
Outside the Unavagam, a small group of roadside vendors -- who keep calling out to potential customers -- sell everything from breakfast to lunch to cigarettes to piping hot tea.
Written on their cart, in bold letters, is the legend: Under orders from the HC for self employment. This means the municipal corporation cannot evict them from the pavement.
Standing at the Unavagam is a tired-looking man, wearing a dhoti with a red, white and black border that highlights his affiliation with the All India Anna Dravida Munnetra Kazhagam, the political party that rules Tamil Nadu.
As he sips his coffee, the 31 year old says he has been here all night, every night, for 46 nights.
Tamil Nadu Chief Minister J Jayalalithaa, Amma to her beloved supporters, was admitted to the Apollo Hospitals on September 22.
"There is a handicapped boy who sits with me, he has gone for a bath now. Amma must recover. I sit here all night, with the mosquitoes biting me, just for her," says Sentamizhan.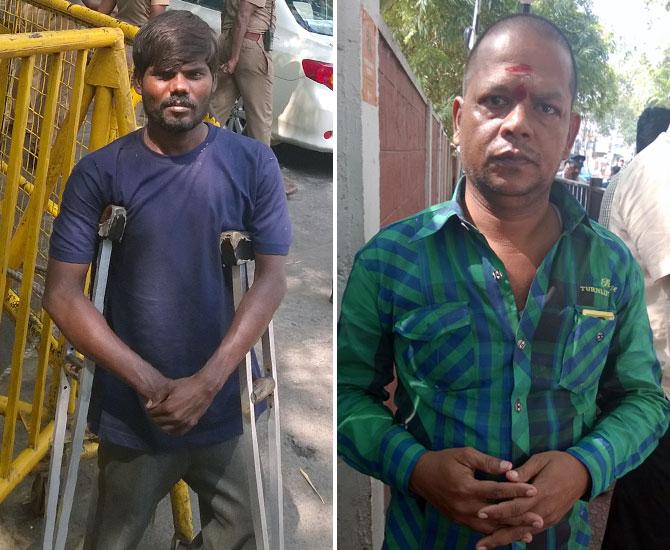 IMAGE: Manivannan and Minsaram Gokul maintain a nightly vigil outside the Apollo Hospitals.
At night, the Apollo Hospitals sends tea to the policemen who are part of the security detail for the chief minister; the cops share a cup with him, says Senthamizhan.
He sits there because "What if Amma is discharged in the middle of the night and there is no one to wave to her? She will feel sad."
The distance from the main Greams road to the Apollo Hospitals is about 150 metres. One day, Sentamizhan, who says he will leave only after he sees "Amma going home," rolled this distance, praying for her recovery.
"I did Angapradakshinam for Amma's health," he says. "It took me one-and-a-half hours."
Sentamizhan, a farmer from Mannargudi in the Cauvery delta region, did not go home for Diwali either. "I don't want to celebrate when Amma is in hospital."
He has rented a room nearby for Rs 600 a day. "I will go now and sleep and come back at 2 pm," he assures me.
At around this time, around 500 nurses dressed in white walk into the hospital. Arriving patients are not troubled by the police, but the cars dropping them are told to move away immediately.
The AIADMK cadres start arriving after 10 am. After that, the area seems like a mela.
On the right side of the hospital is an enclosure for the media; on the left is an enclosure for the party's female cadres. The men roam all over the place.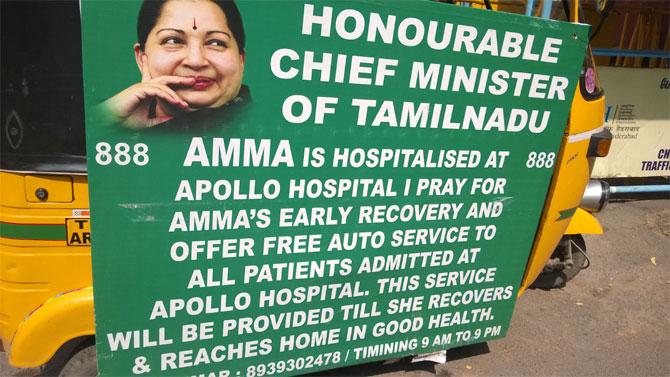 IMAGE: An Amma fan's offering.
Modhiram (meaning ring) Ponnusamy, from Virudhunagar district, is the Kazhalaga secretary from his area. He wears two huge rings -- one featuring Jayalalithaa and the other, MGR, and says he has been waiting outside the hospital for 44 days, from 7 am to 11 pm. Today, however, he arrived after 10 am.
He stays in the MLA hostel. "I am a farmer, but I am not interested in any income from farming. My deivam (he calls Jayalalithaa his god) has to come home. I will be here till then."
He too eats his meals at the Amma Unavagam. "We get cheap and good food at the Unavagam. Moreover, there is a toilet there that we can use. Sometimes, party cadres give Annadaanam (food donations in Jayalalithaa's name); at that time, I eat with them," he says.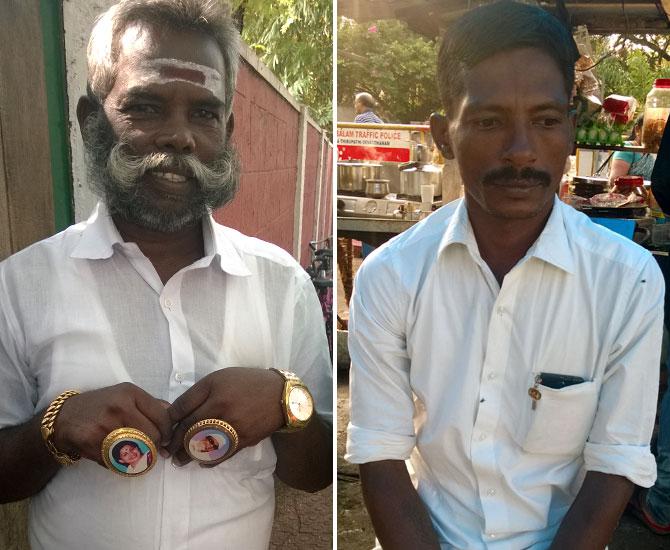 IMAGE: Modhiram Ponnusamy, left, and Senthamizhan.
Minsaram (meaning electricity) Gokul works for the Tamil Nadu electricity board.
An AIADMK member and a union joint secretary, he works at the sub-station inside the Apollo Hospitals and says he has been holding a vigil for 44 days.
"We are praying for Amma to come home," he says. "On October 21, we performed a Sarva Yagam at the hospital gates for her recovery. On November 1, we held a special prayer at the Vadapalani temple."
Former Sriperumbudur MLA Mollychur Perumal has been coming to the Apollo Hospitals since "Amma was admitted."
Wearing a green dhoti, which symbolises the Murugan temple in his village, he has promised a Kumbha abhishekam there on December 4 to pray for "Amma's recovery."
He conducts regular prayers at the Murugan temple for Amma. "We did a yagam at Apollo Hospitals too," he says.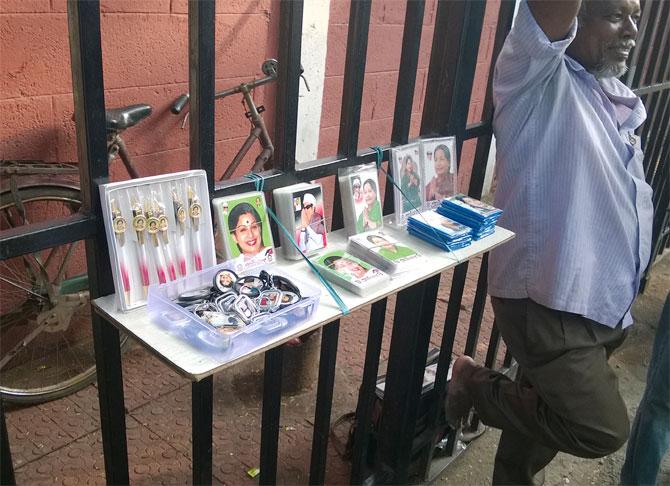 IMAGE: A stall selling AIADMK memorabilia.
Seated on the pavement inside the AIADMK women's enclosure -- with a portrait of Lord Murugan in front of them -- some ladies weave garlands for the afternoon prayers, which will be led by a Brahmin priest.
Velankanni aka Kasthuri, the Chennai Chetput district women's secretary and a 30-year member of the party, is a daily visitor.
"The party sends food for 50 women every day. Two prayers are conducted daily outside the hospital. Everything in our life is because of Amma. We will be here till Amma comes home," she says.
K Manivannan, who suffers from polio, walks with the help of crutches. The 30 year old from Villupuram district, with an MA and a BEd, is a double graduate. He has no job on hand yet.
"I make ends meet by giving tuitions at home," says Manivanna, who is trying to get a government job. He has been here since September 23 and lives on the pavement. "I eat at Amma Unavagam and I use their toilet. My needs are simple so I have enough money."
He too says he will not go home till Amma leaves the hospital and insists we shoot his picture at the hospital gate.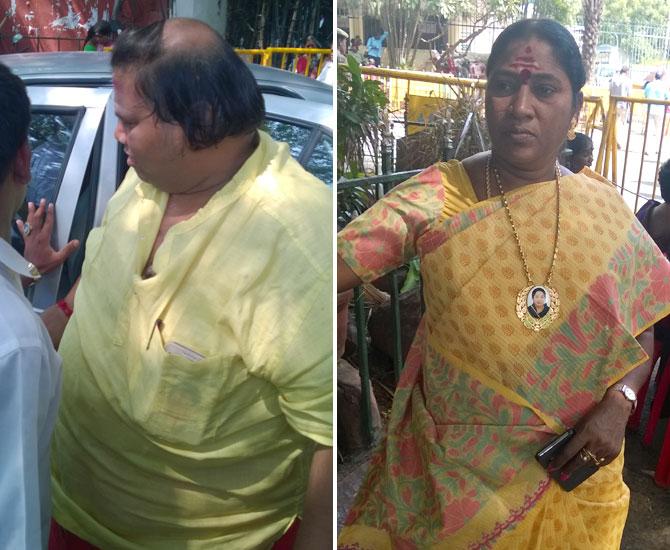 IMAGE: Actor Gundu Kalyanam, left, and AIADMK leader Velankanni aka Kasturi.
Then there is Poes Garden Anandam -- yes, you read that right. That is what he is called because that is where he says he stays. Poes Garden is also where Jayalalithaa lives.
He is very knowledgeable about everything. "Yesterday, (veteran actress) Sharada told me she is coming here. Today, (actresses) Vijayashanti and Sowcar Janaki will visit Amma." Vijayashanti, in fact, arrives a little while later.
Tamil movie comedian Gundu Kalyanam arrives with a vel (spear), Lord Murugan's favourite weapon. The vel is installed near the picture of Lord Murugan on the pavement.
After the evening prayer, which is performed by a Brahmin priest, the ladies sing bhajans. This is followed by a speech by AIADMK spokesperson C R Saraswathi at the press enclosure.
"Amma has recovered totally," Saraswathi tells her audience. "She is eating normally and has started working. She will be shooting a video to appeal to the voters for the by-elections. She has told us to go work for the elections."
"Many of our people are already there on her orders," Saraswathi, a familiar figure on national television since the chief minister's hospitalisation, adds.
"She will soon be shifted to a private room. You have to be a little patient and Amma will come home."
Behind her, people jockey for vantage positions to ensure they will be seen on television.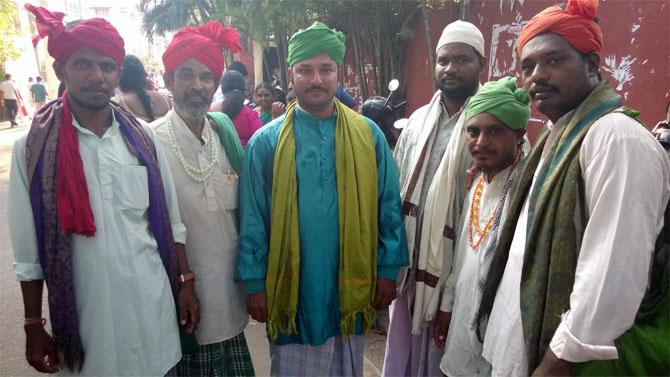 IMAGE: Muslims from the Vannarapettai Jamaat arrive to pray for Jayalalithaa.
In the evening, the men go to buy the evening newspapers. They check if they feature in photographs of the scenes outside the hospital.
"It is a record that I was here," says a man seen in a newspaper photograph. "History will remember me."
I have been here for 11 hours and am totally exhausted. These people have been here for over a month-and-a-half, but they are not complaining. Such is their devotion for their beloved Amma.