Richard Rahul Verma, the first Indian American to serve as US Ambassador to New delhi, quips that surviving the first month in India is his first goal.
Aziz Haniffa/Rediff.com, the only journalist invited to Verma's swearing-in at the US State Department, reports from Washington, DC.
After being sworn in by United States Secretary of State John F Kerry as the first-ever Indian-American Ambassador to India, an emotional Richard Rahul Verma said, "Only in America can the son of these immigrant parents represent the United States in this country of India, with which we have so much in common -- so many shared values and so much affection."
Earlier, he spoke emotionally about his parents and grandparents, and "how much they've sacrificed in order for us to be standing before you."
Image: Richard Rahul Verma, the first Indian American to be appointed US Ambassador to India.
Verma said his parents came from small villages -- "at a time of great turmoil when India was being divided," -- and noted that their journey in the United States was not easy.
He recalled how "in the summer of 1971, when they and their wood-paneled station wagon and the five kids -- ages two to 12 -- and everything they owned rolled into Johnstown, Pennsylvania, into our 1930s-era duplex; the first Indian family in this community."
"While we never lost our culture and heritage," he said, adding, "my parents set out to build ties with the new community... I can still remember my mom standing at the bus stop -- to receive the kids as they arrived from school -- in her sari with the blowing snow. My dad was working around the clock. But they never complained."
"Our story in not unique, it is the American experience repeated millions of times for so many in this room. So, to all those from the South Asian subcontinent who came before us, thank you."
"And for those of you still fighting to make it, we stand with you. And, for those trailblazers in this room -- academics, journalists, Surgeon General (Dr Vivek Murthy was among the nearly 250 guests) and others, thank you for paving the way."
Verma noted other dignitaries among the guests, including past US ambassadors to India, senior White House and State Department officials, and India's Deputy Chief of Mission Taranjit Singh Sandhu, who Verma described as "one of perhaps the most talented Indian diplomats."
"We first met in the 1990s and I don't think any one of us could have predicted this moment would be possible," Verma said of Ambassador Sandhu. "Thank you for your friendship and all what you've done to build this partnership."
His swift and unanimous confirmation by the US Senate on a voice vote, Verma said, "is less about me, but the bipartisan support for the US-India relationship on Capitol Hill."
Turning to Kerry, Verma said, "Mr Secretary, I am really thrilled that you will be in India in mid-January, and then, goodness, the President in the third week of January and (Commerce) Secretary (Penny) Pritzker and (Treasury) Secretary (Jacob) Lew."
To guffaws of laughter, Verma added, "When people keep asking me what my goals and objectives are when I get there, I say just to survive the first month or two. It's a modest but fearful goal."
"Thank you for the trust you've shown in me," Verma told Kerry, "and in all seriousness, I will work very hard to follow the vision you have set in strengthening our security partnership and expanding our trade and economic relationship, strengthening the climate and energy ties, and working to strengthen democracy and human rights and so much more."
"So, we have a lot of critical work before us at this very important time of the relationship."
Verma's appointment as the first Indian-American envoy to New Delhi "represents a homecoming of enormous consequences," Kerry said before swearing Verma in at the ceremony in the historic Benjamin Franklin Room at the State Department.
In September, Kerry had hosted a luncheon -- along with Vice-President Joe Biden -- for Prime Minister Narendra Modi at this very venue.
"I am really excited about being able to swear in Rich Verma as our next ambassador to India," Kerry said, calling it "one of the most important ambassadorial posts for the United States."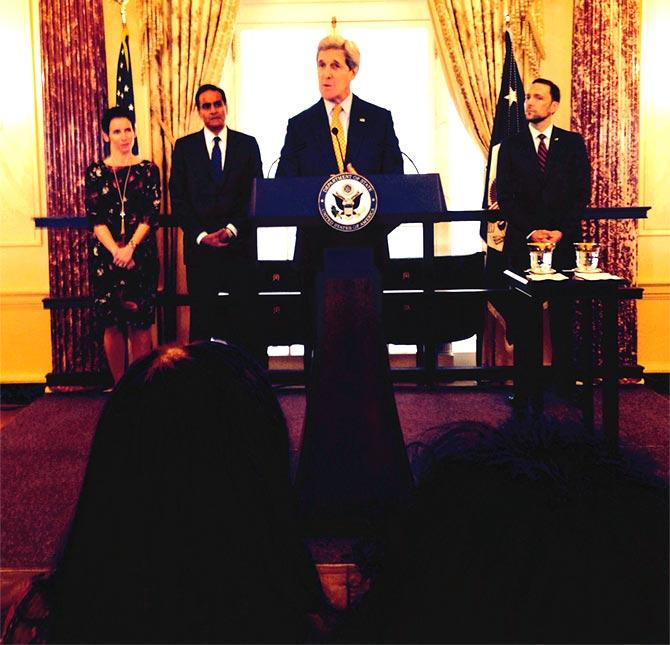 Image: US Secretary of State John F Kerry at the swearing-in. Ambassador Richard Verma and his wife Pinky can be seen on the left, back row.
Among the guests were several former ambassadors to India like Frank Wisner, Tim Roemer, Nancy J Powell, senior White House, State Department and Congressional officials.
Besides Verma's family, scores of his friends from his high school and college days and also his military and private sector stints, were present.
"This is no surprise," Kerry said, "because Rich has covered a lot of bases and during that journey has made a lot of friends."
Kerry explained why Verma's appointment was a homecoming.
"Half a century ago, Kamal Verma and his late wife Savitri Verma left India -- the country they loved -- to build a life in the United States, and it's a great American story. Today we return the favour, by sending a new generation of Vermas to India."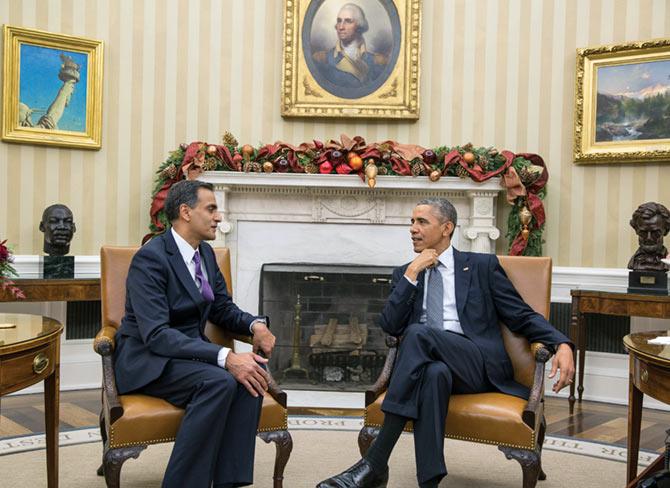 Image: Richard Rahul Verma, the first Indian American to be appointed US Ambassador to India, with President Obama in the White House.
"The President's decision to nominate Rich Verma to represent the United States in Delhi is not just another ambassadorial appointment. It continues a long-standing American tradition of sending our very best diplomats to be our representatives in India," Kerry asserted.
"Rich Verma has more than two decades of experience working in the military, the State Department, the private sector and on Capitol Hill, and in that time has proved through his energy and intelligence, tremendous creativity and ability, a sound judgment and he knows how to get things done."
"He's a straight-shooter and really has earned tremendous respect from colleagues on both sides of the aisle who understand that he is a straight-shooter and tells it like he sees it and calls it that way. I know, because I was a colleague of his on the Hill."
"For five years, Rich and I overlapped. When I was in the Senate, he was a senior adviser to the Senate Majority Leader (Harry Reid) and then for three more years, Rich was the State Department's chief of legislative affairs when I served as chair of the Foreign Relations Committee."
To peals of laughter, Secretary Kerry said, "So, we did a lot of conspiring together, especially about having ambassadors for appointments."
"But we also coordinated on a bunch of other things," Kerry said on a more serious note, "the fight against terrorism, the wars in Iraq and Afghanistan, Russia and our relations with Pakistan and India."
"I remember actually being on the Senate floor many times, receiving messages with Rich asking me to talk to one of my colleagues about a piece of legislation."
Kerry said he never second-guessed Verma, "and without ever questioning him, I said yes... because he never called me without a good reason and we really didn't disagree. I said yes, because we really did."
Kerry noted how at Verma's confirmation hearings, "his expertise about all things South Asia was on clear display. So, this would be an understatement to say that this outstanding appointment -- our first Indian-American ambassador to India..."
Before he could complete, the applause had begun.
When it died down, Kerry continued, "Not only does his appointment come an auspicious moment, but comes with added weight and meaning for all of us and I know for the folks in India."
"I have absolutely no doubt that President Obama has chosen the right person to represent the United States at the right time at the right place."
"This is a profound mission we are engaged with India in an effort to nurture the kind of trust and understanding with the government and people of India," Kerry added, "which both of our people yearn for and need in order to be able to manage this complicated world that presents so many challenges.
"So this is important. And with that in mind, it is my privilege now to administer the oath and get this guy officially on his way to India."
And the guests once again broke into loud applause.
Also Read: