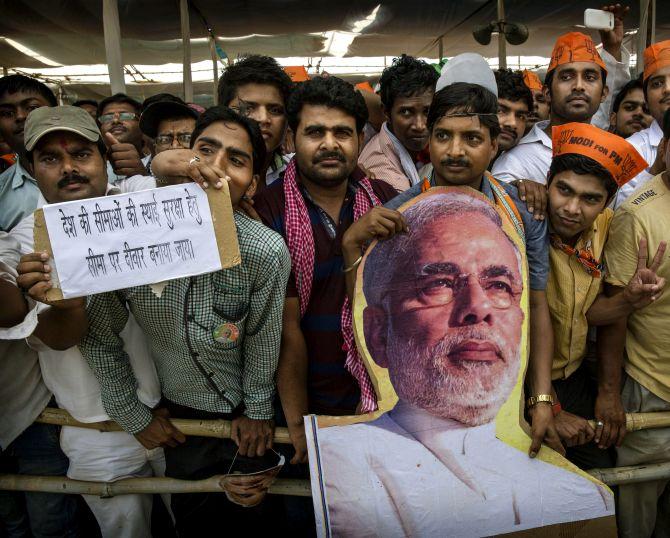 'Modi's victory is his own victory. Now what he has done thereafter, it seems to me, leads us to believe that he was a bit too prolific with his promises.'
'One achievement of Modi's I will praise is that he has put the fear of God among his ministers and officials.'
'Indira Gandhi's sentiment of controlling everything, centralising power into her hands is the quality that persists in Modi.'
Legendary journalist Inder Malhotra casts his experienced gaze on one year of the Modi Sarkar.
Inder Malhotra, 85, is active and interested in everything that happens in politics and the media. His curiosity to know how New Delhi power politics operates is as intense as it was in the days of Jawaharlal Nehru and Indira Gandhi.
The respected journalist, who held highest positions at The Statesman and The Times of India still writes his syndicated column. His biography of Indira Gandhi has seen many reprints.
Malhotra spoke to Sheela Bhatt/Rediff.com eloquently on how his experienced eyes views Prime Minister Narendra Modi as compared to India's former prime ministers.
Firstly, if I compare Rajiv Gandhi's mandate of 1984 (when the Congress party won 404 seats) with Narendra Modi's mandate of 282 seats, I must mention that Rajiv's victory was only partly his own.
He got that mindboggling mandate because of a grieving nation's last tribute to Indira Gandhi. I say so also because after 1984 Rajiv Gandhi never won any elections and he lost the 1989 election.
Modi's victory in 2014 , I think, is his own creation. Surely, the party helps, but it is not just that the party has got him here, Modi got the party here. That is one difference in now and then.
Secondly, to an extent Rajiv was a concerned leader because of the fact that he was young, the few people around him were young and he was so different from his brother.
In his house he was normally the happy person and never bossing around. He had quite a good reputation for being Mr Clean. For two years after the historic election Rajiv Gandhi could do nothing wrong and after the Bofors scam broke out he could do nothing right.
After 1986, things began to slide and thereafter nothing much happened. His own finance minister V P Singh, from being his subordinate, became his nemesis. After that he was assassinated.
That is why I say Modi's victory is his own victory. Now what he has done thereafter, it seems to me, leads us to believe that he was a bit too prolific with his promises. He said I will bring back black money from abroad in the first hundred days among many other things. Unfortunately, nothing of that kind has happened.
Secondly, the activities of the Hindutva hotheads which he seems unable or unwilling to control are creating trouble. But in all fairness let me say this, when he was elected, and the kind of things he was saying, and given his past records I was one of those who believed that he will concentrate on domestic matters and politics.
What he has done remarkably well is in the foreign policy field. It was a brilliant idea to get all the SAARC (South Asian Association for Regional Cooperation) leaders for his swearing-in ceremony. It looked like that beginnings with Pakistan could possibly be made, but it couldn't happen. Later he tried again, but the circumstances didn't help, the Pakistanis don't help, but the idea of using SAARC as an instrument of looking after Indian security and economic interests, was a good idea.
Nepal was the second country he visited after Bhutan -- again, a good move. Indo-US relations had plateaued and there was reluctance on both sides. He very rapidly and greatly improved them which is very useful vis-a-vis our relations with China. He got Chinese President Xi Jinping here and the Chinese remarkably coincided his visit with a deliberate military provocation.
At the moment the Chinese are investing too much strategically, economically, physically in Pakistan and also in Afghanistan and in the AfPak area. It seems to me that in Australia the PM did very well, at the BRICS summit too. The fact that we are a part of the infrastructural bank that will be set up in China is advantage India.
Then to get Barack Obama for India's Republic Day was an event to remember. Modi's visit to France, Germany and Canada remained eventful. Canada has been discriminating against India for the last 40 years. They allege that we seem to have misused the plutonium supplied to the Cirus nuclear plant. But now they have agreed to supply nuclear fuel.
Modi has a similar challenge to what P V Narasimha Rao faced. Our economy has stagnated very badly.
Yes, one achievement of his I will praise is that he has put the fear of God among his ministers and officials. But I am sorry about his inability to control the hotheads in his Saffron family.
Modi is not entirely free of the RSS (Rashtriya Swayamsevak Sangh). He is not dictated or dominated by the RSS like Atal Bihari Vajpayee was. Remember how Vajpayee had to drop a plan to make Jaswant Singh finance minister and how he made L K Advani deputy prime minister?
Just a year has passed. In the Congress's time in the last three years there was not a day without a scam involving thousands of crores of rupees. In last one year nothing has been heard about scams, nobody has said anything in this whole year.
What he has been unable to bring to table is a policy to genuinely boost Make in India and to bring as much investment as possible in India. Not just for consumption in India, but also for exports. It is possible the investments are not high partly because the corporates are not fully satisfied with the kind of reforms he has brought in.
See, it is not correct to compare Indira Gandhi's first year as prime minister with Modi's first year. Indira came to power in troubled times. Modi had political muscle from day one within the party and outside.
Indira faced a tumultuous time in her first year as prime minister. Indira was being called 'gungi gudiya (dumb doll)'. The Congress fought its first election under Indira's leadership only in 1967 which was the first election after the death of Nehru. In 1967 the Syndicate (the old guard) in the Congress was against her, so the Congress lost 82 seats in Parliament.
One can say that the war of succession to Nehru did not end in 1964 with Lal Bahadur Shastri coming in as prime minister or in 1966 with Indira coming to power. I think it continued till 1969 until Indira brought about the partition of the Congress. Only in 1971 did Indira really gain the kind of political power which Modi has now.
Yes, Indira Gandhi's sentiment of controlling everything, centralising power into her hands is the quality that persists in Modi.
Whether Modi would be able to do something as bad as the Emergency like Indira or as good as the victory in Bangladesh is yet to be seen.
Photograph: Kevin Frayer/Getty Images