As Prime Minister Narendra Modi begins his historic visit of the United States of America, here's a look at some landmark visits by Indian prime ministers to the United States of America.
1) Jawaharlal Nehru
Key visit: December 1956
All trips: October-November, 1949; December 16-20, 1956; September 26, 1960 to attend UNGA; and November 6-10, 1961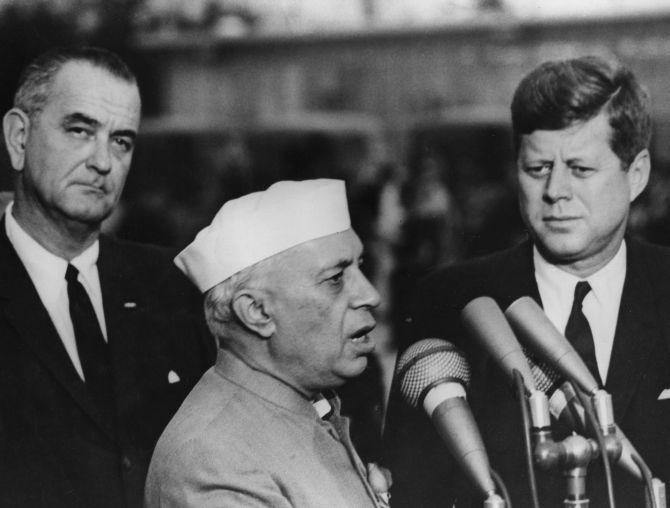 Prime Minister Nehru speaks on his arrival at the White House, watched by President John F Kennedy and Vice President Lyndon Baines Johnson. Photograph: Keystone/Getty Images
In 1949, Nehru spent three weeks travelling across the US, addressing several meetings at which he explained India's foreign policy tenets. It was a public relations success but the official part of his American visit, particularly his meetings with then US President Harry S Truman, were a flop. Truman refused to help with economic or food aid.
It was Nehru's 1956 visit that heralded the best years of India-US ties. Nehru spent a day and a half at then US President Dwight D Eisenhower's Gettysburg farm, with the two leaders holding discussions for about 14 hours. Nehru and Eisenhower built a healthy rapport. In the next few years, the Eisenhower administration doubled economic aid to India to $822 million and approved the PL 480 food programme. In 1959, Eisenhower paid a hugely successful visit to India.

Nehru's last visit to the US (1961) proved disappointing, despite then US President John F Kennedy holding him in high esteem. As a senator, Kennedy had been a supporter of more aid to India. The 1961 Nehru-Kennedy summit meetings were tepid. The 71-year-old Indian leader came across as too tired, with Kennedy forced to keep up the conversation. "It was like trying to grab something in your hand, only to have it turn out to be fog," Kennedy said of his discussions with Nehru. Kennedy rated it his "worst state visit ever". But the Kennedy administration approved increased aid.
In November 1961, Time magazine reported Nehru's schedule in the US was so crowded that it "barely left him time to change the perennial red rose on his achkan tunic".
---
2) Indira Gandhi
Key visit: November 1971
All trips: March 27-April 1, 1966; November 3-6, 1971; July 27-31, 1982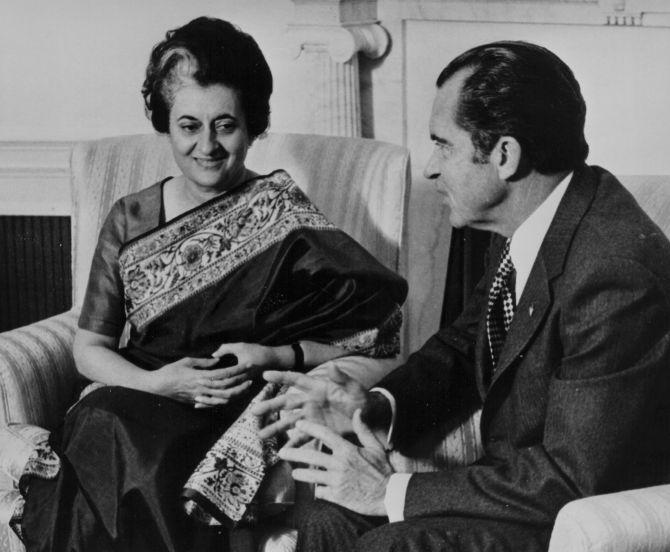 Prime Minister Indira Gandhi and US President Richard Nixon, talking at the White House, Washington, DC, USA on November 9 1971. Photograph: Keystone/Hulton Archive/Getty Images
Indira Gandhi visited the US in 1966, within two months of taking over as India's PM. Then US President Lyndon B Johnson was much impressed by her. The visit helped India secure more food and development aid from the US. But soon, ties went downhill because of Johnson's tight-fisted attitude to PL 480, and New Delhi's refusal to support America on Vietnam.
In 1971, a month before the India-Pakistan war, Gandhi visited the US to convince Washington of the humanitarian crisis in Bangladesh (then East Pakistan), citing the excesses of the Pakistani army. Her equation with then US President Richard Nixon had never been healthy. At that time, Nixon needed Islamabad for rapprochement with China.
Complete Coverage: Modi's US visit
In the process, India was thrown into the arms of Soviet Russia. India-US relations hit rock bottom, with Americans suspecting India of inciting the conflict in East Pakistan. During their statements on the White House lawns, Nixon skipped the subject of atrocities in East Pakistan, receiving a pointed rebuke from Gandhi. Next day, he made her wait 45 minutes for a formal meeting.
Excerpts from the external affairs ministry's annual report for the year 1971-72 bear out the testy relationship: "Every stratagem of effort and persuasion was tried by India to make the US administration respond with some human feeling to the epochal carnage in East Bengal let loose by the West Pakistan military regime…No government in the world uses the terms 'peace' and 'freedom' so copiously as the leaders of the US administration do on every conceivable occasion. Yet, these words seemed to have no meaning for them when it related to the people of Bangladesh…It seemed the last trace of the most elementary justice and compassion had dried up in the US administration."
Gandhi's 1982 visit, at then US President Ronald Reagan's invitation, turned out to be markedly successful, with the two leaders agreeing on cooperation in science and technology and signing an agreement on the Tarapur nuclear plant and to mark 1985 as the 'year of India' in the US.
---
3) Morarji Desai
Key visit: June 12-15, 1978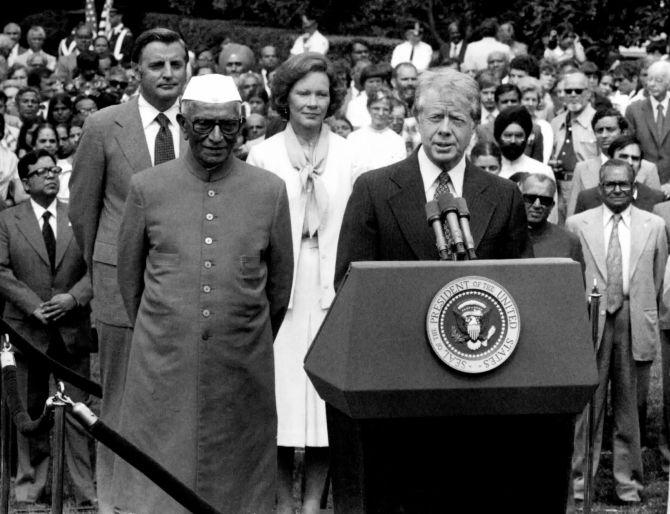 US President Jimmy Carter and India's then PM Morarji Desai during the arrival ceremony for a state visit. Photograph: Photograph: US Embassy New Delhi/Flickr
Desai visited the US within months of then US President Jimmy Carter's visit to India in January that year. Desai's visit went off well, despite the fact that Americans weren't keen to ship enriched uranium for the Tarapur nuclear plant.
---
4) Rajiv Gandhi
Key visit: June 1985
All trips: June 11-15, 1985; October 23, 1985 to attend UNGA; and October 19-20, 1987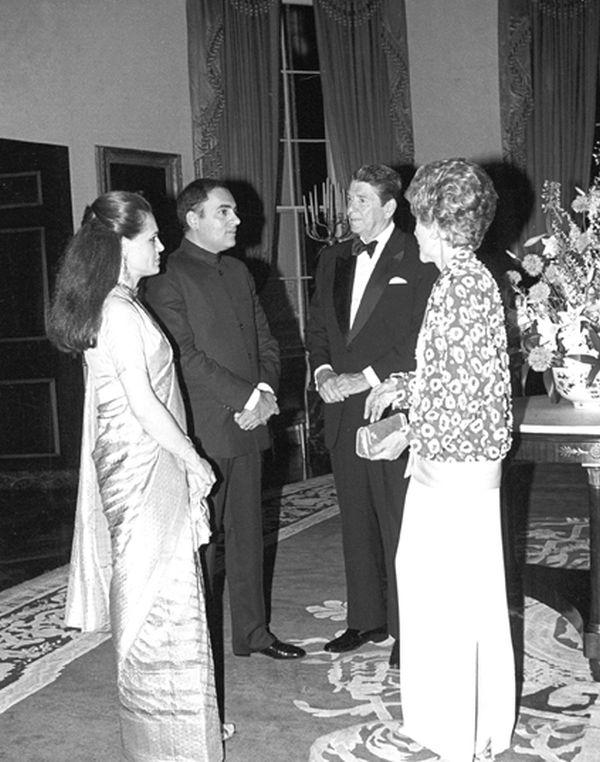 Prime Minister Rajiv Gandhi and wife Sonia Gandhi with US President Ronald Reagan and Nancy Reagan at a dinner hosted by Reagan in honour of the Indian PM at the White House on June 12, 1985. Photograph: Ministry of Information and Broadcasting
Rajiv charmed Washington during his June 1985 visit. To the Americans, he came across as less preachy than his grandfather, as well as his mother. He spoke softly, listened carefully and spoke with humour. He addressed the Congress, an honour earlier accorded to Nehru, not to Indira. Rajiv also opened the Festival of India and initiated negotiations on purchasing the Cray supercomputer for weather research. Rajiv's 1987 visit was a tamer affair.
---
5) PV Narasimha Rao
Key visit: May 1994
All trips: January 31, 1992 to attend UNGA; and May 17-20, 1994

Rao visited Washington in 1994, in the backdrop of the economic reforms his government had unleashed, and at a time when India-US ties were at a historical low. The US had repeatedly questioned India's human rights record in Kashmir and Punjab and its nuclear weapons policy. It had pressured Russia to not sell cryogenic technology to India and disapproved of New Delhi's missile programme.

Rao's visit marked a revival in ties. The Indian PM spoke of the need to "free India-US relations from the distortions induced by the Cold War". He addressed a joint meeting of Congress, indicated India would go slow on its missile programme and promised further economic reforms. The telecom sector was opened to American companies. The US recognised India as one of the 10 major markets for American trade and investment and became the largest investor in India's infrastructure sector. Rao's visit laid the foundations of closer India-US ties during the years of the Atal Bihari Vajpayee and the Manmohan Singh governments.
---
6) IK Gujral
Key visit: September 22, 1997 to attend UNGA.
---
7) Atal Bihari Vajpayee
Key visit: September 2000
All trips: September 13-17, 2000; November 7-9, 2001; September 12 2002 and September 24 2003 to UNGA
---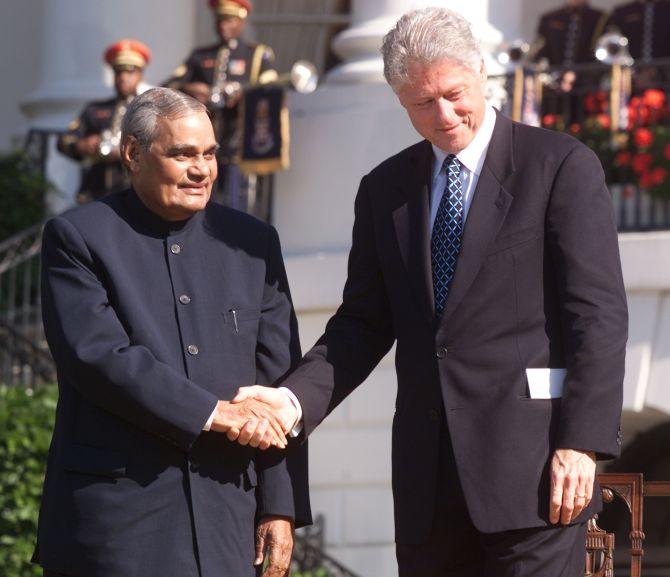 US President Bill Clinton shakes hand with Indian Prime Minister Atal Behari Vajapayee during an arrival ceremony at the White House in September 2000 in Washington, DC. Photograph: Mark Wilson/Newsmakers
Vajpayee's September 2000 visit was at a time when then US President Bill Clinton held Pakistan responsible for the violence in Kashmir. Washington also refused to meddle in Kashmir's affairs at Islamabad's beckoning. Economic ties were strengthened. Vajpayee termed India and the US "natural allies". He addressed a joint session of Congress. His 2001 visit, months after the 9/11 terror attacks, paved the way for deeper intelligence sharing between the two countries, with New Delhi providing much strategic assistance pertaining to the Indian Ocean and South Asian regions to the George W Bush administration.
---
8) Manmohan Singh
Key visit: July 2005
All trips: September 21 2004 to attend UNGA; official visit July 17-20, 2005; working visit September 23-25, 2008; to attend G20 Summits November 2008 and September 2009, official state visit November 23-25, 2009, to attend Nuclear Security Summit April 11-13, 2010; working visit September 27 2013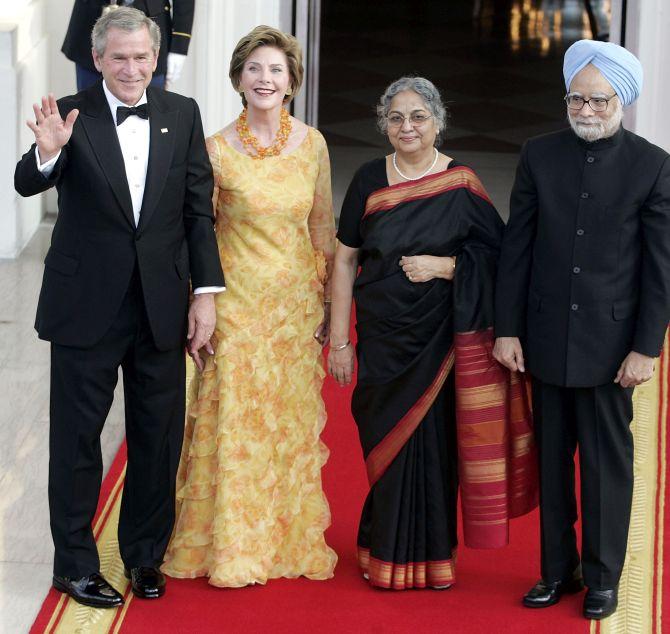 United States President George W Bush and First Lady Laura Bush welcome the Prime Minister of India Manmohan Singh and his wife Gursharan Kaur to a dinner in their honour at the White House in 2005. Photograph: Chip Somodevilla/Getty Images
The joint statement issued after Singh and then US President George W Bush's meeting on July 18, 2005, is a milestone in India-US relations. It built on the 'Next Steps in Strategic Partnership' signed in January 2004. The July 18 statement paved the way for civil nuclear cooperation between the two countries, as well as the deepening of defence ties. It also instituted dialogue on energy. Singh's 2009 visit to Washington was also significant, as he was the first head of government to be hosted at the White House by the Barack Obama administration. It led to India and the US starting strategic dialogue, which now covers about 30 sectors.