'I am in mortal danger not personally, but politically,' Mani Shankar Aiyar tells Anjali Puri.
Illustration: Dominic Xavier/Rediff.com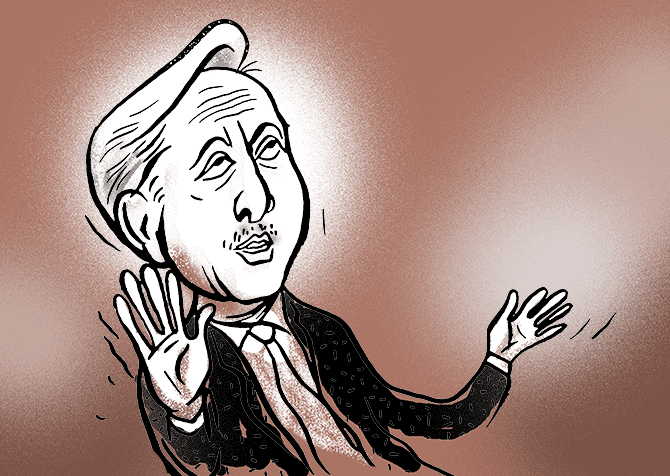 Mani Shankar Aiyar walks into the House of Ming at the Taj Mahal Hotel in Delhi, not in his usual kurta pyjama but in Delhi Gymkhana Club chic -- moss green tweed jacket daringly mismatched with a purple striped tie and a mauve shirt, and a blue pocket square.
The veteran Congressman, who hit the headlines last month for all the wrong reasons, looks jaunty -- and there are flashes of repartee when, for example, he tells a waiter enquiring about food restrictions, "I have none except those imposed by (Narendra D) Modi."
Yet on this winter afternoon in the dying days of 2017, Aiyar is a more rattled man than the one I met in 2009.
Then, he had just lost his seat in Mayiladuthurai, Tamil Nadu, in the Lok Sabha elections, and had come across as a pretty good loser -- bruised, yes, but also frank, thoughtful, funny.
He went on to a six-year term in the Rajya Sabha, grew more passionate in his defence of Nehruvian values and more acerbic in his rubbishing of an ascendant Hindutva.
However, this ageing enfant terrible, sought out by the electronic media for his combativeness, also began to achieve a new notoriety with his carelessly worded insults being milked by the Bharatiya Janata Party for electoral advantage -- famously when he mocked Modi's self-projection as a 'chaiwala' and again, when he called him, last month, a 'neech kisam ka aadmi' (lowly person).
Modi repackaged the comment as a caste slur -- no matter that Aiyar denied repeatedly that it was one -- and exploited it to the hilt in the Gujarat elections.
With a skilful blending of truth and lies, Aiyar was turned into a demonic figure.
Yet, on his own side, he had few defenders. He was publicly rebuked by Rahul Gandhi, suspended by his party and criticised by his peers, with a newly minted Congressman, the Gujarat youth leader Alpesh Thakor, even calling him a 'BJP agent, pakki baat (sure thing).'
Our lunch gets off to an awkward start when Aiyar unexpectedly refuses to answer any questions about the fresh controversies involving him.
"Look, I realise now that this was meant to be a working lunch," he says. "But I have to think of my own interests, I am in mortal danger not personally, but politically. I can't speak of these matters."
Our encounter takes a wacky turn as he offers to leave -- even though we are now at a table by a window with waiters hovering around us.
When I tell him our lunch is still on, and ask a few innocuous questions, Aiyar, covering his chest with a table napkin, lapses into a long, colourful reverie on his childhood and Doon School years ("I was the poorest boy at the richest school"), his time at Delhi's St Stephen's College and Cambridge, and his entry into the Indian Foreign Service. (He made a mid-career switch to politics, to join Rajiv Gandhi.)
There is clearly a promising memoir here -- one is being written, in fact -- but only if Aiyar gets himself a ruthless editor.
His effortless recall of every minor twist in his story means that even after we've finished our soup -- vegetable broth with lemon grass for him, hot and sour for me -- and are almost done with our shredded lamb, prawns and hakka noodles, we are still stuck in 1963.
However, I am less mystified now about why Aiyar would dwell inappropriately on succession in Mughal times while talking about Rahul Gandhi becoming Congress president -- he just can't resist the temptation to lecture on history -- and why he snobbishly labelled fellow Congressman Ajay Maken, with whom he was miffed, as 'a BA pass from Hansraj College'.
Inter-college rivalries are for him a living thing. More than half a century later, he still takes delight in having made it to the "right" college instead of going to "the other side". Other side, I ask blankly, just to get him to spell it out. "You know, Hindu College," the 76 year old says with a grin.
When I ask if it's true that Rajiv Gandhi was not his friend at school or college, and they got to know each other later, Aiyar confirms this, and then describes his first encounter with Rajiv.
"A nervous young boy with puppy dog eyes came up to me, his senior, at school and asked, 'Yaar, can I have permission to swim?'" he recalls.
"I said yes, thank god. Imagine how different things would have been if I had said what seniors normally said, which is...". And he quickly bites off the expletive.
Recalling happier times seems to make Aiyar pensive about his current predicament.
While he won't talk about specifics, it's clear, from his ironic asides, that he is puzzled, troubled, even a little outraged, at having his language deemed offensive.
Every now and then he wonders aloud if he will be allowed to play a meaningful role in political life. I am not surprised to hear he has hopes of contesting the next Lok Sabha election.
Even at what he calls his "lowest ebb", it doesn't come naturally to Aiyar to sound abject. When I ask him if he thinks he will change, he mutters: "A tiger can't change his stripes."
For Rahul Gandhi, Aiyar has nothing but unstinting praise. He observes that Rahul's pride in his Hindu heritage is "exactly the same" as Nehru's, quoting chapter and verse from Discovery of India, as is his wont.
"Rahul Gandhi cannot be anything but a successor of Nehru," he declares.
When I mention his temple-hopping in Gujarat, and his failure to reach out to Muslims during that campaign, Aiyar says it doesn't matter.
"For tactical reasons you highlight something, dim the light on something else," he says. "Fundamentally, his philosophy is the same as Nehru's."
Given how much energy he expends on defending Rahul Gandhi, I am curious to know why some of his party colleagues would imply he wants to backstab him with intentional gaffes.
Aiyar's reply is mock-scholarly and acidic: "In all parties, and not just the Congress, those who rise are considered to have risen unjustly and when they decline, there is quiet satisfaction. The Germans call it schadenfreude."
The House of Ming, chosen by Aiyar, used to be a power lunch hub in the 1980s, and with its almost unchanged decor and attentive service, it still seems to cast a nostalgic spell over its former habitues.
While our food strikes me as uninspired and over-salted, Aiyar, with fond memories of being taken to lunch here, and entertaining journalists here when he was the external affairs ministry's spokesman says approvingly that the food "tastes just the same as before".
The restaurant is half-empty, but still seems to attract some of the political-bureaucratic crowd.
Former ambassador K C Singh, shown to the table next to us, opts to sit somewhere else to give Aiyar more "elbow room". (He possibly imagines I am getting a more exciting interview than I actually am.)
When we spot a one-time Congresswallah -- from the Rajiv Gandhi years, no less -- lunching near us, Aiyar says drily: "He was one of those who brought me here for lunch."
Shaking his head gravely, he wonders aloud how the man -- M J Akbar, minister for state for external affairs -- can live with himself after having joined the BJP.
However, he cheers up when I pick up my phone to take a picture of him, and allows me to quiz him on his outfit.
"The Congress has suspended me and I have suspended their uniform," he quips, then adds immediately, "That is off the record."
When I protest, he smilingly relents.