Glimpses of the change Narendra Modi promised million of voters were visible at Rashtrapati Bhavan.

Modi has now no excuse, but to perform and change India for the better. Sheela Bhatt/Rediff.com reports from the presidential palace. A feature on the swearing-in ceremony like none other.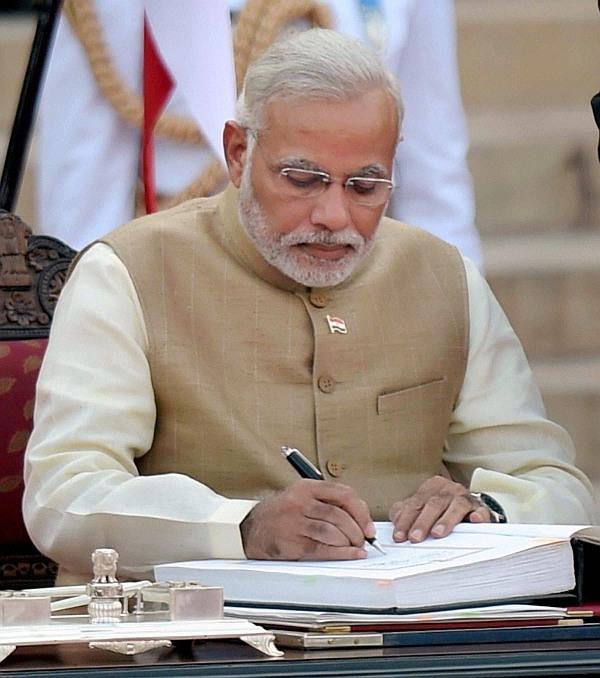 At 6.11 pm on Monday, May 26, 2014, Narendra Modi became India's 15th prime minister in the presence of a galaxy of leaders, including those from SAARC countries.
The event demands that one abandons cynicism for a day.
"He will do something!" -- everyone who mattered in the crowd of 4,000 people said when asked if Modi and his Cabinet would succeed.
"Definitely!" industrialist Kumar Mangalam Birla told Rediff.com emphatically.

The Aditya Birla Group chairman was hopeful about the Modi government; his face expressed full support for the new prime minister.
The Ambani brothers -- the most famous Gujaratis after Modi -- with their respective wives and mother Kokilaben were in attendance.

Also present in the crowd were Gautam Adani, Cadila Healthcare's Pankaj Patel and the Mehtas of the Torrent group -- all rich and famous friends of the new prime minister.
Overall, there was no Gujarati touch to the event; this, despite the prime minister being a pure Gujarati.
Not many bandhani saris were seen, not much Gujarati was heard.

Three chartered flights full of Gujaratis had flown in from Ahmedabad to attend the ceremony. Gujarat Chief Minister Anandiben Patel was present along with her entire cabinet. Also, almost every top leader of the Bharatiya Janata Party in Gujarat were present at the presidential palace to see one of their own becoming the prime minister.
There were many like Gujarat Finance Minister Nitin Patel and former state agriculture minister Dilip Sanghani who had spent days and nights with Modi during the highs and lows in his life.
Bharat Pandya, who was a teenager when Modi arranged the Bharat Ekta Yatra for then BJP president Dr Murli Manohar Joshi, told Rediff.com, "Even in 1992, we saw in Narendrabhai the spark that suggested that he can become prime minister. When we started from Kanyakumari towards different regions of India he would absorb the local flavour and language. He had that pan-Indian ambition in him even then."
Kakubhai, one of Modi's special friends who was present at the ceremony with his family, could not stop smiling.

He told Rediff.com, "I remember the day when I received Modi at Ahmedabad airport. He had arrived from New Delhi (with the backing of then prime minister Atal Bihari Vajpayee to become the Gujarat chief minister) and escorted him from the back door to avoid the media."
Bharat Mata Ki Jai was the oft-repeated chant at Monday's event.
Some 500-plus old Rashtriya Swayamsevak Sangh and Bharatiya Janata Party workers, who had toiled for over five decades to see a day like May 26, had been specially invited.
Positive vibes could be felt all around. Congress President Sonia Gandhi and her son Rahul arrived together to applause from the audience. More resounding applause was heard for former President A P J Abdul Kalam.
Bollywood star Salman Khan was in attendance along with his father, Salim Khan, who has co-written some of the most memorable films in Hindi cinema.
After the event, Salman was heard telling Modi, "Allah aap ki khub madad kare (may Allah offer you great help)."
Modi responded with a humble namashkar, "Aap aayen uske liye bahut dhanyvad (thank you for coming)."
Modi was unusually soft and humble on Monday.
Dozens of sadhus were spotted in the audience -- Vedanta philosopher Ramesh Oza, Anand Giri from Vrindavan and Naga sadhus among others.
One sadhu sat just 20 feet behind Pakistan Prime Minister Nawaz Sharif. He was seen staring at Sharif when the latter respectfully stood up as the Indian national anthem was played.

This is something only a Modi government can achieve.

The change was visible.

And so was the question -- Can the Modi administration deliver on its million promises?
Though Modi tried to raise hopes with his passion, there were many who sounded a cautious tone.
Modi's ministers, like that of earlier governments, is a mixed bag.
One selection that raised eyebrows was that of Muzaffarnagar riots accused Dr Sanjeev Baliyan as the minister of state for agriculture.

Of all the choices, the most trend-setting selection is that of Smriti Zubin Irani.

Simply put, it is a daring decision.

She is a nobody in the world of real politics. She is not even part of India's thinking clan. She is not someone whom one would wait to hear on India's education maladies.

She surely fought bravely against Rahul Gandhi in Amethi, but it is difficult to imagine the star bahu of television soap operas as our education minister.
When probed by Rediff.com about her thoughts on the occasion, Smriti said, "I feel humbled. I am just 36. At this age, such a huge responsibility!"
Away from the proceedings, indiscipline and haphazard arrangements took the sheen off the event.

The arrangements lacked the class normally seen inside the Darbar Hall or the Ashoka Hall at Rashtrapati Bhavan.

The car parking was a nightmare.

Art of Living champion Sri Sri Ravishankar waited for his white Mercedes for more than 45 minutes.
Another upset celebrity was actress Hema Malini. The ageing diva and BJP MP from Mathura, draped in a blue Banarasi sari and a heavy diamond set that shone in the sunset, was visibly angry over the distance between the parking area and the venue.
The seating arrangements, the menu and decor left a lot to be desired.

As the sun set over the horizon, Modi is now well and truly part of the New Delhi establishment. He faces a difficult challenge thrown up by millions of voters. Now with 282 BJP MPs to back him up, Modi has no excuse but to perform and change India for the better.

Image: Narendra Modi signs the register after taking oath as the 15th prime minister of India. Photograph: PTI Photos