'The most alarming thing is all our wells have got filled with flood waters.'
'Drinking water is going to be a big problem for all of us.'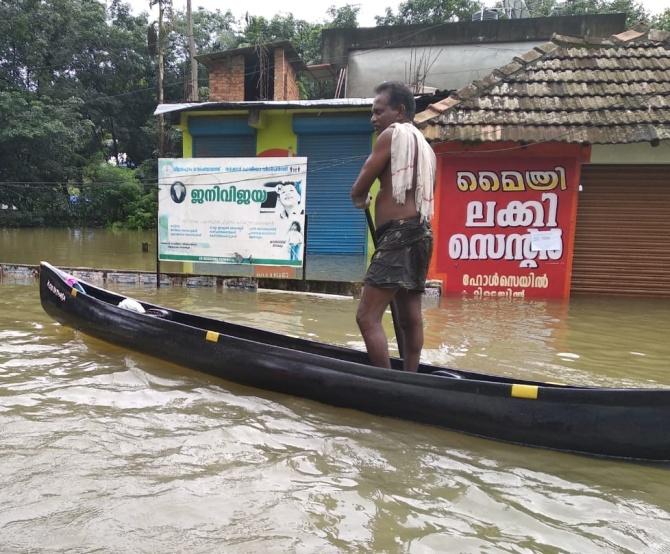 This is not the first time Prakash M Viswambharan, an autorickshaw driver in Kottayam, has borne the brunt of nature.
In July this year when Kottayam saw unprecedented rain, the Meenachil river overflowed and his home was flooded, forcing Prakash to seek shelter elsewhere.
Again, on August 15, when the central and northern parts of Kerala experienced very heavy rain, Prakash had to flee his home with his parents and wife.
Prakash shares his story with Rediff.com's Shobha Warrier.
In July when it rained heavily in Kottayam, we were badly affected.
We had to vacate the house and go elsewhere. We lost all our possessions and when we were in the process of building everything again comes this disaster.
We are in the same situation again.
What we witness is now much, much, worse. The water level is at least six feet.
This time, the water is flowing through the roads like a river, with great force. Usually we can wade through flooded roads, but this time, it is frightening to even swim. As if the waters would take you somewhere else.
In July, the floods came with absolutely no warning. At night, when we went to sleep, we had no idea what we were going to see in the morning.
As usual I got up at 5 in the morning and when I put my feet down on the floor, there was water inside my house! That unexpected it was.
All of us got panicky. This was not what you expect when you get up in the morning.
We had water till our hips and we lost our bed, TV, fridge and so many other things.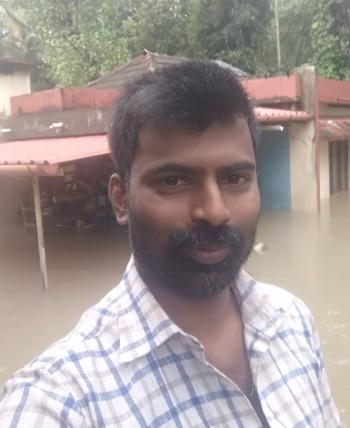 On the 14th night, we saw water rising on the road next to our house, which was 2 feet below.
Taking it as a warning, we started keeping all our things as high as possible. There was also an announcement by the police that water would rise and that we should vacate our houses.
As all of us had suffered just a month ago, we knew what to expect in such a situation. It was as if we were experienced enough to tackle floods!
What we cannot understand is how this can happen, an area getting flooded twice in a span of one month. Anyway, this time we kept our belongings even higher, but it seems nature has defeated us.
The water level inside the house rose more than 6 feet! Once again, all our belongings must have got damaged again.
Only after the water leaves the house completely can we assess the situation. One of my acquaintances who is helping people with a boat told me that he saw water above the window in our area.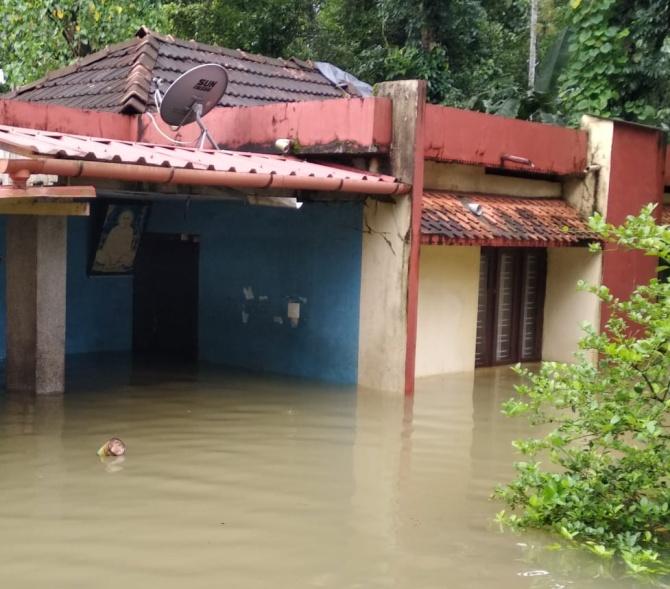 The tragedy in the area is that so many people who live in two storey houses remained on the second floor though the first floor got flooded. They thought like last month, they would be spared, but when they found that they were trapped with so much water all around and with no water or food, they agreed to be rescued
The scariest part is we cannot even see the roof tops of 90% of the houses in this area.
It is not that we live near the river; our house is located half a kilometre away from the river.
So many people from our area had to be moved to a camp that was comparatively on a higher plane, but when water entered the camp, they were taken to a school on the top of the hill.
Since water had not entered my sister's house, we came here.
The moment the announcement was made at night that the water would rise, I parked my rickshaw safely.
In the morning, when we saw that water had entered our home and that it was rising, we had no way but swim around half a kilometre to where I kept my auto and then we drove to my sister's place.
Once the water goes down and once we are back home, it may take at least a week to have a normal life.
The most alarming thing is all our wells have got filled with flood waters.
In the July floods, two of our wells were not affected, but this time, not a single well in the area was spared.
Drinking water is going to be a big problem for all of us.
My father has a cycle repair shop close to our house and it is fully submerged under water. He says he has not seen such a flood in his entire life.
All of us think this is the worst disaster Kottayam has encountered in recent history.
Thousands and thousands of people have to leave their homes and live in refugee camps.
More than the financial loss, many people find the experience extremely traumatic.