'By the time the ground dries up, considering that the homes are still submerged, winter will be here. By the end of October, it is going to be very, very cold. By the end of November, it will be freezing, and it would have snowed by mid December. So before the ground can dry up, there will be snow.'
'The anger has not receded with the water. It persists. The floods have completely finished whatever 5 per cent chance Omar Abdullah had left with the public... He is seen as someone who is highly arrogant and is coming across as one who has no feelings for his people.'
A Kashmiri whose family has lived in Jammu and Kashmir since before Partition, tells Archana Masih/Rediff.com how the government and media failed the people when flood waters turned Paradise into hell.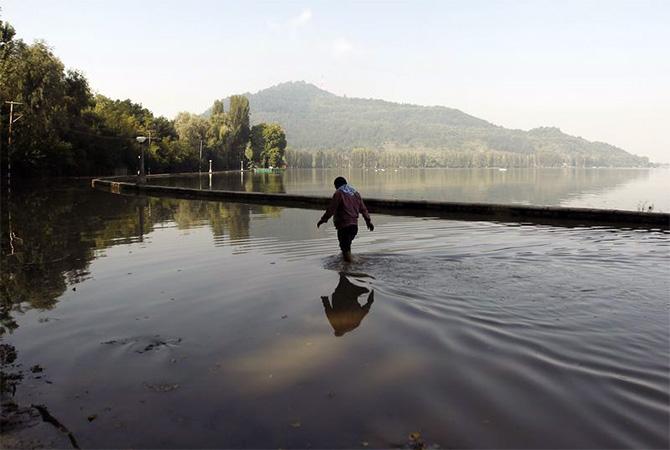 Image: A man wades in the flood waters near the Dal Lake in Srinagar. Photograph: Danish Siddiqui/Reuters.
Till date, I can't go inside my home in Srinagar. My home is still under four feet water and I am waiting for it to recede so that at least I can walk into my home.
When the waters gushed in, it went over the roof and my home remains submerged to a large extent.
My neighbour did not sleep for three nights because he was rescuing people.
Just as the waters started coming in, he got his mother, wife, children to a convent school and went back to rescue others.
Friends and family did not see or hear of him for three days till somebody told them, 'Ki nahi ji who toh sabko tehri bana ke khila raha tha (He had cooked rice and vegetables and was serving it to others).'
I wasn't there when the floods started and when I came to know, I knew if there was one man who would be there in the middle of it all, it would be him.
When I was able to reach 4, 5 days later, he had shrunk so much, he looked tired and you could make out that he had gone through hell. His own house has fallen.
I am fortunate to have a home in Jammu as well. It will be very silly of me to say no, I'm not concerned or yes I'm concerned about myself when my neighbour's only house now lies broken.
He has three children, where does he go? If my house hadn't been broken and submerged, I would have asked him to shift here. So when somebody like him screams at the government, there is a reason.
He has friends in the government and it is not that he is not connected, but this time the government has totally failed its people.
When I got to Srinagar, I saw no government present. They kept saying 'pump aa raha hai, aa raha hai' to drain out the water from the residential colonies, but there were no pumps.
The only pump that got installed in my colony was a large industrial pump that the residents had initiated and got through their own contacts.
And that is when the chief minister came for one of his cursory visits. That was quite in bad taste when you haven't shown your face for so long -- and it is not as if people have not been going to him.
I went to one of the relief camps and saw a truck bringing in bottles of water from the government. People didn't want to touch it. They were like -- take it back, we don't want government relief. They were that angry with the government.
The anger has not receded with the water. It persists. The floods have completely finished whatever 5 per cent chance he (Chief Minister Omar Abdullah) had left with the public.
First people thought he hasn't done anything as CM, but now it has gone beyond that. He is seen as someone who is highly arrogant and is coming across as one who has no feelings for his people. He lives in his high tower. He apparently is hiding from the public. His advisors have also disappeared.
People went to great lengths to rescue others. If people who are in the same age group as him could go back into their residential colonies -- and no one is asking the CM to do the same -- but he is young; he should have stood there and been with the people.
This was his one chance to show the people that he is one of them. Instead, there was no sign of him for a few days.
I deal with Kashmiri handicraft and my home is Srinagar. My craftsmen, my family, friends are there and I had to go and find out how they were because I couldn't leave a sinking ship.
I managed to get together some relief. If I could go there after 4, 5 days to help in whatever little way I could and say I'm there for you, what about the chief minister?
***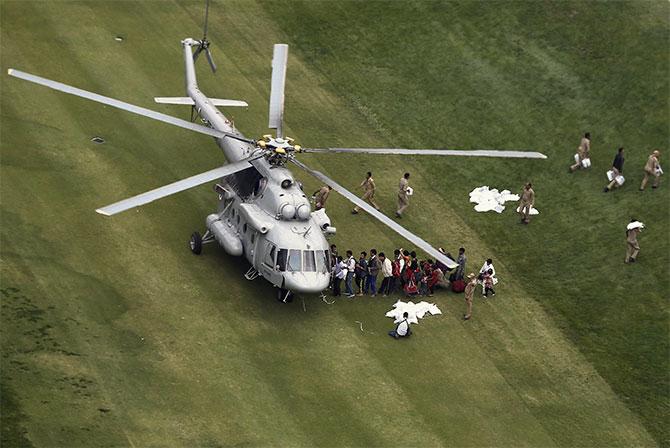 Image: Flood victims board an Indian Air Force helicopter after being rescued from a flooded area in Srinagar. Photograph: Adnan Abidi/Reuters
The press also did some insensitive reporting. It was uncalled for. The press needs to understand and realise that they are dealing with a sensitive zone and it is a sensitive matter.
If 1,2 or even 10 people said that the army is trying to rescue only Kashmiri Pandits, tourists and outsiders, you should have ignored them and moved on.
It happens everywhere. Everyone will have their own story to tell. And you don't have to go to every other Kashmiri and say 'Dekha army ne apko bachaya, don't you agree? (Don't you agree that the army saved you)?'
Did you do this in Uttarakhand? Did you go to them and say that the 'army saved you, now say "Jai Hind"'?
The army is always there in times of crisis and did a commendable job like it always does.
Whichever army personnel I have met and thanked has said that this is their duty.
They (stone pelting) were stray incidents that were largely exaggerated by the media.
Someone told me 'Apko itni hamdardi hai toh Pakistan kyon nahin chalein jate? (Why don't you go to Pakistan if you are so sympathetic towards them?).' What the hell!
My family has lived between Srinagar and Jammu from before Partition. (The narrator is a Hindu native of Kashmir). My great grandfather was a trader from the Gilgit-Skardu region. Srinagar is where I grew up. I have lived here most of my life. I have an affinity and understand this place. I do have a home in Jammu, but Srinagar is home.
I have had a lot of such comments condemning my relief work and help for people in Kashmir. Even on my school network, I had comments saying 'First, go and tell your people how to behave and respect India; and stop throwing stones at our choppers.'
One Kashmiri told me they probably were throwing stones at the media (travelling in the choppers for reporting) and they turned around and said they were throwing stones at the choppers.
J&K has to be won over. You don't have to accentuate the situation.
They are a proud Kashmiri lot, just as the Bengalis, Gujaratis -- and everyone else.
Kashmir has gone off the headlines. How long could they (the media) go on and how many more people could they find to say: 'India kharab hain aur Kashmir accha hain, hum Indian nahin hain (India is bad; Kashmir is good and we are not Indian).'
There are Kashmiris who would turn around and overpower them and say, well, the army has helped us and we are grateful -- we'll just say 'Thank you' because at the end of the day, the army did the same in Uttarakhand.
At the same time if it happened in Tamil Nadu, wouldn't the army help? So why are they drilling it into the Kashmiris that 'Look the army helped you.'
I have been part of those who have hated the army's presence because when I move around in Kashmir and I am stopped by an army man and questioned in a very rude manner, I don't like it either.
It is not a good feeling to be ordered around by military personnel or go to places that have a military presence. We haven't seen it as children, yes it has come down largely now and yes, the army presence is required for security purposes, but it doesn't mean that you become over anxious about it and start hitting out at people.
You have got to learn to give a bit and take a bit. Both sides have to learn to be tolerant.
The regular Kashmiri is very tolerant. Some people have become rigid over the years because of their personal experiences, but at the same time, by and large they are a tolerant culture.
***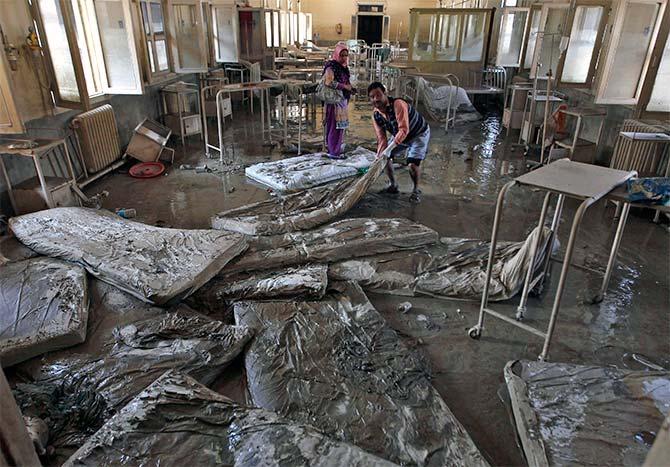 Mattresses ruined by the floods being removed from a hospital in Srinagar. Photograph: Danish Ismail/Reuters
Paradise (Kashmir) has been struck. It is a contradiction in parts, literally.
In the downtown area, apart from water-logging, there was no flood as such. The water went up to 4, 5 feet over there and receded quickly as well.
Areas like Rajbagh, Jawahar Nagar, Wazir Bagh, Kursoo Raj Bagh -- this was like a bowl that just trapped the water in. Here, the embankment broke and the river basically came into the residential colony.
There are many reasons I hear of how and why it happened -- one being that they didn't open the flood channels in time, they kept warning the people but there was no idea about how serious it would become.
It was 20, 25 feet of the river gushing into your home, not 5, 6 feet that you could relocate to the first or second floor and come down when the waters came down.
Kashmir is not going back to what it was. In Raj Bagh, one of the poshest colonies, no one knows if the houses are safe to move back into.
By the time the ground dries up, considering that the homes are still submerged, winter will be here. By the end of October, it is going to be very, very cold. By the end of November, it will be freezing, and it would have snowed by mid December. So before the ground can dry up, there will be snow.
These are the only few days of sunshine, if at all there is and if it doesn't rain, then there will be winter and snow. You can't even assess the damage to your home, until such time. You can't find out how strong the foundation is till the ground doesn't dry up so there is a lot to be thought over.
Not everybody has the wherewithal to build. There were older people living in homes, for them life is in those houses. Some of them have rooms broken, boundary walls broken.
So those houses at the moment are quite unlivable. Come March or April when some work can get started, we will be so unsure about how much to do and what to do because there will be rainfall again in July and August.
The hotels alongside the Dal Lake, along the boulevard are all affected. They will need to be cleaned out.
Luckily because of the temperature and the altitude, no disease has broken out yet. We had no reported cases of cholera or typhoid. But there is stagnant water and there are carcasses in the water.
The day I reached (4,5 days after the floods inundated Srinagar), I saw three cows floating down the Jhelum. I saw dead dogs in Polo View in the water. The municipality needs to get into action and I hope they are there to take control now because it will affect tourism.
I have a feeling that the tourists will be back in June. Even if they don't want to stop in Srinagar, nothing happened in Pahalgam apart from heavy rain, similarly in Gulmarg, Sonmarg -- these main tourist spots are still there and as good as ever.
The Srinagar entrepreneur is not one to sit and wait, they will get back on their feet and try and come back better than before. I just hope that the authorities also get it. We've reached a stage where things have collapsed and really gone out of hand.
Now we have to rebuild, let us build better than before. We hear a lot of things have been sanctioned, but don't see anything on the ground yet.
The narrator runs a handicraft business in Kashmir, and did not wish to be named because of the hostility encountered on the Internet for the individual's views.
Rediff.com will publish a series of voices from Kashmir to give a sense of how people are trying to rebuild their lives.