With 103 members belonging to the BJP, the Karnataka assembly will witness a balance it has never seen, points out Abhishek Waghmare.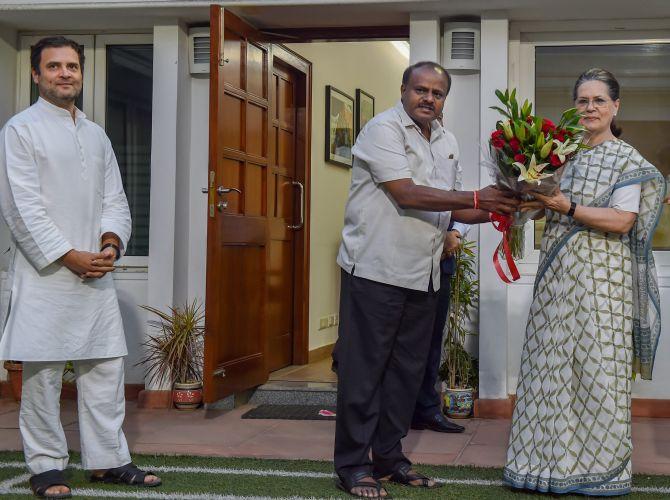 However bitter-sweet the post-election victory or defeat is, beyond politics, at the core, lies the Constitution.
And the Opposition, though it is not a part of the executive, it is an important institution in parliamentary democracy under the aegis of it. And it does influence and impact the executive in ways more than one.
With 103 members belonging to the Bharatiya Janata Party, the Karnataka legislative assembly will witness a balance it has never seen.
The leader of the Opposition, whoever it will be, will be supported by an unprecedented number of legislators.
Till now, since the first election to the newly formed Mysuru state in 1957 (renamed as Karnataka only later in 1973), the Ramkrishna Hegde government of the Janata Party had the strongest opposition of 82 Congress members in the lower House of the bicameral legislature.
Karnataka's legislative assemblies represent the larger political phenomenon of emergence of non-Congress parties in years after Indira Gandhi took over.
In the state assembly, the chief minister's contingent was the strongest immediately post-Independence, while it would be weakest in the 15th assembly post 2018.
The Opposition was the weakest then, but is the strongest today.
Though a supporting party had a better strength than the CM's party in 2004 for a brief period, the Congress with 78 members in this assembly is the strongest supporting party in the Karnataka assembly ever.
ASSEMBLY
GOVERNMENT
OPPOSITION
Year of Election
Assembly
Party
Strength
Party
Strength
1957
2nd
Congress
150
Praja Socialist Party
18
1962
3rd
Congress
138
Praja Socialist Party
20
1967
4th
Congress
126
Praja Socialist Party
20
1972
5th
Congress
165
Congress (Org)
24
1978
6th
Congress (Indira)
149
Janata Party
59
1983
7th
Janata Party
95
Congress
82
1985
8th
Janata Party
139
Congress
65
1989
9th
Congress
165
Janata Dal
24
1994
10th
Janata Dal
115
BJP
40
1999
11th
Congress
132
BJP
44
2004 (A)
12th
Congress
65
BJP
79
2004 (B)
12th
Janata Dal-Secular
58
BJP
79
2004 (C)
12th
BJP
79
Congress
65
2008
13th
BJP
110
Congress
80
2013
14th
Congress
122
BJP
40
2018
15th
Janata Dal-Secular
37
BJP
104