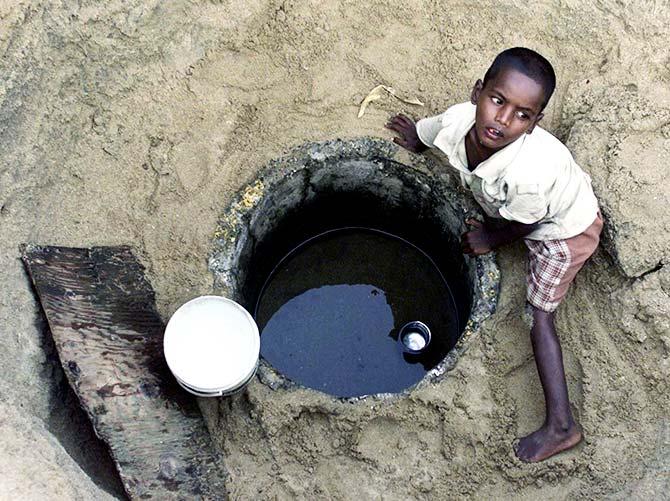 IMAGE: A boy collects drinking water for his family from a small well dug into a beach in Chennai. Photograph: Reuters
With a 60 per cent rainfall deficit in 2016, Tamil Nadu is witnessing its worst drought in 140 years.
In January 2017, former Tamil Nadu Chief Minister O Panneerselvam declared the state drought-hit after nearly 150 farmers committed suicide in three months.
Over the last 40 days, 200 farmers from the state held protests at Delhi's Jantar Mantar holding dead rats in their mouth, threatening to drink their own urine and even stripping naked, all in their bid to seek loan waivers.
On April 23, the farmers conditionally suspended their agitation after Chief Minister Edappadi K Palaniswami visited the protest site and assured them of assistance in a few weeks.
Rediff.com's A Ganesh Nadar journeys through Tamil Nadu's villages and towns, districts and cities for a reality check.
Ramanathapuram: Men and women trudge for miles in search of water. Some push handcarts that can carry between four and five jerry cans of water.
The village is dotted with old, abandoned wells and small ponds on the verge of going dry. Large lakes with little water are the only sources of potable water now. People say the water will not last the summer.
Nalumavadi village (Tuticorin district): Water used to be found 20 feet below the surface once, but borewells run 150-feet deep now, say villagers. The water table has dropped, summers are hotter, and trees -- mango, coconut, palm – are wilting and dying.
Tirunelveli: The Thamirabarani river is flowing, but just about. "Last week, there was little rain in the upper river area and this is that water. Before the rains, the river was dry," explains a local.
Coimbatore: Barely 500 metres from the Noyal river, a man drills a 300-feet-deep bore well. "We found water at 250 feet," he says, despondent.
As the ground water level goes down there is always the danger of striking saline water. If that happens, the entire water in that area will turn saline, which takes decades to mend.
After the 2004 tsunami (which did not affect Coimbatore), it took more than a decade of rains to remove the salinity that the sea water had brought in to the ground water.
Sunderarajapuram in Tuticorin district: A predominantly agrarian Dalit colony, most of the people here are farm labourers now employed in other work due to water scarcity. But the mood is surprisingly positive.
"We work under the MGNREGA scheme for 150 days, then we work at construction sites. Some of us work as maids, but we are all employed," said Pichamma, an elderly woman. Sometimes, three generations of labourers go to work together.
The village has a nurse.
A student has just appeared for her HSC exams and villagers are confident she will make it to medical college. "She is brilliant and we can get admission in the Scheduled Caste quota," says a woman. As an afterthought she adds, "The MGNREGA work has been extended to 150 days and we get paid Rs 150 per day. Earlier, it was Rs 100 per day." The woman's niece, who has a year-old daughter, adds, "We all have bank accounts now."
In urban Tamil Nadu, the situation is no better.
Thiruvanmiyur (south Chennai): Water scarcity has crippled the capital city and suburbs. Jaya, a housewife, says, "We pay Rs 500 every day for a water tanker for the building." Some buildings have their own borewells to supplement the water supply from the Chennai municipal corporation. "But the tap water is murky, so I use a water purifier," said Ragupathy Ammal, a landlord.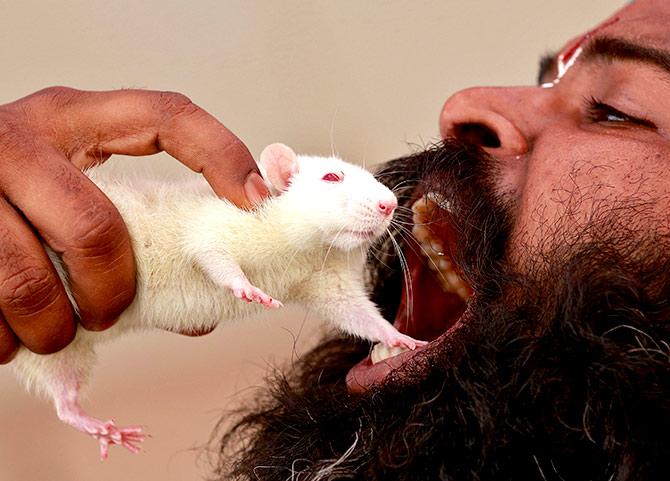 IMAGE: A farmer poses with a rat in his mouth during a protest demanding a drought-relief package at Jantar Mantar in New Delhi. Photograph: Cathal McNaughton/Reuters

So, what has the Edapaadi Palaniswami government done to ameliorate the conditions of farmers in rural Tamil Nadu hit by a severe drought?
This is what has happened.
The Madras high court's Madurai bench has ordered the Tamil Nadu government to waive off loans acquired by farmers in cooperative societies. However, the court order has not been implemented so far.
The secretary of the Kurumbur Agriculture Primary Co operative bank, Y Devaraj said, "The high court order has not been implemented by the government. It normally takes about four months for the government to give us compensation."
If the government waives loans it will cost the exchequer Rs 40,000 crore. "If 30 states start asking us for Rs 40,000 crore, where will we get the money?" said a central government official on condition of anonymity.
The meteorological department has predicted normal rains this year for north and west India, but Tamil Nadu falls in the rain shadow region of the western ghats. This means it has to await the north-east monsoon that sets in after the south-west monsoon withdraws around September.
That is five more months of relentless summer without rain.
As VK Sasikala, MK Stalin, O Panneerselvam and E K Palaniswami fight it out for political supremacy, the people are left to battle a relentless drought.